---
Once each year, more than 20 hot air balloons float together into the sky over the Capital Region. The balloons tower seven stories high, gliding in the air over a grassy field at the Lamar Dixon Expo Center. The golden sunset becomes a swaying rainbow of colors, patterns and shapes.
On the grounds below, pop music blasts from speakers, carnival rides twirl, and vendors plate sticky funnel cake.
It's Friday night at this year's Ascension Hot Air Balloon Festival, and there's nothing quite like it in Louisiana. The balloons traveled here from all the over the South, commissioned by the festival's director of balloon operations, Robert Ambeau. There are even two from Belgium—one-of-a-kind balloons shaped like Yoda and Darth Vader. Ambeau was on the waitlist for years before he secured those.
Tonight, the balloons remain tethered to the ground for safety reasons. But they're still able to drift about 40 to 50 feet above the crowd, and attendees excitedly form long lines for a chance to take a ride.
Planning for each year's two-day festival typically takes about a year. The payoff is a fun, family-friendly event that regularly draws crowds of about 45,000 all weekend.
The fall 2019 fest is already in the works. But until then, Ambeau keeps busy booking weekend sunrise rides in his own balloon. Those rides usually lift off to around 1,000 feet above the ground. On clear days, riders can see all the way to the Superdome in New Orleans.
Balloons are the safest form of air travel, he insists. That's partly because they can only fly when wind and weather conditions are perfect. But once the conditions are right and the balloon is in the sky, Ambeau says, riders are going any way the wind blows them. He's lifted off from the 50-yard-line in Tiger Stadium and once even landed on the interstate.
"Flying in a balloon is when the heart and soul comes together. It's like floating on a cloud," he says. "It's so peaceful, looking down on the ground below, with the only sound coming from the balloon's blast valve. You're just floating along."
At this year's balloon festival, 225 brought models along for the fun. We dressed them in whimsical fabrics and colors to mirror the playful patterns of the balloons.
The balloons provided the kind of backdrop we would've thought was only possible in our wildest, most Photoshopped dreams. But that night, it was just another hidden gem in the place we call home.
---
Styling: Elle Marie
Photography: Raegan Labat
Hair: CeKeisha Williams
Makeup: Maci Baudoin
Models: Chloé Marie Johnson, Mayson Wagner and Helena May
---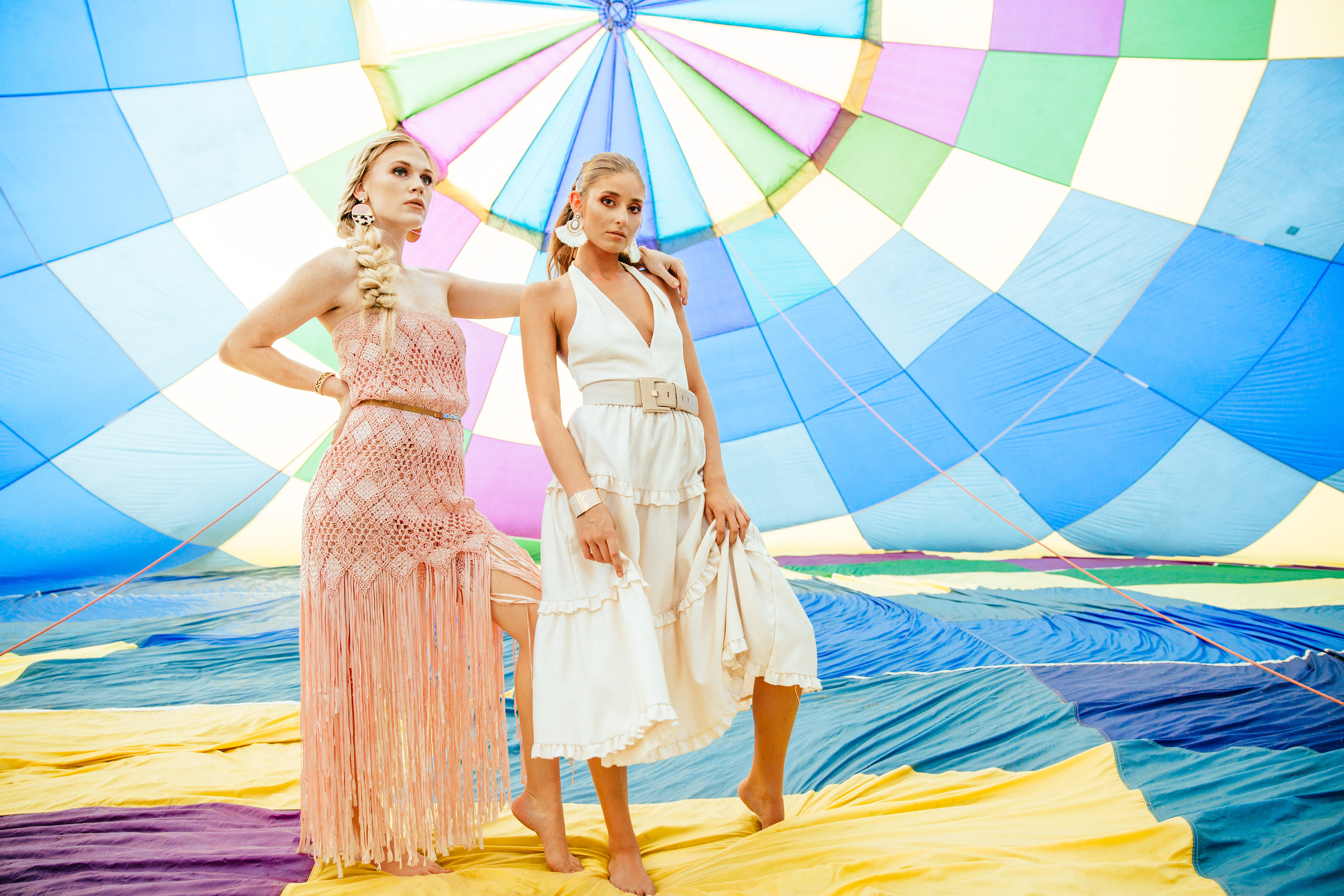 ---
In white:
Ruffle tiered halter dress in cream, $42
Large '80s-style belt, $14
Snake print cuff, $28
Fringe earrings, $18
From Frock Candy
Aldo cobalt pumps
Stylist's own
In pink:
Pink woven shawl worn as a dress, $160
Gold belt, $24
From Time Warp
Mismatched circle leopard print earrings, $16
From Frock Candy
Wild Diva Lounge sandals
Model's own
---
Tie-waist romper in tangerine, $58
Drop earrings, $12
Louisiana necklace, $16
Layered half-circle necklace, $16
Beaded metallic bracelets, $24
From Frock Candy
---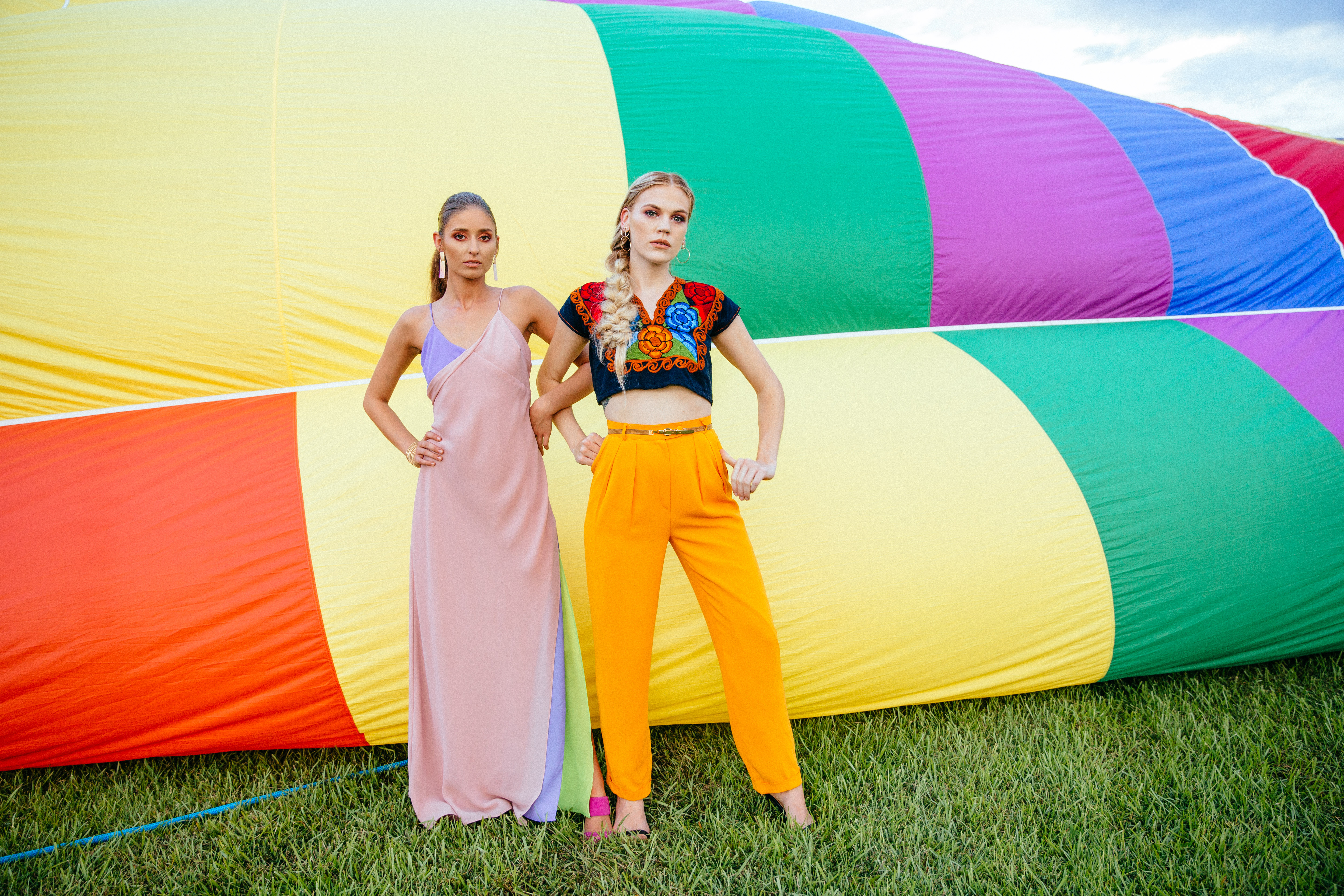 ---
On left:
'90s-style color-blocked slip dress, $42
From Time Warp
Abalone bar earrings, $14
Chain cuff, $24
From Frock Candy
On right:
Floral embroidered crop top, $34
High-waisted trousers, $34
From Time Warp
Crystal bar hoop earrings, $14
From Frock Candy
---
Floral print ceremonial silk kimono, $52
Turquoise shorts, $32
Gold braided belt, $22
Beaded metal bracelets, $24
From Time Wrap
Smocked bustier top, $34
Half-circle resin drop earrings, $18
From Frock Candy
---
See more from this style shoot in our gallery below:
---
This article was originally published in the November 2018 issue of 225 Magazine.