---
For the first time in years, Abby Bullock's boutique doesn't have wheels under it.
She still remembers her very first pop-up. It was in 2014, after she'd fallen in love with fashion buying as a Dallas fashion student and moved to her husband's hometown of Baton Rouge.
"I jam-packed my 4-Runner with baskets of clothes, and I booked my first pop-up in Shreveport at my friend's house, and it like, blew up," she says.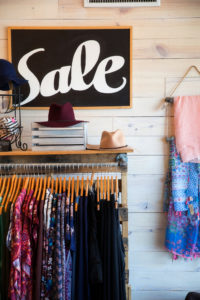 Since then, her brand, Wanderlust by Abby, has spent the past three years living up to its name. Her boho, festival-ready selection of clothing traveled Louisiana and the South with shopping pop-ups and, eventually, a van that Bullock transformed into a mobile boutique. But with the Baton Rouge opening of Wanderlust, her first brick-and-mortar shop, the fashionista has finally put down some roots.
In a small space in the Southdowns Shopping Center purchased in late 2016, Wanderlust feels fresh and clean, with white brick accents and a changing stall framed in reclaimed wood. It has the aura of the kind of boutique that's on-trend in small shops for 2017: airy, minimalist, Instagram-friendly and filled with picks from small, hand-designed brands.
Bullock's love of the road shows in her store's collection, which pulls items locally and regionally from cities she's visited. Take a quick lap of her space and you'll find stone pendants from New Orleans' Eveille Jewelry, lipsticks by Covington's Kismet Cosmetics and handbags by Baton Rouge's own SavvyRoot. By summer, Bullock plans to have her entire inventory of clothing made by in-state brands, too.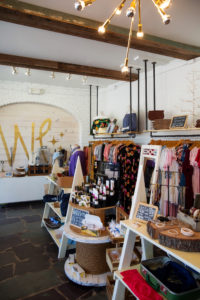 Bullock's approach to curating her boutique isn't just about artisan goods—it's also about affordability. The most expensive item in the entire boutique is a handmade leather bag from Nashville's Urban Southern that runs about $130.
"I want to give an outlet for other girls to feel like they can look unique in Baton Rouge, that they don't all have to wear Tory Burch and all that. Express yourself; show your uniqueness. I want people to be able to afford it and have quality goods."
Opened in April, Bullock's Wanderlust aims to host private parties and pop-ups, and it also serves as the new pick-up site for all orders from local jewelry powerhouse Mimosa Handcrafted.
But even as her brand settles into Baton Rouge, Bullock still feels that familiar pull of the road. Thankfully, she kept the boutique truck. You'll still catch her out there on occasion, flinging open the truck's doors to welcome shoppers to another pop-up.
"I love, love traveling," Bullock says. "I love meeting new people, and I love making them feel good." wanderlustbyabby.com
---
This article was originally published in the May 2017 issue of 225 Magazine.