---
By Meredith Whitten
Whether your thumb is green or runs a different hue, landscaping your yard doesn't have to be a daunting task.
To create a plan for your yard, first decide what you want and what you want to use it for. In other words, think about both aesthetics and function, says Alex Anderson, a landscape architect with Makaira Landscape in Baton Rouge who works on residential projects of all sizes.
"Do you want a real showstopper in the front?" Anderson says. "Is it important to you to have a big open space in back?"
Many landscape designers take their cue from the house or from existing features, such as trees, that a homeowner wants to feature.
"If you have a traditional, Acadian-style house, you may want to have a formal design," says Anderson, who adds that front yards tend to be more formal than backyards. After determining style and design, choose plants and other features. "Hedges are a staple that can be used in both formal and informal designs," Anderson says. "We use a lot of boxwood and plant thick, layered hedges."
With layered planting, smaller plants go in front, with gradually larger plants behind them. Anderson, a Baton Rouge native, also recommends azaleas and camellias.
"One of my favorites is Shishi camellias," he says. "It's a shade-tolerant flowering plant, but it can take a bit of sun. It's also a very slow grower, so you don't have to worry about it getting out of control."
Ground covers, such as liriope and dwarf mondo grass, are a low-maintenance alternative to grass. Meanwhile, for trees, Anderson says crepe myrtles are everywhere because they are so well suited to the south Louisiana climate. In particular, Natchez white crepe myrtles fit well with the current landscaping trend of all-white. Anderson also recommends vitex trees, which "are more sculptured, with a purple cone-shaped flower," and Japanese maples, which are "a very vibrant red and go well up against a house because they won't get huge."
If you'd rather call a professional than landscape on your own, look for a landscape architect or contractor who is trustworthy, licensed and insured, Anderson says.
"There's a lot of coordination involved, so you want someone who puts a lot of effort in and pays attention to detail," Anderson says. "You want to hire someone you click with." 
---
Plants that thrive in the south Louisiana climate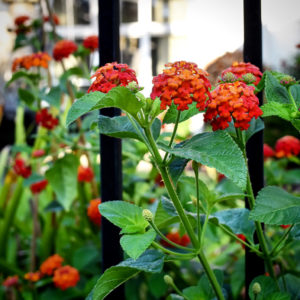 Lantana camara
---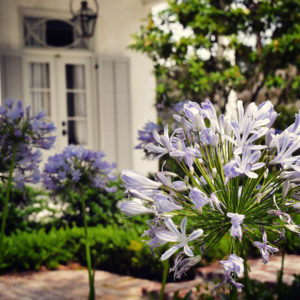 Agapanthus (also known as Lily of the Nile)
---
Apricot drift rose
---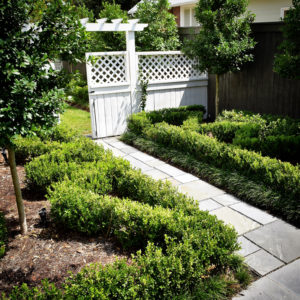 Boxwood, liriope and eagleston holly
---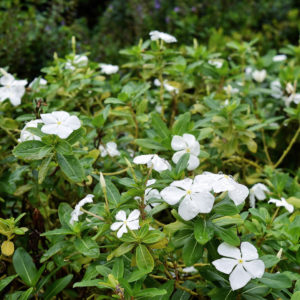 Annual vinca
---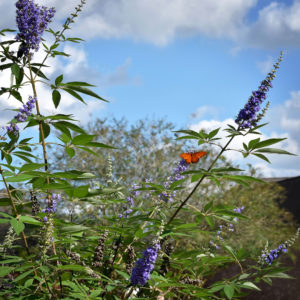 Vitex trees