---
Prescott Bailey's place is often the talk of downtown.
There was the time he had his table lifted up to his balcony by a crane. Getting the 600-pound concrete dining table to the third floor was quite the affair.
His balcony dinner parties are a sight, even viewed from the street below. The wraparound space is such a coveted spot he has often offered it up at silent auctions. He's partnered with his good friend, Kalurah Street Grill chef Kelley McCann, to donate chef-cooked dinners there for local charities.
Then there was the time a movie producer spotted his place. The producer was standing a quarter-mile away, scouting film locations at the 525 Lafayette apartment complex. He couldn't take his eyes off the spiral staircase on Bailey's balcony. The corrugated metal staircase juts over the street below, leading to a rooftop terrace.
Soon, Bailey had a film crew in his apartment. He's not sure what the film was, so he's just waiting for his apartment to surprise him in a movie.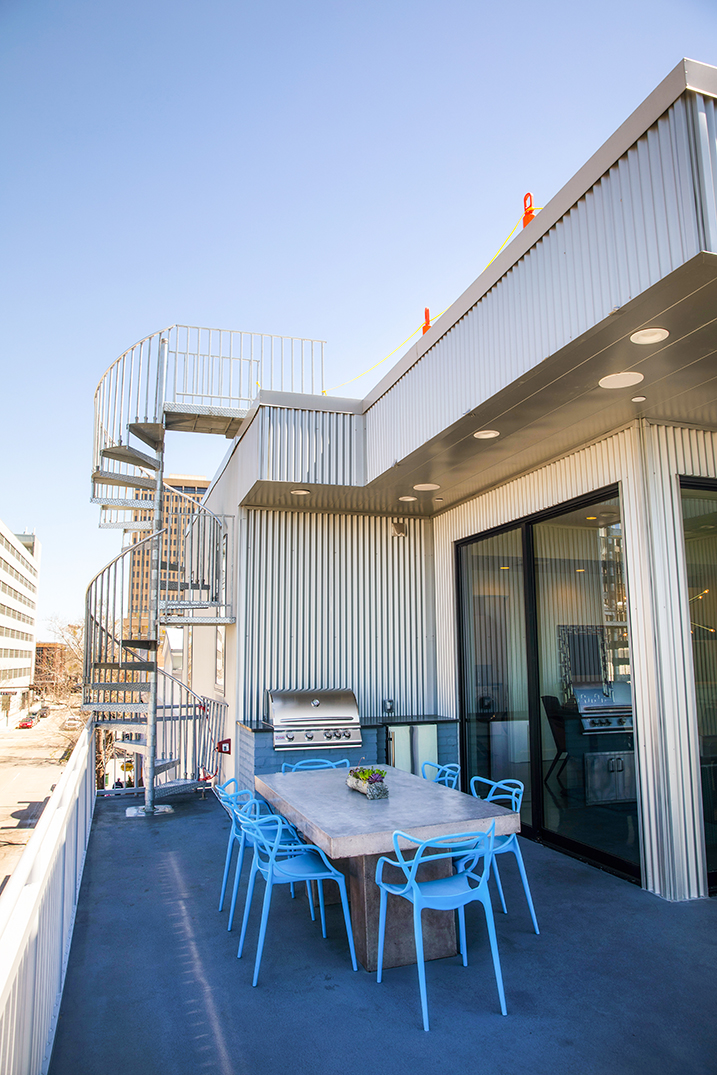 Prescott Bailey has hosted parties of up to 40 people at his downtown space, which features a wraparound balcony, rooftop terrace and river views.
---
For him, though, some of the best moments in his home are the ordinary ones that happen each morning. The Mississippi River flows about 400 feet from his bedroom windows. He rolls over in bed at dawn and watches the barges drift by.
As the sun rises, he jogs downtown. The view of the river blurs into the trees near the Capitol Park and the architecture in Beauregard Town.
At night, he sits on his balcony with a glass of wine. He ends the day the same way he started it: watching the river and the sky.
"The sunsets that come off this balcony are incredible," the Baton Rouge native says, scrunching his nose and shaking his head to drive home his point.
The 31-year-old is the area president of Southern Lifestyle Development. He spends his days building mixed-use developments across Louisiana. So it's not really a surprise that he designed his entire building himself.
The master bathroom features double showers and a walk-in closet behind barn doors. Bailey had long admired the steel skeleton-shaped chair, which once belonged to his mother. He convinced her to give it him after his renovation.
---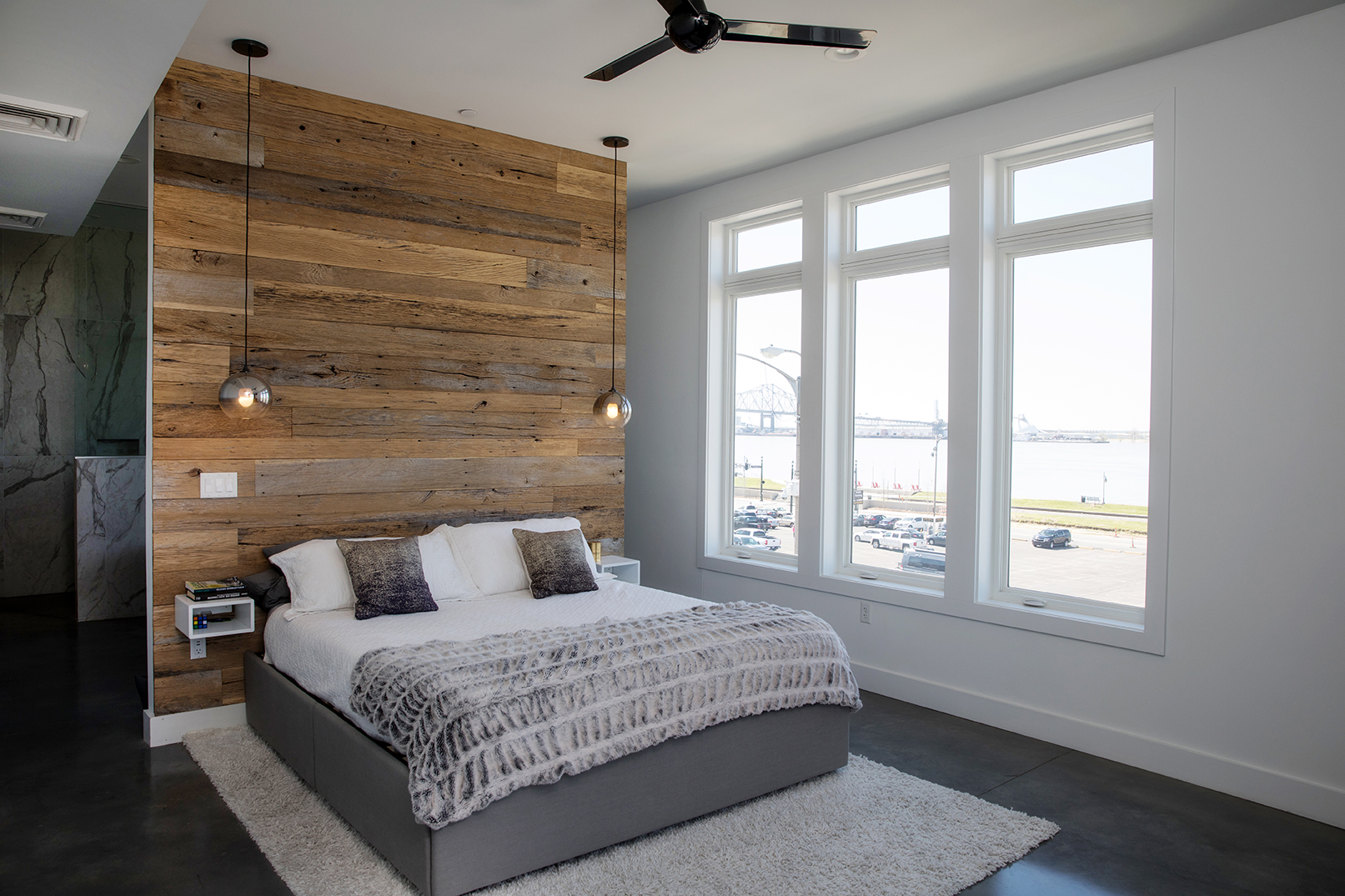 Instead of a traditional headboard, Bailey outfitted the entire wall with wood from a mill in Pennsylvania. He doesn't have a dresser. Instead, cloth gray drawers hidden under the bed offer storage. To keep the space open and flowing, there are no doors to the master bathroom.
---
He had been looking to buy a house downtown for a while. But every house he found in Beauregard and Spanish Town seemed to disappear within 30 seconds of listing.
When he drove by his future home on Laurel Street, it was a dilapidated one-story with a "for lease" sign. Something made him stop. He stood at ground level and took in the river view. This was the spot.
He called the building's owner and made an offer. Three hours later, it was his.
Renovations were more complicated. There was mold and asbestos. Everything except two walls had to be torn down. Bailey redid the plumbing, electric and foundation.
He built up, adding two floors on top of the original. The third-floor would house his apartment, and he'd lease out the floors below to businesses.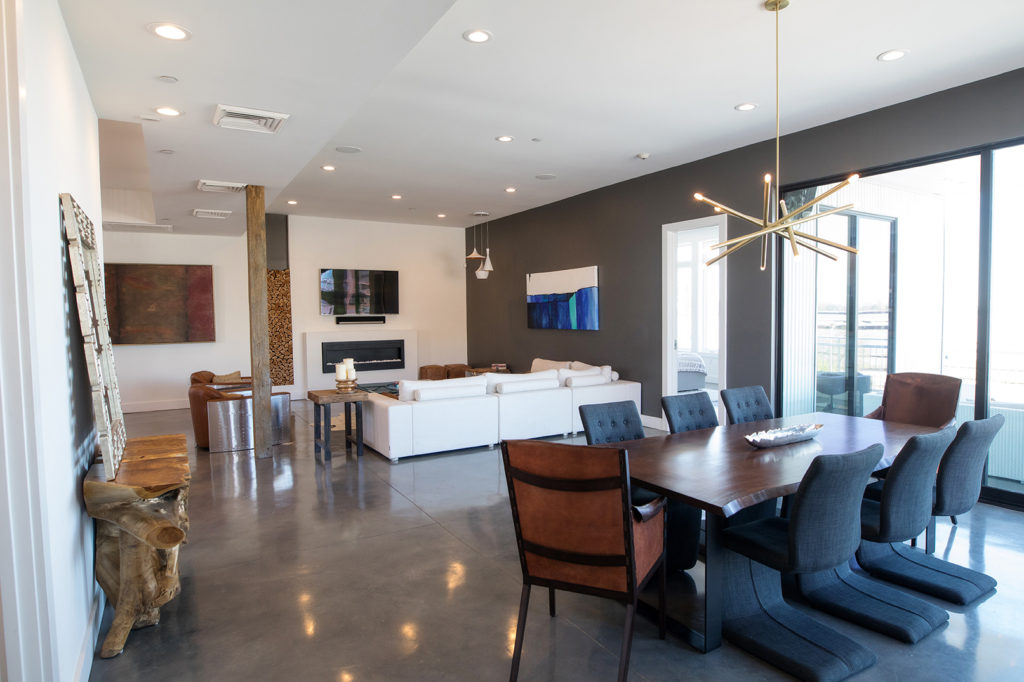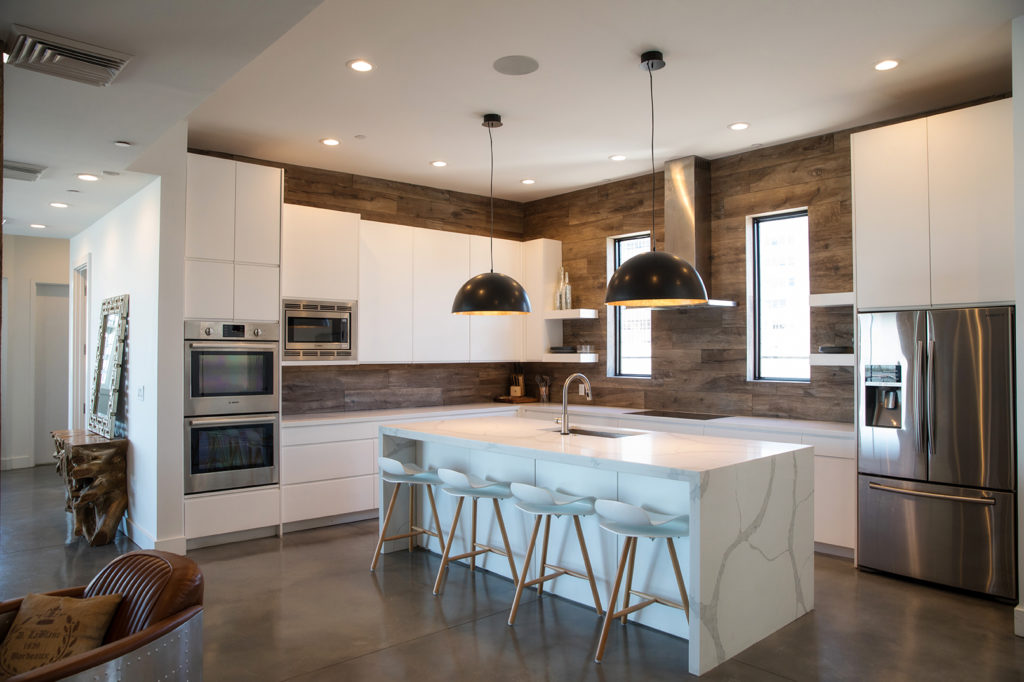 The kitchen is spacious and streamlined, with quartz countertops, double ovens and a faux-wood-tiled backsplash. Bailey opted for cabinets without hardware to keep the look uncluttered. A steel beam in the center of the living space is necessary for structural support, but he turned it into a design element by covering it with thinly sliced boards of reclaimed wood.
---
Today, there are just as many show-stopping details inside as there are outside. His elevator walls are splattered with a neon mural of downtown Baton Rouge. The master bathroom's double shower is large enough Bailey affectionately refers to it as "the car wash."
He jokes that a wood display by his fireplace turns into a lifesize game of Jenga when his friends get overserved. His entryway console, 450-pounds worth of gold-glazed petrified wood, looks more like a sculpture than a table.
"Art doesn't just have to be on walls," he says.
The statement pieces are balanced by a neutral color palette and plenty of white space. Bailey doesn't like clutter and doesn't collect many things.
Despite the dramatic nature of his home, he doesn't come across as showy or ostentatious. More like a down-to-earth-guy who simply loves great design.
And as all designers know, a great space is never truly finished.
Bailey's next project: completing the rooftop terrace his spiral staircase leads to. He has plans for an herb garden, hammocks, string lights, greenery and plenty of seating.
It will be the perfect spot to watch the sunset, admiring the view that drew him here in the first place.
---
This article was originally published in the 225 Extra: 2018 Spaces & Places issue. Click here to read more articles from this issue.