---
Tracee Short isn't worried about her security deposit.
Within moments of meeting her, she's already divulging all the rules she had to break to decorate her rental.
"We painted these walls illegally," she says conspiratorially, pointing at the bright white walls in her living room and kitchen.
Her apartment complex does allow tenants to paint walls—but only four approved colors. White was not on the list. "Can you believe that?" Short asks indignantly.
It's all going to be OK, though. She'll either need to paint the walls back when she leaves or sacrifice her security deposit. For her, that's a small price to pay if it means coming home each night to a space she loves.
The bubbly 38-year-old is the medical director of the burn unit at Baton Rouge General. She's also launching two side businesses: an off-airport parking lot at the Baton Rouge Metropolitan Airport and a skincare line inspired by her patients at the burn unit.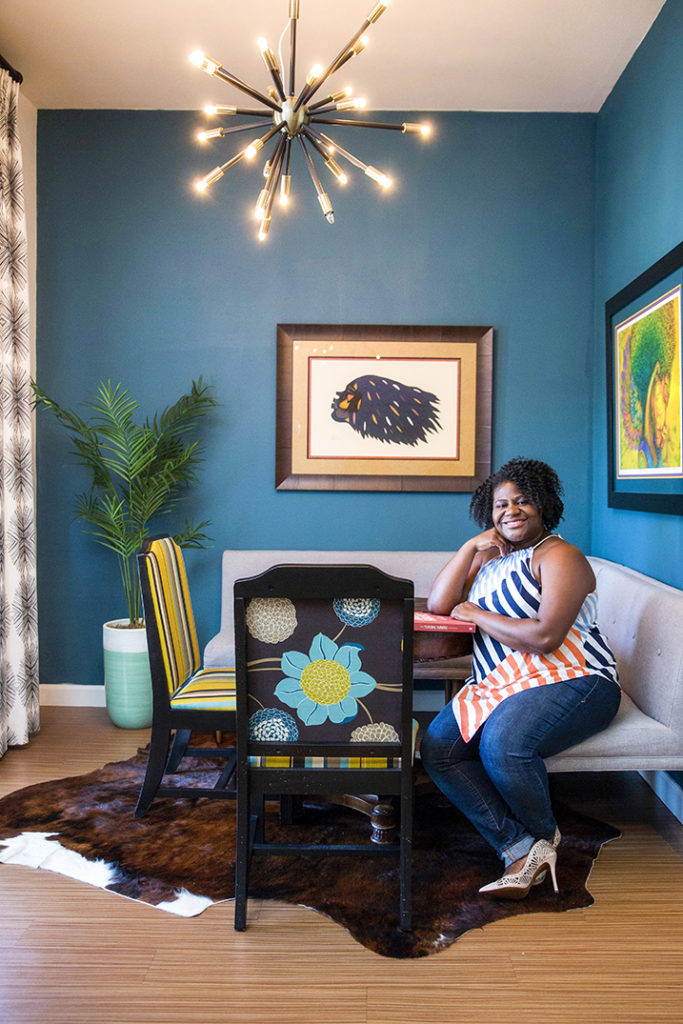 Short loves to host dinner parties and game nights. The gray banquette around the dining table brought the total seating in her living-dining space to 19 people. She bought the artwork from Louisiana artists selling at Essence Music Festival and got them framed at Lagniappe Frame Shop. The striped and floral-print dining chairs were a DIY project.
---
Last year, the busy entrepreneur hired local interior designer Arianne Bellizaire to transform her 1,300-square-foot two-bedroom apartment. Now, she says her mom and her friends tell her the space is "so you." In fact, today she is dressed in the same colors as her living room. Her blue and orange striped tank match her teal couch and orange side tables.
For three months, Bellizaire and Short went to town overhauling the apartment. They painted the walls white and teal. They hired an electrician to install sputnik-style chandeliers in place of the unit's ceiling fans. They reupholstered and repainted furniture. They replaced the kitchen island lighting with groovy, Moroccan-inspired pendants.
And most importantly: They hung Short's art.
Short loves all forms of art, from visual to performance. She goes to symphony and theater shows. She collects paintings and mixed media pieces. She just bought her first sculpture. And when her phone rings, a jazz ringtone plays. "I just like how art makes you feel," she says.
For years, though, her collection was collecting dust on the floor in her guest bedroom. She knew what she liked, but she wasn't sure how to arrange it.
"I told Arianne all the craziness in my head, and she pulled it together instead of it looking like a hot mess," Short says with a laugh.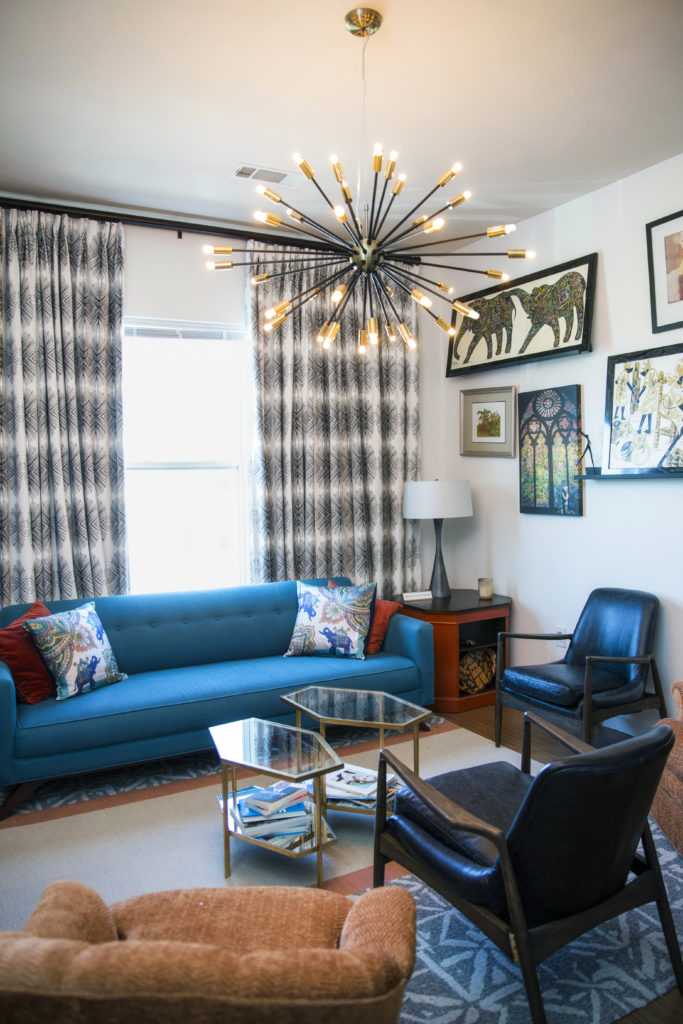 Short scored the orange side tables at Junk in the Trunk in Central, and she and designer Arianne Bellizaire built the room's color palette around them. They added pops of orange with the throw pillows, rug and two armchairs, which were originally a shade of LSU purple and were reupholstered coral. Art pieces Short purchased during a trip to the Dominican Republic sit on black photo ledges, so she can easily swap art in and out.
---
She's a self-professed people person, and she seems to care just as deeply about the stories behind the art she collects as she does about her hospital patients.
She remembers where, when and why she got each piece in her home, whether it's the cowhide rug she bought on the side of the road in her home state of Texas or the painting in her kitchen made by a coworker.
Short is always laughing, but she becomes pensive as she studies a large painting in her bedroom. It depicts a young black girl standing in front of a public swimming pool in Selma, Alabama. The girl is wearing a white swimsuit and gazing at a sign that reads "whites only."
"In her innocence, did she think she needed to be in a white swim cap and swimsuit to be allowed in the pool?" she wonders. "Or was she just determined to get in the pool regardless?"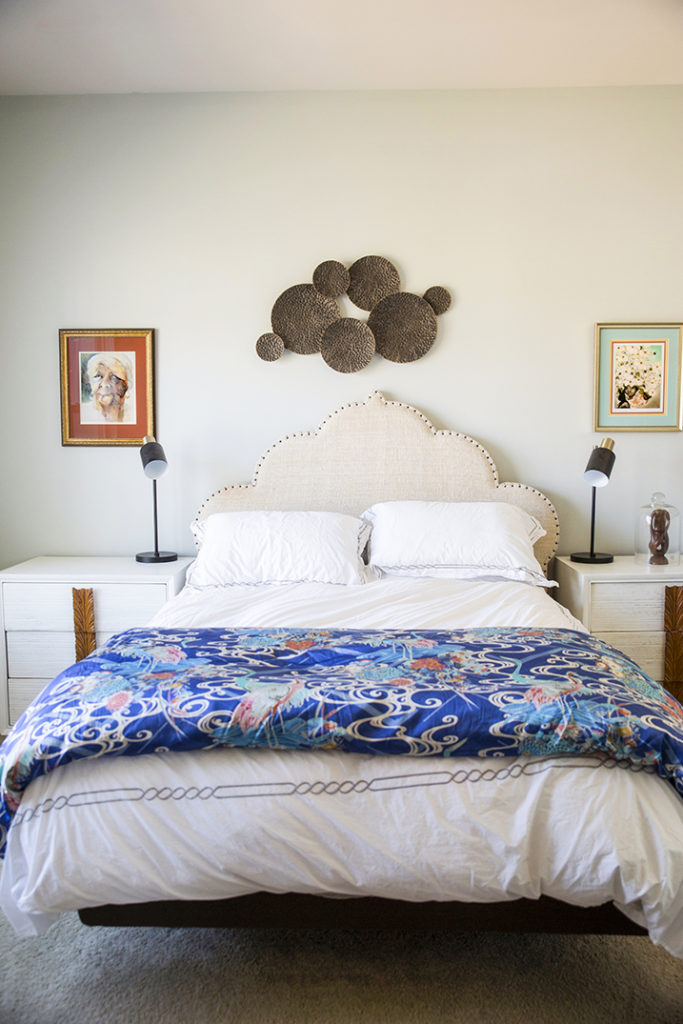 While the rest of Short's apartment is punctuated by bold colors, the cool and neutral tones in her bedroom keep it grounded and peaceful. The dressers were Honeymoon Bungalow finds from several years ago. The artwork is a mix of original pieces she purchased at Hot Art Cool Nights, Essence Music Festival and Etsy. The printed throw at the foot of the bed is from Crate & Barrel.
---
It's a heavy piece for a bedroom, she says. But it doesn't feel heavy when it's combined with the rest of the room's artwork and the decor's serene, cool tones. She looks over now at a wooden figurine on her nightstand, two people with arms outstretched toward each other. It's a mother and child, she explains, coming together in a symbol of parental love.
Short doesn't see herself moving into a different apartment for several more years, so all that work? Worth it. Her leasing managers have even seen the space and don't seem to mind much.
Now, she has a cozy place to curl up and watch This Is Us and a space that her friends are constantly telling her she needs to upload to Pinterest.
"Every time I came home before, it was just kind of ho-hum," she says. "It was so dreary and sad. And I'm not a sad person. Now, there is a joy that comes from this space. It truly does make me happy."
---
This article was originally published in the 225 Extra: 2018 Spaces & Places issue. Click here to read more articles from this issue.