---
The sweet and calming smell of oats and essential oils drift out the door of Beautiful Butterfly.
Inside the Perkins Rowe shop, mounds of natural artisan soaps in shades of cream, brown and beige are neatly organized atop rectangular tables. Labeled with names like Jamaican Remedy, Blue Lavender and The Naked Truth, each soap boasts its own skin benefits for conditions like eczema, psoriasis and cancer.
"I'm tired of going and picking things off of the shelf that don't have enough of the most important ingredients that help heal your skin," Beautiful Butterfly CEO Erica Reed says. "If it doesn't hydrate, it doesn't get put out in my store."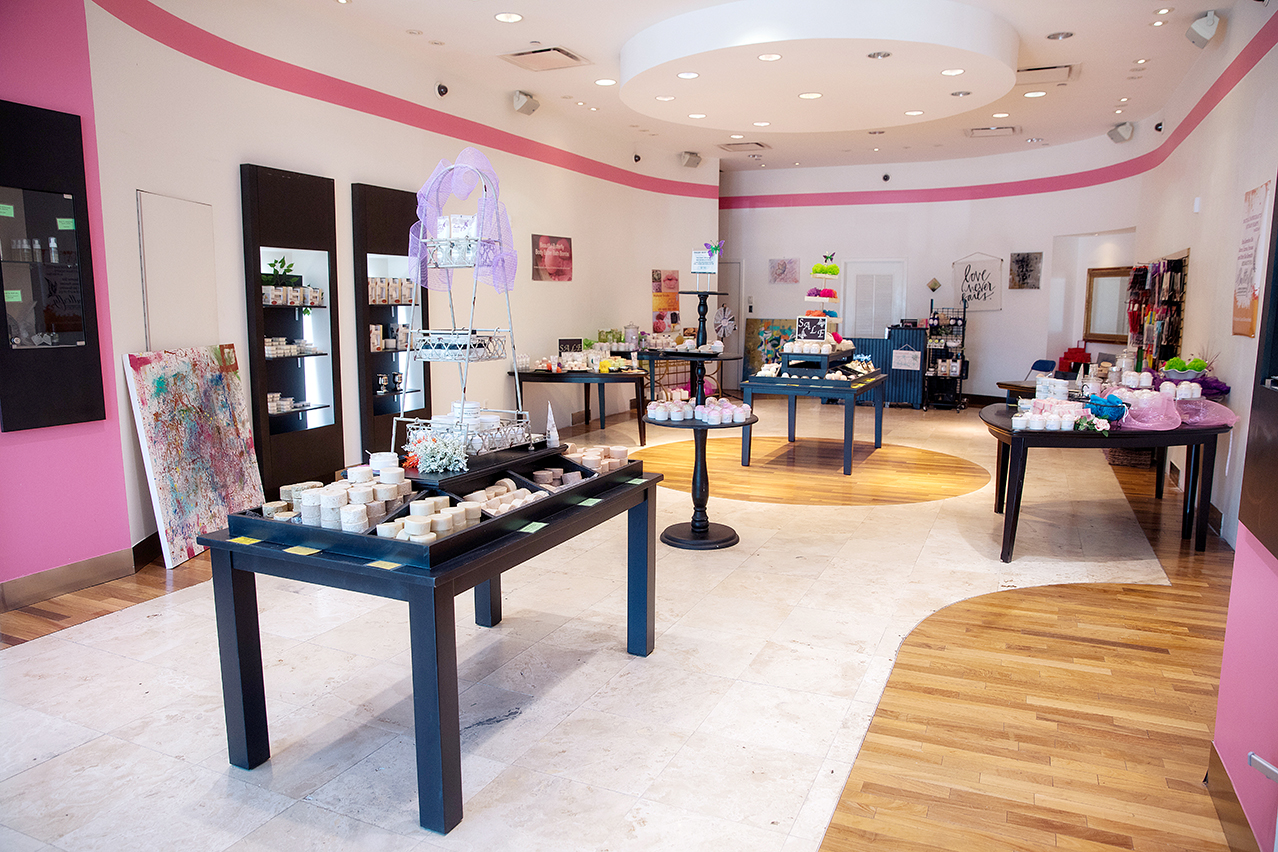 The 42-year-old started her luxurious essentials and handcrafted gift company in 2015. She opened her first storefront last November.
Her family members suffered with unique skin and health conditions, and she wanted to help.
One night, Reed woke up suddenly at 3:57 a.m. At that moment, she says God guided her toward a career in skincare.
After selling real estate for 14 years, she made a leap of faith. She had no background in skincare or soap making. But multiple experiments and many days of research later, she had developed original recipes for her body butters, face creams and artisan soaps.
From then on, she made it her mission to share her gifts with the community.
There's almost nothing in the store the Baton Rouge native hasn't made herself—artisan soaps, body butters, face washes, beard oils, bath bombs, lip balms, wax melts, bath salts and sugar scrubs.
Her products mainly include hydrating ingredients like coconut oil, olive oil, goat's milk, shea butter, cocoa butter and sunflower oil. She makes them weekly in small batches at her Florida Boulevard studio and transports them to the store.
When customers walk through the doors, Reed greets them with a warm smile. For her, catering to her customers' needs means being patient and attentive and even offering custom batches for special allergies and conditions.
Beautiful Butterfly is currently located next to Barnes & Noble at Perkins Rowe, but Reed says she has plans to relocate toward the back of the shopping center to attract more customers.
As her business continues to grow, she has many new ideas for the shop. She plans to offer a baby skincare line, host more events and showcase local artists' work throughout the store.
"I'm not just trying to make a sale," Reed says. "I'm trying to make a difference." Find Beautiful Butterfly on Facebook
---
This article was originally published in the May 2018 issue of 225 Magazine.