Alexis Moon is the personification of a bohemian rhapsody.
The 31-year-old is as free-spirited an artist as they come. She moves in her own way. Scroll through her Instagram, and you'll see her warm smile, kind brown eyes and earthy, abstract art.
Meet her in person, and it's much the same. She's 5 feet 8 inches tall, with long, honey-colored hair with streaks of blonde.  She dresses like an ethereal moon goddess, donning flowy, boho tops, bottoms and dresses. When she speaks, her voice is soft and almost melodic. It's no wonder she's also a talented singer, part of a duo called Two Bear Moon.
"If I have a fresh canvas, I feel like I create during a stream of consciousness," she says of her artwork. "Everything just kind of flows out, and I hope that it comes out in a way where other people can still feel connected to it."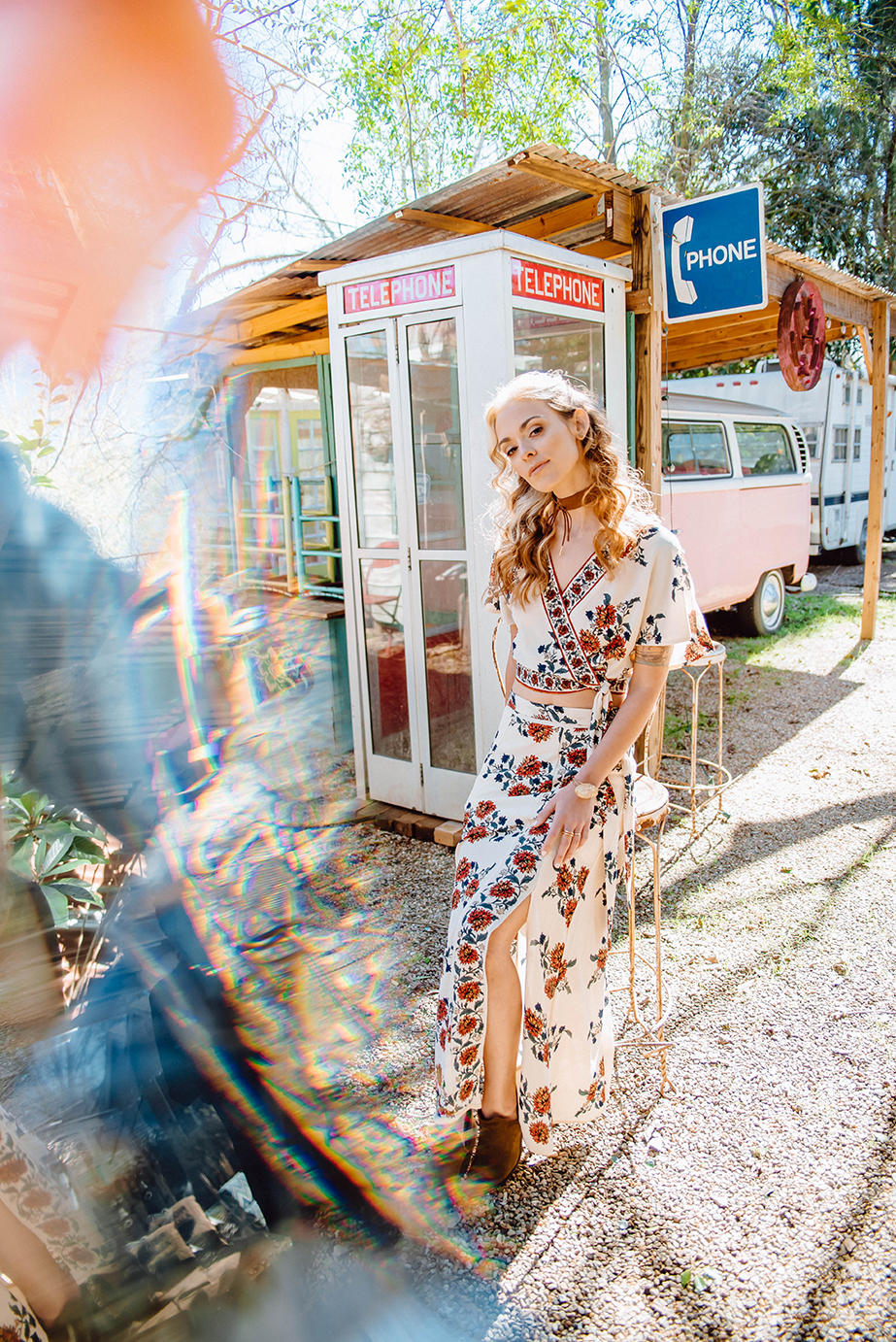 Much of her drawing and painting showcases the female form and expressions of emotion. She's drawn to blues, deep greens, purples and grays, which she uses to create abstract silhouettes of women.
"My work is very emotional, and though it looks very spiritual, it comes from a really dark place," Moon says. "But it also represents strength. I love to harness that darkness within but show it in a more feminine way."
Moon believes it is important to talk about mental health, and the vulnerability in some of her paintings is representative of anxiety and depression, both her own and what many others face.
She is always looking for ways to connect more deeply with people in the community, often joining her husband Casey Phillips—founder of The Walls Project—at grassroots community events, including mural painting sessions and art mixers for good causes.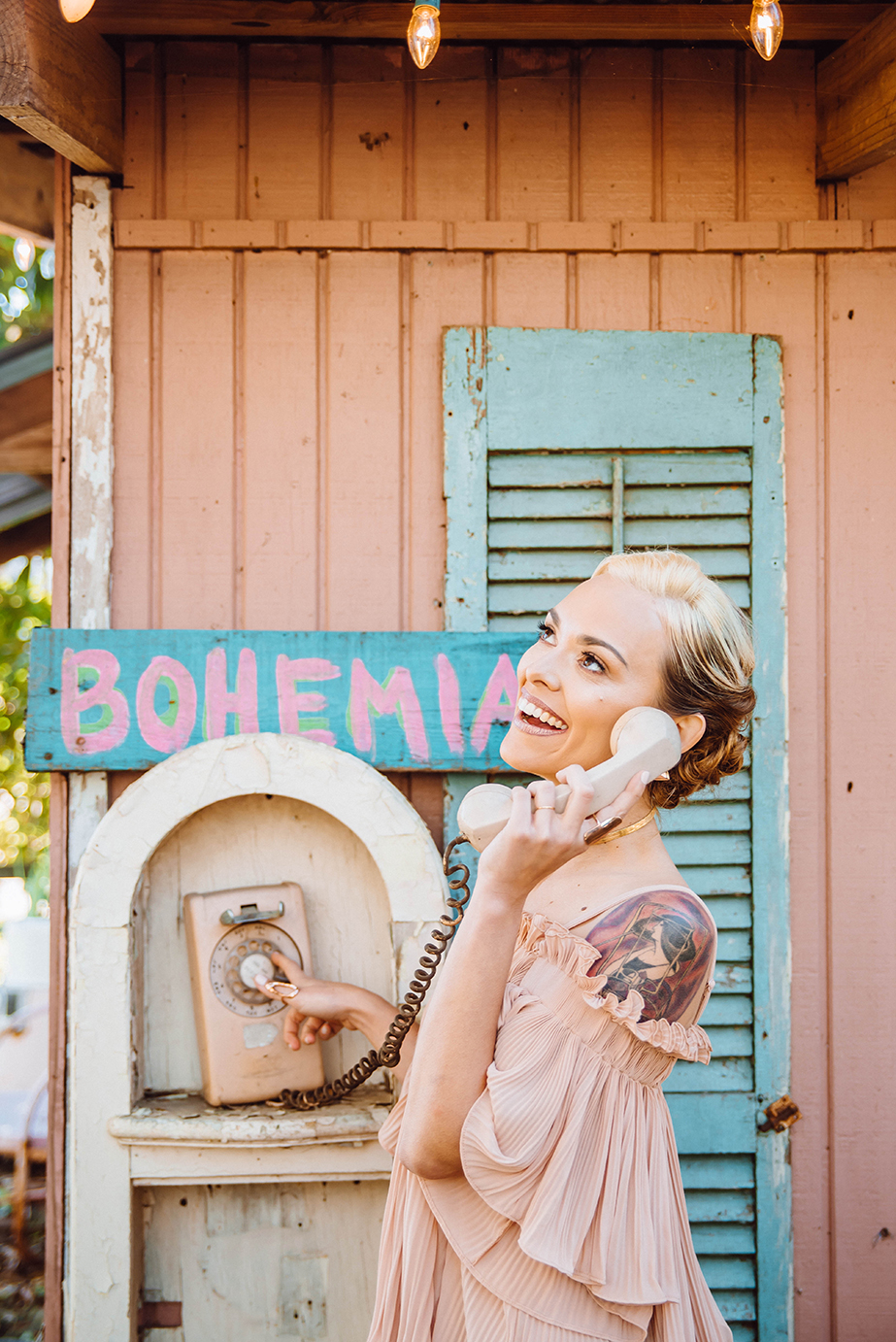 She's an advocate for what she believes in and stands up for the marginalized, championing women's rights, Black Lives Matter and the No Dakota Access Pipeline movement. Doing good in the world is what's most important to her, and she's happy contributing in any small way.
"There's such a stigma around mental health, and people are sometimes afraid to talk about our feelings, the complexities of our lives as humans. I think it's important to feel that range of emotion, because it's what makes us people," she says.
She works hard despite suffering from chronic pain caused by fibromyalgia. Even amidst her pain, she never stops creating.
"I don't want to look like a victim or have people feel sorry for me," Moon says. "But I do want to be as honest as I can about the condition my life is in."
Like a true free spirit, Moon has always wandered where her heart has led her. She's from Plano, Texas, originally but has also lived in Denver. Now, she's made Baton Rouge her home. She's been here for five years now and says she is fueled by the city's artist community, music and family.
Painter, singer, wife and stepmother are a few words to describe Moon. But there's no single way to define this soulful artist with impeccable style to boot. Since arriving a few years ago, she has worked hard to make Baton Rouge a better place. And because of her work, both on and off the canvas, perhaps it has been.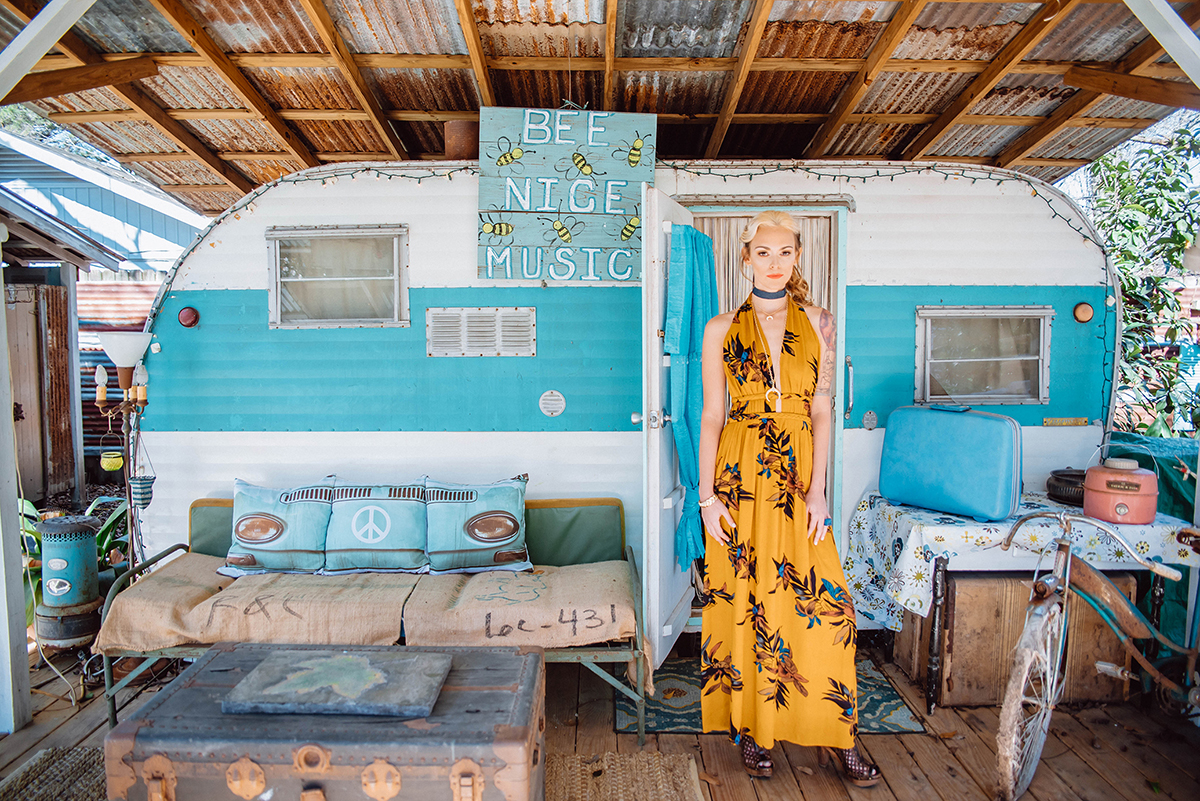 Illa Illa mustard floral-print maxi dress, $49.
From London Accessories
Denim choker, $14
Short wishbone necklace, $12
Long wishbone gold necklace, $14
Gold leaf bracelet, $10
From Hey, Penelope
Sbicca Nitra sandals, $98.
From Bella Bella
---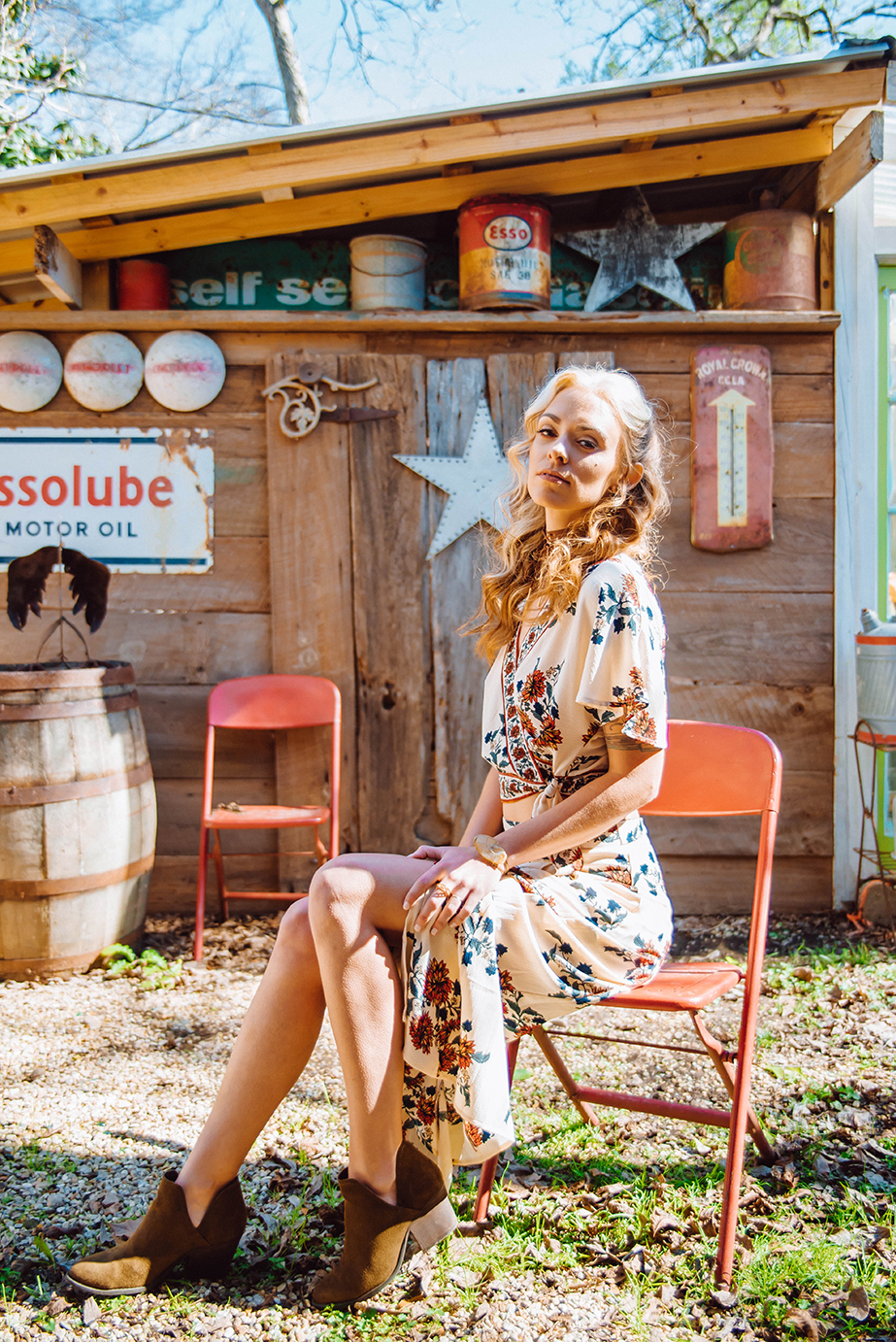 Floral print two-piece set, $54
From London Accessories
Vera faux leather choker, $16
From Hey, Penelope
Wire stone bracelet, $32
From Bella Bella
Booties and rings
Model's and stylist's own
---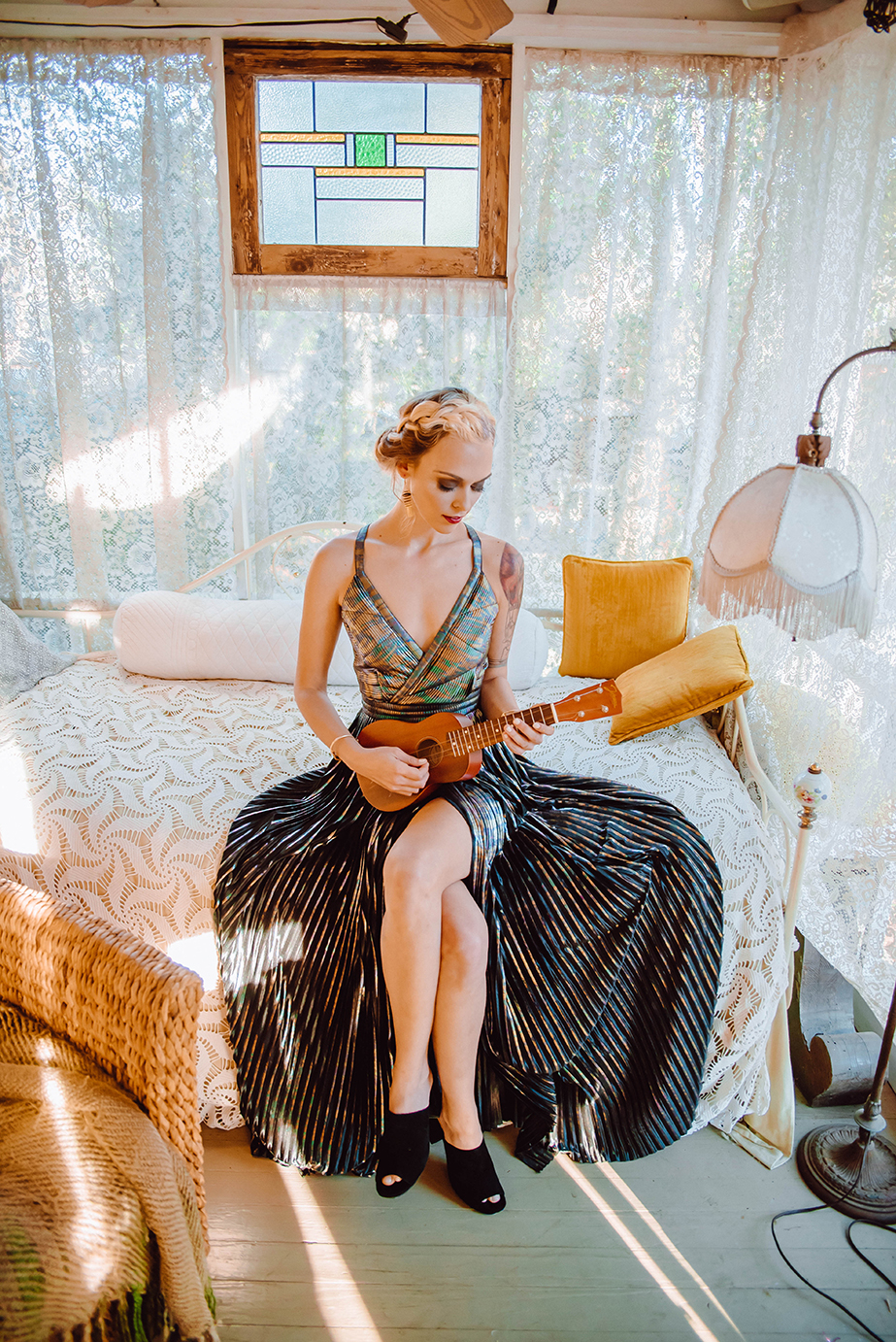 Wild Couture maxi dress, $148
Cuff gold bracelets, $24 each
Fringe earrings, $32
Chinese Laundry peep-toe shoes, $90
From Bella Bella
---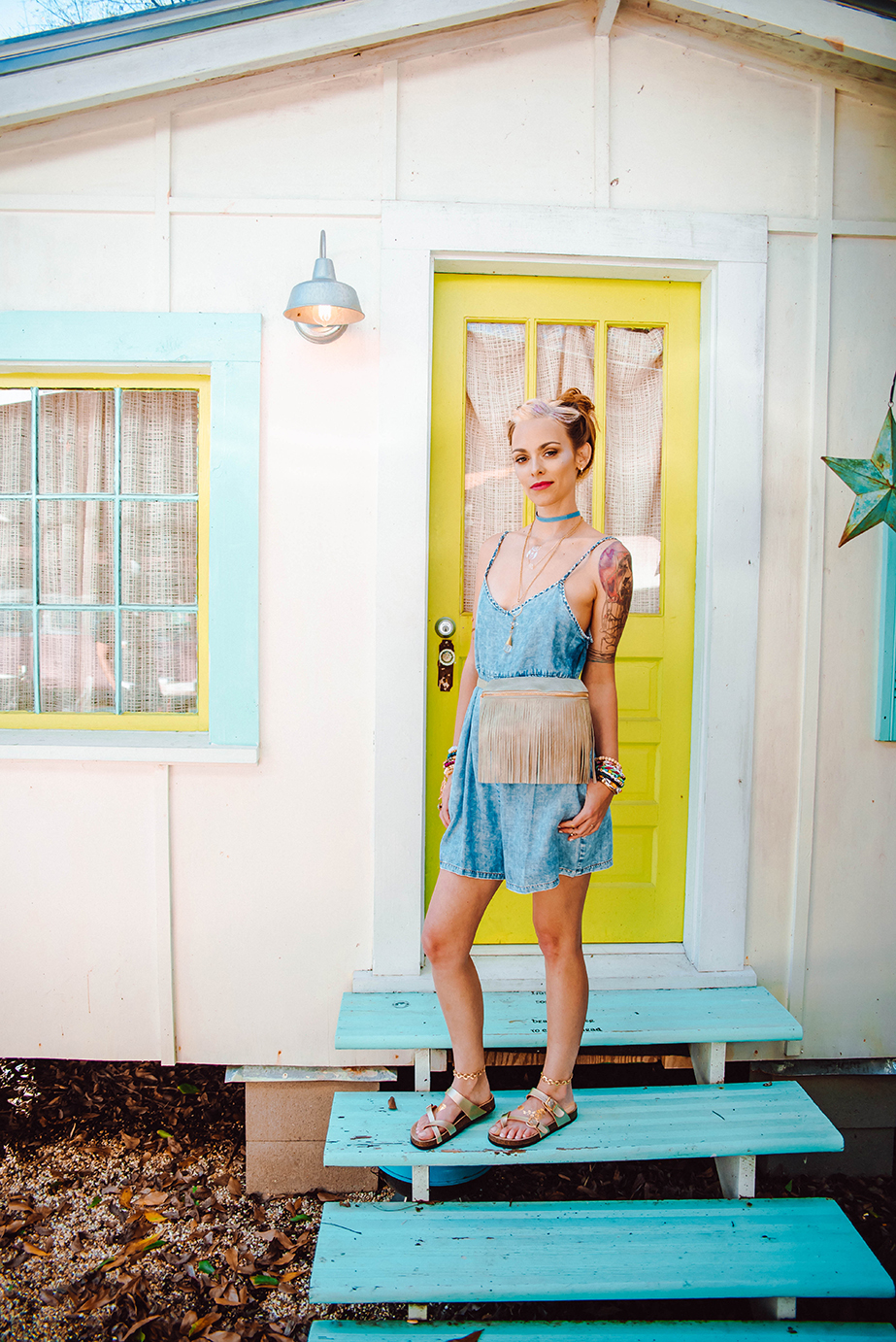 Denim romper, $58
Fringed fanny pack, $38
Outwood sandals, $28
Gold bar earrings, $28
Gold ankle bracelets, $24
From Bella Bella
Light denim choker, $12
Stone necklace, $14
Body art, $5
From Hey, Penelope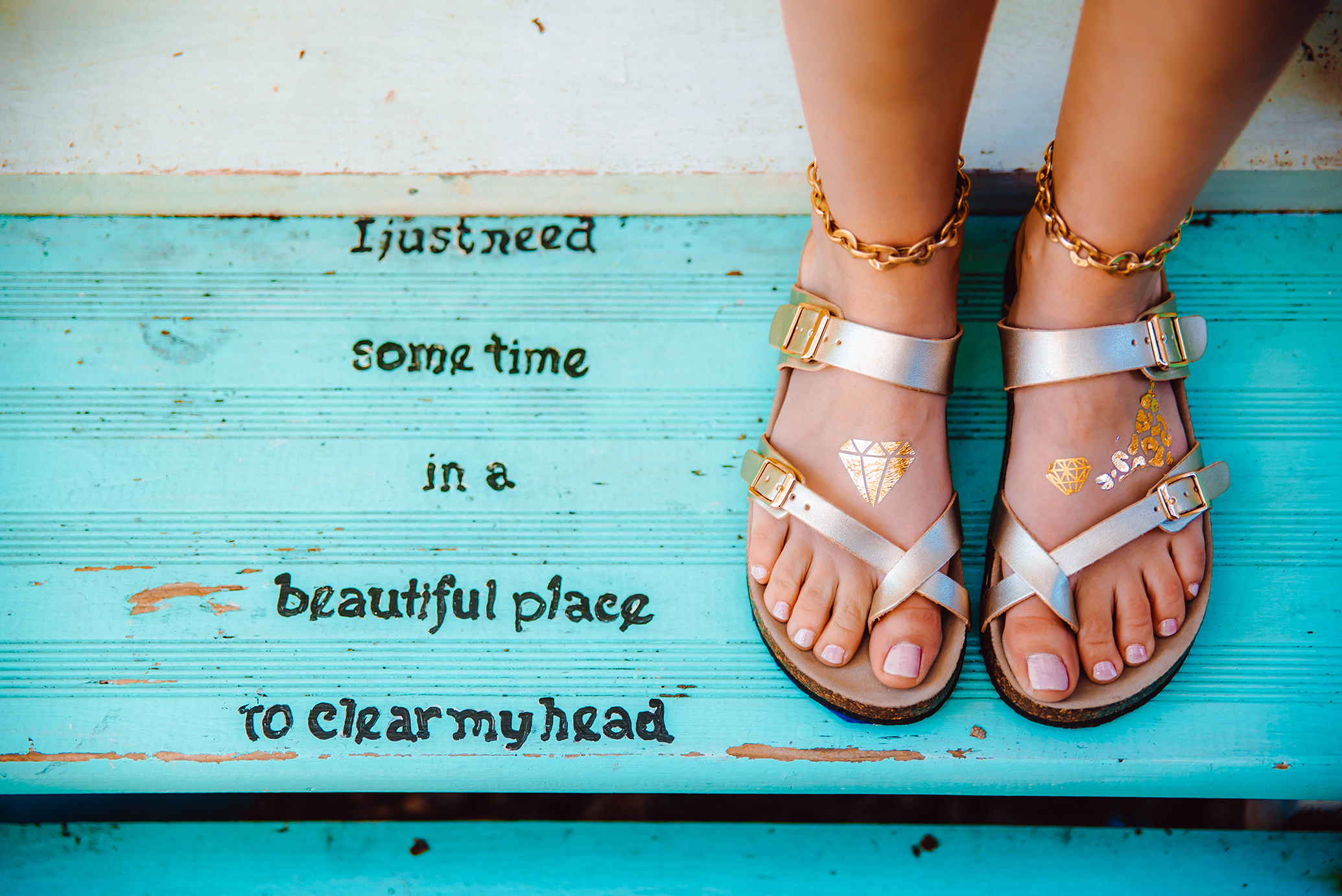 ---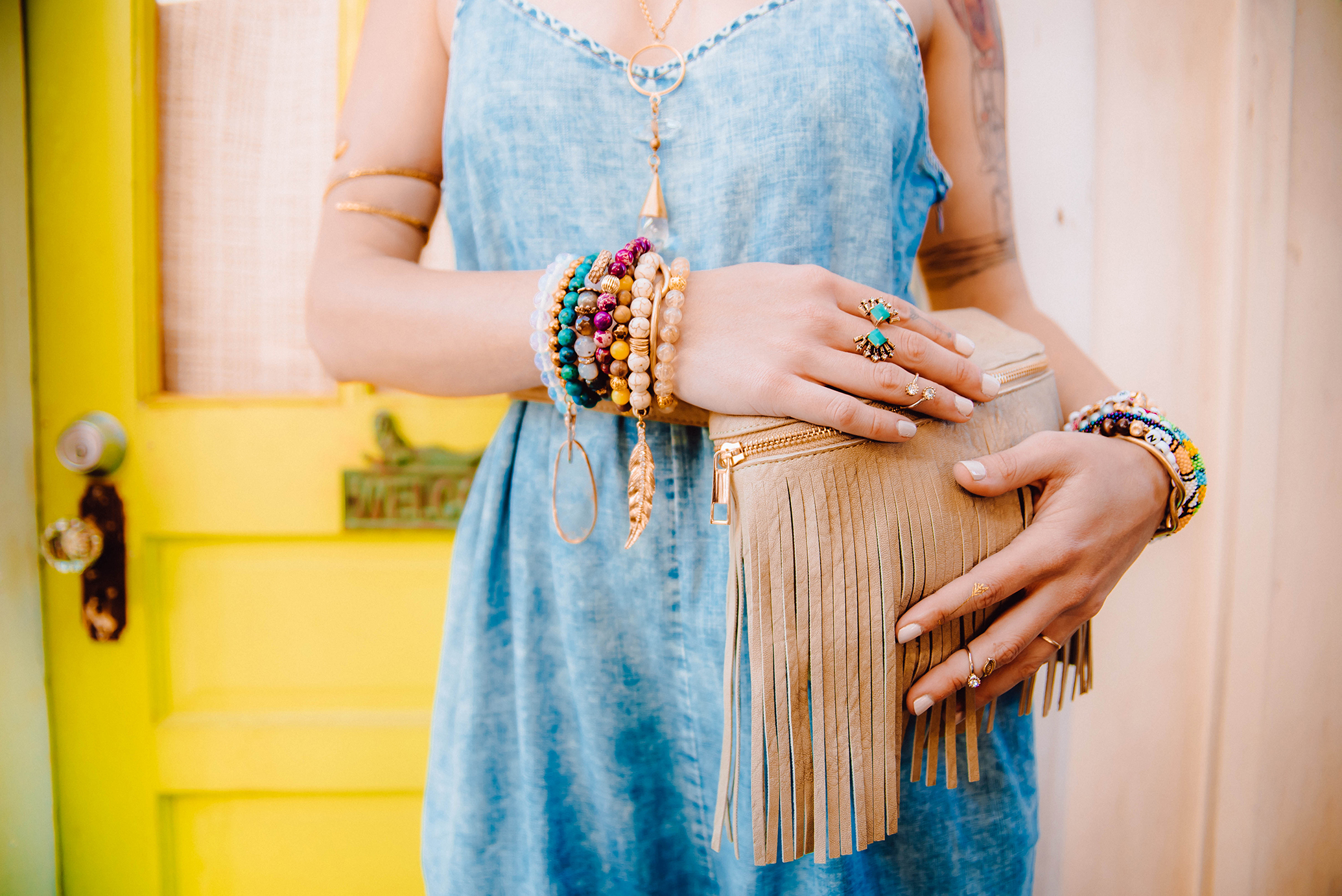 Sasha Co. beaded bracelets, $10
Long gold crystal necklace, $20
From Hey, Penelope
Teal flower ring, $18
Gold cuff bracelets, $24
From Bella Bella
Unbeadables "Boho Chic" colored bracelet sets, $35
From local designer Unbeadables
Arm cuff and midi rings
Model's and stylist's own
---
Gold choker, $18
Endless Rose off-the-shoulder blouse, $76
From Bella Bella
Nature Breeze shoes, $34
From Hey, Penelope
Cuff and earrings
Stylist's own
---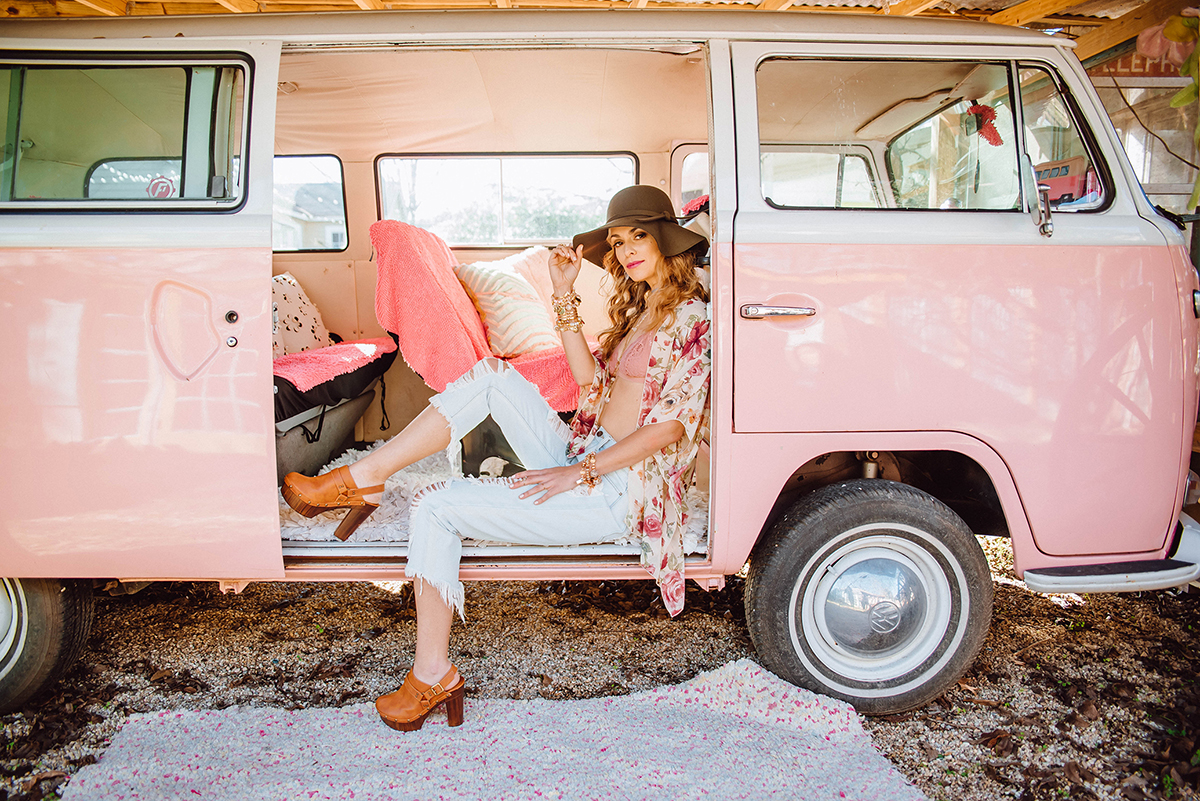 Emory Park shawl, $29
Bralette, $16
Denim choker, $12
Stone drop earrings, $14
Stone necklace, $14
Long gold crystal necklace, $20
Gold "Aztec" cuff, $10
Rings, $24
Nature Breeze shoes, $34
Body art, $5
From Hey, Penelope
Light denim distressed jeans, $45
From London Accessories
Eunique Treasures bracelet sets, $43
From local designer Eunique Treasures
Hat
Stylist's own
---
CREDITS
Styling: Elle Marie
Photography: Jordan Hefler
Hair: CeKeisha Williams
Makeup: Katrina Liza
Model: Alexis Moon
Site: Shot on location at Bee Nice Music
About Bee Nice Music
The venue for this month's shoot was a Capital Heights backyard that hosts a concert series. Owners Penni Guidry and Dave Mooney host the concerts from late April through June and in the fall.
This year's lineup has not yet been released, but previous acts have included Yvette Landry, Minos the Saint, Clay Parker & Jodi James and Kitchen Sessions of Baton Rouge, among others. Visit facebook.com/beenicemusic for updates on concerts and this year's lineup. Bee Nice Music is at 4205 Capital Heights Ave.
---
Shop the story
bellabellashop.com
facebook.com/heypenelopedesign
instagram.com/londonsaccessories
instagram.com/euniquetreasures
instagram.com/unbeadables01
---
This article was originally published in the March 2017 issue of 225 Magazine. This article has been updated since its original posting to correct a misspelling of Jodi James' name and to remove a mention of Together Baton Rouge, which Moon is not involved in. 225 regrets these errors.