---
Vanessa Armas-Fisher is only 3, but she already wants to help with everything, right down to taking food out of the oven.
"She wants to do everything herself," says Vanessa's mother, Alyssa Fisher. "I mean, you name it. She wants to pour her own drinks out of the fridge. She wants to dress herself. She wants to do her own hair."
So, when Alyssa designed Vanessa's room in their South Baton Rouge home, she was sure to fill it with items reflecting her spunky daughter's independence—including her own mini kitchen.
"I always remembered wishing I had a cute little kid room," Alyssa says. The photographer recalls her own childhood room, with its clean white walls and white bedding, felt more like an adult's space.
"I wanted to give [Vanessa] something that I wouldn't mind looking at, but that she would still enjoy. … I want her room to be reflective of who she is—not who I am."
From Etsy to T.J.Maxx and back again, Alyssa went on a journey to find unique pieces to fit her daughter's personality. In addition to the kitchen, the bedroom is filled with things Vanessa loves: mermaids, butterflies, fairy costumes, princess books and walls of multicolored bows.
But, there is one thing Vanessa and her mom share a particular love of: flowers. From painted bouquets framed on the walls to buds in vases, Alyssa made sure to incorporate them.
"That is kind of our thing," Alyssa says. "Anywhere we go, it doesn't matter where, if she sees a flower, she has to pick it, and she has to give it to me."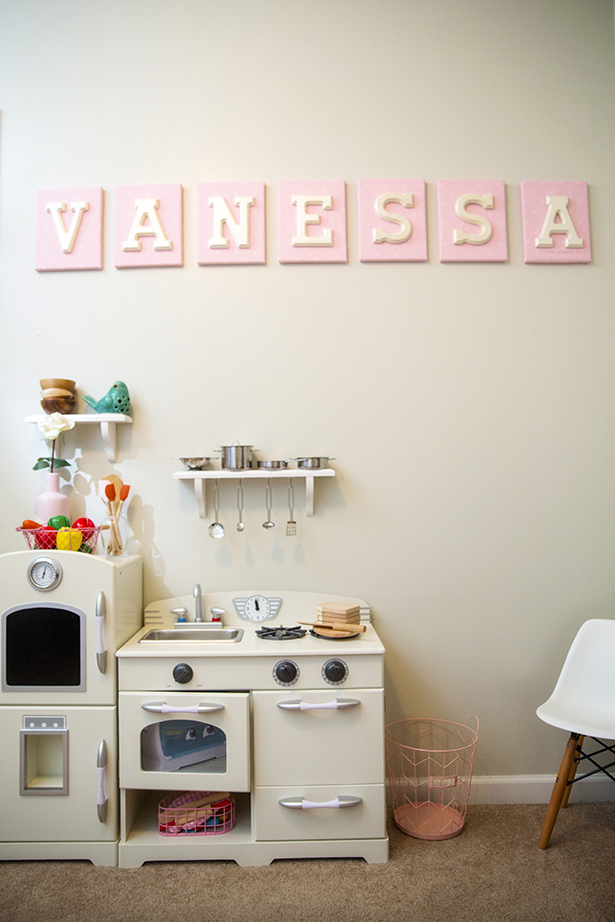 Easy bakes. Vanessa's Teamson Kids kitchen is stocked with stacked wooden bowls, spatulas and pots and pans. A green ceramic bird looks out on Vanessa while she cooks. "Her favorite thing to 'make' right now is something she calls, 'cherry coconut vanilla ice cream,'" Alyssa says. Block letters found on Etsy spell out Vanessa's name on the wall.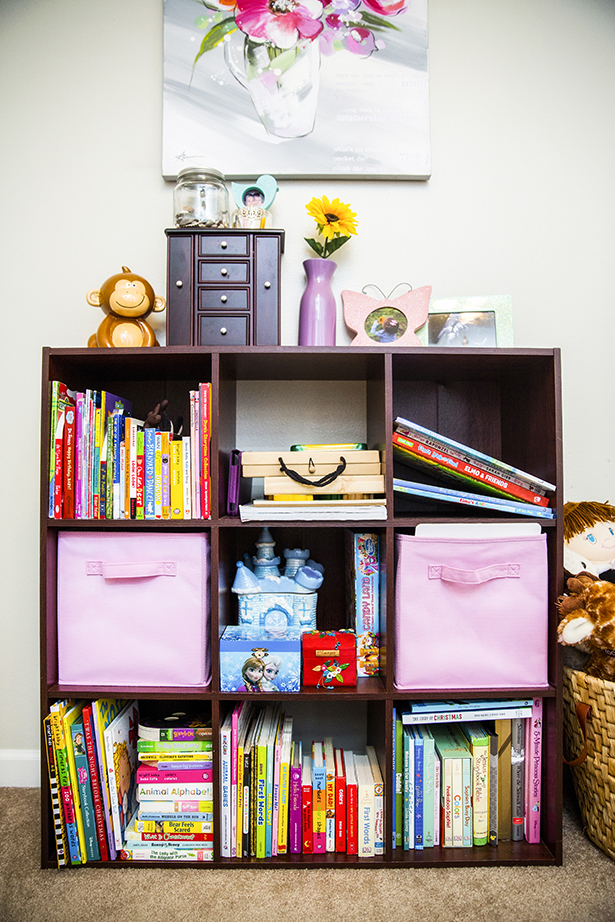 Flower power and story hour. A painting of flowers sits above Vanessa's bookshelf, a sunflower leans out of a pink ceramic vase and a flower-shaped frame rests over the bed. Vanessa's bookshelf is stocked with her favorite stories, especially the princess tales Vanessa likes to read before bed. "When she gets home, she just destroys the place," Alyssa says. "She pulls half the books off the shelf because she likes looking at them."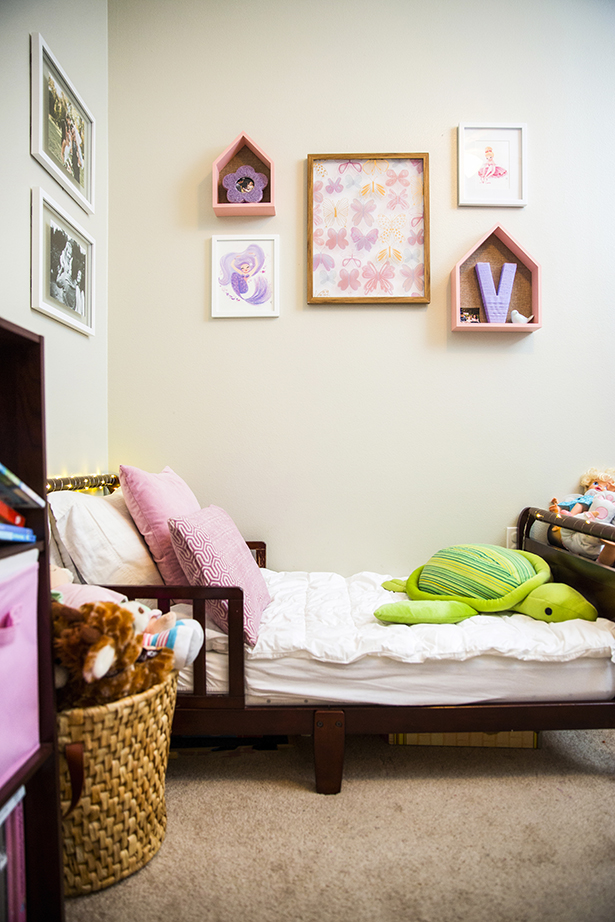 Night light. Alyssa's self-described "boring" childhood room had white linens. But the resemblance to her daughter's bedroom stops there. Colorful stuffed animals and pink pillows adorn the bedding, and delicate fairy lights are wrapped around Vanessa's bed.
---
This article was originally published in the November 2017 issue of 225 magazine.
Know a great locally decorated space? Send us a few photos to be considered for our recurring "My Space" feature at [email protected].