---
Meredith Waguespack's hard work has paid off in soft T-shirts.
And in her small showroom off Sherwood Boulevard, she has plenty of them. The incredibly soft shirts are folded neatly by size and stacked on baker's racks.
The 38-year-old mother of three started Southern Football T-shirts six years ago when she stayed home with her toddler son. She designed T-shirts injected with Louisiana cultural flair, such as a fleur-de-lis or a tiger paw in the center of the word "Football." She sold them from the trunk of her car.
Her business grew steadily over the years, and now Waguespack has a thriving online store in addition to the showroom.
"I learned that my customers like Louisiana, football, the culture of Louisiana and Southern style," she says. And her designs reflect that.
She sells men's and women's T-shirts and tanks with funky fonts and catchy slogans like her best sellers: "Sweet Baton Rouge," "Gumbo Queen" and "Time to WINE down."
Waguespack is originally from Athens, a small north Louisiana town near Ruston, and she now lives in Gonzales. The combination of what she calls her "humble country beginnings," her marketing degree and a retail career have helped lead to her own business, she says. She graduated from Southeastern University and learned the retail ropes working for Stage, Vessie B and Chico's.
"I feel like this is where I'm supposed to be," she says. "Here. Doing this. And being part of this. I feel like I have really taken some of the tools I've learned in school and in life and implemented them here."
While she started the company alone, Waguespack now runs her business with her partner, graphic designer Sarah Gibbens, and Leslie Presnall, who writes for the company's website.
Last summer, the business boomed when she and Gibbens created a Cajun Navy T-shirt following the August floods.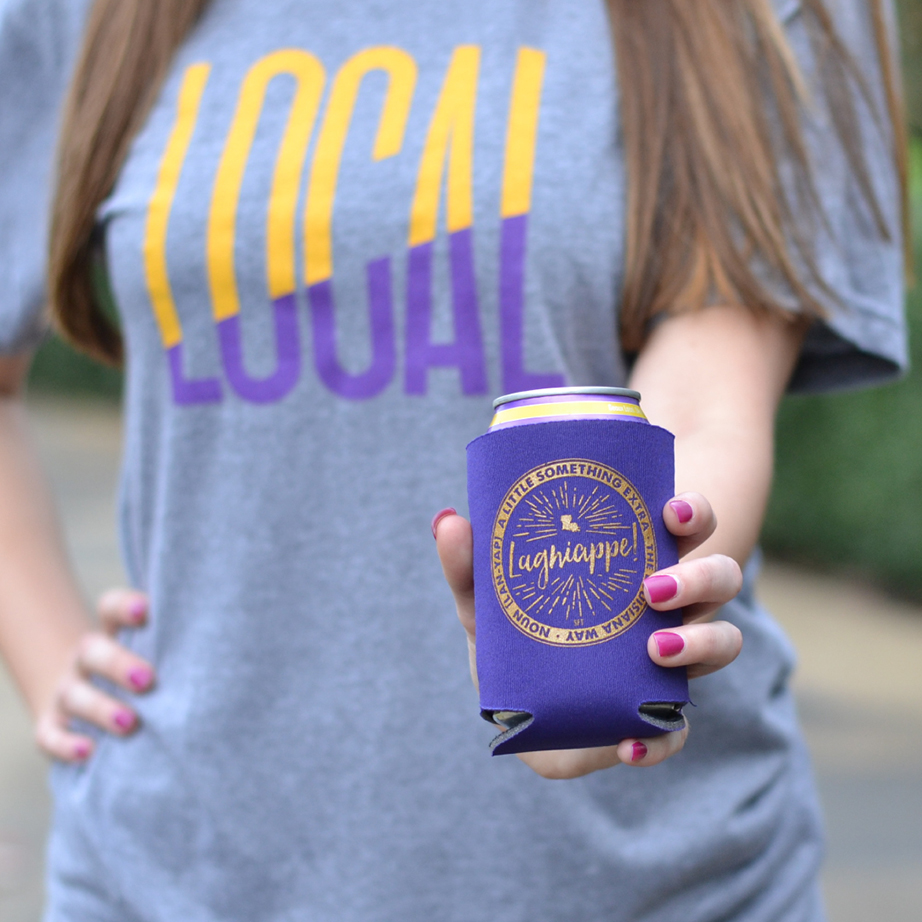 The T-shirt featured the words "Cajun Navy" with two paddles crisscrossed on the front. A fleur-de-lis, anchor, boot and the state of Louisiana were printed in each of the four quadrants created by the paddles.
"We knew we wanted to do something, so Sarah put together the image," Waguespack says. "And we put the mockup online, and people loved the design and asked them to be made into T-shirts."
They sold the shirts for $25 and donated the money to the Greater Baton Rouge Food Bank, which had flooded and lost much of its inventory. In one month, they sold more than 2,000 shirts.
"These went on sale on a Monday, and they sold so fast and went everywhere. All over the U.S., into Canada and even Germany," she says. "We were packaging 200 to 300 orders per day. We normally do 200 to 300 orders per month. The people of Louisiana just wanted to give back, and it was incredible to know that people trusted us enough to order from us, and we ended up writing a check to the Food Bank for $50,000."
Her business continues to grow. Last September, she began selling what they dubbed the "Lagniappe Box" as a monthly subscription. Each box contains one of Waguespack's shirts and a few other local items.
The May 2017 Patriotic box included blue sparkly earrings by a Lake Charles business, Louisiana Fish Fry Peach cobbler mix, a blue cotton-scented candle from a Central company and body butter from Prairieville-based Phresh Soap Company.
"It is important to support local," she says. "I'm a small business, and people are helping support my livelihood by supporting me. It's important to be able to empower others and create a really close Baton Rouge community." shopsft.com
---
This article was originally published in the August 2017 issue of 225 Magazine.