---
Down Royal Street in the small, quiet town of St. Francisville, there sits an unmissable building steeped in as much history as the town itself.
It's bright pink, a shining beacon among the surrounding white, brown and tan brick and mortar. Built in the early 1900s as a bank, the two-story building today serves as a symbol of 31 years' worth of endurance, community and family. This building houses Susan Davis' jewelry shop, Grandmother's Buttons.
"I went to LSU and graduated with a degree in journalism—so of course I make jewelry for a living," Davis says with her one-of-a-kind joyous laugh in her button-laden office.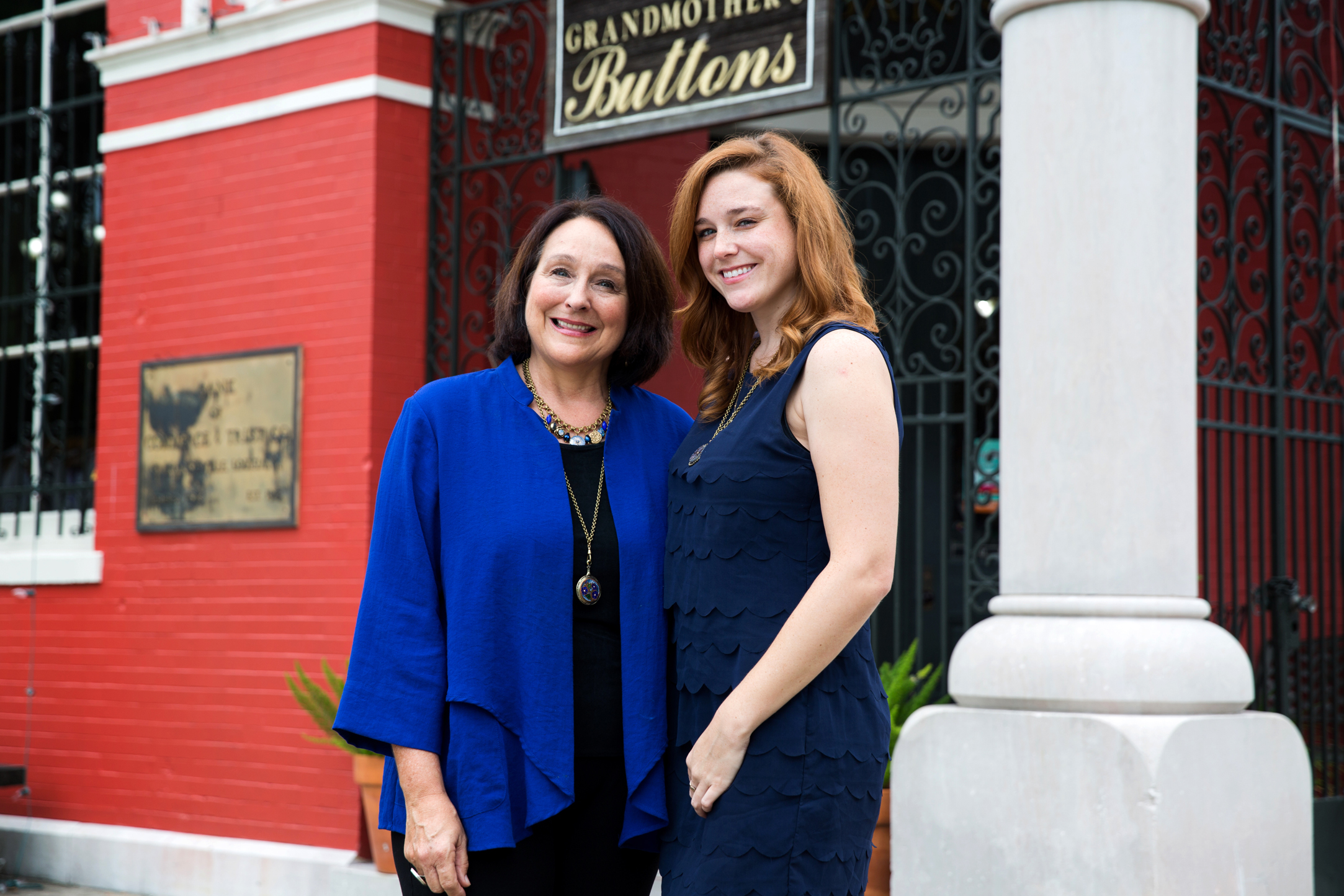 "Jewelry" is an understatement—each Grandmother's Buttons piece is handcrafted using stunning antique and vintage buttons from all over the world. Every necklace, ring, earring and bracelet is its own work of art with its own history.
Currently, Davis sells tens of thousands of pieces to a host of shops and boutiques throughout the United States and into Canada, New Zealand, Japan and Europe.
Over the years, she's searched for buttons from New Orleans to New York, from Paris to Shanghai, and has sold them to BBC America, the Palace of Versailles, Lord & Taylor, the Smithsonian, the Museum of Fine Arts Boston, HSN and Japanese QVC, to name a few.
Her store has also had a few brushes with Hollywood. Actress Hilary Swank shopped there while filming, and actor John Malkovich, who became a customer while filming Jonah Hex on Davis' family's farm, bought sterling antique button rings for himself, his wife and his daughter.
Upstairs in the studio, there are buttons everywhere. It's a beautiful madhouse, Davis says.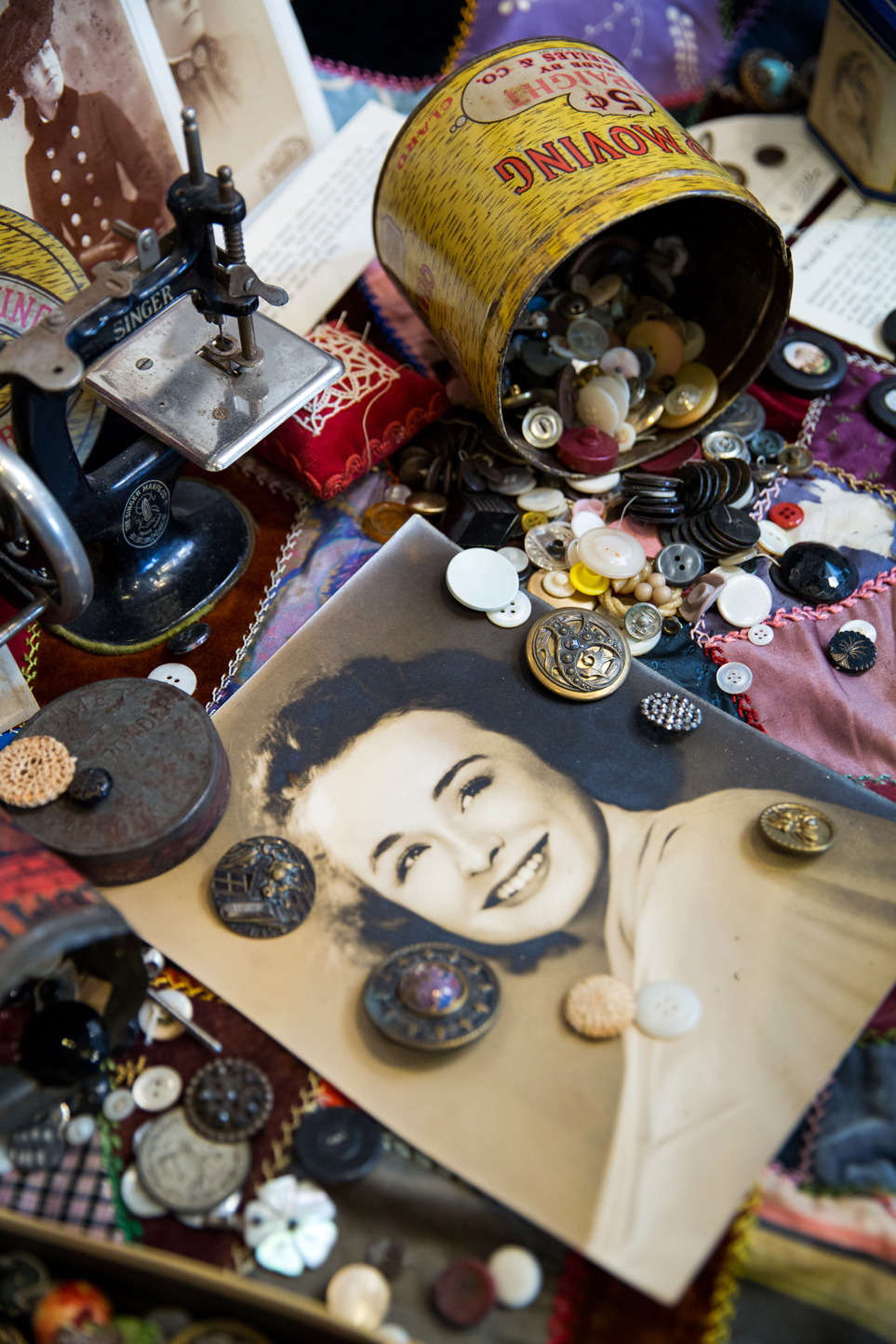 Unfazed by the chaos, she moves calmly to the upstairs kitchen, grabs her "John F. Kennedy For President" mug and pours herself a cup of coffee, adding two spoonfuls of sugar.
Davis, 60, has such sparkle in her eyes, such youthful exuberance, it's impossible not to be drawn to her warmth and kindness. She's the type of person you want to be around, her co-workers say.
Nothing on Earth seems to excite her more than rare buttons. Davis singles out a blue button from Victorian-era France in one of her many storage cabinets. "Look at that handpainted blue enamel. Isn't it beautiful?" She points to a brass button featuring Lady Liberty. "When the Statue of Liberty was first unveiled, they made buttons, so here are a couple of those."
She pulls out each cabinet drawer full of buttons, explaining precisely what century each button is from and telling its story.
"What I love about my job is that I exist in this bizarre little eccentric world," Davis says. "At our store, you may be buying something that not only isn't mass-produced but has the element of being 120 years old."
Davis' store is a St. Francisville staple, immeasurably tied to her own history in the town. Born and raised on a farm there, she was always a hometown girl. Though she went off to LSU, graduating in 1977, and married her great love, wildlife biologist Donny Davis, she always came back home to visit her mother, Miriam, and grandmother Bettie.In 1985, Susan and Donny decided to move back to her home permanently. Donny, a Shreveport native, became a farmer, and the two sold goods out of a little house on the side of the road.
As she often did, she went to visit her grandmother one afternoon and rummaged through her lifetime accumulation of keepsakes.
Her grandmother, born in 1889, was 95 at the time, so that lifelong collection was almost unimaginably huge.
"She just saved everything," Davis says. "She had 30 boxes of buttons. It wasn't a button collection; it was just every button she had ever come across in her entire life."
That afternoon, Davis plucked a sparkling, black glass button from one of the boxes, held it to her ear and said, "Grandma, this would make a beautiful earring."
Her grandmother told her to take it and see what she could do. Despite having never made jewelry before, Davis made a few pieces using her grandmother's buttons. She presented them at a craft show, where she made $1,000.
She kept making jewelry, and four years later she landed her first large department store account. Donny parked his tractor for good, joining as the business manager of Davis' company—now called Grandmother's Buttons.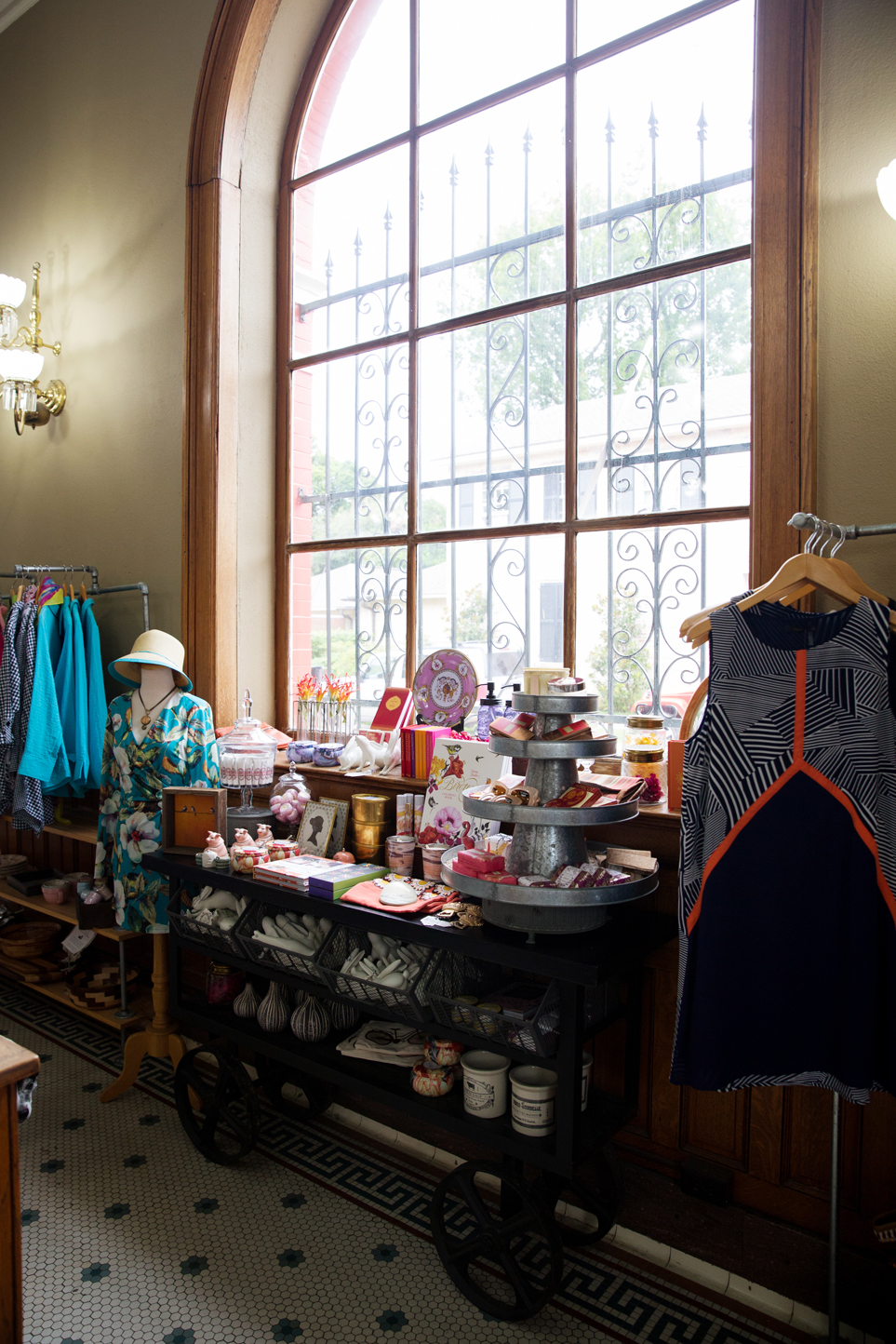 In 1994, the couple bought and restored that historic bank building, opening a retail store downstairs with their workshop and studio upstairs.
The building, with its imposing 16-foot ceilings, carved oak paneling and mosaic tile floors, made a dreamy shop space. Davis transformed the bank vault into one of the most renowned aspects of the store: a button museum.
The museum now houses buttons from the 18th century, including one of Davis' favorites, a button that one of George Washington's delegates wore to his first presidential inauguration in 1789.
"I still can't believe I have that button," Davis says.
While Davis' grandmother only lived to see the beginnings of the business, her mother got to see it all. Davis' mother, who died three years ago at the age of 94, was always one of her and Grandmother's Buttons' biggest cheerleaders.
As a former college art student, she taught Davis how to appreciate the beautiful details in things.
"She would always tell me, 'Susan, buttons make the outfit,'" Davis says.
After buying the bank building, two decades flew by as the couple kept their successful business going and raised two children, including daughter Anna Davis, 28.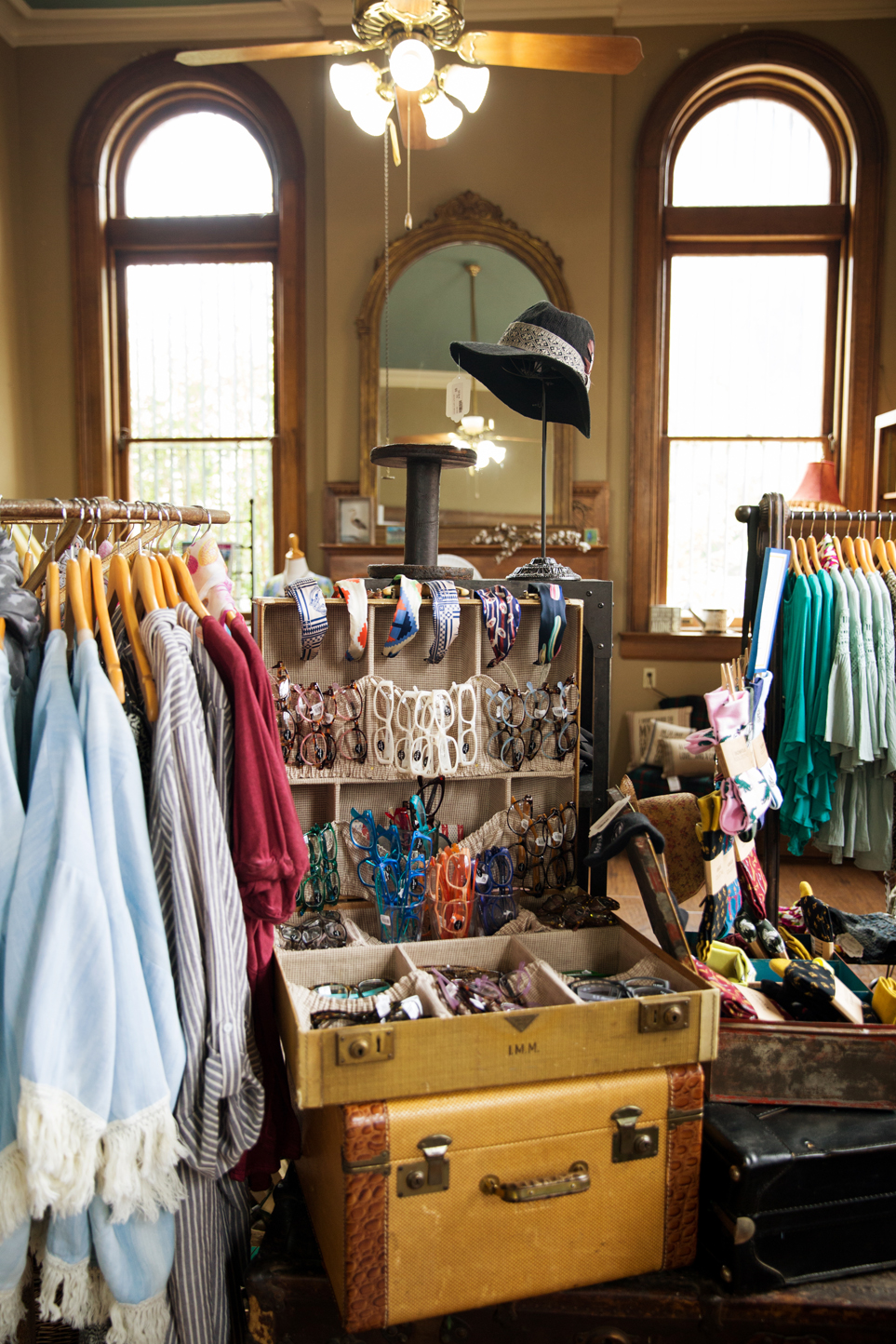 The business means just as much to Anna as it does to Davis. Growing up, Anna got off the school bus at Grandmother's Buttons every day after school, not at her house.
"Grandmother's Buttons is older than I am," Anna says. "I've never known a life without it. My bedroom at my parents' house in St. Francisville is where my mom used to make all the jewelry before I was even born."
By age 16, Anna was working at the shop and traveling to makers' markets with her mother. Anna now serves as company photographer, videographer and social media specialist and is co-manager at the store's New Orleans location, which opened in 2015.
The bond they share through Grandmother's Buttons is much the same as what Davis shared with her own mother and grandmother. They are four generations of St. Francisville women, connected through a tiny fastener sewed onto a garment.
Fittingly, throughout the years, the company's mantra has become "Honor the button."
See more photos from inside Grandmother's Buttons below:
---
Find Grandmother's Buttons
The flagship store is located at 9814 Royal Street in St. Francisville. For more locations and info, visit grandmothersbuttons.com.
---
This article was originally published in the September 2016 issue of 225 Magazine.