---
"You must have swag."
The eloquent words from former LSU All-American Patrick Peterson in 2010 sum it up best. The first step to being a star among LSU athletes, he claimed, is having that swagger.
Peterson's sentiments still live on with the Tigers in 2017.
It goes beyond exuding confidence on the field. The players like to look good off it, too. Fans have likely noticed, with the players sporting crisp shirts, ties, tailored jackets and shades for the walk down Victory Hill or media appearances.
Much like businessmen traveling for work or heading to a presentation, the team wants to look professional on their pregame walk into the stadium—and their attire reflects that.
"Me and my mom throughout the week, we were always looking around for some good suits to wear to catch people's eye," senior linebacker Donnie Alexander says. "I really like dressing up like that, so that was something big we wanted to do."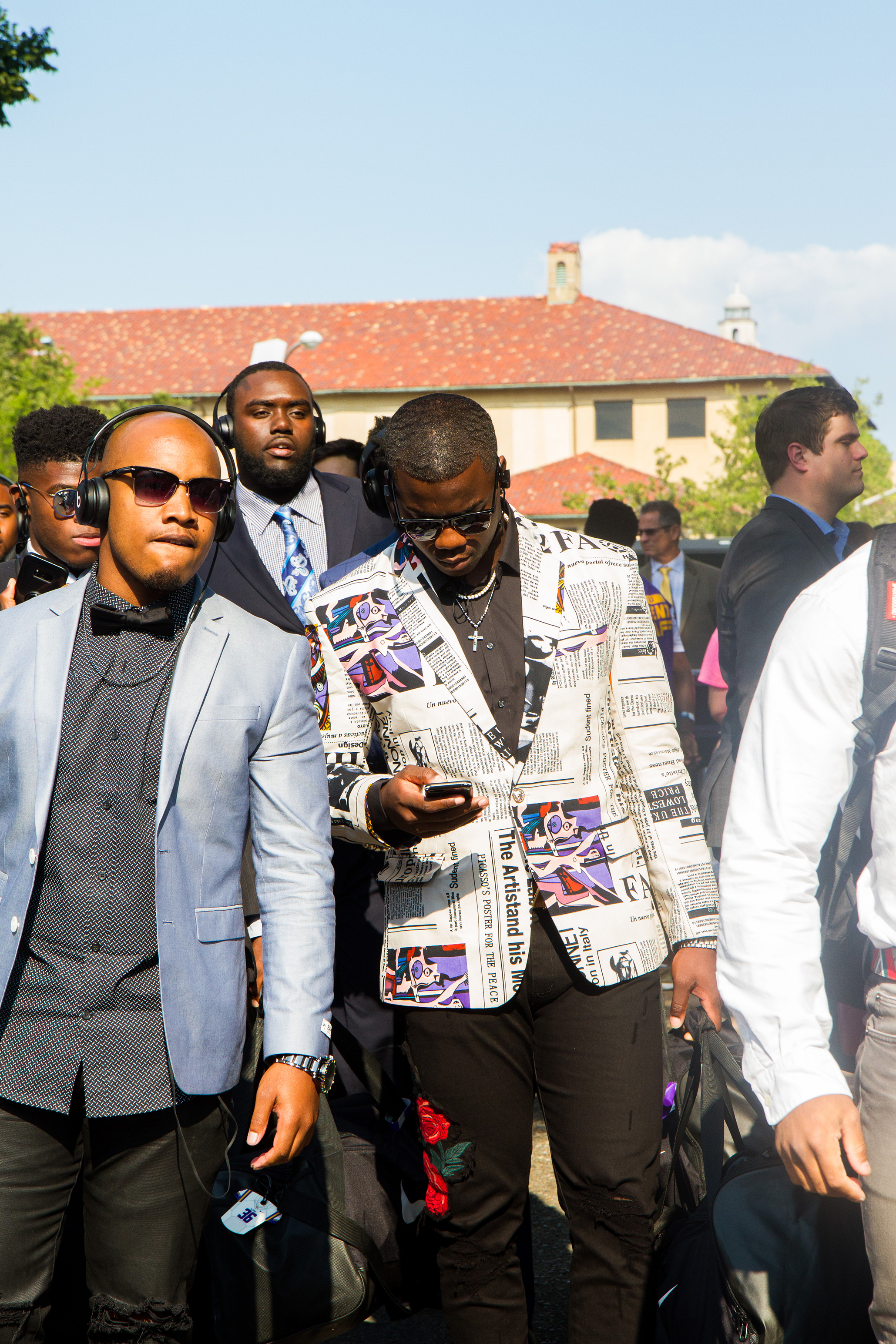 Alexander rocked one of the more eye-catching ensembles in LSU's first 2017 walk down Victory Hill. He combined a white newspaper-print sport coat and black shirt with black pants featuring a red rose embroidered on the right leg.
There's no shortage of swag for the Tigers on game day, but where do all the fresh looks come from?
One of the staples for local athletes' suit game has been Brown & Brown Custom Clothiers on Government Street between Bistro Byronz and Victoria's Toy Station.
Lining the walls inside the shop are photos of former—now famous—customers the Brown family has fitted in the past, including LSU legends like Kevin Faulk, Odell Beckham, Tyrus Thomas and Glen Davis.
"Being in the city, these athletes are part of our community," says Geno Brown of Brown & Brown. "Being in the community, at the barber shop or at the grocery store or various places, you run into these guys. One conversation leads to another, and you get them to come in. Once one guy comes in, another one will see what he's wearing and it starts the trickle-down effect."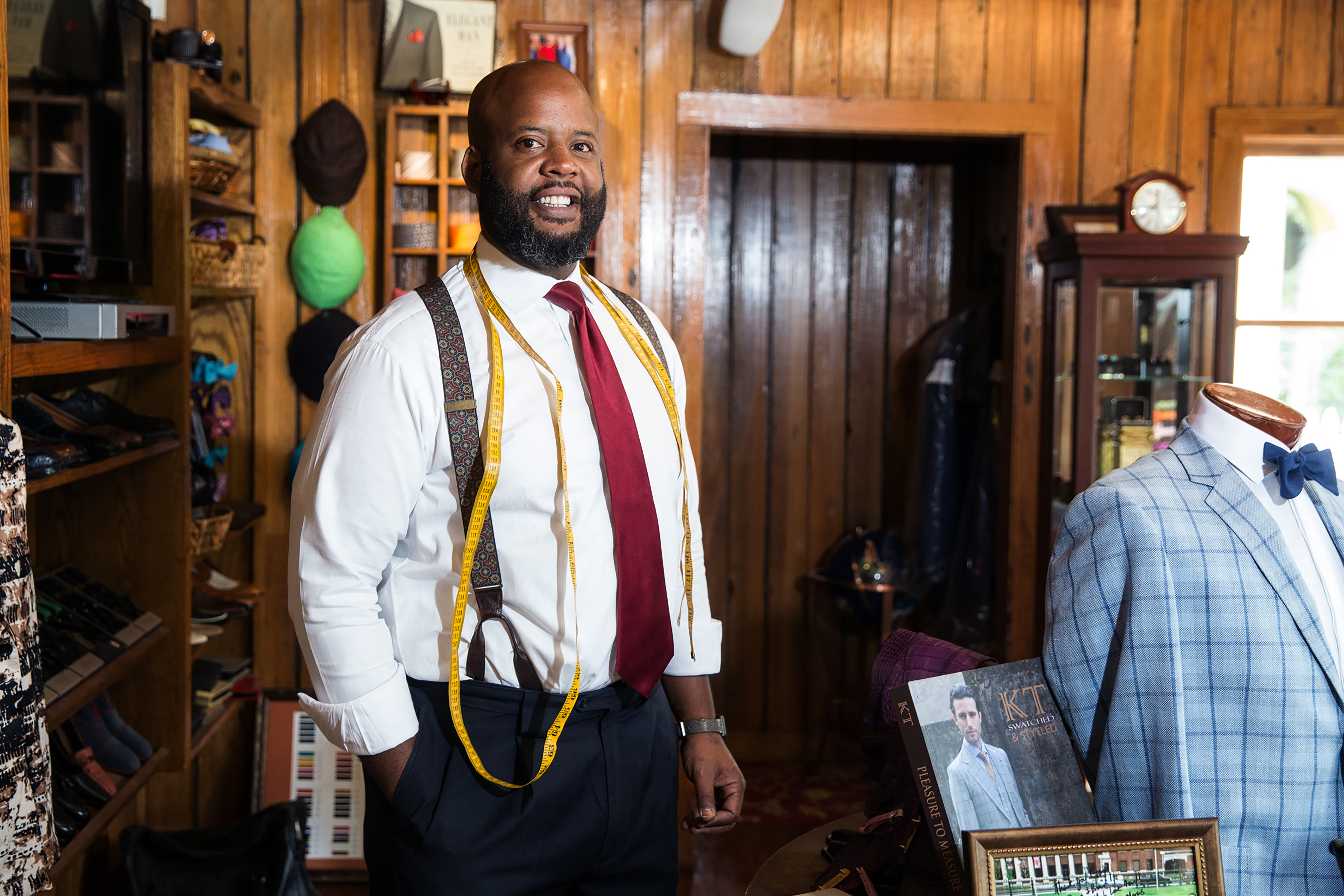 One of the most recent athletes to shop Brown & Brown is LSU standout running back Derrius Guice, who donned one of the store's suits while in the national spotlight at SEC Media Days this past summer.
Guice stole the show with his light pink blazer and blue shirt, accompanied by a bright pink bow tie and matching pocket square. He gave "my boy Geno" a shout out when asked about the bold look by national media.
"I was at the store shopping, and I saw the mannequin with this whole fit on," Guice said at SEC Media Days. "I said, 'Bro, that will look way better on me.' Obviously, I took it off and I tried it on and I said, 'Yeah, I'm going with this.'"
Brown corroborated that Guice's version of the story is "literally exactly what happened," but he clarified that it's not always that easy to outfit an athlete.
Listening to Brown describe his methods for finding the right fit for a customer reveals a fine line between an art and a science. No two clients are the same, but the methods for getting to the final results have proven successful.
"I try to strike up a conversation with them, and I try to get them talking," Brown says. "At the same time, I am trying to pull from that conversation and gather things about their personality, to ascertain whether or not this person is a live wire [or] an introvert. Is he to himself? Is he a quiet strong type? Is he a peacock? Then as we're looking, of course, I'll ask them what it is they want. But once I've kind of talked to them for a second, then I'll play off those premonitions that I may have had from that conversation and match what we're going to do from there."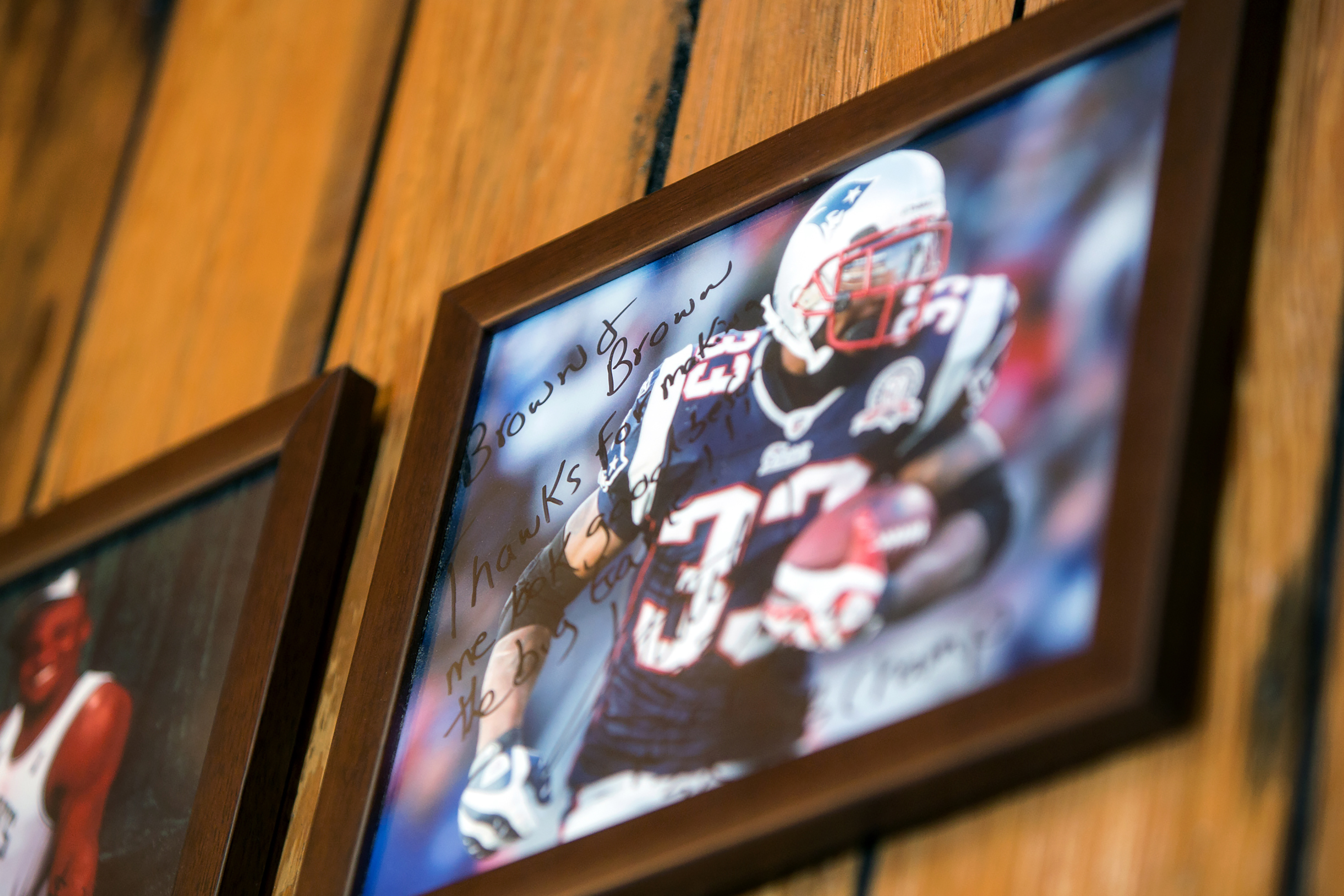 Brown's store is filled with countless different looks, from loud and flashy to simple and tailored, and every event warrants its own approach.
But no matter what direction a client ends up going, Brown has one true test to measure his success.
"I think that my job in the fashion industry is not only to make these guys' clothes fit them but to try to match their personality with what they're wearing, so when they see themselves in the mirror, they're confident," Brown says. "More than anything, when I see them on TV, I want to make sure I've done my job properly. One of the ways I know that is by reading their facial expressions when I see them. Derrius was strutting from the time he walked in the door."
While some players shop at local stores, Alexander says he snagged his off Amazon. A quick search through the online retailer reveals pages of flashy yet budget-friendly options.
Some players don attention-
grabbing looks, while others are more subtle, throwing on whatever suit and tie they've had in the closet throughout college.
But at the end of the day, no matter where their game-day gear comes from, one rule still applies: "You must have swag."
---
Check out more photos from LSU's walk down Victory Hill in the season opener against Chattanooga:
---
This article was originally published in the October 2017 issue of 225 Magazine.