TORRENCE & THURMAN THOMAS
ASKTHETHOMASBROTHERS
Dressed as: The Gap Band
Their music: The ASKTHETHOMASBROS sound is "kind of like Coldplay meets Kanye with a little bit of …" Thurman says, his voice trailing off as he searches for the right description. His twin, Torrence, finishes for him: "It is beautifully traditional yet with a fresh twist on it."
The duo has clocked a lot of studio time recently, perfecting that sound for a two-song release titled 03 they plan to drop in the summertime. The record, they say, is a vocally driven fusion of R&B and pop.
"I want to make music that people can sing along to, that people can make theirs," Thurman says. "So if you turn on one of our songs, it's not our song anymore—I want it to become your song."
Musical inspiration: The twins, both 26, have spent countless hours listening to old-school '70s R&B and pop. They love Earth Wind & Fire, Stevie Wonder, Michael Jackson and The Gap Band. "[The Gap Band] is very melodic and they have a lot of groove in whatever they do," Torrence says.
Thurman seconds him, "I think what they did musically was really unique at the time. You turn it on right now, and you would still get up and move. That sound is still fresh, even though it may be kind of dated."
Their style: "I think I'm dressing more urban, in a way, than I used to. Before, I was maybe a little more dressy, but now my pieces are a little bit more relaxed. I've gotten rid of a lot of stuff. I pay more for quality now so I can wear pieces over and over again," Thurman says. The twins both agree that they love to mix simple T-shirts with edgy details like sleeveless jackets and outerwear with zippers on the side.
"I like [The Gap Band's] style because it was really fresh at the time," Torrence says. "Sometimes they were over-the-top with cowboy outfits, but I really like that they were just cool—you know, the really cool leather jackets with T-shirts tucked in."
See them perform: Watch ASKTHETHOMASBROS perform at the Louisiana International Film Festival Thursday, April 14, at 9 p.m. at the event's Filmmakers Lounge in Perkins Rowe. attb.us
---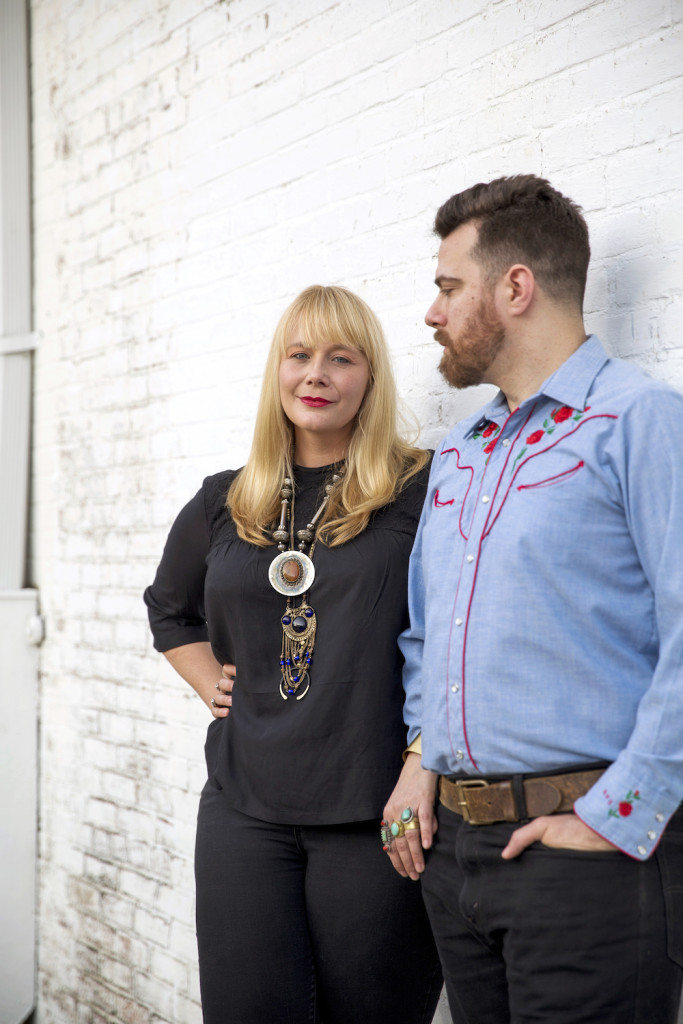 KATIE SWETMAN & SAM ANSELMO
Palomino Darling
Dressed as: Joni Mitchell and Graham Nash
Their music: Katie Swetman and Sam Anselmo front the indie folk-rock duo Palomino Darling. Swetman, 38, sings and plays guitar and bass, while Anselmo, 39, plays guitar, bass and drums.
"We're rock, but the heartbreaking kind," Swetman says. "One of the biggest teachers in my life has been relationships—connecting with people and disconnecting from people. Love has been the greatest thing I've learned from. [Our] songs aren't lighthearted and poppy. They're about real things."
Their partnership: Anselmo and Swetman are just as in sync offstage as they are onstage. The two have been best friends for six years and a couple for much of that time. They say they inspire each other continually—and even see a bit of their own relationship in Graham Nash's and Joni Mitchell's story. "Graham and Joni met at a party. He went home with her that night and lived with her for 10 years," Swetman says. "They were inspirations and muses for each other."
Musical inspiration: Anselmo grew up listening to his dad's record collection, which included Crosby, Stills, Nash & Young.
"You could say folk music is very simple, but [Graham Nash's] had a bigger sound," he says. "The music swelled and moved more."
Swetman grew up listening to Joni Mitchell, too, but has felt more deeply connected to the artist since she began performing and writing songs for Palomino Darling.
"She is one of the finest songwriters," Swetman says. "She has an ability to craft emotion that you cannot deny into a song."
Their style: "I connect to the Southwest—that Native American influence," Swetman says. "I love that bohemian, natural look, and that's what Joni was known for."
Anselmo tries to keep his style minimal. "He does a lot of denim on denim," Swetman says.
They agree they'd rather shop vintage than big-box stores. "When you go to an estate sale, there's a person and a story behind all of these things," Swetman says, gesturing to her own large collection of leather cowboy boots. "There is something super special about finding a piece that resonates with you."
See them perform: Palomino Darling will play the Baton Rouge Blues Festival April 9 at noon. palominodarling.com
---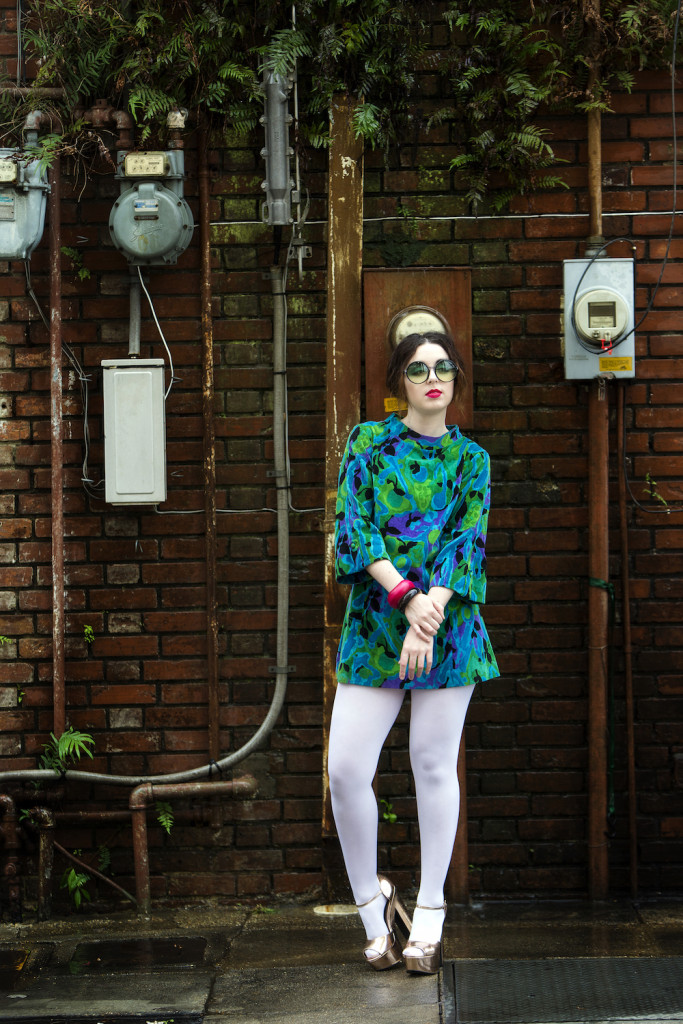 ASHLEY MONAGHAN
Lead singer, Ship of Fools
Dressed as: 1960s musician
Her music: It's all happening for Ashley Monaghan and her band Ship of Fools. They're preparing for a self-titled debut album release in May and an East Coast tour this summer, when they'll take their unique music beyond Louisiana.
Lead singer Monaghan and her band's cellist, guitarist and drummer come from starkly different musical backgrounds, resulting in an eclectic sound that fuses folk, jazz, R&B, pop and Latin influences. As she sings, Monaghan constantly moves and dances around the stage in hopes of inspiring her audience to get up and dance, too. "I think my main love for always and forever has been performing and entertaining," she says. "When we practice and record in a studio, I'm not having fun—but when we're on stage it's like a complete otherworldly experience."
Musical inspiration: Monaghan grew up dancing. Her love for jazz and R&B runs deep, and she cites Frank Sinatra, Elvis Presley, Ella Fitzgerald, Etta James, Stevie Nicks and Peggy Lee as some of her favorite artists. She's particularly inspired by the '60s, when music and style both became more vibrant than ever.
"In the '40s and '50s, the hemlines were lower and everything was much more reserved. Then the '60s happened, and everybody was like, let's have all this print and color and doo-wop," Monaghan, 20, says. "It was just a really fun, energetic time when people were really learning how to come into their own and express themselves through clothing and through music."
Her style: Monaghan wakes up every morning truly excited to get dressed.
Onstage, she rocks sequins, suede, metallics and bold colors. Her spirited style is balanced by her bandmates, who typically dress in neutrals. But while she admits that she buys a lot of her pieces with the stage in mind, she says the way she dresses onstage and off is really not that different. You won't catch this LSU student in workout gear, even when she's going to class.
"I'm so much more interested in a well-fitted high-waisted jean or a fun patterned short or velvet," she says.
Monaghan incorporates her love of style into her professional career in another sense, too: She does fashion styling for brands and designers and has also been involved in the Southern Coalition of Fashion & Design for the past several years.
"[I'm] really attracted to this idea of minimalism and not having a lot of stuff that doesn't bring you joy, so I'm becoming really conscious of what I'm putting in my closet. When I do pick out something that's a little crazy, I absolutely love it and am going to wear it as much as possible." shipoffools.squarespace.com
See her perform: Catch Monaghan and Ship of Fools live at LSU's Groovin' on the Grounds this month. Concert date had not been announced at press time. Check students.lsu.edu/groovin for updates.
---
Vintage clothing and styling assistance provided by Time Warp.