---
Curving through the already narrow aisles, the crowd is a seemingly endless parade, pushing in from outside to rub shoulder to T-shirt shoulder.
A golden tiger sporting some killer shades stares down on the crowd. A few racks over, a sketch of Louisiana is transformed into a peace sign, with all of northern Louisiana folded into the palm of the hand.
These are T-shirt designs, and this is Tim's Garage, a new shop and umbrella name for local designer Brad Jensen. Making apparel in Baton Rouge for nearly two decades now, Jensen is the entrepreneur behind long-running brands like Icon, with its pop art, street-style influence; the authority-challenging Bricks & Bombs tees and hats; and a throwback LSU-themed line called Highland & State. In addition to T-shirts, his shop sells posters, pins and other goods.
At the register facing the throng and ringing up visitors, Jensen is a busy but otherwise laid-back 30-something with a salt-and-pepper beard. He stands below a mural bricked in retro bold letters that might as well be from the Reagan era: "Icon for Every Surface," they read in sandblasted voice.
Tonight is White Light Night, Mid City's biggest annual fall extravaganza for the arts and live music, and Jensen is the only worker inside this shop.
This space could have easily become a quick loan business or phone repair shop. Such is the anxious energy surrounding the Government Street-centered corridor's resurgence that the opening of a home-grown, culturally savvy business like Jensen's was thought to be no guarantee at all.
After all, Jensen moved into this space after its previous occupant, the popular Gaudet Bros. barber shop, left for New Orleans after two years.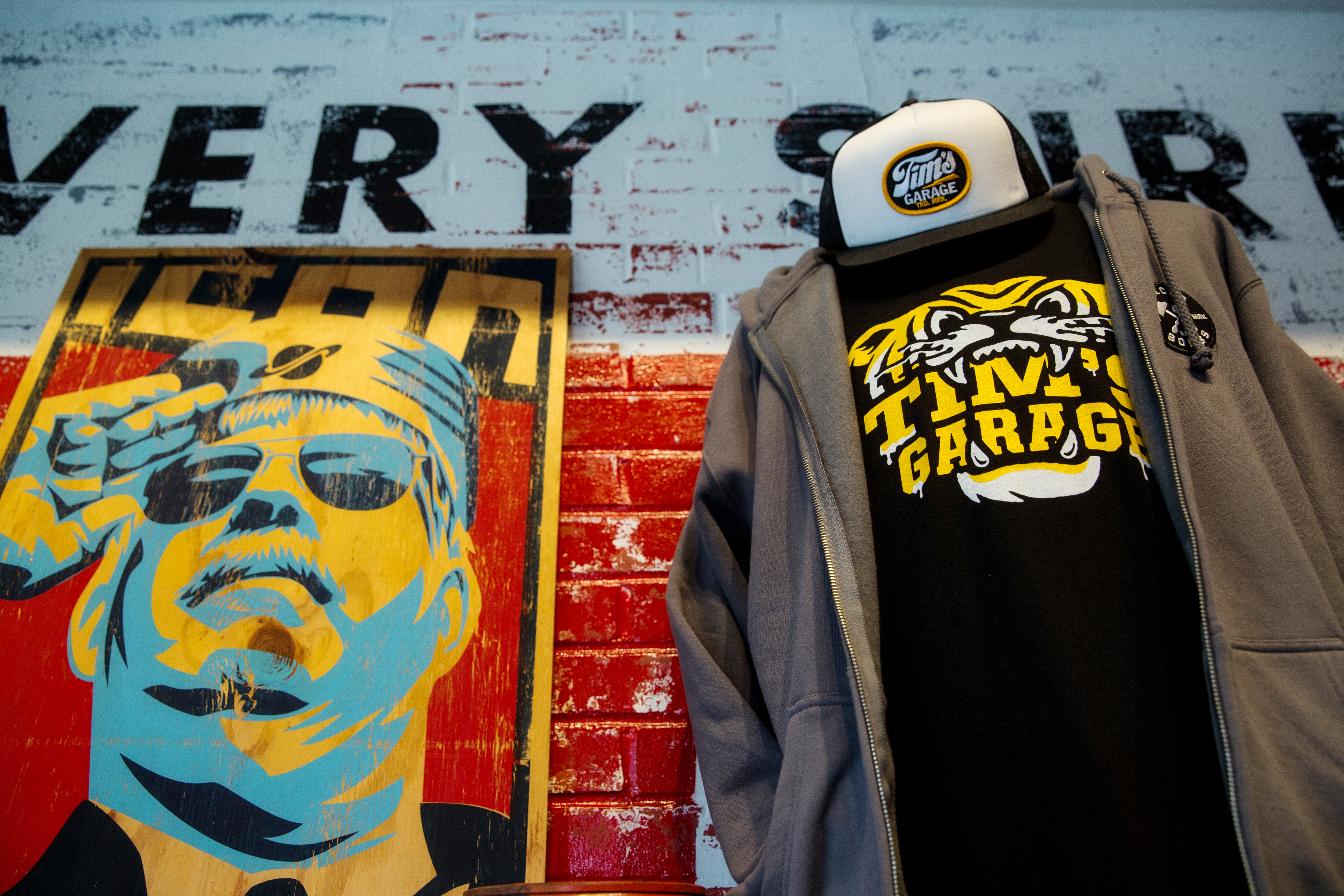 Jensen's Bricks & Bombs brand formerly inhabited a small studio space a few blocks down near The Radio Bar. He still owns that spot and uses it to host pop-up markets and gallery shows. But his upgrade to the bigger Tim's Garage space last October reinforces a continued turning of the tide for Mid City, an about-face fully toward the local and the creative.
It was Tim's Garage, the new kid on the block next to Slash Creative design studio and Giraphic Prints T-shirt printers, that Slash co-owner Andrew Reilley says really helped make their corner of White Light Night into a true block party for the first time.
"[Jensen's] energy is infectious, and his shop is inspiring for creatives like us," Reilley says. "Brad makes us want to be better at what we do, so it's a perfect fit. He really 'ties the room together' on the 4556 block."
A clenched fist, a wrench and a lightning bolt skim and stretch across Jensen's computer screen a couple weeks later as he clicks through variations on his latest design.
The name Tim's Garage was inspired by Jensen's high school buddy, who always wore vintage gear he got from a guy named Tim who had dumped his old skateboard clothes in his garage. The aesthetic here is designs to be used rather than simply praised by other designers. It's bold in its simplicity. Almost utilitarian.
"I find myself gravitating more toward things that don't look like they were designed too much, things that were made when technology was limited," Jensen says.
He's been designing like this since his teens, inspired by the BMX culture he says pulled him out of tiny Haughton, Louisiana, near Bossier City, and into a much larger world.
"Racing bikes brought me to new places and exposed me to a new culture," Jensen says. "I got interested in these subcultures and how art and design were infused in them, how products like T-shirts could help people from all walks of life find common ground."
BMX racing, skateboarding and the punk and rock music of the 1980s and 1990s remain among Jensen's biggest design influences. But it's his passion for connecting people that has sustained his success, says friend and filmmaker Brock Gomez.
"Building community has always been a big thing for Brad," Gomez says. "He decided not to move [out of Baton Rouge], but to stick with it here and help make Baton Rouge what we wanted it to be."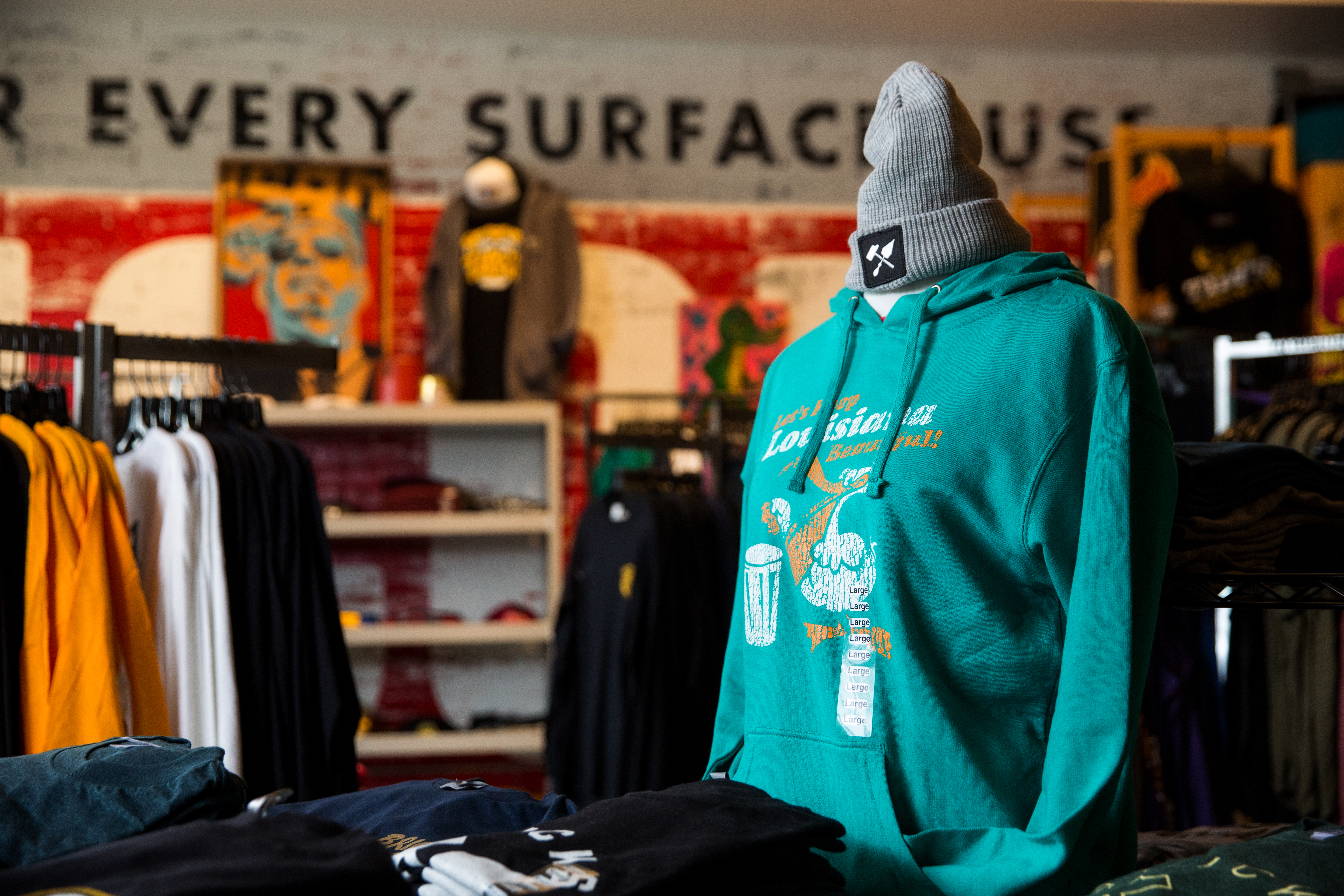 Gomez met Jensen back when they were 20. Jensen was already producing tees with his now popular brand Icon.
While studying graphic design at LSU, Jensen saved up money working at a print shop and spent months off and on building a massive bike ramp in his backyard. It quickly became a popular, off-grid BMX hub for Baton Rouge. Before they even had driver's licenses, kids from across the city would ride their bikes to Jensen's house.
"It wasn't this exclusive club; anyone could come ride," Gomez recalls. "It was Brad's attitude of, 'If you want to do something, just go and do it.' And he still has that approach."
For Jensen, Tim's Garage is a continuation and culmination of his years of design work. It is his way of collaborating with and showcasing the work of other local designers and brands, too.
"I used to be Icon Brad, then I was Brad from Bricks & Bombs, and now people are calling me Tim, but it's a step forward," Jensen says with a laugh. "I want Tim's to be a vehicle to work with other people, to be open to interpretation and collaboration. I think that's where the power is."
Jensen wants to make the Tim's parking lot a regular event venue for pop-ups, meetups and even small festivals. He still mans his own store every day and squeezes in design time early in the mornings over breakfast and NPR.
Achieving his goals, whether it's bridging community divides or creating eye-catching visuals, is all sheer will, he says—like a clenched fist, a wrench and a lightning bolt.
"Grit is important, so do something you're willing to give up a lot of other things to get done," Jensen says. "That's when you know you're onto something important. Put in the time—and make stickers!" timsgaragebr.com
---
This article was originally published in the February 2018 issue of 225 Magazine.