---
Amelia Rusbar notices concrete everywhere.
While most people don't give it a first thought, much less a second, she studies it. She admires its detail and imagines what piece of jewelry she could make with it.
Baton Rouge makers craft jewelry out of leather, metal, wood and even oyster shells. But Rusbar may be the first to have turned concrete into a style statement. To her, concrete has everything she wants for making jewelry: beauty, complexity and ubiquity.
"It's the perfect shade of gray. It's fantastic," she says, gushing about the material and how it takes the shape of whatever it is poured into. "There's a lot of character involved in it, if you look at it."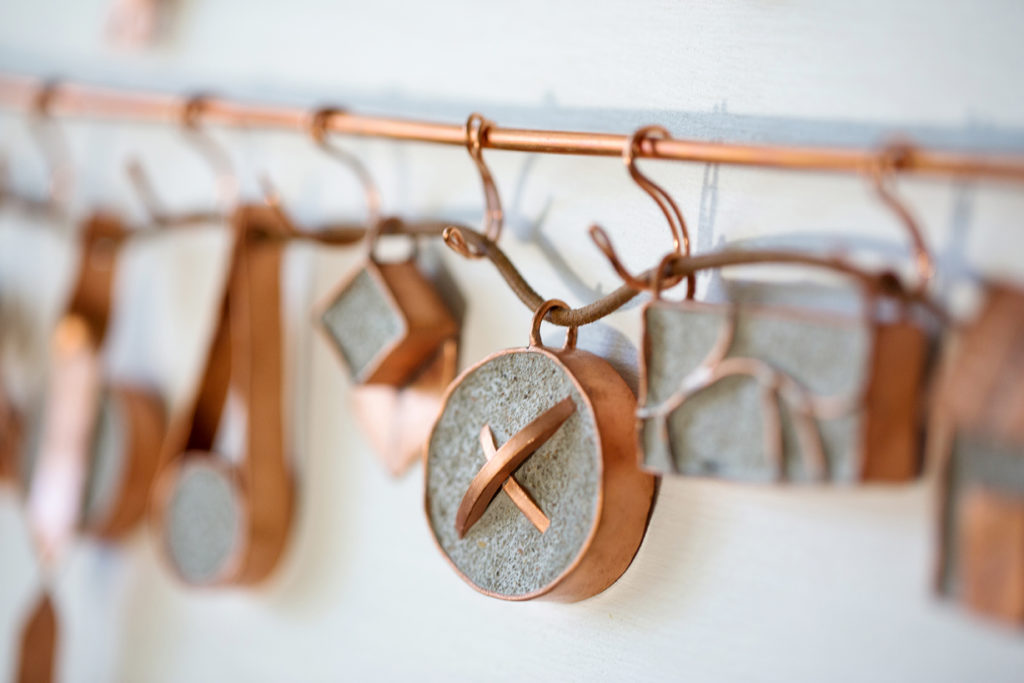 Rusbar uses copper tubing to frame the concrete in her jewelry, the metal providing a shiny contrast to the subtle gray concrete. She hammers and twists the copper into unconventional, interesting shapes to make a unique piece for the wearer.
Her passion for her craft is obvious. She smiles when she talks about it, speaking quickly and moving her hands animatedly as she shares fun, little-known facts about concrete.
The 28-year-old LSU landscape architecture grad initially launched her handmade copper and concrete jewelry business, Little Eli, in 2013.
An offhand comment from her grandmother helped her to come up with the shop's name. Rusbar was daydreaming about names one day, sketching her name and liking how the letters of "Eli" looked and sounded together. When her grandmother commented how she liked this "little Eli" thing Rusbar was doing, she knew she had found a name with the perfect ring to it.
Now, Rusbar crafts her jewelry mainly on weekends, as she works full time at a civil engineering firm during the week.
She starts with a sketchbook, drawing out design concepts and shapes for her jewelry. Once she has an idea, she doesn't cast a mold. Instead, she takes copper tubing and hammers the material into shape piece by piece—this way, no shape is ever perfect, and each one is different from the other. The last step is pouring in the concrete mixture. To her, the individualized production method offers concrete the extra texture it deserves.
The finished jewelry pieces are fairly large. They're lighter than you'd expect for concrete and hang on long leather cords. The jewelry is cool to the touch initially, but it warms up when you're wearing it. Rusbar says it feels like the jewelry becomes a part of you.
She only makes a few of each design, and she doesn't usually recreate them, meaning customers will spot new, different items each time they browse her work.
All of her pieces have a name and a story. When she's sketching, Rusbar thinks of a single word that should emanate from the design, such as the "Home" necklace, which is shaped like a small house. Some of those concepts are simple, and some are complex—but no two are similar. Along with each piece on her site is a description of how she was inspired to make its shape.
"What I want people to say when they see it is, 'This gets me,'" Rusbar says. "I want you to give a meaning to it, and then it be a daily reminder of that."
Rusbar used to make concrete home wares, too, but stopped in 2015 to focus more on her jewelry and other artwork. She does brush lettering and sells original prints in her shop.
While she makes art as a means to relax, she plans to incorporate the lettering into her branding. Brush lettering is imperfect and more emotional than calligraphy, she says—it's frayed like her copper frames.
She sells her jewelry on her website and online through her Etsy store. She also appears every other month at the Mid City Maker's Market and is a regular at the Magazine Street Art Market in New Orleans.
Much of her time at markets is spent educating people about concrete jewelry, Rusbar says, as it's still a relatively new material to wear as jewelry.
Next time you're driving or walking on concrete, maybe you'll think of Rusbar's perspective.
"Look down," she says, "and appreciate the magic."
littleeli.com
---
This article was originally published in the September 2017 issue of 225 Magazine.