---
Brittany Garrett is accustomed to the view. From the 12th floor in a downtown Baton Rouge high-rise, she looks out on the Louisiana State Capitol.
This is Garrett at her day job, working at the Louisiana Department of Health. But it's not the only thing keeping the 33-year-old busy. She also works retail part-time, and on weekends, she makes her custom-beaded bracelets.
For the Baker native, beading is her true labor of love.
"I always saw myself doing something creative," she says. "I never thought it would be beads."
Garrett's bracelet business, Unbeadables, started on a fluke.
When one of her favorite makers closed two years ago and she found herself missing their jewelry, she decided to try making similar pieces. Garrett ordered bright beads that she could string together with a few charms, and found she liked what she made. After she posted a photo of the first set to her Instagram account, friends and family asked for custom sets, and before she knew it the orders were pouring in.
"From there it never stopped," she says.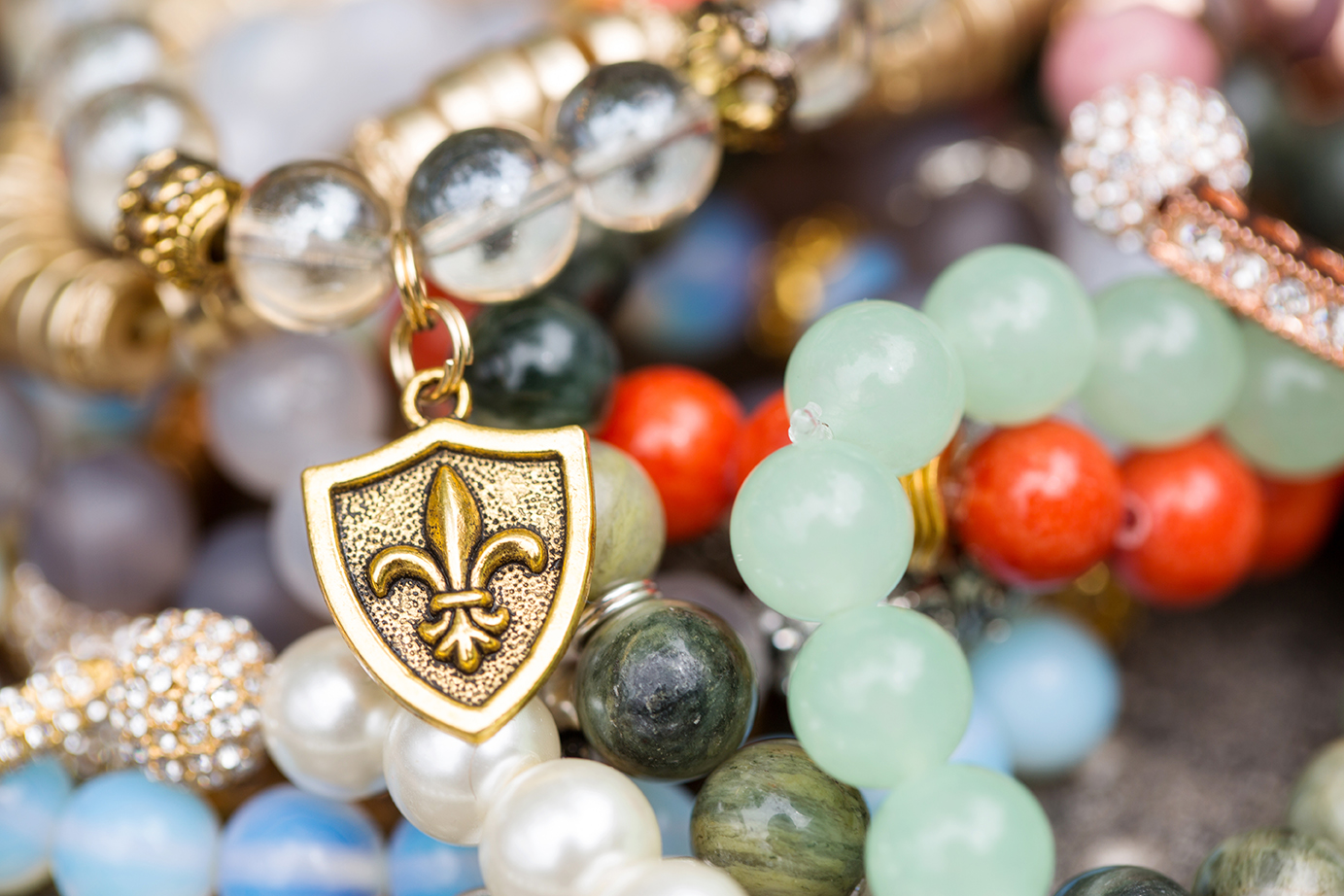 Nine months later, her creative outlet became more than a hobby. Garrett began treating bracelet making as a true side hustle, blocking out time during the weekend to make bracelets.
Adding the "bling"—charms and mini-embellishments—to the bracelets is her favorite part, she says. Her customers can't get enough, often requesting more charms and bolder beads. In keeping with her slogan, "Rock your Wrist," she loves stacking bold pieces to make a statement.
No bracelet is exactly the same, and each set is custom-made. Customers give Garrett a theme or color scheme, and she goes from there, making the bracelets in sets of three. She's made LSU and Saints football-themed sets as well as versions in neutral, monochromatic and vibrant color palettes. She also makes sets for men.
Garrett opened her Etsy store in August, and she plans to post a website soon.
She usually opens her custom ordering window until she gets about 15 to 20 orders, and then closes it for about two weeks to fulfill them. While much of her business is done locally, she also receives orders from out-of-state customers who have received her jewelry as gifts or heard about it through word-of-mouth.
Garrett only sees the business growing, but she's not worried about how to handle the extra work.
"It's hard sometimes, but I am so blessed."
Find Unbeadables on Instagram @unbeadables01.
---
This article was originally published in the November 2017 issue of 225 magazine.