Content provided by our sponsor: Mercedes-Benz
If you're staring down the finish line of the holiday calendar and panicking about how to find those last few gifts, a thoughtful present for the enthusiastic driver in your life may be part of the solution. But given the thousands of options available, shopping for vehicle accessories can quickly become an overwhelming task.
The solution: Ask the experts at your local dealership. Gwendolyn Wild, Vice President of Customer Experience for Mercedes-Benz of Baton Rouge, says you shouldn't be afraid to turn to a dealership for help choosing an automotive-themed gift. Just have a price point in mind so the dealership can recommend the best item with both your budget and your vehicle in mind.
"We will always recommend products designed and created for specific models by the manufacturer," Wild says. "They fit better, and they work better than some of these aftermarket products. Our expert technicians can aid in the installation if it's required."
Wild says, buying third-party aftermarket parts for your vehicle without ensuring they are the correct fit can have negative consequences.
"Anytime you get a third party to do an installation, if the vehicle is under warranty you're taking a chance that you could negate some parts of the warranty if the installation goes awry," she says. "You don't want to take that chance. It's alway the safest bet to go with a manufacturer-designed part and then a dealer to install it."
MBOBR works with customers to find the best accessories that fit their vehicles. Here are a few ideas to get you started on your holiday-shopping quest.
Roof Rack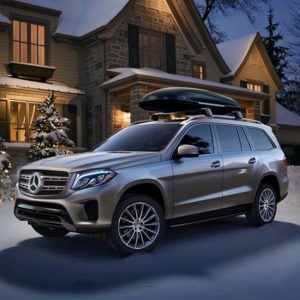 A higher-end gift for the active driver, these versatile add-ons mount to the roof of a vehicle and can carry a huge range of active-sports accessories to any destination.
"Everybody these days is biking, kayaking, paddle-boarding," Wild says. "It's a good, easy gift that makes a really big splash."
The challenge when selecting a roof rack is sifting through the overwhelming number of options, from simpler choices more geared toward bicycles and skis to heftier models aimed at carrying kayaks and larger boats. MBOBR has extensive experience guiding customers through the selection and installation process for roof racks, as well as the installation of trailer-hitch racks and stands for some vehicles.
Illuminated Star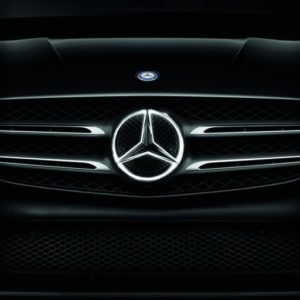 For drivers who love their Benz but already have nearly every accessory imaginable, the Mercedes Illuminated Star is an excellent personal touch. This unique option uses LED and light-conductor technology to illuminate the iconic central star in the front grille.
It's a subtle but eye-catching addition that MBOBR technicians can install to make sure it fits your vehicle perfectly. Other manufacturers offer similar logo lights as well.
Puddle Lights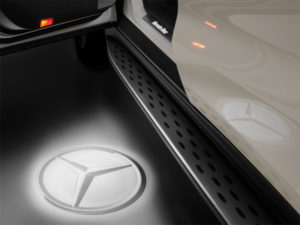 These LED lights are usually installed underneath the exterior rear-view mirror or below the door and project the manufacturer's logo onto the ground. The name puddle lights come from their ability to let a driver know if he or she has parked over a pool of water and help you see where you're stepping when you open your vehicle's door.
"Not a lot of people have these installed on their vehicle," Wild says. "It's very splashy and people love them."
Car-Themed Clothing
Drivers of luxury vehicles increasingly are looking to extend their automotive brand into other areas of their life, often through clothing and other accessories. These items, which nearly every vehicle manufacturer offers these days, also make sensible holiday gifts for the enthusiastic driver that won't break the bank.
If you're in the market for an automotive-themed item of clothing, the Mercedes Lifestyle collection is a good place to start. From this women's vintage leather jacket to a Mercedes Motorsports chronograph watch to a wide selection of themed and stylish sunglasses, this line offers drivers an effective and functional way to stand out from the crowd.