---
Most hallway run-ins with a coworker are pretty forgettable.
Unless you're Dennis Johnson, in which case an ordinary hall in the Football Ops Building marked one of the most memorable moments of his career.
Johnson, then a graduate assistant, was neck-deep last fall in game preparations for LSU's matchup with Missouri—the nation's
No. 2 offense at the time. He was walking through the hallway when he (literally) ran into Ed Orgeron, who had just been promoted to interim head coach. With his new title, Orgeron had begun the process of selecting his team.
"I was walking down the hallway, and he was walking down," Johnson says. "You can tell he's happy. He's got an emotional look, but a happy emotion. He comes by and he just says, 'Congrats, new Outside Linebacker coach,' and he kind of bumps me."
Not much more was said.
With that bump in the hallway came a bump in position, a bump in responsibilities and a bump to a full-time role at his alma mater.
"It catches you by surprise," Johnson says. "You're a grad assistant. You're doing your grad assistant stuff. Then in the hallway, you just get turned into the outside linebacker coach."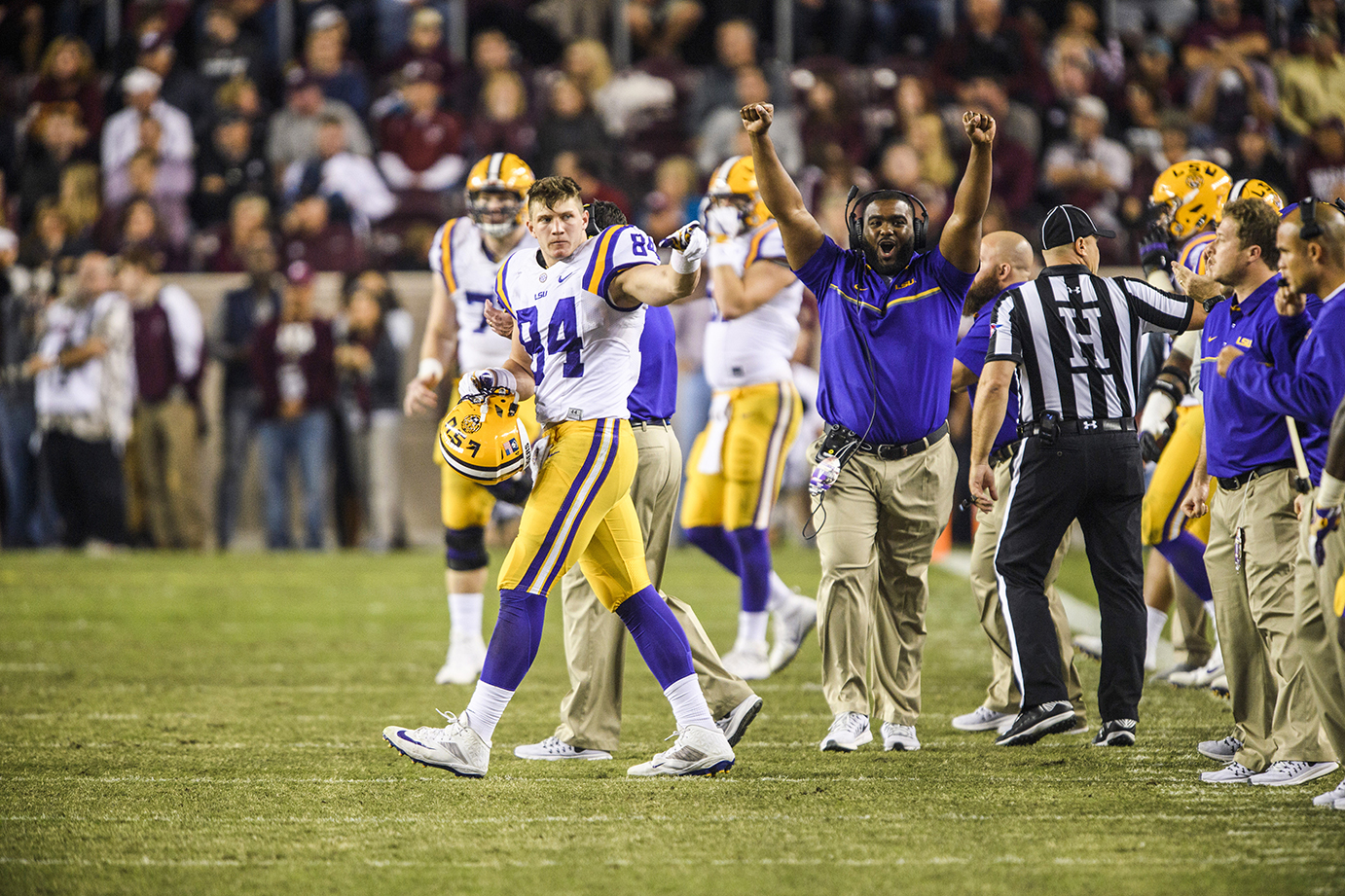 It's a quick ascent to a prominent role for the 28-year-old coach, who began his career as a graduate assistant at Northwestern State in 2012, a year after wrapping up his playing career at LSU.
Johnson was a dependable backup for three seasons on the defensive line for the Tigers, playing in 19 games and recording 11 tackles. He made his way back to Baton Rouge as a grad assistant in 2014 after spending a very brief, six-week stint in the cold confines of Kentucky.
"I remember it being so cold," says Johnson, who is a native of Amory, Mississippi. "There was snow; there was ice. Then the guys who coached me here, (former LSU defensive line coach) Brick Haley and (former LSU defensive coordinator) John Chavis, they had a spot that came open, and they called me one day and asked if I was ready to come back home. Of course I said, 'Uh, yeah.'"
Two days later, Johnson was in a U-Haul headed for Louisiana.
It hasn't taken long for Johnson, affectionately dubbed "Meatball" for his short and stocky stature in college, to make his mark on the program. Johnson was rated as the No. 6 recruiter in the nation by 247Sports as of press time, and he previously held the No. 1 spot for several weeks this summer.
His efforts both on the recruiting trail and the practice field have already caught the eye of some other assistants, many of whom have been around the game far longer than Johnson.
"He's fortunate, but deserving," says LSU defensive line coach Pete Jenkins, the 76-year-old renowned coaching legend. "Coach O is a guy that really rewards loyalty and hard work. It's a really good break for him, but he's deserving of it. He's done a really, really good job in recruiting, and he's working really hard to become a better football coach. I think he grows as time goes on. I think Dennis is going to be a real good coach."
He'll have his work cut out for him in his first full season working with the linebackers after they lost two senior starters in Kendall Beckwith and Duke Riley to the NFL Draft. He'll be welcoming a crop of four freshmen, who are all expected to make an impact early.
"I feel like the young group as a whole, they're moving so fast," Johnson says. "Faster than what I've seen from freshmen that I've been around. It's going to be interesting to watch that young group mature as they go at the rate that they're moving."
---
This article was originally published in the August 2017 issue of 225 Magazine.