---
When Nicole Scott started the Yoga Noir Project in April 2017, she had one goal: to practice yoga alongside other people of color.
At her April 29 downtown rooftop event "Meditate with the Moon," Scott's vision came to life. Rows of yoga mats lined the upstairs terrace of 440 on Third Street. Attendees of all ages and ethnicities blissfully bent into downward-facing dog as yoga instructor Charisma Paul guided the students to their next position.
In the front row, surrounded by a melting pot of African-American, Latino, Asian and Caucasian people, Scott and her 10-year-old daughter, Mia, rose into the tree pose in unison with the class. Scott, 40, says she's like any other attendee at her events. Instead of being the face of Yoga Noir Project, she strives to blend in, network and utilize the benefits of yoga.
"I'm just a vessel," she says. "This was a vision and a purpose that was given to me. I'm just the person who happens to be carrying it out. As it grows and changes, shifts and turns directions, I will go with that if it feels right."
Before starting Yoga Noir Project, Scott founded Nikki Definitely Inc., a Baton Rouge community program development firm, in December 2016. With Yoga Noir Project, her first organized community program, her mission is to introduce yoga to people of color as an attainable and healthy lifestyle option.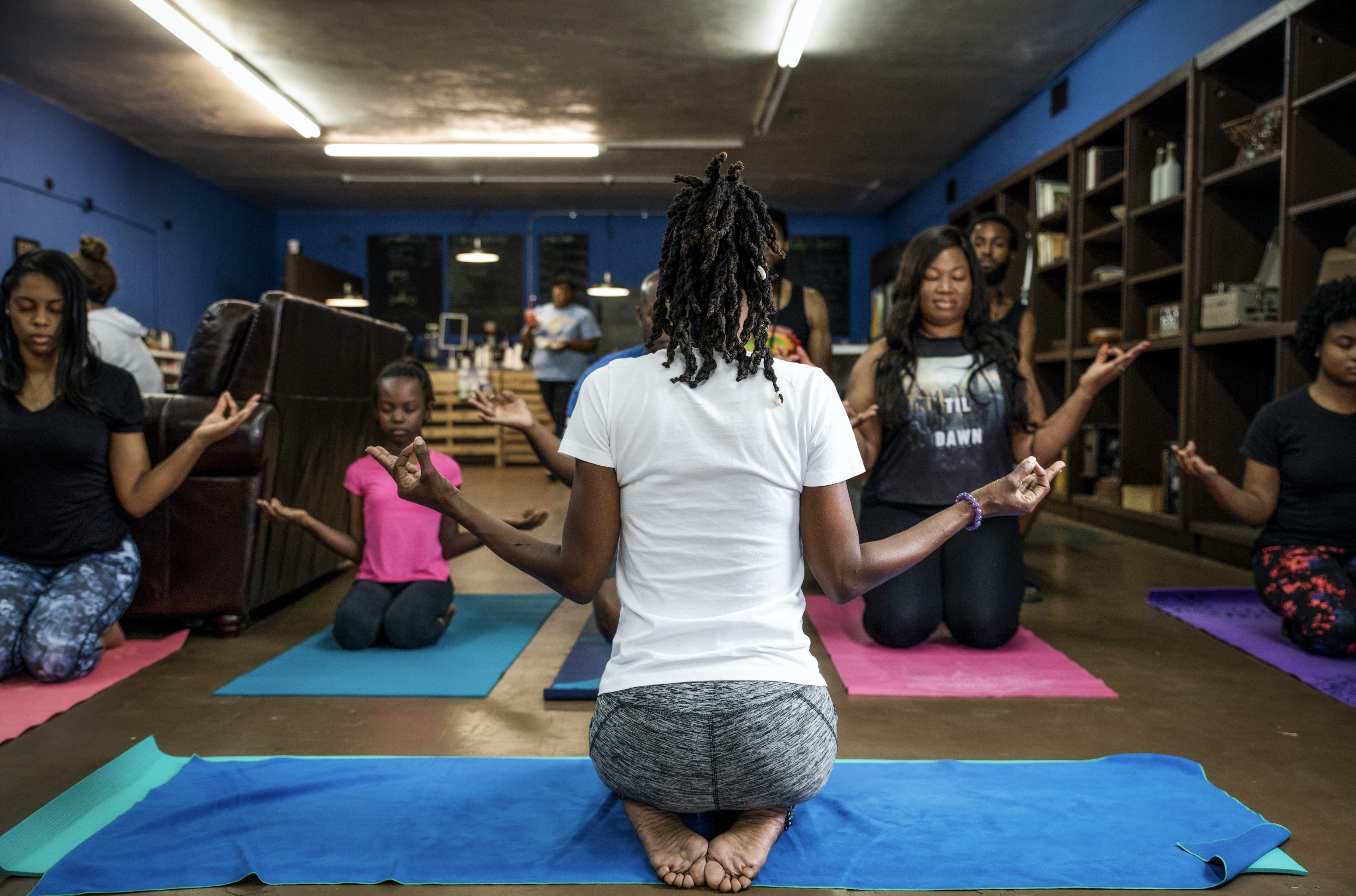 Scott started practicing yoga after Mia was born in 2008—in search of a challenging yet low-impact form of exercise that promoted physical health, but also mental and spiritual wellness.
Since the beginning of her yoga journey, Scott says she noticed a trend in the yoga classes she attended. She remembered a time during a class at the YMCA when she sat on her mat, scanned the room and realized how often she was the only person of color. From her yoga instructors to the "#yoga" images she searched online, she struggled to find people of color represented.
At Yoga Noir Project, a different vibe is created.
Within a year of her first event, she says Yoga Noir Project has blossomed into a movement much larger than she expected. Scott's events typically consist of a yoga and meditation class followed by networking. Class sizes range from 12 to 20 with mostly women of color in attendance.
Lead by yoga instructors of color, the classes offer a laid-back atmosphere for people of all experience levels to cultivate spiritual and meditative relationships without fear of judgment or exclusion.
"Yoga Noir is not exclusive," Scott says. "We're just trying to target people that don't necessarily use yoga for its benefit or that might have a lot of misconceptions like, 'I'm too big; I have to have expensive leggings, or I have to join this expensive studio for yoga.'"
In addition to "Meditate with the Moon," Yoga Noir Project has hosted yoga events geared toward moms, themed around R&B, and in celebration of holidays like Juneteenth.
In the future, Scott plans to continue offering affordable, monthly events and eventually wants to turn it into its own nonprofit organization. She also plans to expand her website and add a directory of yoga instructors of color to provide a platform for them.
"You come once, and you're a part of the tribe," Scott says. "Yoga Noir is for everyone. Just come and do what you can; don't do what you can't. It's your journey anytime you sit down on the mat. It's your practice."
Find Yoga Noir Project on Facebook and at nikkyscottinc.com.
---
This article was originally published in the July 2018 issue of 225 Magazine.