---
If you've been watching TV at all this year, chances are you've seen Debby Gaudet's students act—and if you haven't yet, you will soon. In recent years, Gaudet's Young Screen Actors studio has churned out insanely talented young actors, and now, they're landing life-changing roles.
Peyton Wich, a 13-year-old New Orleans native, landed the role of Troy, the school bully of the Netflix smash hit Stranger Things.
Toby Nichols, a 14-year-old St. Francisville native and Young Artist Award winner, stars as young Daniel Rand in Marvel's upcoming Netflix show Iron Fist.
We spoke with both actors about being on massive shows, how Gaudet's studio helped prepare them for it and what it's like to be a young actor today.
---
PEYTON WICH
'Troy' in 'Stranger Things'
What made you want to become an actor at such a young age?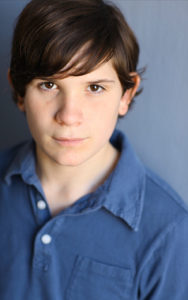 I was maybe 7 or 8 years old, and every weekend, my parents and I would watch a movie. Just for fun, I would pick any character in that movie and try to do an exact impression of them throughout the movie. One day, my parents asked me if I wanted to be an actor, and I was like, "That's a thing? I can do that? Cool." I started up classes, and I've been an actor for four years now. The first role I ever booked was a movie in 2014 called Impact Earth, which filmed in Biloxi. It never came out, but still the experience was great for me.
So, how did Stranger Things come about for you?
I just kept auditioning and getting better. In those two years I was maturing and learning new stuff in Miss Debby[ Gaudet]'s class. When I was younger, an audition was like, "Oh cool; I'm going to be a movie star!" Now, it's like, "Alright, this is a chance. Stardom is not going to happen overnight." For Stranger Things, I actually auditioned for the roles of Mike and then James, Troy's sidekick, before I auditioned for Troy. I did a few callbacks for Troy and finally got the role after a long auditioning process.
Do you think Gaudet's classes were what helped you land the role?
Miss Debby is so amazing. I've learned so much being in her studio for about a year and a half. It's a feeling of family there. Everyone is close. Acting-wise, I feel like she really helped me in terms of improving and then being able to land the role of Troy.
How did you prepare for playing a bully?
Well, first you've got to meet the other kids. They're so awesome and great to hang out with. We all went to go see Star Wars together and that was really fun. Millie [Bobby Brown], who plays Eleven, didn't understand anything about it [laughs]. She was like, "Your reactions are better than the movie." So, of course after meeting them and them being so nice, that made it harder to be mean to them onscreen. But for playing a bully, you've got to meet the kids you're bullying and get to know them.
What was it like shooting that pivotal scene where Troy threatens Mike and Dustin at the quarry?
I went into the role thinking OK, he's just a bully. … So, on the first day of filming, I get the news from Gaten [Matarazzo], the kid who plays Dustin, that I have to hold a knife to his throat, and I'm like, "Oh, OK. Wow—didn't know that was going to happen." It was a shocker. I went into the role thinking I would just be a mean bully, not that I would pee my pants and almost kill some people [laughs].
And it's funny, where we filmed that scene in Atlanta, The Walking Dead shot in that exact location for some of season one. But when we were filming that scene, it was like 25 degrees outside. It was freezing cold. The crew was giving us hot chocolate. Finn [Wolfhard], who plays Mike, actually fell as I was chasing him while shooting the scene that day and rolled several times and cut his hand. But even though that happened and we almost froze to death, it was really awesome to shoot.
What has it been like for you to be on a hit show at age 13?
It's so crazy because no one, including the Duffer Brothers [the show's directors], had any idea it was going to be a hit show. I think the Duffer Brothers got turned down by like 15 networks before Netflix picked the show up. No one knew. Now, I get so much attention at school—I'm in 8th grade—and it's nice, but it's also aggravating sometimes [laughs]. In between classes, I'll have 3 minutes to get to my next class, and I have people breathing down my neck because they saw me on the show [laughs]. You have to take pictures with so many people. But it's so much fun, and I'm so grateful. I hope to be a part of season two.
---
TOBY NICHOLS
'Young Daniel' in 'Iron Fist'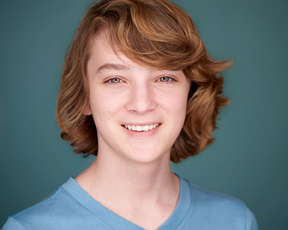 Marvel's Iron Fist is coming to Netflix in March 2017, and you play the younger version of the title superhero. How'd you get that role?
Well, when you go to audition, you don't know you're going for something for Marvel. It's very secretive, and it seems like it's a regular audition. After you do it, they'll let you know that it's Marvel, and they give you the real script. I did a couple auditions and got the role. I was really, really extremely excited after I found out I got cast as Daniel. When I booked the role, I started watching all of the Marvel Netflix shows that were out like Daredevil and Jessica Jones. Now, I'm hooked.
What is a Marvel set like?
The production quality was amazing, and the way the sets were designed were beautiful and impeccable. It was just so professional. Everything got done on time. It was an amazing experience.
How much of young Daniel do we see in Iron Fist?
It's kind of like in Daredevil where we see young Matt for the purpose of backstory. We see just enough of young Daniel to catch the audience up on his backstory.
You've had some great roles already in your career. In season one of WGN's Underground, you play a plantation owner's son. How was that experience?
I just tried to think of how the character would feel. When I'm acting, I don't overthink it; the emotions come naturally. There were parts of the role where you can't just shrug it off, like seeing someone being whipped. My character did feel bad for the way slaves were treated, and his father was a cruel man. To prepare for some of those emotional scenes, I just had to sit in a dark corner for two hours going through emotions and getting into that mindset.
You also played Bryan Cranston's son in the film Trumbo. How was it working with him?
Bryan Cranston was so much fun to work with. He's one of the nicest people ever, and he's hilarious, too. On set, he makes you feel comfortable, and I really liked him. I've been lucky so far, I haven't worked with anyone who was narcissistic or makes the set unfun.
So, you had a smaller part in 22 Jump Street. What was it like doing a comedy in comparison to all the more dramatic work you've done?
That set was a good time. Everybody was just goofing around, and Jonah Hill was really nice. He introduced me to his French bulldog, Carmela [laughs]. It was a lot more joking around and a lot more improv than filming a drama. Jonah was improving a ton and adlibbing lines.
You still go to Gaudet's acting classes. How has she helped you?
I've been working with her since I was 10 years old, and it's been great. I used to be extremely shy. She helps you really get out of your shell, open up, speak better, connect with people and think quicker. Those classes can help with pretty much everything in life. I don't think I could've gotten these roles without going to her studio. When I first started acting, I had no idea what the simplest [acting] terms meant. Going to Debby's, she helped me learn what the lingo is on set and how to act professionally so you don't ruin your reputation on the first thing you work on.
Being from St. Francisville, do you think it's important to support local actors and film?
Yes, it's really important to me. Acting is an art, and it shouldn't just be limited to a certain region or state of this country or this world. Acting feels like what I'm supposed to be doing, and it feels so right and the way it's supposed to be when I'm on set. If you want to be an actor, and you feel that way, like you can really do it and you have the dedication, then you should be able to do it wherever you are.
---
Find out more about Debby Gaudet's Young Screen Actors studio at youngscreenactors.com.
---
This article was originally published in the November 2016 issue of 225 Magazine.