---
Norman Faucheux and Jacob Zumo had established their own markets and artistic styles before ever meeting. Now, in addition to being brothers-in-law, they also share an interest in art—particularly religious art—that's taking them all the way to Italy.
Faucheux paints Roman Catholic saints and angels in a Byzantine-meets-Renaissance style, with intricate details, rich colors and textures, and plenty of depth.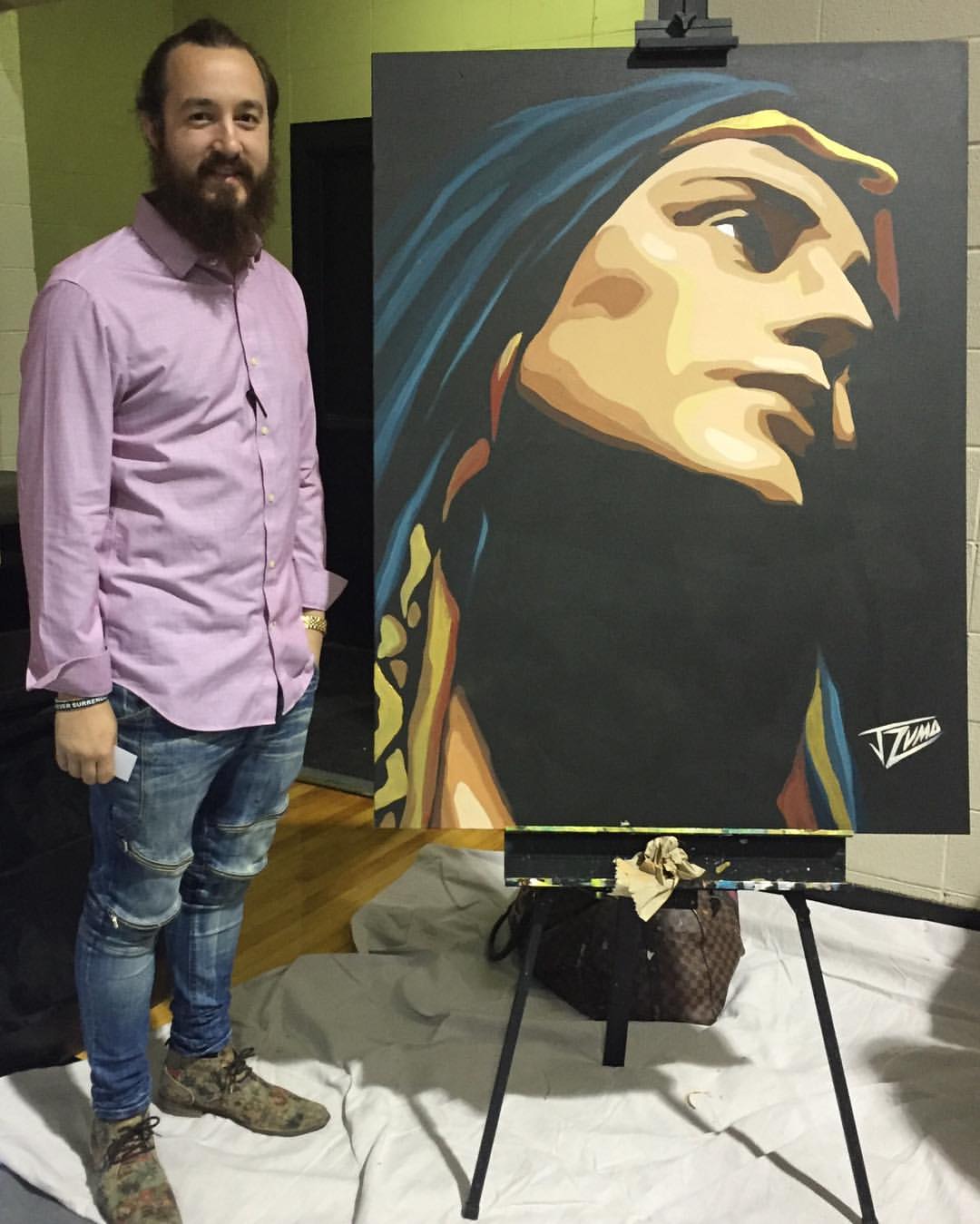 Zumo is a pop artist, known for his bold use of color in portraits of celebrities, though he's also applied that same technique to more personal, spiritual paintings.
"I've always done a little spiritual work here and there," Zumo says. "It's always kind of been my roots."
For Faucheux, a renewed interest in his Catholic roots during his first year at LSU led him to see art in a new light. As a painting and drawing student, he decided to focus on sacred art, or art that usually adorns churches and inspires prayer.
He became an art teacher at St. Thomas More School, balancing his day job with mural and panel commissions from churches like St. Margaret Queen of Scotland Catholic Church near Hammond.
For Zumo, an art history course at Southeastern Louisiana University introduced him to Andy Warhol's work and inspired him to tap into his creative side. He first found a market through the local rap scene. Painting a portrait of Baton Rouge-born rapper Kevin Gates led him to pop art commissions from artists like Drake and Snoop Dogg. He has since painted live at concerts, the VMAs and the Super Bowl. He has also created large murals of Pete Maravich, Louie Armstrong and Huey P. Long around Baton Rouge.
While Zumo alternates between his pop art and religious-themed art, Faucheux had always felt a strong, steady pull to pursue sacred art full time.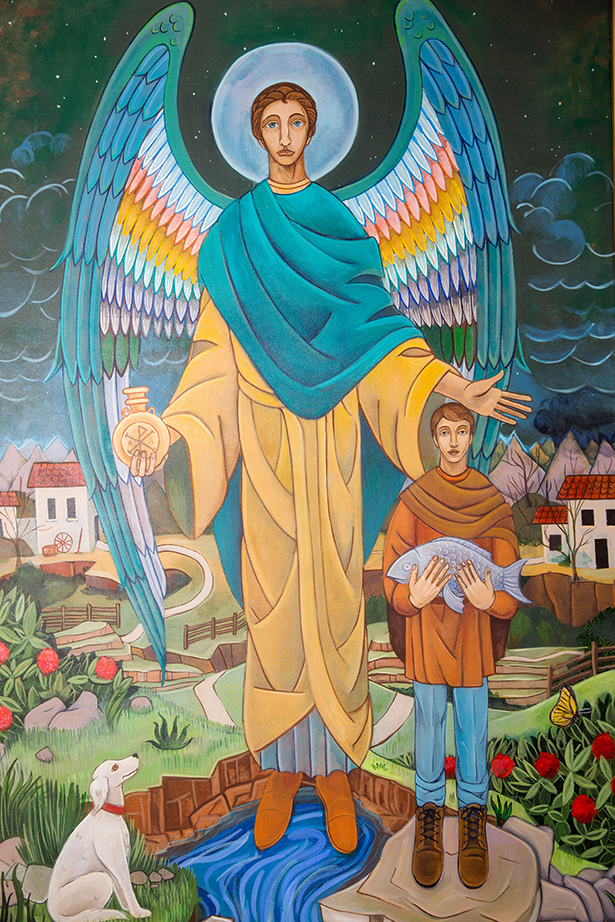 Researching schools to study religious art, he found out about the Sacred Art School in Florence, Italy, nearly seven years ago. But he never anticipated applying to its two-year painting program.
Eventually, he decided that studying in Florence would prepare him to take on larger projects. He applied to the school in November 2016 and was soon accepted to start at the end of this year.
"It's out of my character to want to go on an adventure like this. It's something I feel like I'm being called outside of myself for," Faucheux says.
When Zumo heard about the school from his brother-in-law, he was intrigued. But with no formal art training, he doubted whether he would be as qualified as Faucheux.
"I kind of took that leap of faith and sent my résumé in," Zumo says. He was accepted not long after that.
As Faucheux and Zumo both prepare to leave for Florence at the end of 2017, they know their artistic styles will change. They look forward to learning from other artists and each other.
Zumo praises Faucheux's style and talent for creating original religious iconography. "I would consider him one of the best spiritual artists in Louisiana," he says.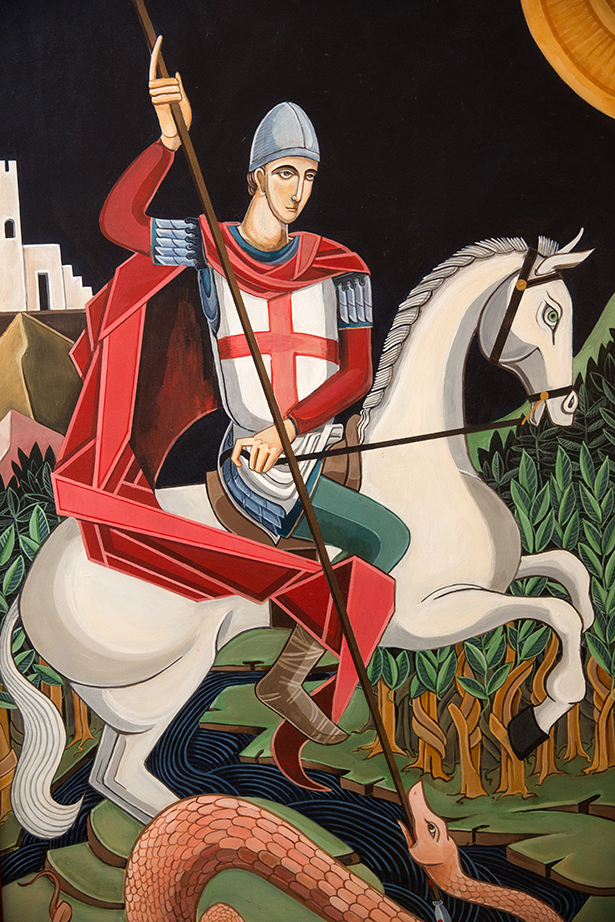 Faucheux says of his talented brother-in-law: "I don't doubt the skills he'll receive at this school will allow him to reveal his heart on a whole other level. He's producing some new artwork that's even more imaginative … in both subject matter and content. I think it's beautiful."
After Florence, Zumo wants to take his talent on the road through a mural tour, painting murals with underprivileged children and his celebrity patrons. Though open to moving for his career, he ultimately hopes to return to Baton Rouge.
"Changing the culture here in Baton Rouge is a major thing that we need," Zumo says. "Spreading light and positivity and love is a huge thing."
Zumo says he wants to merge spiritual themes with relatable, everyday situations that could interest people who aren't spiritual or religious. This means "pushing that subtle spirituality" into paintings, he says, but not to the extent that "it pushes you away."
Faucheux, meanwhile, has found a demand for sacred art in Baton Rouge. Churches have commissioned him for projects that he will start after his return from Florence in summer 2019.
He thinks art can create a common bond between people—beliefs and politics aside. "I think beauty is the most immediate way to a person's heart because you can't argue with it," he says.
As for his bond with his home state, Faucheux sees his time in the two-year program in Florence only deepening his connection to Louisiana.
"As I'm leaving, I'm just falling in love with southeast Louisiana. It's just breaking my heart," Faucheux says. "I'm excited to go, but I'm more excited to come back."
See both artists' work at normanfaucheux.com and artbyjzumo.com.
---
This article was originally published in the November 2017 issue of 225 magazine.