---
Cabaret. Just hearing the name of the iconic musical stirs up memories of fishnet stockings, jazzy musical numbers and iconic choreography.
Theatre Baton Rouge's production of Cabaret this month, however, is a bit darker than the flashy 1972 Bob Fosse film.
Using the script from Broadway's gritty 1998 revival, the musical follows American writer Cliff Bradshaw as he travels to Berlin in the late 1920s just before Hitler rises to power. While there, he visits the uber-bohemian Kit Kat Klub, with its star cabaret singer Sally Bowles and the flamboyant master of ceremonies, who leads an eccentric cast of female, gay and transgender performers.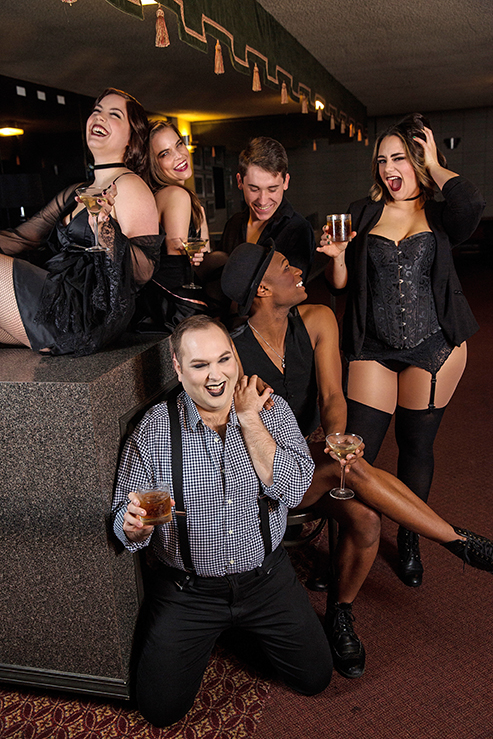 "A lot of [the show] takes place in the cabaret, and this is a Germany that's dying," says Bill Martin, director for the local show. "I'm hoping that people will see a once grand-lit, beautiful world in decay."
The story is based on the 1939 Christopher Isherwood novel Goodbye to Berlin, about the unconventional characters he met there.
Martin says patrons can expect a more honest look at the times in 1920s Germany with this production.
Cabaret holds a special place in Martin's heart. Over 10 years with TBR, he's directed shows like Agnes of God and Glengarry Glen Ross. But this is Martin's first time directing a musical. He says he's been impressed with and thankful for the talent onstage and off, many of whom he's working with for the first time.
Playing Sally Bowles is Marion Bienvenu, who's been performing with TBR since 2003. Though she acts professionally in productions in and out of state, she couldn't pass up the chance to come back for what she says is her dream show.
"Honestly everything is exciting to me about this show," Bienvenu says. "I'm excited to finally sing these songs, do these dances, work alongside my best friends, my family, the whole thing."
Perhaps the best part of the show for Bienvenu is getting to perform with the person who made her fall in love with Cabaret in the first place: her mother Chrissy Bienvenu, who plays boarding house owner Fraulein Schneider. Chrissy introduced Bienvenu to the movie when she was 8 or 9 years old, so starring in it together brings everything full circle.
Brandon Guillory, who plays Cliff Bradshaw, has starred in TBR productions of Beauty and the Beast and The Rocky Horror Show. But compared to his former roles, the edgy material and complex nature of Cabaret presents an exciting challenge and an opportunity to work on his serious acting chops.
"I love this show, because it's very well known in a sense that people think they know it … but you dive into the story, and it's dark and it's heavy and it's intense," Guillory says. "So coming from someone who is used to doing musicals, I'm excited to explore that."
TBR veteran Clay Donaldson, who portrays the Kit Kat Klub's raunchy master of ceremonies, believes Cabaret will be one of the community theater's most shocking performances to date, but in the best way possible.
"Over the years most of [TBR's audiences] have sort of been exposed to these shows that might be a little edgier or a little more risque," Donaldson says. "But through all the spectacle and the debauchery, I know that Bill is going to demand truthful and honest performances."
---
See the show
Theatre Baton Rouge presents the Tony award-winning Cabaret March 9-25. A sign language performance will be held March 18. $30 general admission and $19 for students. theatrebr.org
---
This article was originally published in the March 2018 issue of 225 Magazine.