Friday the 13th is anything but an unlucky calendar date at Leviathan Studios. On this special day at the Sherwood Forest Boulevard tattoo shop, artists get ready to celebrate with exclusive designs and discounted prices. It's a longtime unofficial tattoo holiday not just around the country, but in Baton Rouge, too. 
Leading up to the big day, tattoo artists create what they call a "flash sheet" composed of pre-drawn designs offered at a set price. Usually, these sheets have horror movie characters or lucky number 13s, but it's all up to the artist. 
And ahead of this coming Friday, Jan. 13, Leviathan Studios artists Chris Starscream and Magic Morgan are revved up for the big day. The pair has completed flash designs and starting at noon, they will offer any tattoo on the page for $50. That's half off the studio's usual minimum of $100. Walk-in clients can get any of the flash designs as just line work or shaded or colored with up to three colors.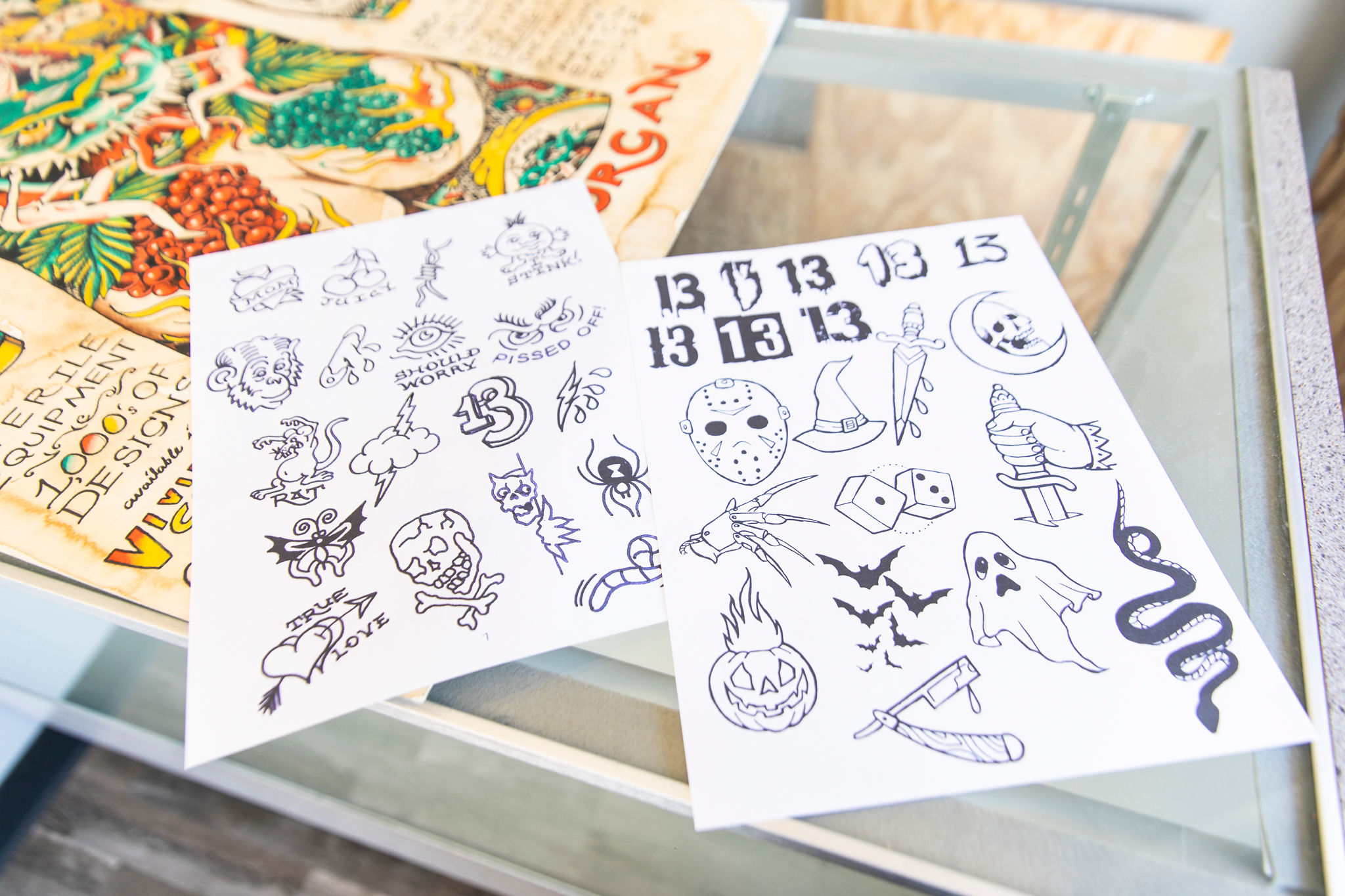 With over 20 years of tattoo experience, Starscream is very familiar with the tradition. On the other hand, Morgan says he loves tattooing flashes on a regular basis and has participated in these discounted days as an apprentice at the studio. 
"We don't always do it," Starscream says. "There's been times that we have missed it just to timing, and things didn't work out. I always look at it as a good thing, especially for younger artists. (Morgan) is my former apprentice. He's been tattooing full time for almost a year and a half. With him, I like to give him more of that sense of like the way street shops used to run where it was busier and walk-in based."
Starscream says the tradition of tattooing special designs on Friday the 13th has always been around since he's been an artist. Though prices and design choices may have changed, Morgan says the general idea of the holiday has always been around. 
"To the traditional aspect of it, I have a lot of old flash references that date back to like the '50s and the '40s, and you can see 13 designs, or designs like a black cat with a 13. So you see Friday the 13th specials going back over 50 years, which is so cool to see." 
Starscream says he and most tattoo artists usually work by appointment, so participating in Friday the 13th walk-ins gives him a change of pace. He says the small, low priced tattoos bring in a variety of customers, both old and new. 
"A lot of people will come in, and sometimes it's their first tattoo," Starscream says. "It's kind of like a way to dip their toes in and see if they want to do it. We'll tend to tattoo a lot of our typical clientele because they come in to support the day, but then we'll get a lot of random clients that we've never met that come in specifically for it."
Morgan says this day is a good opportunity for those who love collecting tattoos wherever they can. 
"It's also good for people with a lot of tattoos because our designs are small," Morgan says.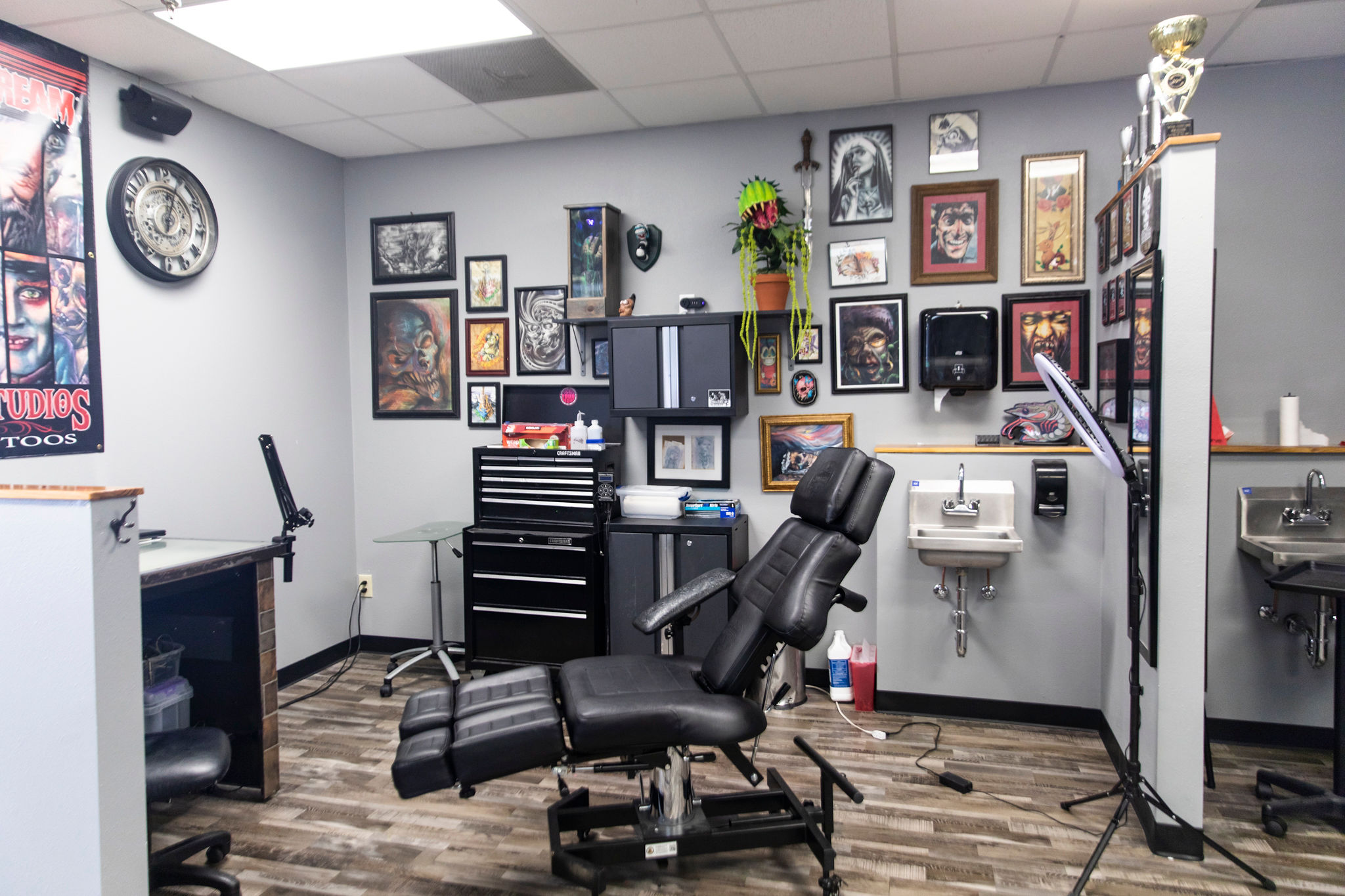 If you're looking to participate in the Friday the 13th specials, Starscream and Morgan have a few general tips to keep in mind before getting tattooed: Get there early because it's first come, first serve; bring your ID and money; eat before you go; and come with a good attitude. 
Though these two are excited to do flash tattoos at the end of the week, not all tattoo shops are keen about this holiday. Whether they dislike offering discounts on their work or only work by appointment, some artists have their own reasons for warding off the day when it makes an appearance a few times a year. 
"Me, personally, I don't see a problem with doing it as a special for a day," Starscream says. "A lot of people really stick with their custom tattoos and only appointments. That's generally how I work, so I don't mind breaking from that every once in a while and exposing different clients that we normally wouldn't see. We'll get a lot of our regular clients so it's like a treat for them. But for the people that have never come here before, it exposes them to the shop and gets them in once they get that small tattoo. Sure, we didn't make a lot of money off of it, but if they liked the tattoo, they're more prone to come back to us for their next tattoo. So it's just a good exposure."
Morgan agrees. "It only comes twice a year," he says. "It's a good way to build relationships." 
Leviathan Studios is at 5830 S. Sherwood Forest Blvd., Suite A-4. The shop is open Monday through Saturday from noon until 8 p.m.
A few more local tattoo shops participating in this week's Friday the 13th specials: 
Art Addiction Tattoo
13580 Coursey Blvd.
Safe Voyage
1500 Florida Ave.

Stronghold Tattoo
3358 Drusilla Lane, Suite 6D