---
More than 70,000 books will line the shelves during next month's LSU Book Bazaar.
The Friends of the LSU Libraries' annual event boasts books of every genre. Many will be priced at a dollar or less.
Volunteers with the Book Barn work year-round, putting in about 3,500 hours of work receiving donations, sorting books and pricing them for the sale. Proceeds support LSU Library Special Collections acquisitions.
"We get to help these books stay alive and get them in the hands of people who love them," says Anita Adams, one of the five members of the steering committee.
The sale will be organized into about 45 genre-specific tables, which are numbered and listed on the category card attendees will receive at the door. The Rare and Collectables area holds valuable books, such as a first-edition copy of A Confederacy of Dunces, and about 70 volumes of The Lincoln Collection.
People who really want to comb through the tomes should plan to spend at least two to three hours at the sale, Adams says. She encourages those looking for a specific book to attend the sale multiple times, as more books are put out throughout the weekend. Expect your own "wow" moment when entering the sale.
"If you're there, you want books. And when you walk into that many books, you can't help but lose your breath," she says. "It's so much fun to just feel that energy. It just vibrates." Find Friends of the LSU Libraries on Facebook.
---
RARE FINDS
Get to the sale early for these books, as there's only one of each. The only way to know what other amazing books will be available? Visit the sale to find out for yourself.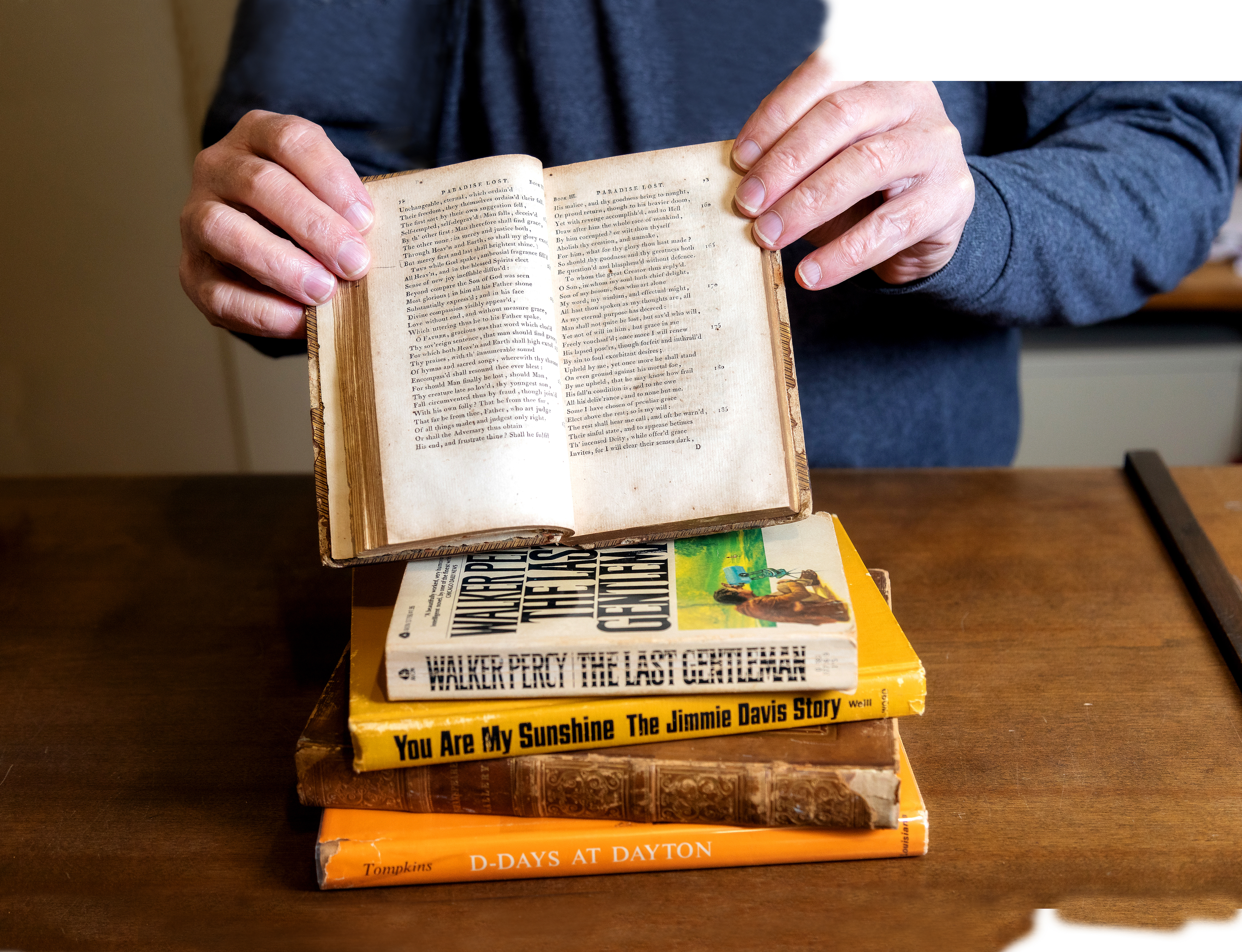 'Paradise Lost': This diamond in the rough is from 1803—wonderful for vintage collectors or people who are trying to add to a cool bookshelf display, Adams says.
'The Last Gentleman': A paperback signed by Walker Percy is one of the sale's many author-signed books.
'You are My Sunshine': This copy is signed by former Louisiana Gov. Jimmy Davis—a perfect find for history buffs.
'Shakespeare Gallery': A brown-covered book with simple gold details may seem unassuming, but this book is dated at around 1838.
'D-Days at Dayton': The book's editor J.R. Tompkins and the U.S. Supreme Court case's defendant J.T. Scopes signed this copy.
---
ATTEND THE SALE
Thursday-Friday, April 2-3: 9 a.m.-7 p.m.
Saturday, April 4: 9 a.m.-5 p.m.
The event will be held in the John M. Parker Agricultural Coliseum.
---
This article was originally published in the March 2020 issue of 225 Magazine.