---
The history of LSU's prestigious No. 18 jersey is well known and equally admired by Tiger Nation. But there's another numerical football tradition that might be even more elusive—the No. 7.
Unlike No. 18, the number isn't voted on by the team. It isn't assigned by the coaches. It's an honor passed down between teammates to those worthy of taking on the challenge of being LSU's dynamic playmaker, X-factor and game changer.
The newest No. 7 is senior wideout D.J. Chark. He inherited the honor from former running back Leonard Fournette, who left LSU as one of the best backs in school history.
"I was very close with Leonard," Chark says. "[We] came in as roommates, and when he left, we always had talks about the number and the legacy and making big plays. When he left, he passed it on to me. I couldn't wait to wear it."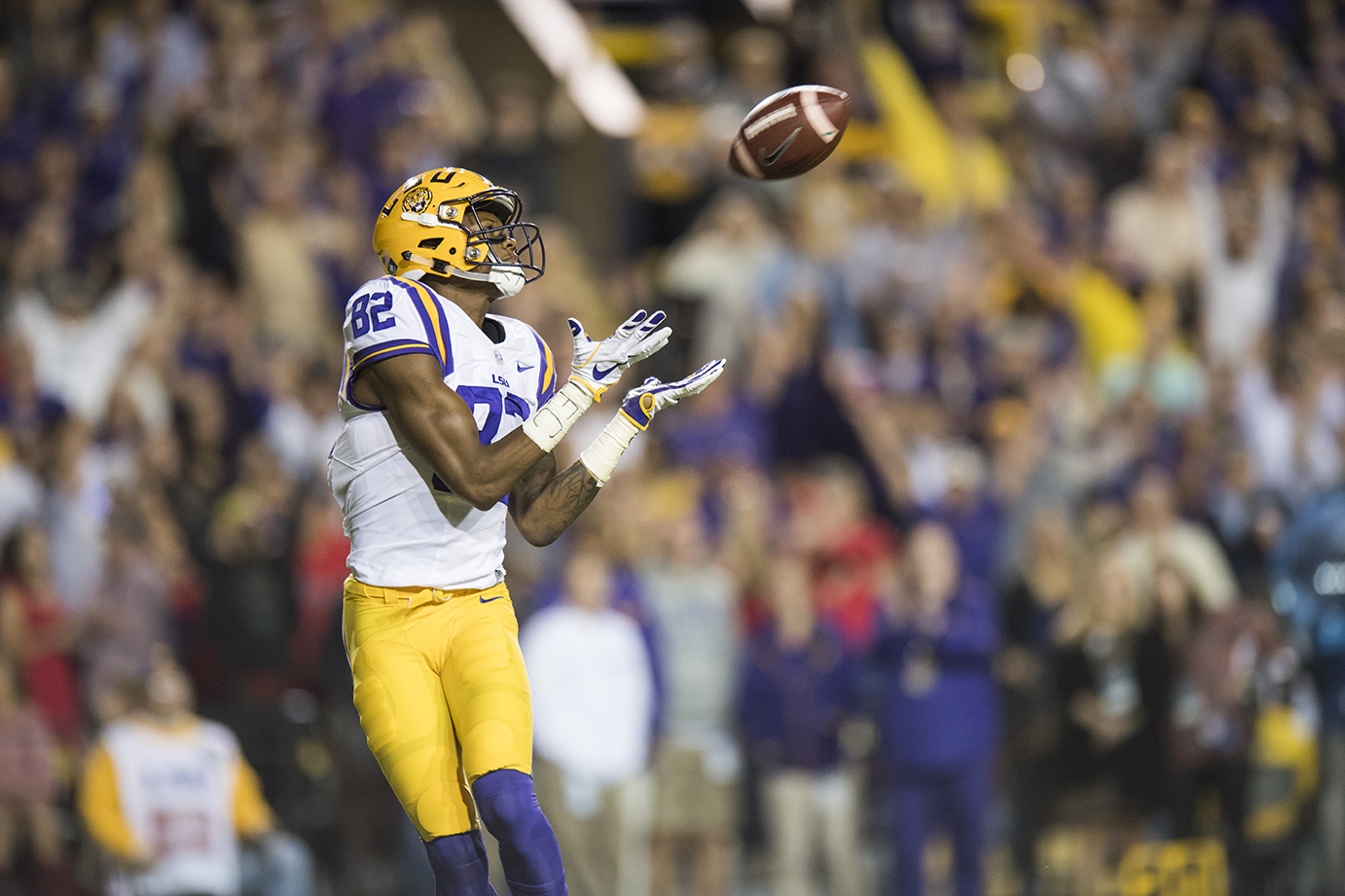 Chark has slowly worked his way to the top of the Tigers' depth chart after a breakout junior campaign that saw him finish top three on the team in receptions, receiving yards and receiving touchdowns.
Now the Alexandria native is in the leading receiver role and ready to represent the No. 7 in a new-look offense under first-year coordinator Matt Canada that promises to open up the playbook with some newfound creativity.
"Coach O, every time I make a play, he tells me how he likes the number and how it looks on me," Chark says. "The team loves it. My name went from 'D.J.' to 'Seven' overnight. … The team has embraced it, and I embraced it."
The trend started with Patrick Peterson, who first arrived on campus back in 2008. LSU had boasted plenty of No. 7s in its history, but Peterson was different.
He came to Baton Rouge out of Pompano Beach, Florida, rated as the No. 1 cornerback prospect in the country and a top-10 recruit overall. And he lived up to all the hype.
Peterson played in all 13 games as a true freshman before his breakout sophomore and junior seasons. By the time he left LSU in 2010, he was one of the most decorated athletes in school history, winning both the Bednarik Award (for the nation's top defender) and Thorpe Award (nation's top defensive back) and becoming the fifth overall pick by the Arizona Cardinals in the 2011 NFL Draft.
As Peterson was on his way out, another young, up-and-coming defensive back was beginning to make a name for himself: Tyrann Mathieu.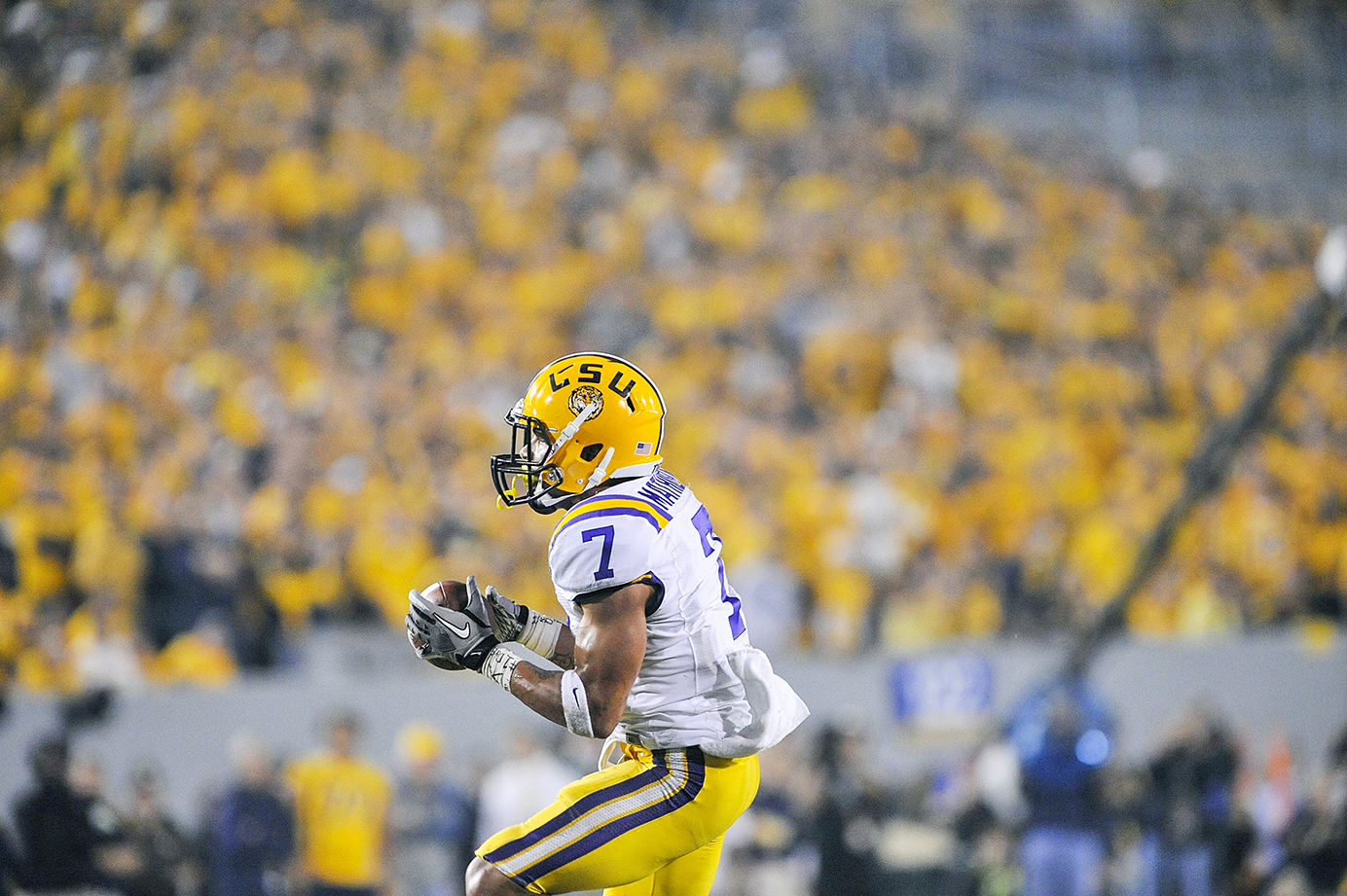 Mathieu wasn't as highly rated as Peterson coming out of high school, but he made just as big an impact. The Honey Badger played in all 13 games as a freshman and wound up finishing first in the conference and fifth nationally with five forced fumbles, while leading the team with seven pass breakups and racking up 57 tackles.
Mathieu wore No. 14 that year, but he was gifted the No. 7 jersey by Peterson once he left campus, thus beginning the tradition.
"We're trying to get a tradition started here with the number 7," Mathieu was quoted as saying in 2011. "Pat was like a brother to me. Me getting his number is me giving back to him."
Mathieu wore it well.
The New Orleans native was one of the most electrifying playmakers in the country, racking up all sorts of school, conference and national records en route to becoming another Bednarik Award winner, as well as LSU's first Heisman Trophy finalist since 1977.
The No. 7 had just begun to take on a much deeper meaning when things took a turn for the worse.
Mathieu, who was entering his junior season as a Tiger, was kicked off the team prior to the 2012 season for violating the team's substance abuse policy. His illustrious college career had come to a screeching halt, simultaneously putting a pause on the freshly founded No. 7 tradition.
The number went unworn for two seasons, in part as a sort of remembrance for Mathieu and in part because LSU knew it had a new superstar in the pipeline.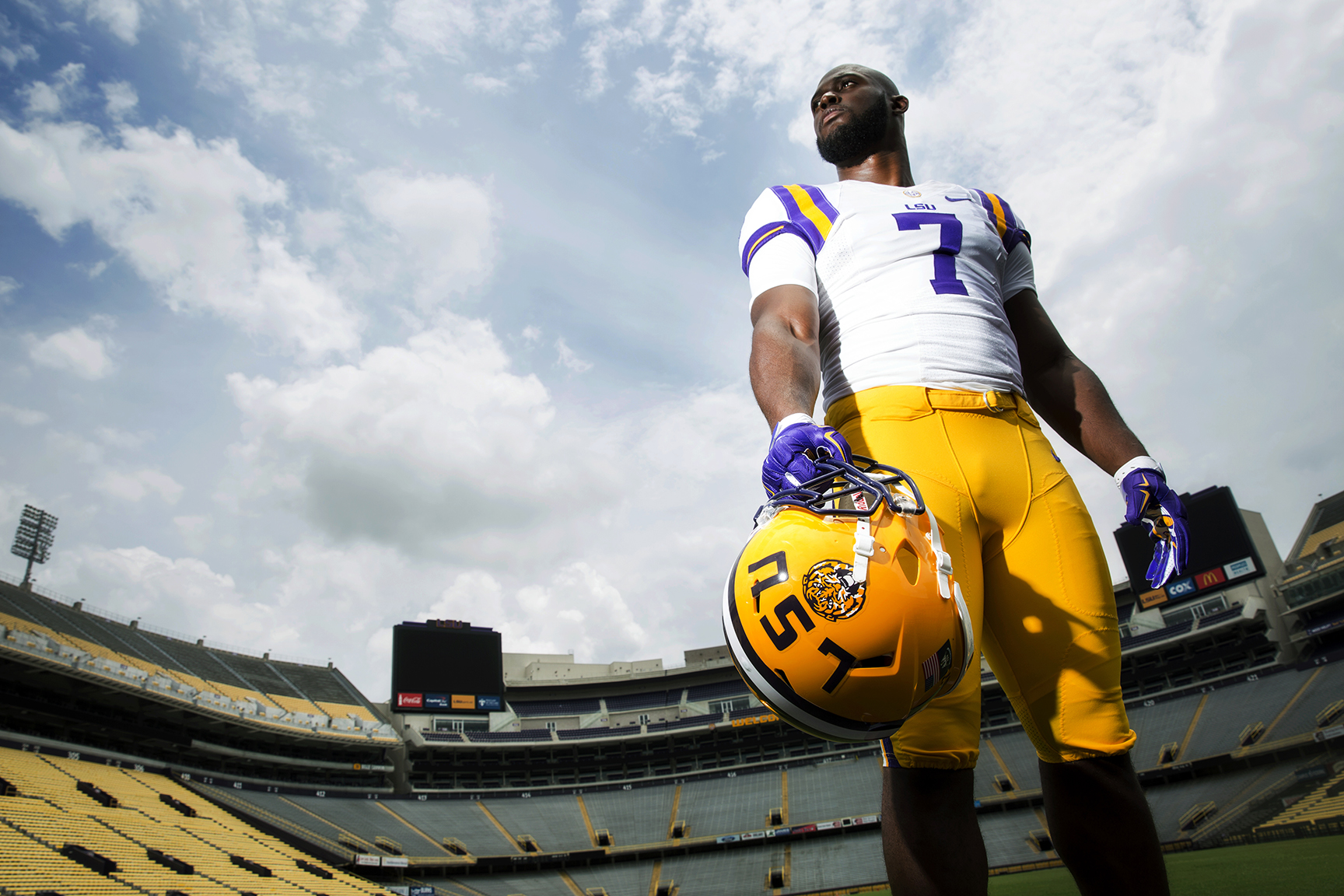 Enter Leonard Fournette.
The number was fitting for Fournette for a number of reasons. He wanted to represent his roots from the 7th Ward of New Orleans where he and Mathieu both grew up, but as one of the most highly touted prospects in recent LSU history, he also wanted to inject some excitement back into the tradition and the program.
The former face of LSU football revitalized No. 7, breaking school record after school record with highlight-reel runs in nearly every game he played.
He saw the potential in Chark from the moment they arrived on campus together, and now he's hoping he can pass along some of that numerical magic to his old roommate.
---
This article was originally published in the August 2017 issue of 225 Magazine.