Twenty-six wedding gowns have transformed the LSU Textile and Costume Museum gallery into a "sea of white" for viewers to grow a better understanding of bridal fashion history and find inspiration amid peak nuptial season. 
"This collection has always been a love of mine," says Pam Vinci, the exhibit's curator and director of the LSU Textile and Costume Museum. "It's wedding season right now. It's a good time to share this with the public." 
Spectators are welcomed into the ceremonial world of weddings at this exhibit that's adorned with the intricate details that have defined the events dating back to the 1800s. The "'Til Trends Do Us Part: A Retrospective of Changing Fashion in Bridal Wear" exhibition grand opening on April 16 will host tours throughout the gallery and its first-ever behind-the-scenes look inside the museum's storage area where its donated, irreplaceable textiles excluded from its current exhibit are stored. Although this backstage tour is sold out, the public is still welcomed to register for the main grand opening tours for free. 
The exhibit doors will be open for free viewings from April 16 to August 31, Mondays through Fridays from 9 a.m.-4 p.m. and the first Sunday of every month from 2-4 p.m.  
"'Til Trends Do Us Part" is specifically structured to provide an educational experience for its viewers. Gowns line the room in chronological order and six display cases sit in the center of the gallery to present more dresses with correlating photos, accessories and other artifacts. Each dress is accompanied with descriptions that explain the social and political impacts that influenced its design, as well as wedding etiquettes of that time period and names of the dress' wearer and designer. iPads sit beside the cases for those who want more information.
"Visitors are able to see fashion changes that occurred and its parallels," Vinci says. "I wanted to exhibit them—not by fabrication, length or silhouette—but chronologically so we can see the trends."
A 1968 A-line mini-dress with a floral motif running down its center showcases how brides of that era carried of the  new mini-skirt trend into their wedding attire. Another gown was created by its bride to mimic Princess Diana's 1981 wedding garment. Viewers can also see how the sinking of the Titanic and commencement of World War I affected the way ceremonies were held, the history behind brides sewing orange blossoms into veils and learn about how congratulating the bride was once seen as a social faux pas. 
In addition to the gowns, photographs by the late Louisiana photographer Fonville, who described himself as "the world's best wedding photographer" during his heyday, are also on display, along with other wedding-related memorabilia, like an intimate Western Union telegram wishing a newly-wed couple well.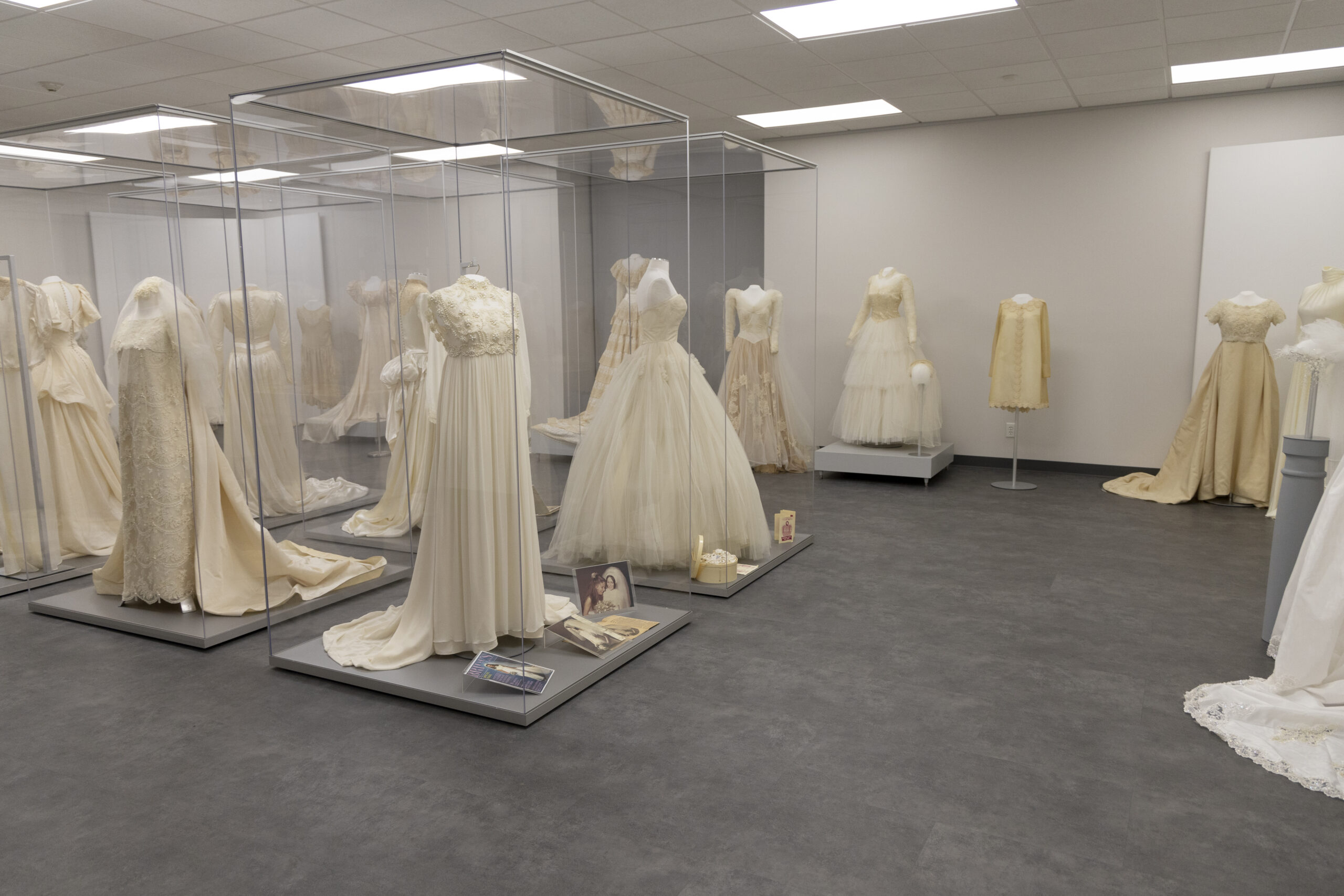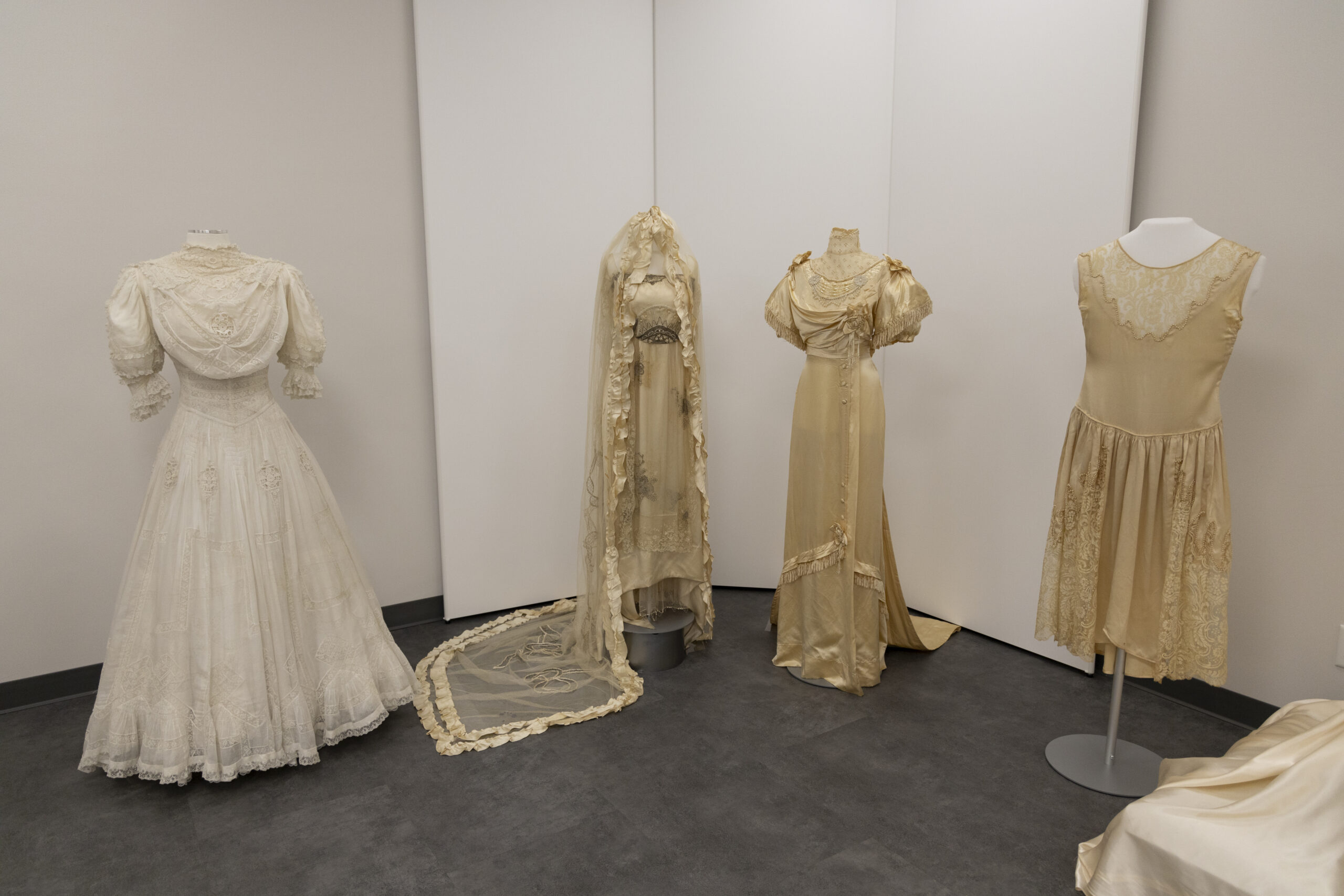 Vinci donated her own wedding dress for "'Til Trends Do Us Part"—the last of 20 total exhibitions she helped curate before she retires next month. Vinci tells 225 that she bought her dress for $250 from Maison Blanche, a now-closed department store located on Canal Street in New Orleans. Later she realized her dress was pictured on the front cover of Brides Magazine the same year of her purchase. 
The original wearers of the dresses on exhibit were notified that their dresses made the cut, and they have been invited to recollect on their own special days while viewing their gowns intricately displayed on dress forms. 
"I'm anxious for these brides to come and see their gowns," Vinci says. 
The grand opening for "'Til Trends Do Us Part: A Retrospective of Changing Fashion in Bridal Wear" is from 2-4 p.m. on Sunday April 16.  Register for tours here. The exhibit will be displayed at the Human Ecology Building on LSU's campus near the corners of South Campus and Tower drives.