---
The guys of Brother's Bear had just finished up practice for an upcoming show at the Dyson House Listening Room. They stood around a set of drums at their East Chimes Street practice space, and each tapped out a beat that turned into an impromptu jam session, ending in laughs. It's not an uncommon scene with this band.
Singers and guitarists James McCann and Joshua Brumley started the folk group in 2015 as a two-piece band. In late 2016, cellist Guillermo Quiros and upright bassist Nelson Williams joined the band to develop and complete their sound.
"The sound is no longer coming from just the two of us," Brumley says. "Now it's coming from four specific musicians with their own ideas."
The group has just as much energy onstage as they do off it. For Williams, that gives him the chance to try new things with the bass.
"Even though I come from a classical and jazz background," he says, "my heart sits within the bluegrass/folk tradition. And I think with Josh and James, they allow me to play a lot of pluck stuff unlike traditional folk bass lines that aren't super-showy. That structure gives me a lot to work with."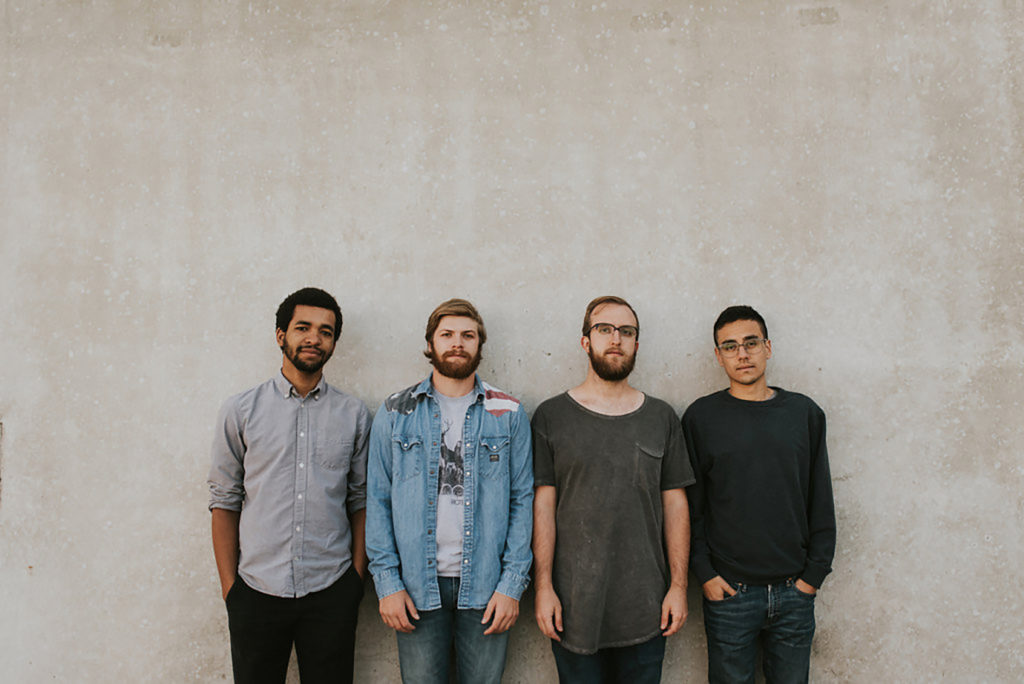 The contrast between songs on the band's first album, Say released in late 2015, fit McCann and Brumley's writing styles individually. But the new stuff they are working on for a second album was born from collaborating and finding what worked between both of them. The band members say finding a common voice as they begin recording new music has been a challenge they hadn't come across the first go-round.
"We are polar opposites in a lot of ways, even our musical inspirations. But it's funny how the one thing we really always appreciated was old folk music," McCann says. "[Those songs] were, in a sense, a voice for the common people, and it was really simplistic. If you look into our songwriting on the first album, Joshua's songs are incredibly poetic and abstract, but mine have more of a bluegrass and country influence. Our sound for the second album has evolved around people in the modern age relating our present life with those sounds of older folk music."
You can understand the sound and style Brother's Bear wants to emulate when you hear the band's rendition of "This Land Is Your Land" by Woody Guthrie at live shows.
"The first night that we decided to play that song," Brumley says, "I was experiencing a lot of weariness about hearing crazy things that were going on in Aleppo [in Syria]. I was sad and thought about the lost verses that Woody Guthrie wrote to this song. One verse went something like this: 'In the shadow of the steeple/ I see my people/ By the relief office/ I see my people./ As they stood there I was wondering/ Was this land made for you and me?'"
Taking Guthrie's lyrics and bringing to light the tragedies happening today across the globe, Brumley put his own words to the lyrics: "In the shadow of the steeple/ I saw my people/ By the customs office/ I've seen my people./ And as they stood there war-torn, homeless and broken/ I stood there asking/ was this land really made for you and me?"
The rendition stands as a strong example of what Brother's Bear's music is all about: compassion, love, friendship and accepting people for their differences.
Williams' favorite song that they are working on, called "Home," follows these themes. "The lyrics say, 'Wherever our home is/ I'm sure there's no talk about which lives are worth saving and who dies.' And every time we play that song I hear that line, and I just want to put my bass down and just take this moment to take it in."
The band is currently recording tracks for a second album, though no release date or title had been set as of press time.
---
See the band live
Brother's Bear performs Aug. 19 at the Spanish Moon. Follow the band on Facebook.
---
This article was originally published in the August 2017 issue of 225 Magazine.