---
Everyone in Louisiana was impacted in some way by the recent flooding. Whether you were high and dry or forced to evacuate your home, everyone knew someone affected.
The Cajun Navy was at the forefront of the flood response, and 225 Magazine wanted to give some rescuees a chance to reunite with their heroes from that day.
---
---
LOVE IS ALL YOU NEED
Days after being evacuated not once but twice during the recent flood, Amy Daigle recognized her rescuer in a Facebook video taken on his boat. She and her longtime friend Mary Jones, who had also climbed aboard the boat, quickly reached out to thank Dustin Clouatre for going above and beyond to get them to safety.
Daigle had already evacuated her own home with her daughter and was staying with Jones in her Galvez home when water began creeping in. Clouatre arrived in the area on a boat with his friend Keith Martine. The two men happily welcomed not only the women but also five dogs and a cat into the boat, and once Clouatre dropped them off on higher ground, he tossed Daigle the keys to his truck and told her to take it to get to safety. He'd worry about getting it back later, he told the group.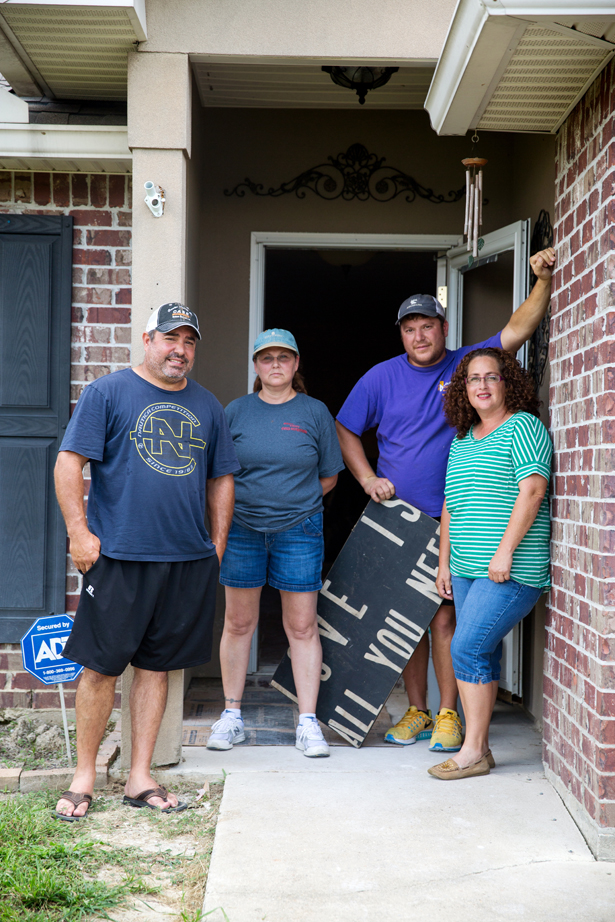 While cruising through the water a street over from Jones' house, Clouatre found a wooden sign floating in the water, painted with the words, "Love is all you need." He picked it up and posted it at the bow of his boat, a message of levity and hope for devastated residents—and for fellow rescuer Martine, who got a snakebite for his trouble. He still has the sign, and he plans to keep it.
"He kept us laughing the whole way," Daigle says of Clouatre. "That was the most important thing."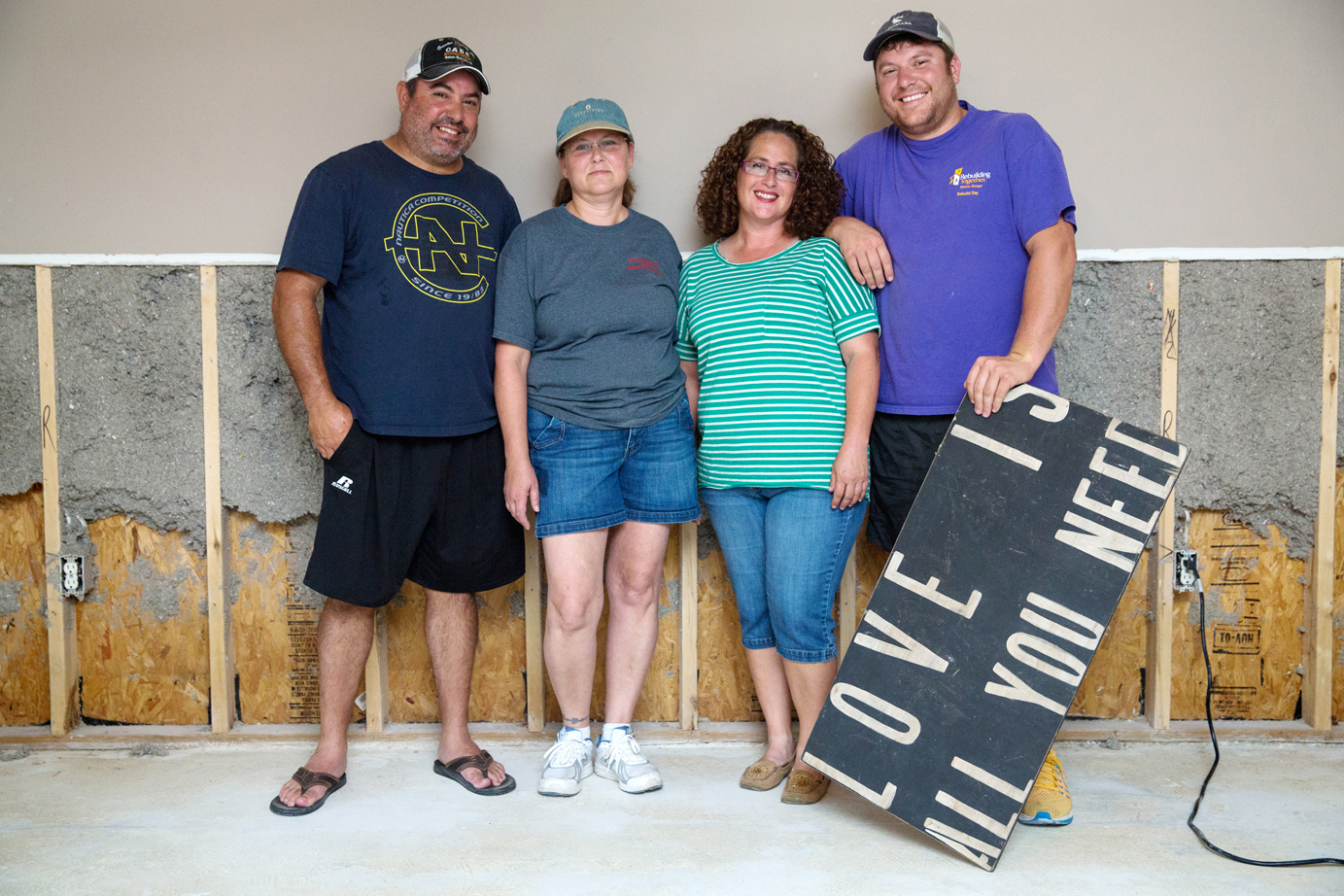 ---
"I SURE AM THANKFUL"
It was already a long day for Chad Chenevert, Calvin Foreman and Brian Bordelon. They'd spent hours running rescue missions with a pair of boats, even wading through chest-deep water to save a family trapped in their attic with two dogs. Chenevert's wife called him from home with a message from a former classmate, Lisa Prater Bailey. Could they pick up Bailey's elderly parents from the Centurion Place subdivision?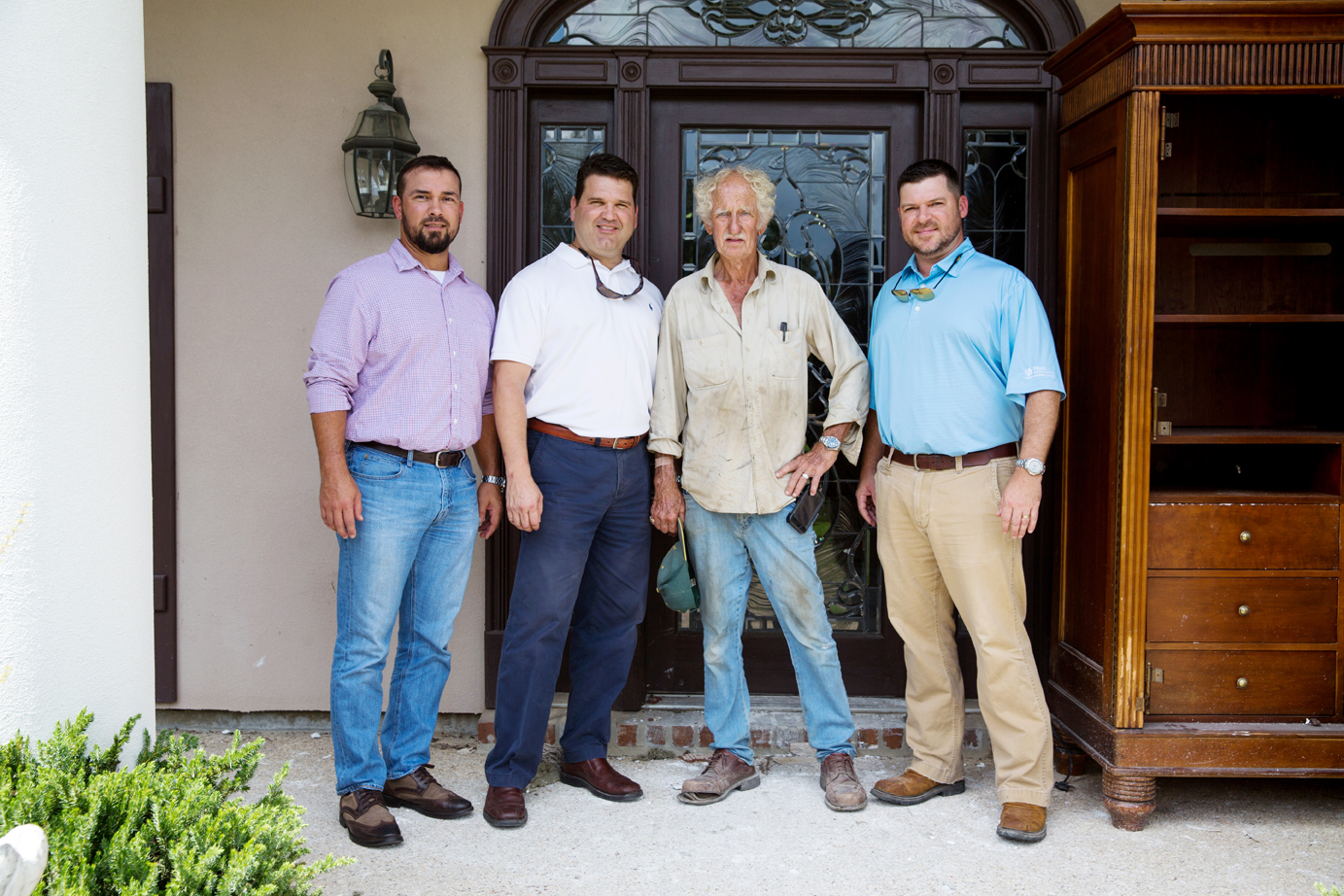 Despite its foundation atop a steep hill, the Praters' house already had water past its long front walk, and the rescuers pulled their boat up to the front door. Chenevert had to feel around the water with his boot to find a foothold to help lift Bailey's mother into the boat. By the end of the flood, the Praters would have nearly three feet of water throughout their house.
Three weeks later, Bailey's father, 78-year-old Newell Prater, pulls up with a trailer and ready hands to continue gutting his house. Before he gets to work, though, he's sure to shake the hands of the men who got him out.
"I sure am thankful," he tells them.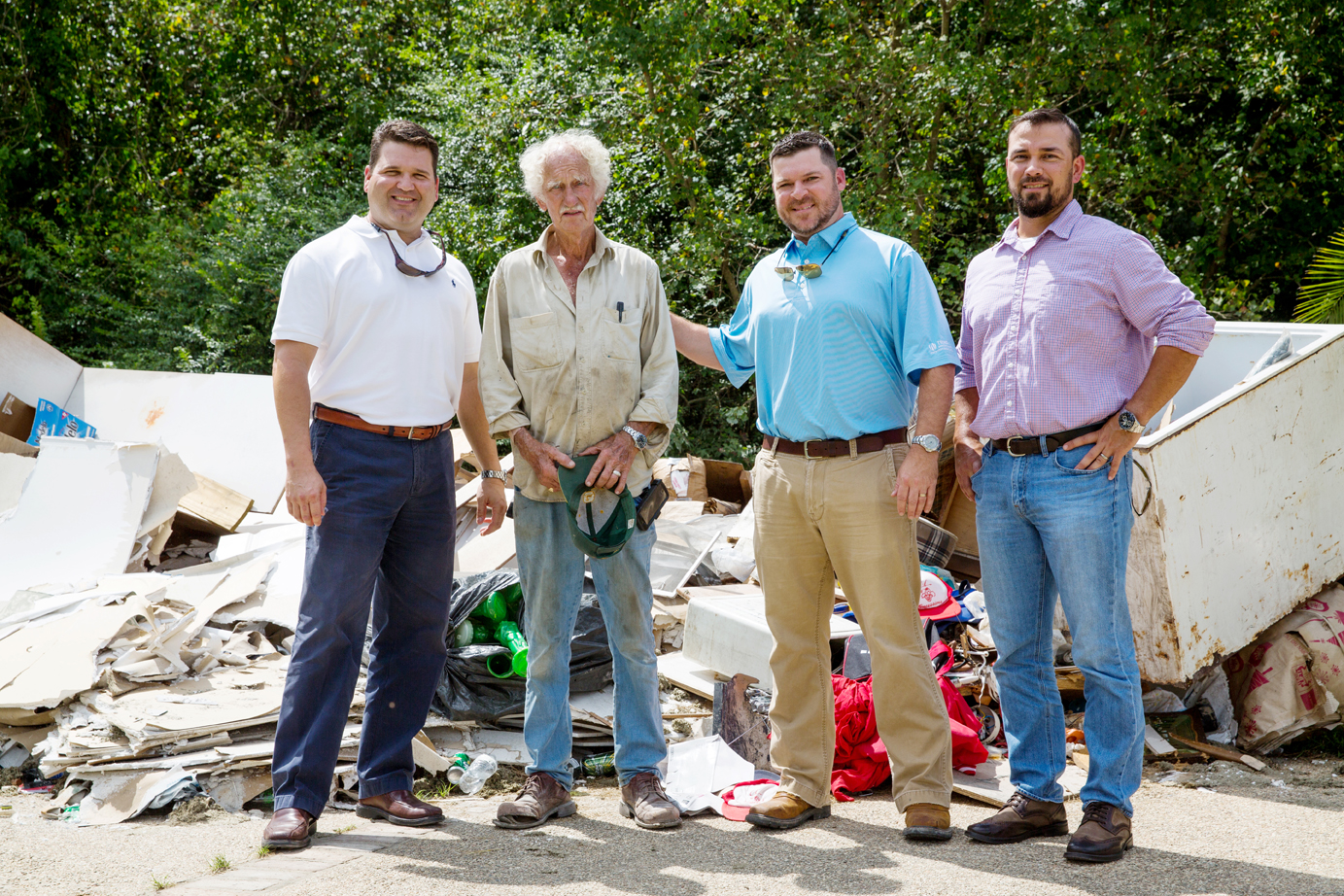 ---
FINDING FANCY NANCY
Connie McLeod has lived in the same house in the Millerville Road area for 30 years, and she's never even seen water on her front steps until this past August.
She hunkered down with her partner, Steve Davison, and her cat, Fancy Nancy, to ride the storm out. But as water rose, they found themselves trapped in her house, a small island in a growing sea of muddy water. Her home survived the flood, but her neighborhood flooded with water up to seven feet deep in places.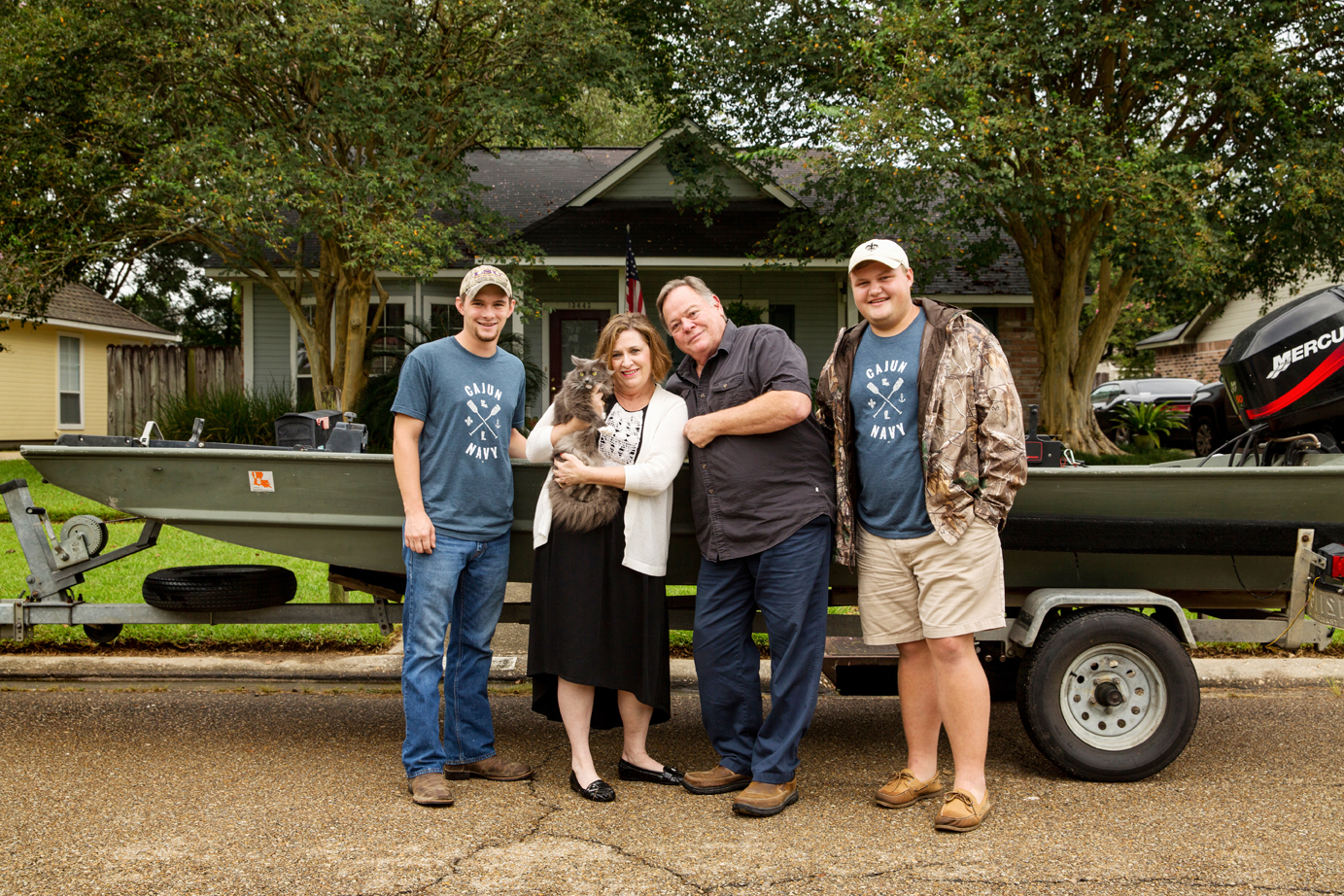 Garrett Tillman and Marc Curry were out that day rescuing locals on Curry's father's fishing boat when they came across McLeod, who was awaiting evacuation by first responders. Once they scrambled into the boat, with Fancy Nancy yowling unhappily all the way, Tillman pulled out his phone and read out a text for help forwarded from Facebook.
"There's a woman on this street named Connie who needs help. Do you know where she is?" Tillman asked them.
"That's me!" McLeod told him. Now, weeks later, she still laughs about it, saying, "Talk about a fast response."
Reunited at her home, she takes the men back to Davison's office, where he shows them video he captured of their watery rescue. They all seem awed to see what they survived in vivid color, and McLeod thanks them again with a happy hug. Tillman takes it in stride. After all, he says, someone had to do it.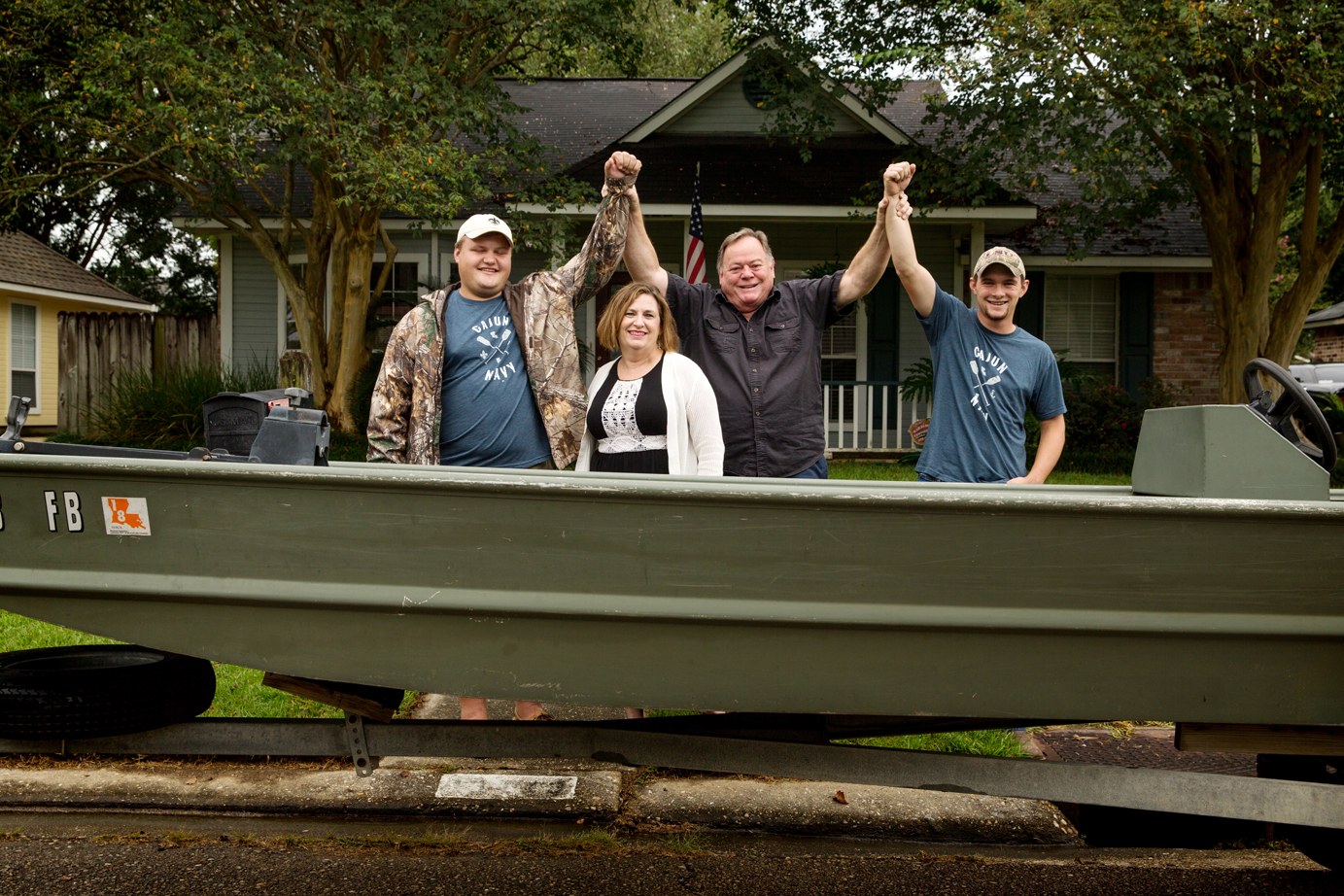 ---
"THANK YOU FOR MY LIFE"
It takes Lyndy Donaldson less than a second to put her arms around Brandon Burchfield the first time she sees him on dry land.
"Thank you so much," she tells him. Nearby, Brandon's wife, Mallory, gets a little misty.
Mallory Burchfield and Donaldson first connected on Facebook when Donaldson posted an emotional letter of gratitude to her rescuer, Brandon Burchfield. During the flood, Burchfield spent 70 hours navigating the waters of Denham Springs, Walker and beyond with the help of his phone's GPS and his friend Nick Ramos manning a flashlight.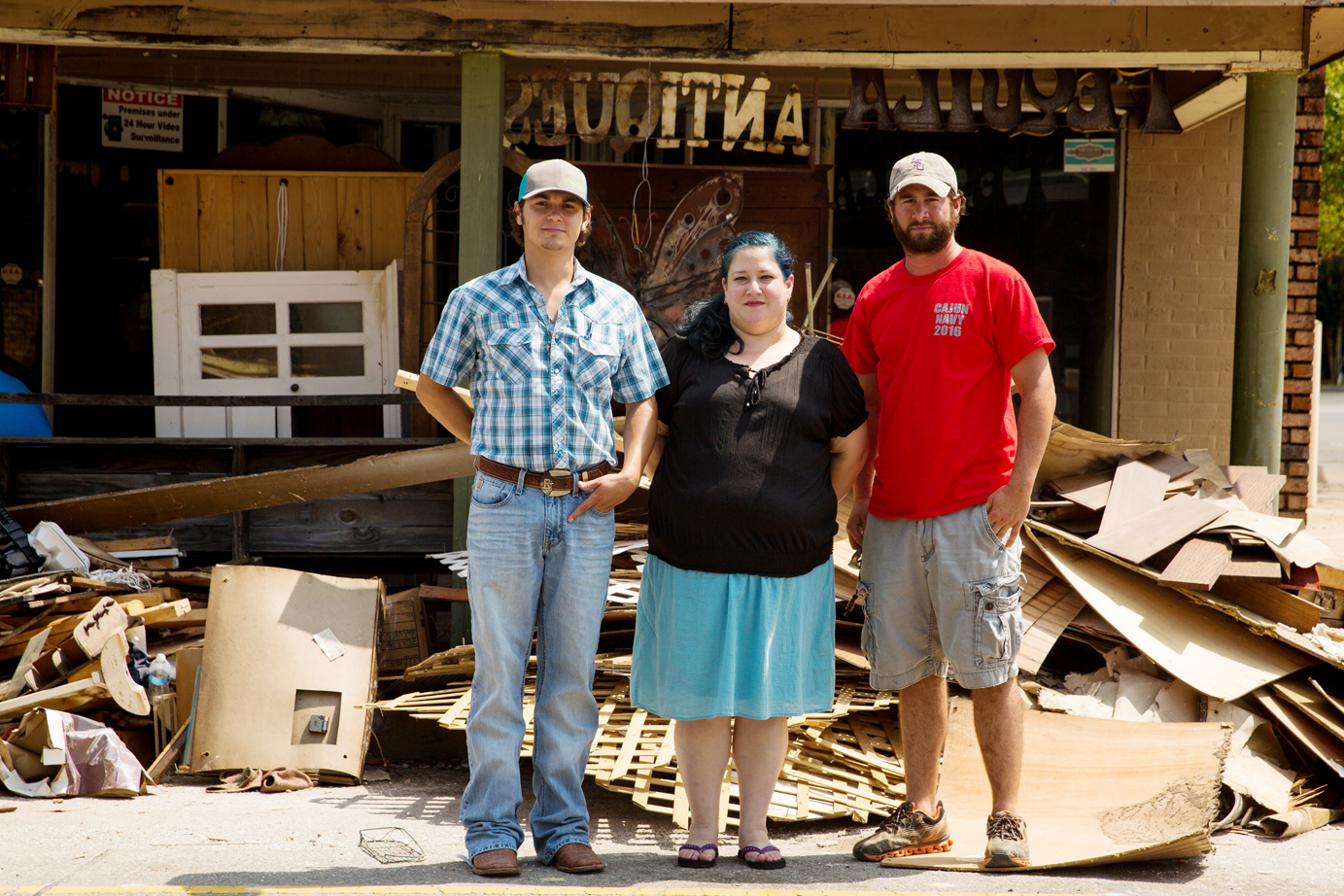 Donaldson has since gutted her rental home in Denham Springs, where she and her pet rats escaped five feet of water. The water was so high and so powerful that it lifted an urn of her mother's ashes off a bookcase and floated it to the bar in the kitchen. She and her rescuers laugh together as she recounts the story now.
"If you knew my mother, you'd know the bar is exactly where she'd go," Donaldson jokes.
Though they were strangers only a month ago, Donaldson and her rescuers are as comfortable as old friends in each other's company now. Her Facebook post, which has been shared more than 400 times, says it best.
"He made me feel safe in his care," Donaldson wrote. "THANK YOU for my life, Brandon. … Here's to good karma for you and yours for the rest of your life. I will never forget that I am alive today because of you."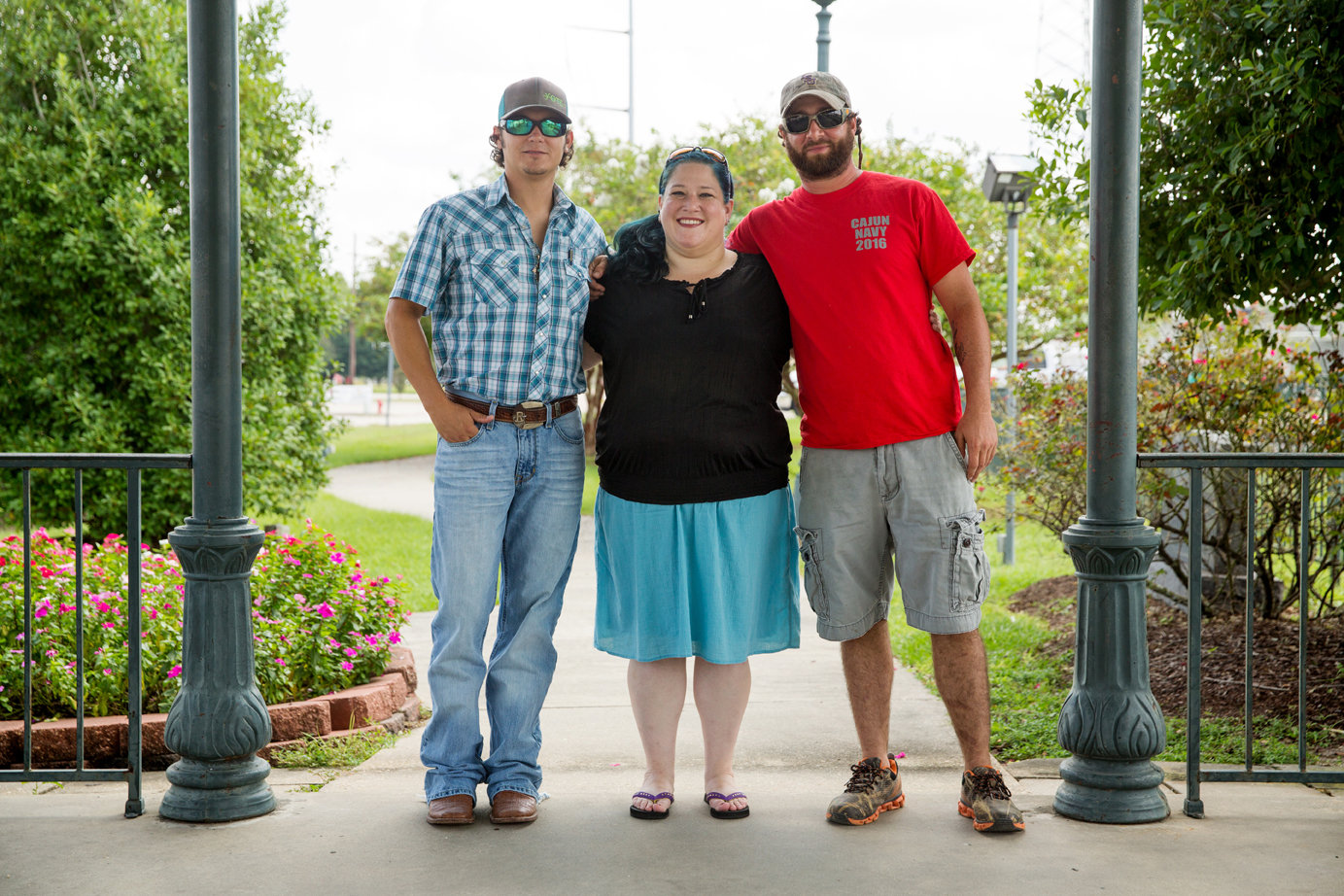 ---
This story was originally published in the October issue of 225 Magazine.