---
LSU Swimming & Diving's new associate head coach has more than just the eye of the tiger.
Leah Stancil joined the coaching team this fall, eager to share her wisdom and expertise with students—and to learn from the team's head coach, Rick Bishop. He joined the team in 2021, fresh off a successful stint with the Hong Kong National Team at the Tokyo Olympics.
"He has accomplished things that are very inspiring to me," she says.
Many would say the same thing about her own coaching and leadership skills.
Most recently the head coach of Tulane's swimming and diving team, she brought the school to new heights. During her four-season tenure, it not only racked up 19 school records but also qualified two athletes for the NCAA Championships.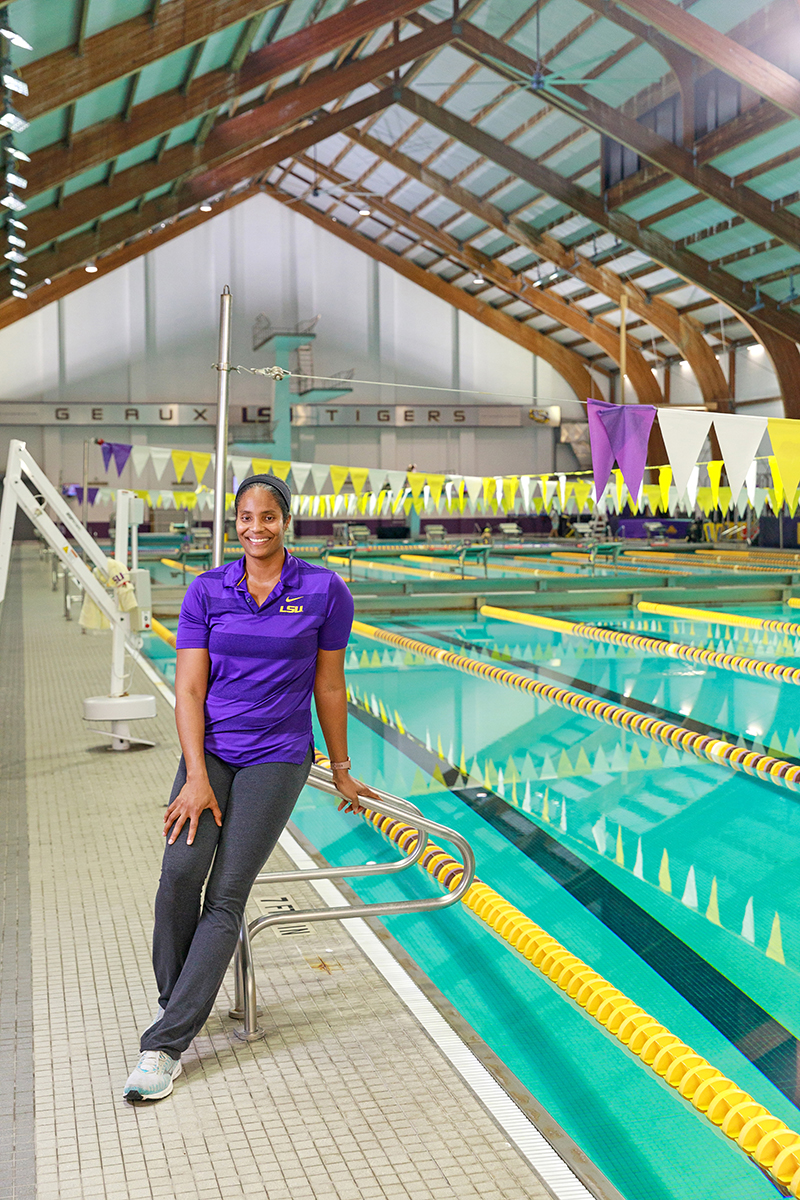 Before becoming a Louisiana resident, Stancil cut her teeth coaching at the Savannah College of Art, the University of South Carolina and University of Florida (her alma mater). She helped coach the Gators' women's team to the 2010 National Championship and 2009 SEC Team Championship.
She relates to her student-athletes not just with experience competing at the top of the SEC and the NCAA—but at the top of the sport, period. Originally from Bridgetown, Barbados, she was only a teenager when she first competed at the 1996 Atlanta Olympics, where she finished just shy of a medal, placing fifth in the 50 freestyle and becoming the first Black woman in history to reach the Olympic final in the event.
She'd go on to compete again in 2000, as well as in the 2002 Commonwealth Games. And it was during those years that she rewrote Barbados' national records in sprint events, reaching top times in the 50 freestyle, 100 freestyle, 50 butterfly and 100 butterfly in both long- and short-course events.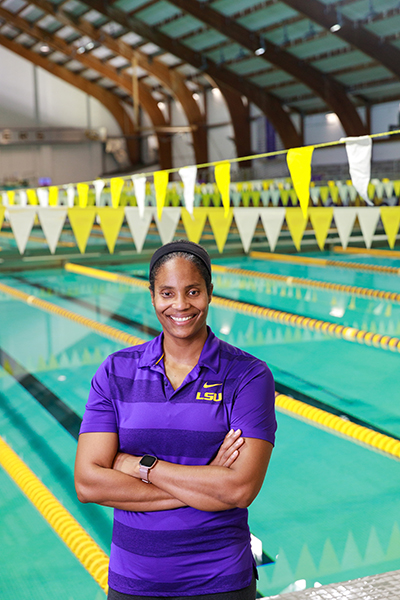 Nearly two decades later, she brought her Olympic journey full-circle, coaching the Barbados National Team in the 2021 Tokyo Olympics and 2022 World Championships.
"Coaching was definitely different and easier than being an athlete," she says, reflecting back on the experiences. "As an athlete, you must stay focused and engaged, which can be mentally tiring. As a coach, your job is to be there for support and positivity."
In fact, she originally wanted to be a sports psychologist and help athletes overcome mental challenges. She has a bachelor's degree in psychology and a master's degree in sport and exercise psychology.  Coaching, however, made it more possible to work one-on-one with athletes—and she no doubt draws on her sports psychology training today.
"I teach (students) how to trust in their abilities and how to maintain a positive attitude," she says.
Positivity is what has led Stancil through the toughest of times, from beating breast cancer to battling racism and stereotypes as a Black female athlete turned coach in a predominantly white sport.
"My experiences have toughened me up. I have had to work harder to be seen and acknowledged. I have been underestimated, but I have stayed focused and resilient," she says. "Breast cancer showed me the importance of caring for myself and learning my limits. I could not have gotten through it without God's guidance, protection and love." lsusports.net
---
This article was originally published in the January 2023 issue of 225 magazine.