---
Derrius Guice didn't have to come to LSU.
He had all the reasons in the world to leave Baton Rouge behind, and no one would have blamed him.
This is the city his father was shot and killed in.
This is the city where he went to bed at night not knowing where his next meal would come from.
This is the city that was now home to Leonard Fournette—one of the most highly touted prospects in the nation—who was already making waves at the running back position. Guice could easily have left all that behind, taken one of the other countless scholarship offers on the table and gone to any school in the country to start a new life in a new city with new faces around him.
But instead of running away from all the things that made him the man he is today, Guice runs for them.
"I'm running for glory," he says. "I'm running for my dad. I'm running for where I come from. I'm running for better days. I'm running to get out the hood. All of that stuff comes to my mind when I'm running."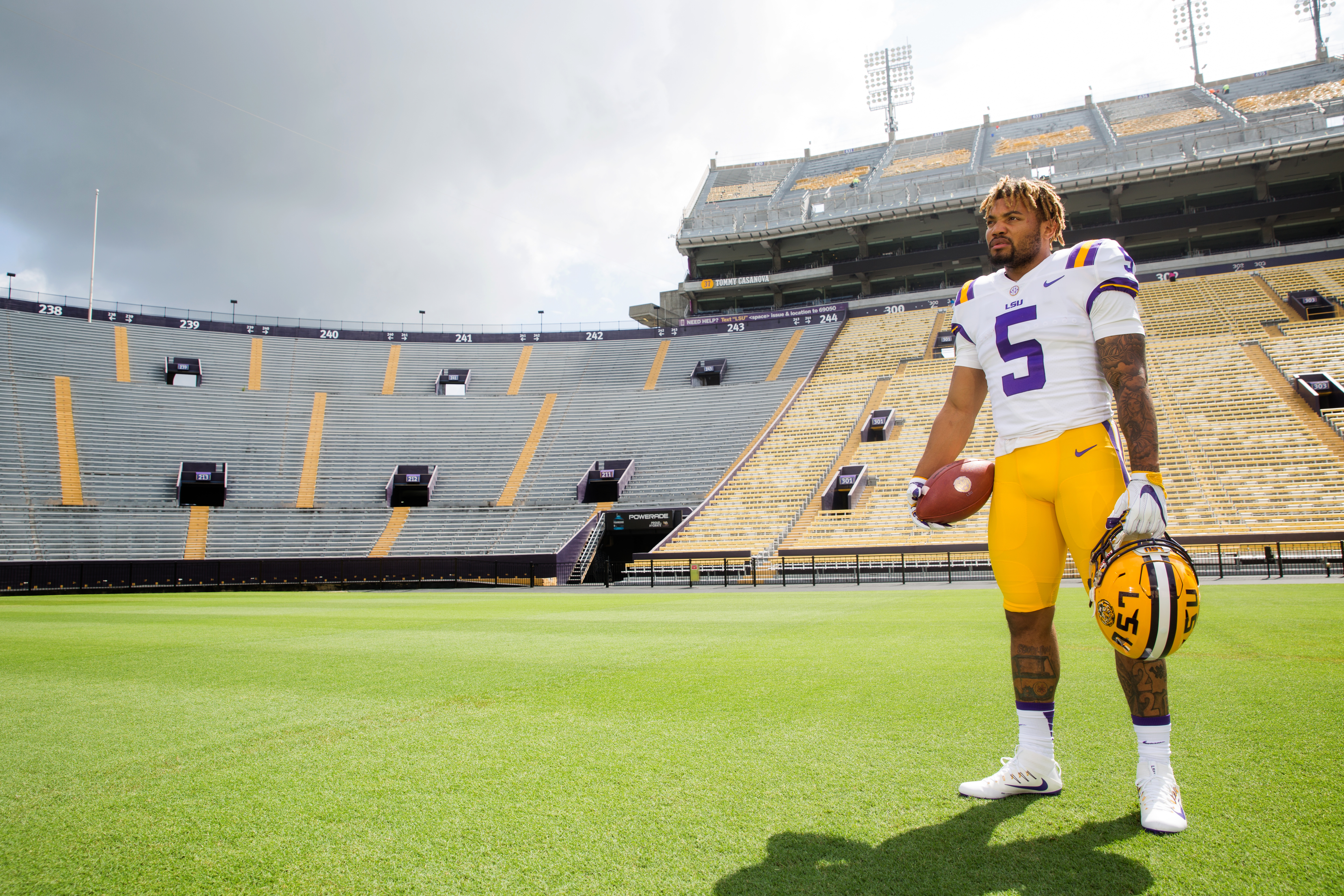 He doesn't hide it, either.
Watch the 5-foot-11, 212-pound wrecking ball move, and you know there's more to it than just a football game.
Some people say he's like a pinball. Others have called him Sonic (like the running, leaping video-game hedgehog).
His personal favorite?
"'Tasmanian Devil,'" Guice says. "Just like the 'Honey Badger.' We always relate [Tyrann Mathieu] to the honey badger … and he's just like that. He takes what he wants. To me, Taz is a strong little fast guy. It relates. You've just got to go with what you're given. I like it."
In a way, that sums up what Guice has done his whole life.
His father, Derrick, was gunned down in a now-shuttered Denny's in 2003 over an argument that escalated too quickly. Guice was only 6 six years old. Derrick, who had been the family's provider, was gone, leaving the young Guice and the rest of his family to make ends meet on their own.
He wasn't dealt the best hand throughout his childhood, but Guice went with it.
He didn't always feel comfortable being one of the few black students at predominantly white Catholic High School, but Guice went with it.
So when he was blessed with an almost freakish ability to play football, Guice went with it.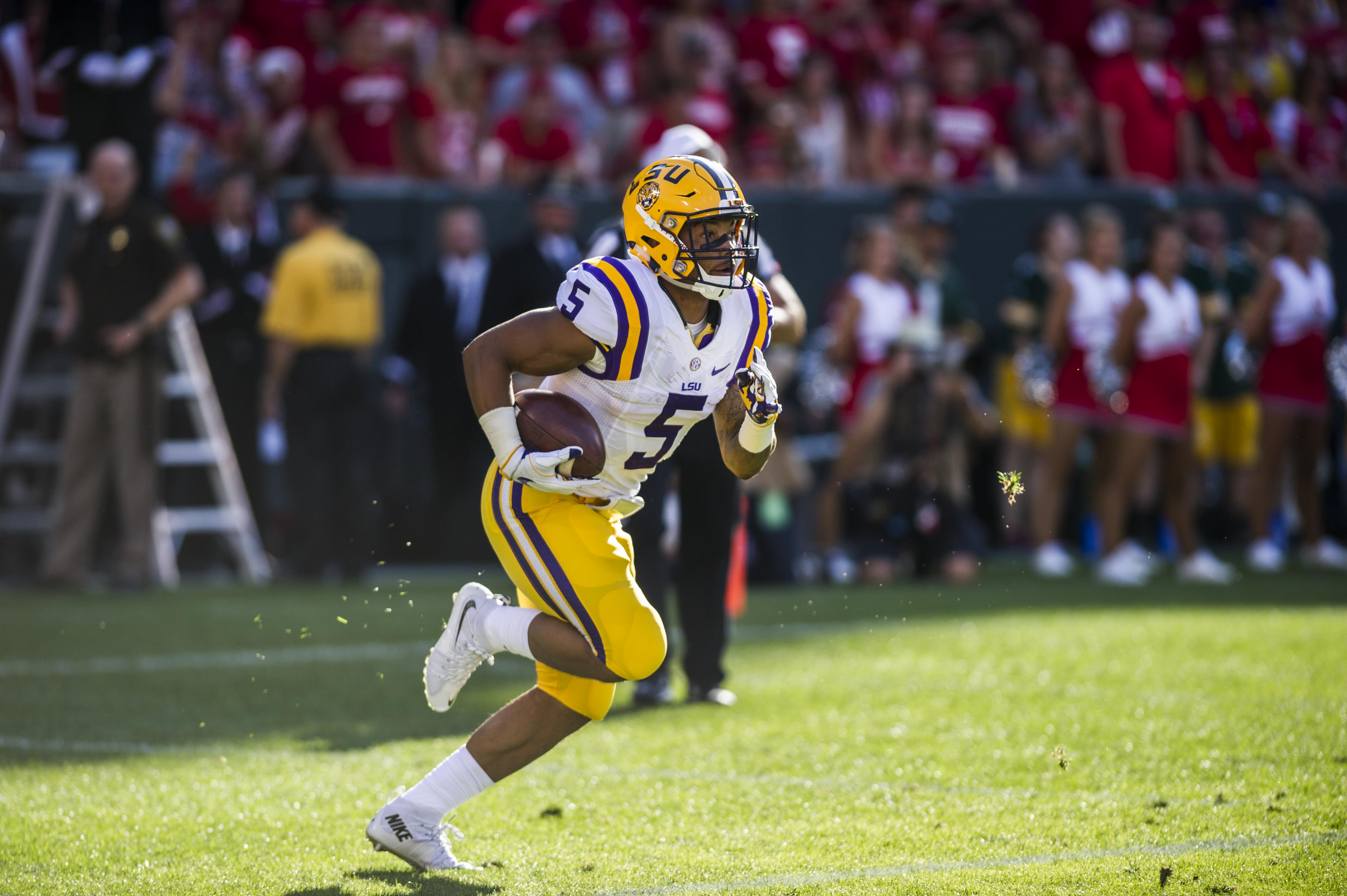 His method for navigating through all the twists and turns life has thrown at him?
Follow Guice on any of his social media accounts, and you'll see it: the hashtag #Dadumbway (pronounced similar to "the dumb way") thrown around daily. The phrase originates from Baton Rouge rapper Webbie—who grew up in the same Old South Baton Rouge neighborhood Guice did—and has since been adopted by LSU's star tailback and his friends.
"It's a lifestyle," Guice says. "It's what you've been through in life and what you've overcome and what you're doing now. Dadumbway is just a savage lifestyle and a savage mentality. I'm a savage. A lot of people aren't going to understand it, because a lot of people aren't coming from my background, and a lot of people aren't really savages like that."
It's important enough to Guice that he got the phrase tattooed on his back earlier this summer, right below the word "savage" that's written in big, block lettering from shoulder to shoulder.
It's a fitting word to describe the ferocious runner, who used to always tell his dad how great a football player he'd be, and how one day he'd make it to the NFL and get his family out of the neighborhood they grew up in.
He seems to be well on his way. Guice developed into a five-star prospect and one of the top running backs in the country out of high school.
He made the All-SEC Freshman Team in 2015 and earned First-Team All-SEC and First-Team All-American honors last season after leading the conference with 1,387 yards and 15 touchdowns.
Guice is one of the "17 most irreplaceable players in college football" heading into the 2017 season, according to CBSSports.com.
ESPN.com draft expert Mel Kiper has him listed as the No. 16 overall prospect for the next NFL Draft.
NFL.com analyst and former NFL scout Daniel Jeremiah calls him one of the top running backs in the country.
"He's an explosive runner with excellent balance and a tenacious style," Jeremiah says. "He isn't quite as powerful as his former teammate Fournette, but he has a little more wiggle and elusiveness."
Fournette is good company to be in, and Guice is just getting started.
---
EARNING YOUR STRIPES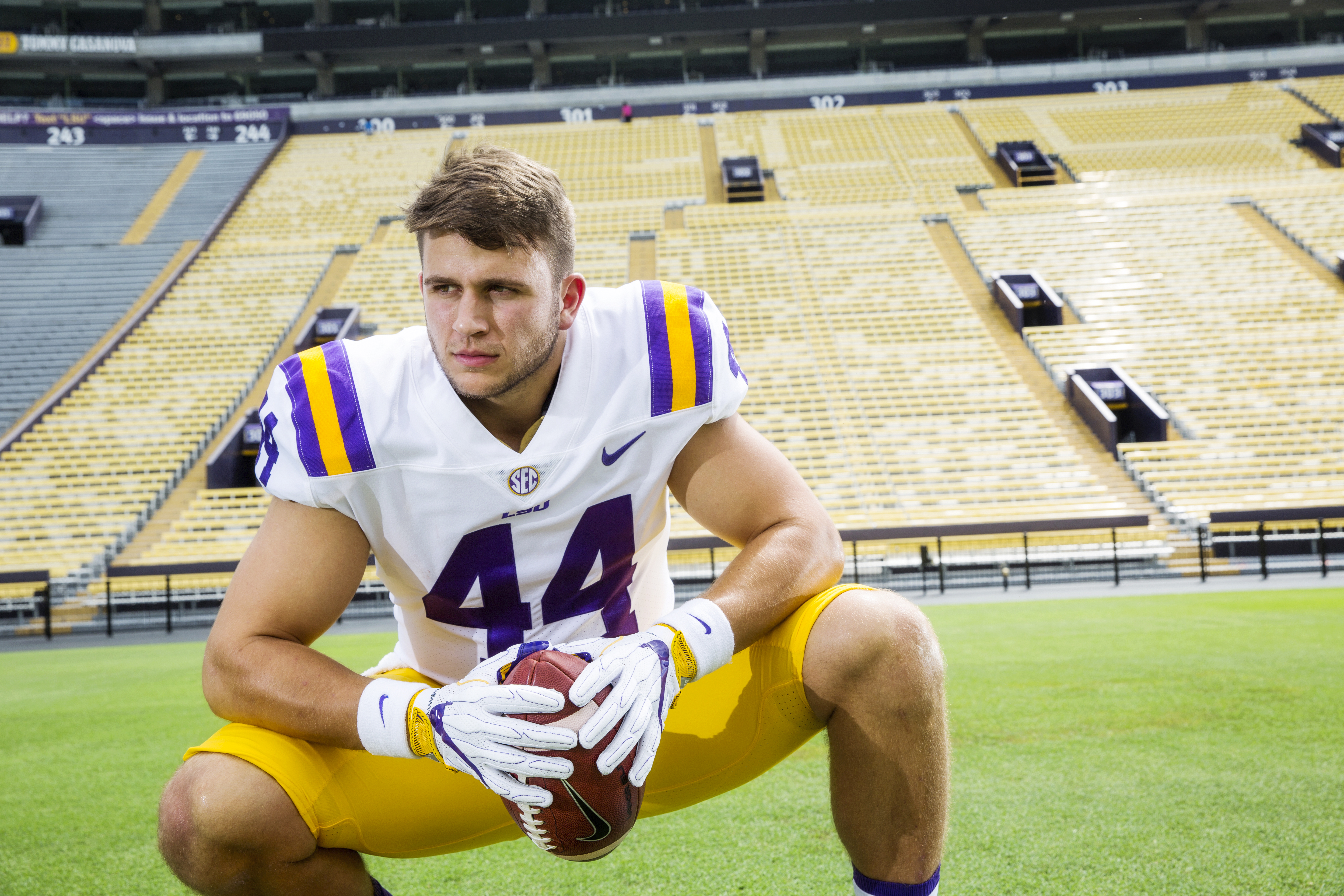 J.D. Moore didn't have to come to LSU, either.
Although, his journey to Baton Rouge went down a slightly different path than Guice's did.
Moore hails from Ruston High School, where he mostly played tight end for the Bearcats, earning Class 5A All-State Honorable Mention as a junior. His offer list for colleges wasn't as extensive as Guice's, but he had his choice of a handful of small schools.
He wanted more. He wanted to be at a big-time program, even if it meant forgoing free tuition in order to do so.
"I wanted to play football somewhere," Moore says. "All the offers I had were small schools, so I figured if I was going to go somewhere and play football—four years of blood, sweat and tears—I want it to be somewhere that could potentially be a championship. I wanted to go to a big D-1 program. Eventually I realized I'm going to have to walk on if I want to do that."
That opened up his options a bit more, but it didn't make his decision any easier.
Moore was dead set on majoring in architecture and narrowed his list down to three schools with strong programs: Arkansas, Texas A&M and LSU.
He visited the first two campuses and mostly came away with the same answers. The football teams would take him as a walk-on, but the architecture program was too time-consuming to try and balance both.
It was nearly the same story in Baton Rouge, but LSU's program allowed more flexibility to Moore's schedule. Ultimately, that drove him to become a Tiger.
"Different than A&M or Arkansas, the director of the LSU School of Architecture wanted to try and work something out," Moore says. "That was definitely a huge factor, because that was the only school that said I can do both football and architecture. I tried to be as unbiased as possible while making my decision, but when it came down to the best scenario being at LSU and being a Tiger fan my whole life, it was a no-brainer at that point."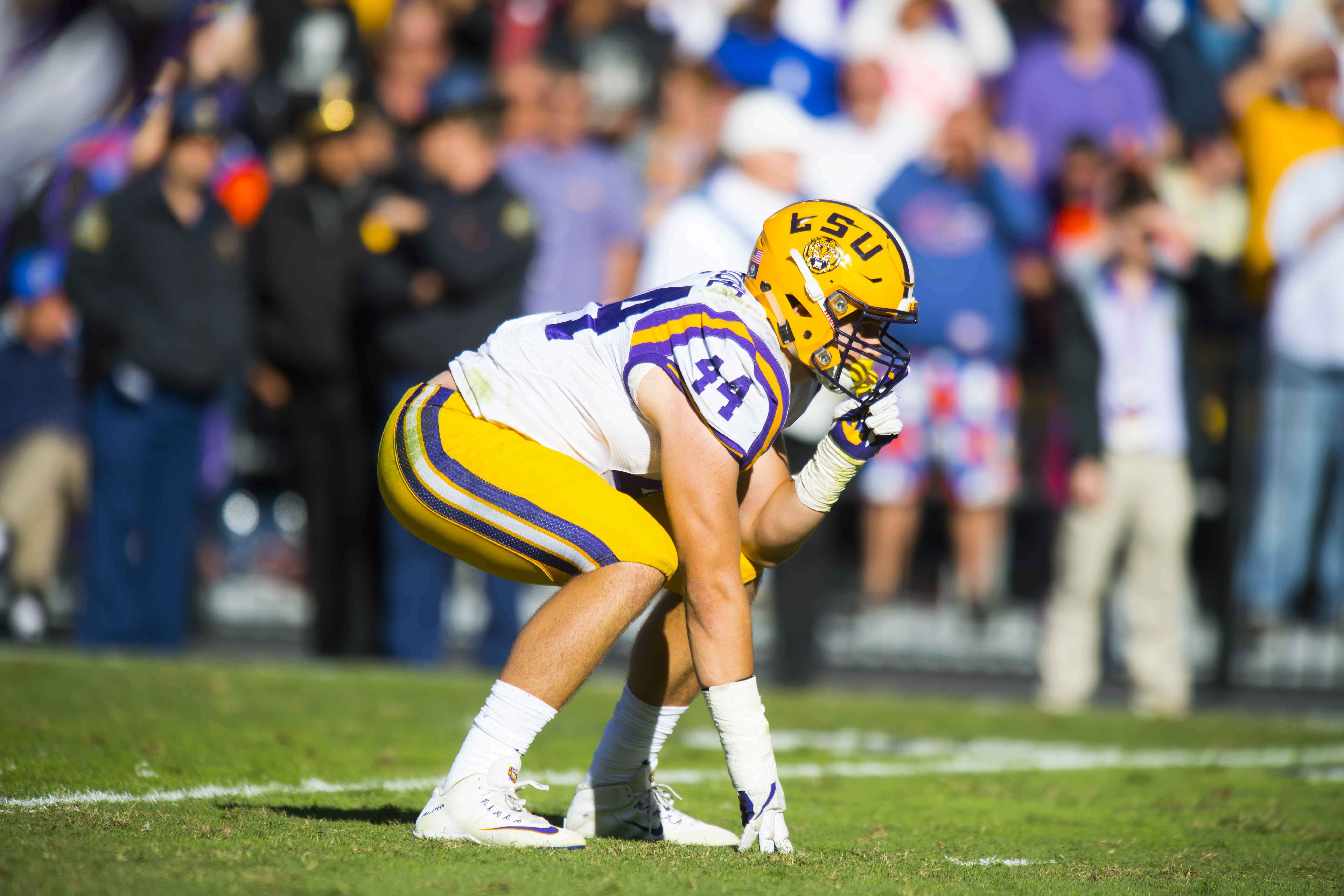 It was the best of both worlds. He could get his degree in architecture, have a spot on a championship-caliber football team, and he could stay close to home.
He didn't set his on-field expectations too high. He redshirted his first year and bounced around positions in his second season.
"Maybe my senior year, I'll get on special teams or something," Moore recalls thinking. "Maybe I'll run down on kickoff on Senior Day."
He made the switch to full-time fullback during that redshirt freshman campaign and eventually worked his way into the starting role heading into the 2015 season.
That's when Les Miles called Moore into his office and rewarded his efforts by giving the new starter a scholarship.
"It was unreal," Moore says. "It's always the goal of a walk-on to earn a scholarship. It was two years of really hard work, but it was a huge blessing to be able to receive a scholarship and have all that hard work vindicated."
It wasn't just a gesture of goodwill, either. Moore has earned his scholarship since it's been awarded to him, starting in five games his sophomore season before a knee injury kept him out the rest of the year.
He followed that up by playing in all 12 games last season as the No. 1 fullback on the team, cementing LSU's rushing attack.
---
CAMARADERIE FOR THE CAUSE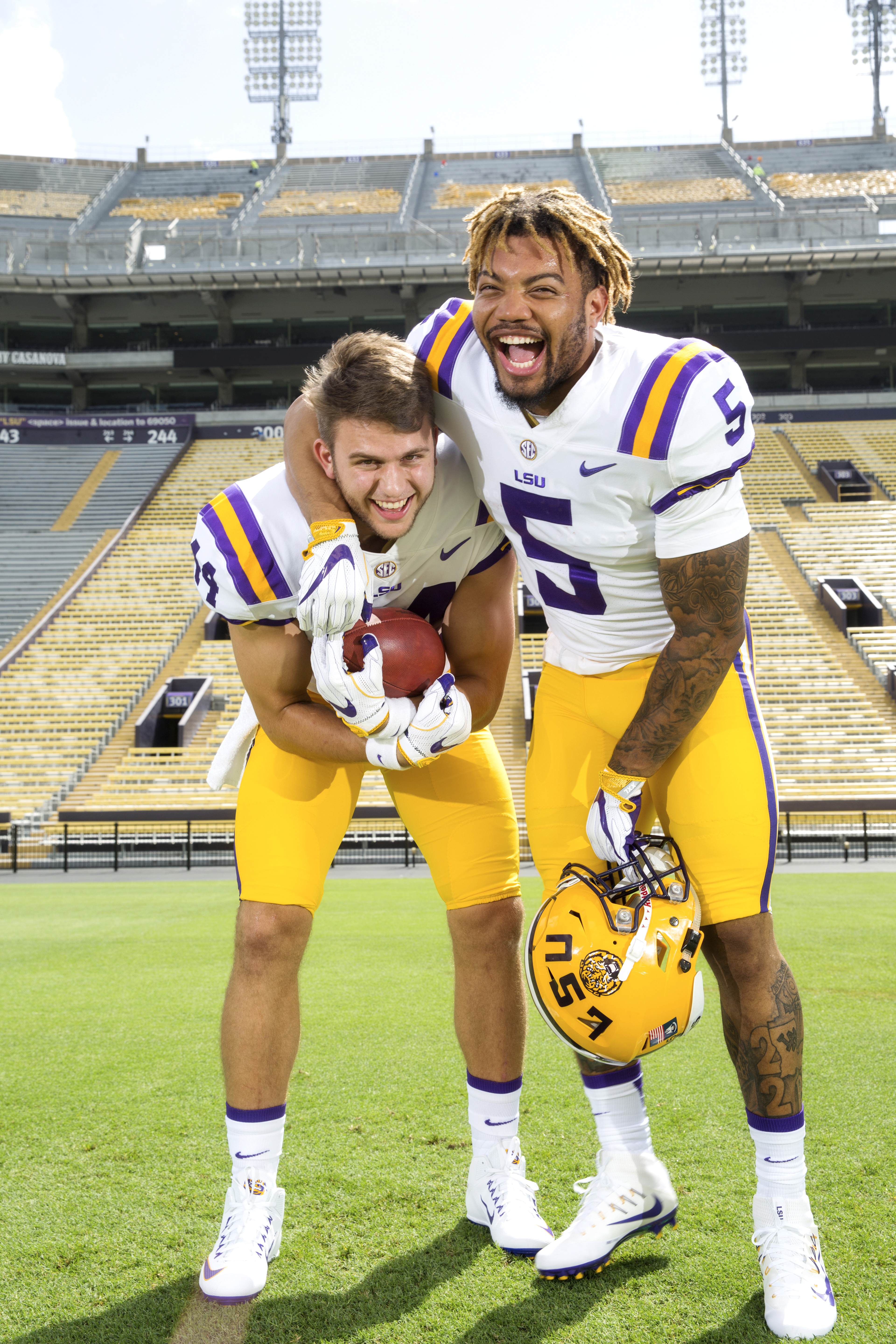 The camaraderie between Guice and Moore is apparent the moment you see them together. During a recent photo shoot, Guice jumped on Moore's back, playfully pretending to punch him in the gut. The two continuously crack each other up.
"Never a dull moment with Derrius," Moore says.
Guice later pokes fun at Moore's "big ole shoulders" while answering interview questions about his teammate. Can't say too many nice things about your buddy without throwing a little jab in there, after all.
Their off-field friendship has translated into on-field magic.
The past two seasons at LSU have been a highlight reel of shifty spins, broken tackles and timely touchdowns by the Tiger tailback tandem of Guice and Fournette.
But go back to the beginning of each big run, and more often than not, you'll see one consistent thing: a certain No. 44 bringing down one, two or sometimes three defenders standing in his way.
The play ends with Guice going into the endzone, but it starts with Moore making his blocks. Without one, you couldn't have the other.
"I really applaud J.D., because he puts his life on the line for us, going in head-first," Guice says. "He's always blowing somebody up. When he's there, he's gashing everybody. I would have had a concussion every play [if I played like him]. That's the kind of pain he's bringing."
Having played running back since he was in peewee leagues, Guice has worked with fullbacks his whole football career. But from the time Moore cracked the starting lineup, Guice noticed something different about his lead blocker and the instincts he possesses on the field.
"He's got to think like a running back," Guice says of Moore. "That's our lead guy. We've got to follow him, so he's got to think like us. Not many people can think like a running back. When we lost him my freshman year [because of the knee injury], we kind of had to change up the whole offense. It turned our offense around to have him back last year, leading the way for us."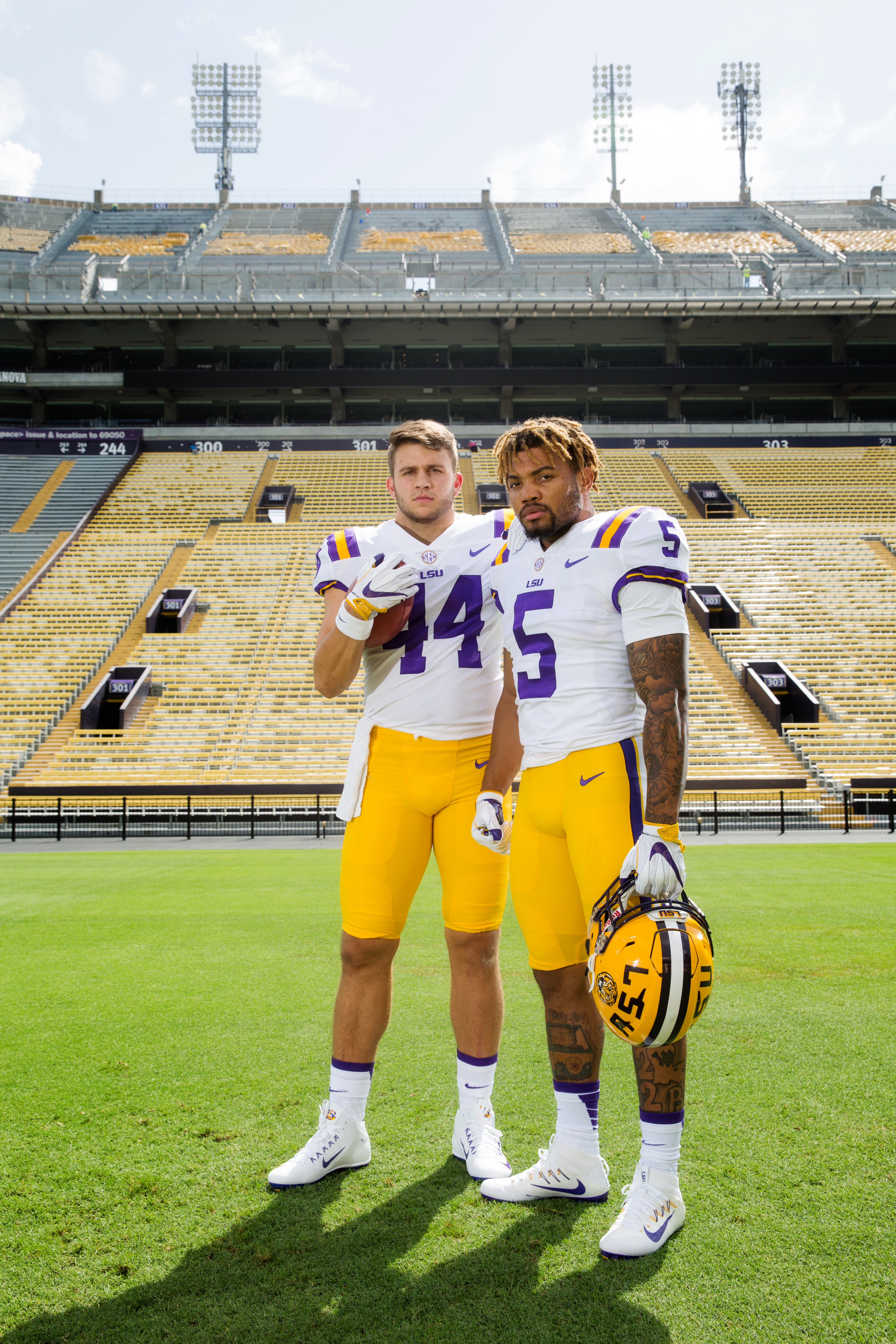 Moore's work hasn't been wasted, either. He's been the lead blocker for two of the best backs to ever come through LSU, playing a pivotal part in their record-breaking success.
Guice led the SEC in rushing last season, is the only player in LSU history to rush for 250 yards or more in a game twice and now enters the 2017 season with the third-highest odds to win the Heisman Trophy, according to Bovada. Fournette, of course, finished his college career No. 4 in school history in rushing yards (3,830) and No. 3 in touchdowns (42).
"There's no question that the timing of me being a fullback at LSU coinciding with Leonard and Derrius' careers has been amazing," Moore says. "I'm super-blessed and thankful that I got to be a part of that backfield. Any time you see a highlight video for Leonard, I get to see myself, which is pretty cool. It's been crazy having such dynamic guys following my blocks."
That's part of the beauty of this unlikely pairing. Two guys with two completely different backgrounds and two drastically different journeys to LSU have found themselves depending on one another on the field.
The duo's appreciation for each other also goes without saying, although Guice does try his best to show Moore some love when he sees him opening holes and paving his path to the end zone.
"I don't even see J.D. half the time, because he's still on the field laying somebody out somewhere," Guice says of Moore. "By the time I get to the sideline, he's still on the field somewhere on field goal (unit) or something. When I do see him, I'm smacking him on the head and getting hyped."
---
NEW LOOK, SAME EXPECTATIONS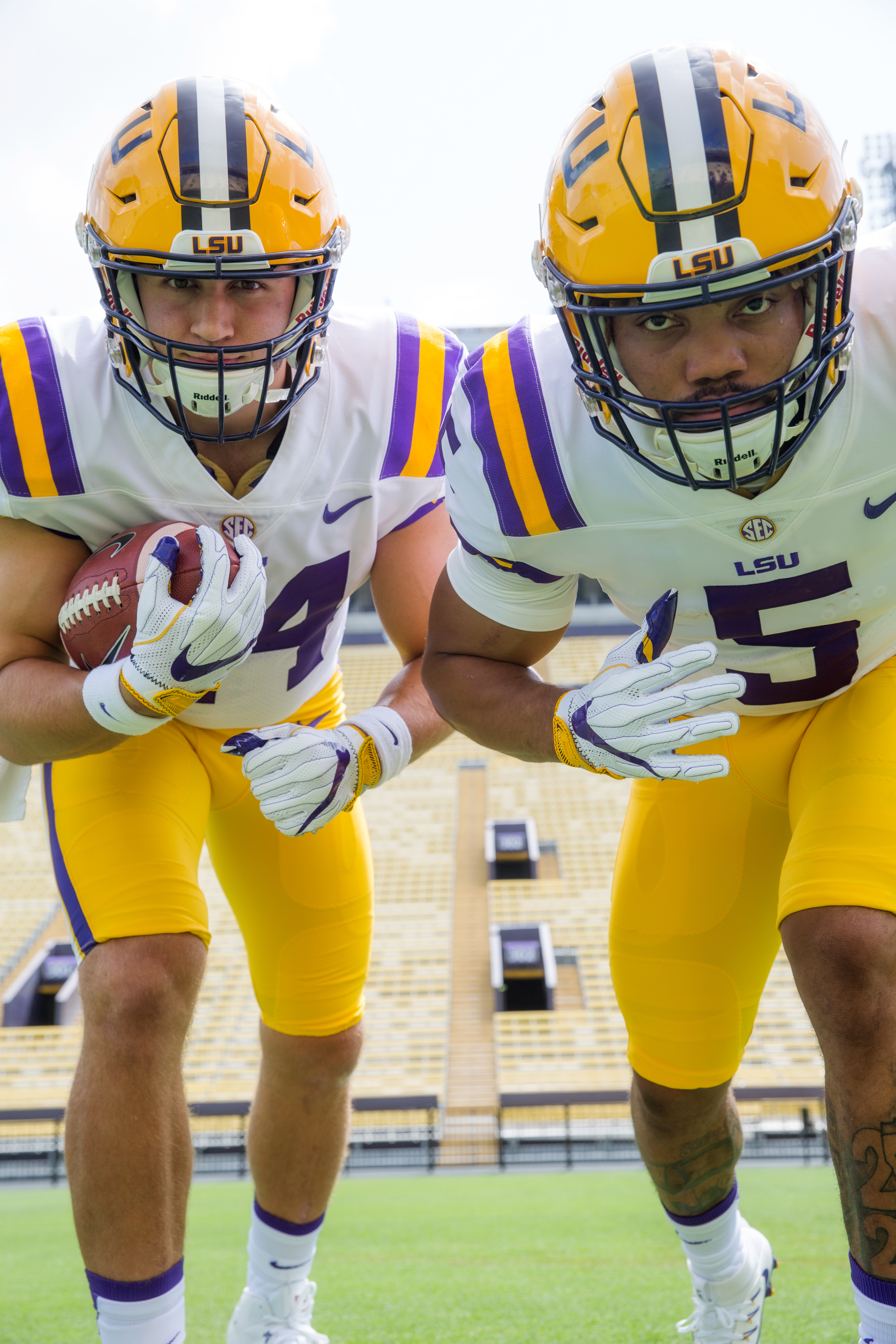 For more than a decade, LSU's offense has looked more or less the same.
A lot of I-formation and a lot of handoffs—resulting in a lot of frustration from Tiger fans.
All that is lining up to change this season (knock on wood), under new offensive coordinator Matt Canada.
Canada comes to LSU following a one-year stint at Pittsburgh, where he led a Panther offense that set school records for points in a season (532) and points per game (40.9). He was the only offensive finalist for last year's Broyles Award, given to the nation's top assistant coach, and is hoping to bring that success to Baton Rouge this fall.
Whether it will work is yet to be seen, but two things are undeniable: LSU is going to look very different, and Guice and Moore are ready for the ride.
"It's creative," says Guice, unable to contain his smile thinking about the new offensive plays. "A lot of people are going to realize they like it when the time comes. We'll have to wait until the season to see what happens. I don't want to spoil it. I want y'all to see it."
Using Pittsburgh as a blueprint for what might be coming to LSU is telling. The Panthers used a wide variety of formations, shifts and personnel groups last season, resulting in clever play-calling that caused fits for opposing defenses.
The unknown part is where all the pieces fall into place. Guice will still score his touchdowns and Moore will still maul his defenders, but when, where and how it happens will likely buck the recent trends.
And should it all come together offensively this season, Guice could be running all the way to a national championship.
"It's up to us," Guice says. "We've just got to learn how to finish. We can go as high as we want if we know how to finish. Coach O brought in the best coaches. We've got the best running backs coach in the country, the best OC, the best DC. All we've got to do is finish. We've got to come together as one and finish."
Closing out last season, Guice and Moore did exactly that.
Guice broke LSU's single-game rushing record with 285 yards during LSU's 54-39 win at Texas A&M. Moore was on the field lead blocking for more than half of Guice's 37 runs, as well as two of the tailbacks' four touchdowns.
If the duo can replicate even a portion of that kind of production in 2017, anything is possible.
---
Check out more shots from our photo shoot with Guice and Moore below:
---
This article was originally published in the August 2017 issue of 225 Magazine.