---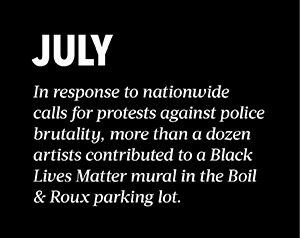 The mural in the Boil & Roux parking lot is full of vivid color, showcasing the talents of Louisiana artists in one eternal message: Black Lives Matter.
Local artist Kristen Downing curated the mural's creation during the July 4th weekend, and organized the more than a dozen artists who contributed their own letter designs. Each letter has its own artistic flair in hues of blue, red and many more colors.
After several Black Lives Matter murals were painted in cities across the country in response to the killings of George Floyd, Breonna Taylor and Ahmaud Arbery earlier this year, Downing says she received many requests to put a Black Lives Matter mural up in Baton Rouge. She says she reached out to people, including city officials, to make this a downtown community project but felt like she was given the runaround.