---
Everyone who's ever set foot in Tiger Stadium can describe the heart-stopping feeling of the first chord of "The Pregame Salute" reverberating through your chest.
When you're on the field, when the shiny brass bell of your instrument is helping create that explosion of sound, it's even more thrilling. It's possible that nobody has a better time in Tiger Stadium than the Golden Band From Tigerland.
It's also possible that nobody—other than the football team itself—has worked harder to be there.
Here's how they make it happen.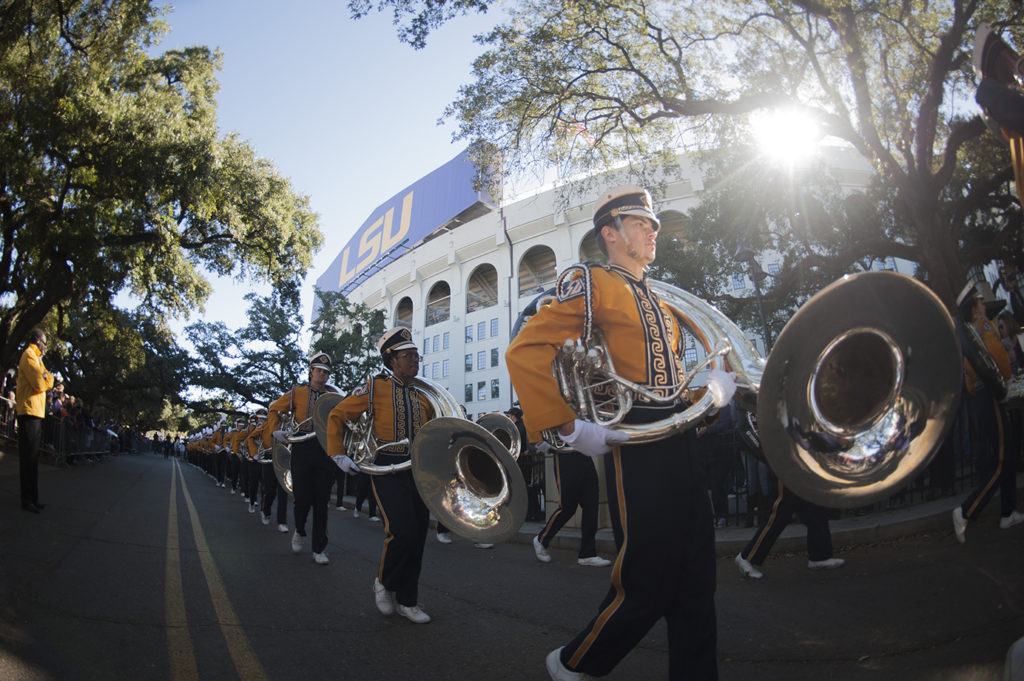 MAKING THE CUT
Before they ever make it to the first rehearsal, musicians must go through auditions and band camp. A series of cuts let only the best performers into the band.
First, instrumentalists perform face-to-face with one of the band directors. Wind instrument players have to prove their skills with scales, their own musical selection and sight-reading, while percussionists can join up for four drumline camps throughout the summer before their final audition just before the start of band camp.
Meanwhile, the music department staff is working to secure meals, cover housing, reserve facilities, alter uniforms, set up stadium seating arrangements and train student leadership before those who pass auditions show up for band camp. New and returning members sweat through days of drills, hammering down marching fundamentals, reading charts of formations and rehearsing music. You think marching bands just walk? You better learn how to rollstep if you want to make the cut.
And there are definitely cuts. Just because you go through all the paces doesn't mean you'll be wearing a shako in the fall. After days of work, band directors will cut any applicant who lags behind the rest of the band until only 325 performers remain.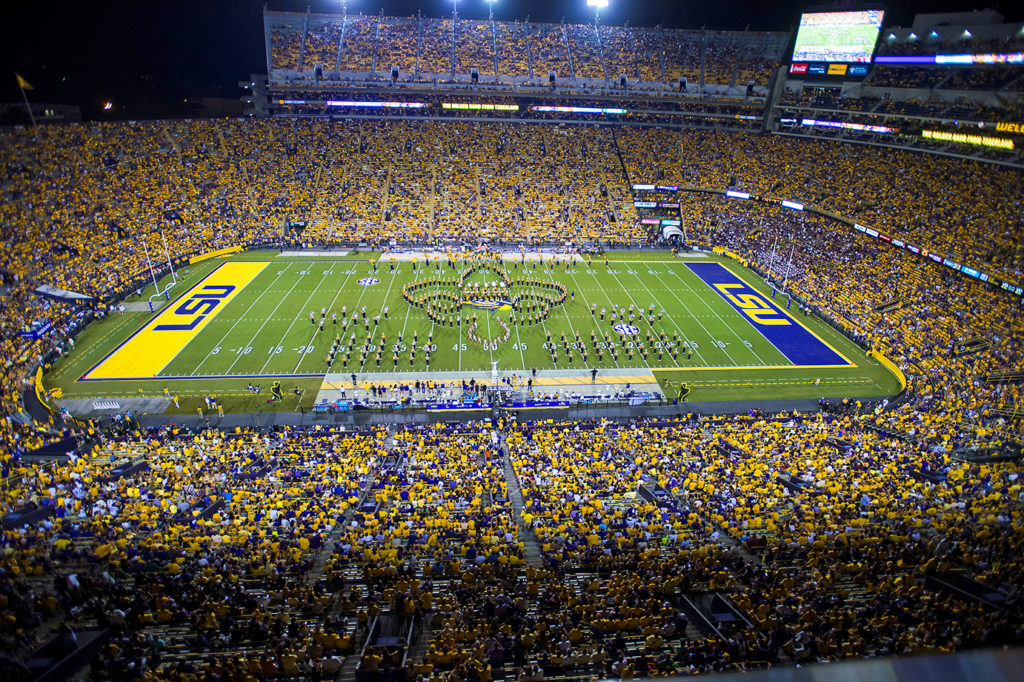 HALFTIME PREP
Over the course of a single football season, the Tiger Band performs at least six unique halftime shows, usually based around a theme. Assistant director of bands Kelvin Jones designs the majority of the drills—those elaborate formations you see taking shape on the field.
Pages and pages of charts are handed out to each band member during practices every week. Every member is assigned a number with a little corresponding dot on the chart, which designates where on the field he or she should stand. A performer's job is to memorize every page of the charts, every assigned spot and the paths required to get there in order to smoothly create those impressive formations.
Usually the band will start prepping two weeks in advance, but they will often have to turn a new show around in a week.
"We strive to do a new halftime show for each home game, and depending on the schedule we [could] have as little as four days to learn a brand- new show and have it Tiger Stadium-ready," Jones says. "On paper, we spend around six to eight hours total for a one-week show from conception to performance. Behind the scenes, our student leaders spend countless hours outside of our normal rehearsal time coordinating sectionals and practices to make sure things are performance-ready, especially our Golden Girls and Colorguard members."
"Luckily," he adds, "our students are second to none."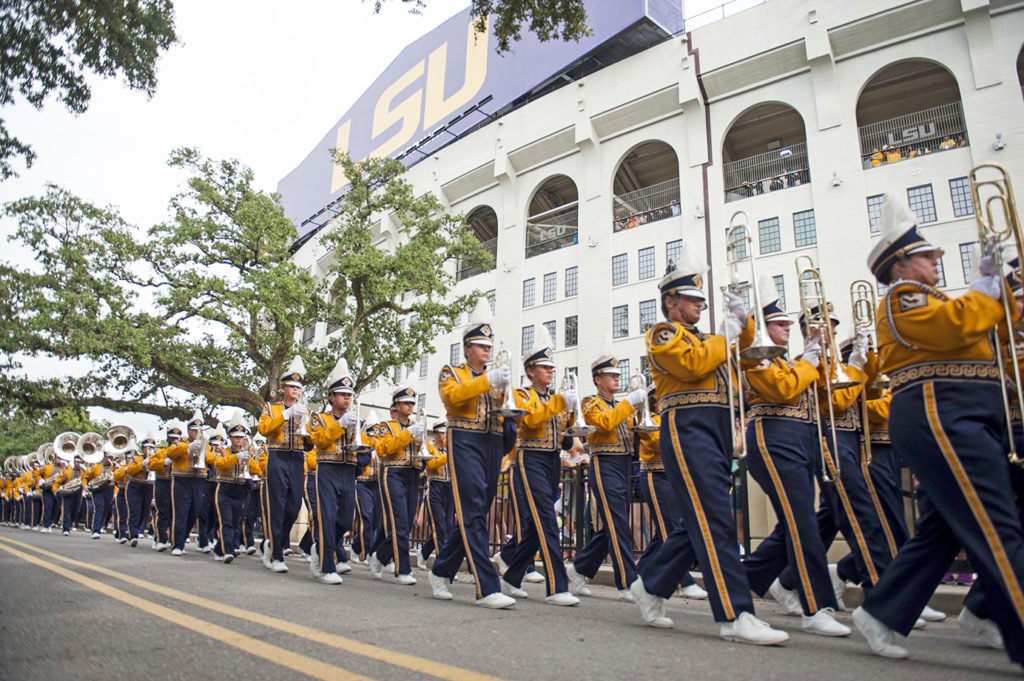 ONE BIG, NOISY FAMILY
It may be hard to believe that a bunch of college students would willingly sacrifice so much of their nights and weekends to Tiger Band. But if you ask a longtime member, they'll tell you they wouldn't have it any other way. Some members have even been known to take an extra year of classes so they can have one more season with the band.
"The members of the band know that they have been watching Tiger Band since they were kids and that they, now, need to be that awe-inspiring ensemble that makes today's youth want to be a part of Tiger Band in 10 years," associate director of bands Dennis Llinas says. "If anyone ever wonders how the band looks and sounds how they do, they just need to take a look at the heart of the students in the group."
From early-morning rehearsals on game days to gathering in the band hall after games to watch the replay of the halftime show, from staying to the very end of the game to play the alma mater or the tuba section flanking the Golden Girls and Colorguard on the late-night march out of the stadium to protect them from drunk and unruly revelers, it's a family. The culture keeps everyone together and makes everything worth it.
Between all the gold and purple, all the grass and brass, there's a whole lot of heart.
---
This article was originally published in the August 2017 issue of 225 Magazine.