Other than its lush lawn for LSU football tailgating or as prime parking spot for LSU softball, many Baton Rougeans never give a second thought to the beige 1970s building on the corner of Skip Bertman Drive and River Road.
But, then, once a year, the LSU School of Veterinary Medicine (SVM) opens its doors to the public.
For local pet lovers of all ages—especially kids with hopes of attending vet school—the open house is like Willy Wonka opening the gates of The Chocolate Factory.
In January or February each year, approximately 8,000 visitors from all over the South and beyond make their annual pilgrimage to meet LSU SVM's world-class faculty and get a glimpse of the state-of-art equipment that provides treatment for pets, wildlife, exotic creatures and farm animals.
As one of only 30 accredited veterinary schools in the country, LSU SVM has garnered a strong reputation as a regional resource for private-practice veterinarians to refer their toughest cases.
Although they may never need it, Baton Rouge pet and livestock owners also have access to LSU SVM's advanced care at a moment's notice.
Virtually any kind of specialized care pet owners might seek for themselves at a human hospital is available for pets at LSU. In recent years, animal medicine has kept pace with its human counterpart.
"The equipment—MRI machine, endoscopes, syringes, etc.—is no different than the equipment local hospitals use on people," explains LSU SVM Director of Public Relations Ginger Guttner. "We do have some specialized medical equipment, such as the anesthesia equipment used for horses. But for the most part, we use human medical equipment and techniques."
But one of the biggest differences between human care and the vet school's is that LSU SVM's patients weigh anywhere from a couple of grams to 3,000 pounds—so the vets exercise a lot of creativity to make human equipment meet the needs of the animals.
Although LSU SVM's 2016 open house has already come and gone, here's another chance to see what goes on at the vet school's different departments.
---
Specialty care offered at the LSU School of Veterinary Medicine:
Anesthesia
Cardiology
Clinical pathology
Community practice (primary care)
Dermatology
Diagnostic imaging
Diagnostic pathology
Equine medicine
Food animal medicine
Integrative (holistic) medicine
Internal medicine
Oncology
Ophthalmology
Physical rehabilitation
Shelter medicine
Surgery (small animal and large animal)
Wildlife rehabilitation
Zoological medicine (exotic pets)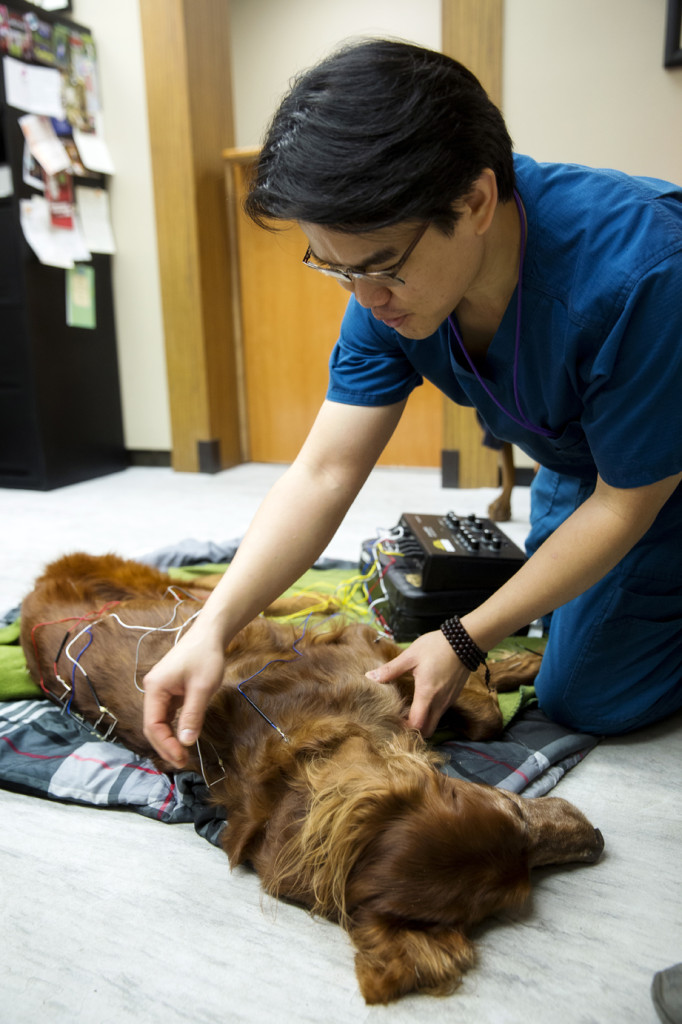 Integrative medicine
Assistant Professor of Integrative Medicine and Rehabilitation Ronald Koh, DVM, prepares Sarah for acupuncture treatment incorporating an electric stimulator. For the 13-year-old Irish setter, the goal is to alleviate some of the side effects of cancer treatment by enhancing her overall sense of wellbeing, increasing her energy level and improving her appetite. Koh has also performed acupuncture on horses, rabbits, cows, a macaw, a hawk and even a hedgehog for a variety of symptoms and diagnoses ranging from lack of mobility to an inflamed bladder.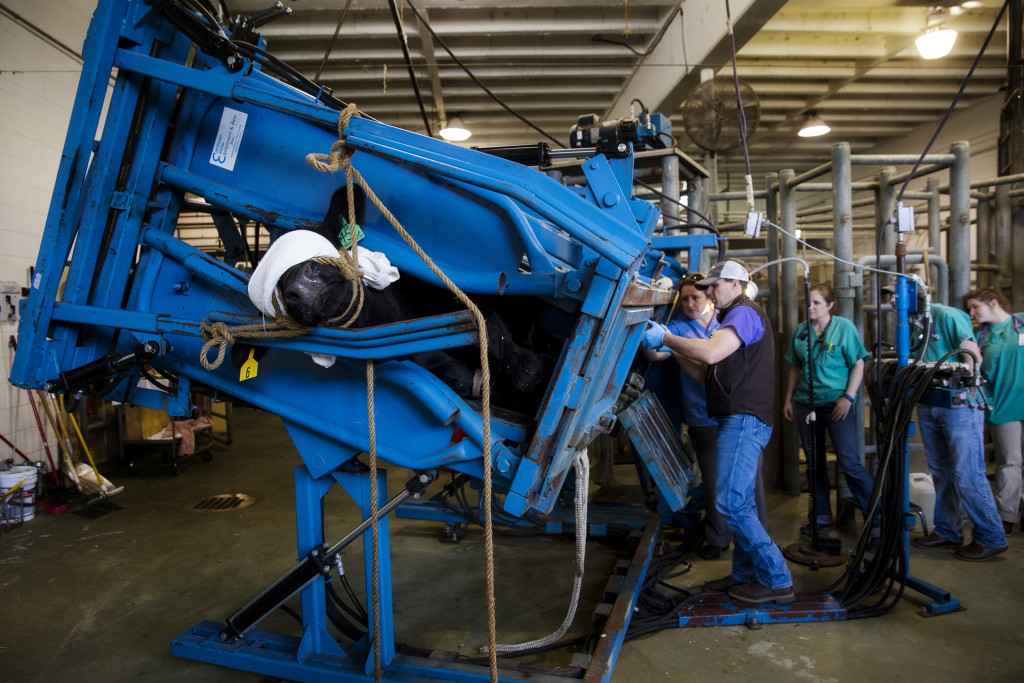 Food animal medicine
Assistant Professors of Food Animal Medicine Chance Armstrong (forefront), DVM, and Clare Scully, DVM, remove a bandage from the back leg of a sedated bull, who was humanely immobilized with a towel over his eyes in a rotating squeeze chute. Vet students (such as the one wearing green scrubs) then assess the wound, caused by barbed wire.
Water treadmill
Pinenut, a 15-year-old pitbull mix, begins her treatment on the underwater treadmill to improve mobility in her joints. Once the tank is filled to the appropriate level with chlorinated water warmed to 95 degrees, Certified Canine Rehabilitation Practitioner Jennifer Bridges (not pictured) encourages Pinenut to walk on the treadmill for about 15 minutes by offering treats intermittently. Just like in humans, physical therapy is used to treat pets' joint and musculoskeletal problems due to aging or injury.
In the dermatology clinic, veterinary technician Lisa Roundtree (left) and vet student Marcos Coins (right) evaluate Sam. The 8-year-old schnauzer returned for a follow-up visit regarding a staph infection on his skin caused by complications from allergies. Just like in human allergy clinics all over the Bayou State, bacterial infection due to allergies—and unrelenting environmental allergies—are the most common problems that dermatology specialists treat.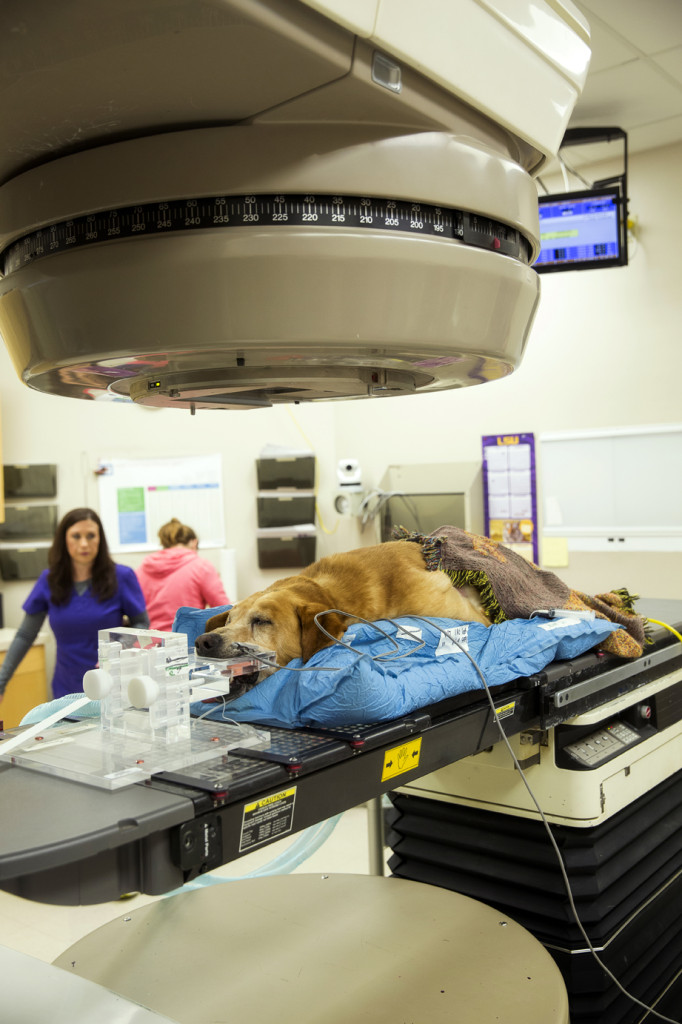 Oncology
Veterinary technicians Shay Bordelon (left) and Katie Montgomery (right) ready Koda, a 13-year-old retriever mix, for radiation treatment to shrink a benign brain tumor in an area that is affecting other organs. Precision is the key, and this equipment emits seven different beams to pinpoint the exact area and minimize the dose of radiation. LSU SVM is the only facility in the state to offer radiation therapy for animals. The LSU SVM Oncology service treats 300-400 cases a year. Only 10% of patients are cats; the remainder are dogs. The most common tumors in both species is lymphoma.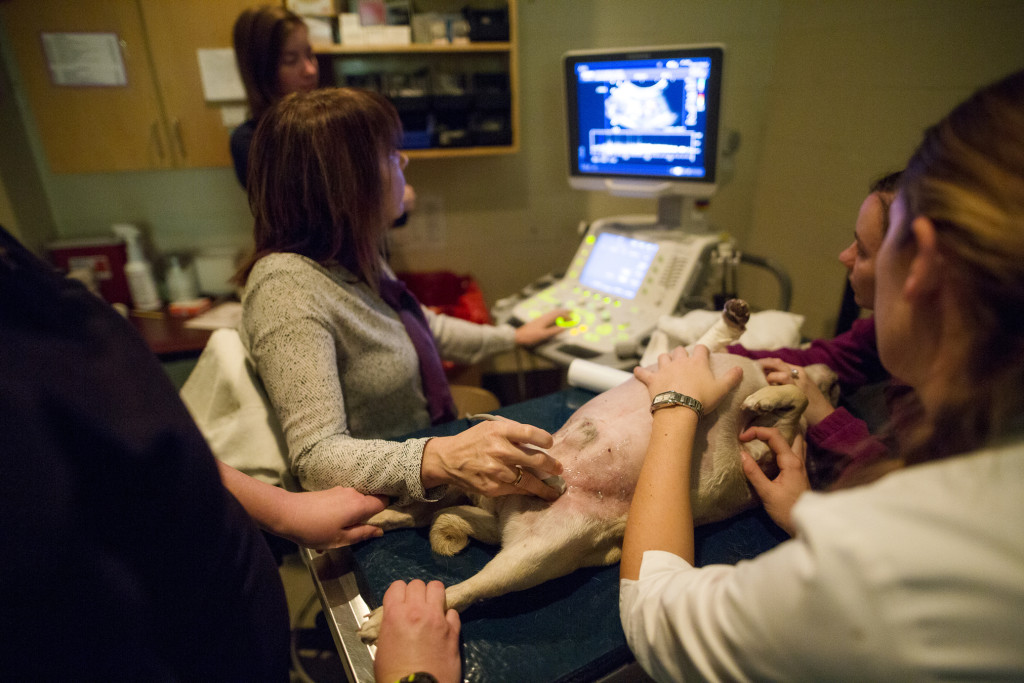 Diagnostic imaging
Professor of Diagnostic Imaging Lorrie Gaschen, DVM, shows students how to use duplex Doppler ultrasonography to discover why Max, an older pug, suddenly lost the ability to use his back leg. The same technology is used to diagnose blood clots in humans.
Wildlife rehabilitation
During his externship at LSU, Virginia-Maryland College of Veterinary Medicine student Sam Grossberg cares for Archimedes (at left). Rescued near a roadside, the great horned owl required a wing amputation, so he will remain at the LSU SVM as an education bird. The Wildlife Hospital receives 2,100 animals a year (58% are birds, 38% are mammals, 4% are reptiles and others). The release rate is 45%. The animals who remain at the LSU SVM are mostly raptors who can't hunt.