---
Every LSU football fan knows it's not officially a game day until Garth Brooks belts out, "I spent last night in the arms of a girl in Louisiana." The purple and gold faithful scream the final word of the opening line in unison from their seats in Tiger Stadium.
High above the field in the press box, Kyle Huber, assistant director of marketing for LSU Athletics, serves as the conductor for "Callin' Baton Rouge" and the rest of the stadium soundtrack each Saturday during football season.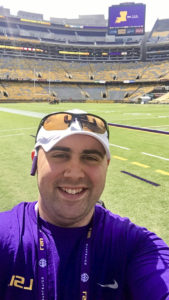 Huber, a Metairie native, worked in the athletic marketing department while obtaining two degrees from LSU. He started off sitting with the Golden Band from Tigerland during sporting events, cueing the band director when it was time for the marching band to play.
When Huber became a graduate assistant, he was promoted to DJ in Death Valley during football games, despite having no formal disc jockey experience.
"I just happen to be a pretty big fan of music," Huber says.
When assembling each football season's playlist, Huber draws inspiration from current Top 40 hits, while incorporating the Tiger Stadium musical staples: "Callin' Baton Rouge," Guns N' Roses' "Welcome to the Jungle" and Mel McDaniel's "Louisiana Saturday Night."
Throughout the game, Huber showers Tiger fans with "Turn Down for What," "Jump Around," the techno track "Sandstorm" and basically anything that will make Tigers fans stand up, dance and get crazy.
He's also credited with introducing Tiger Stadium to a clean version of Louisiana Ca$h's "[Expletive] I'm From Louisiana" to invigorate the student section during the opening kickoff.
Still, there will always be traditionalists, who prefer the marching band more than piped-in stadium music.
"We would rather the band play the entire time than have us play, especially in-game," Huber explains. "The only time we play music in-game is if the band is finished playing and there's not enough time for another song."
He works with LSU's director of fan experience, Jason Suitt, to coordinate when to cue the marching band to play, when to play songs and when to let Tiger Stadium's public address announcer, Dan Borné, speak to the crowd.
With a few exceptions, songs are typically only played once per game, and Huber utilizes a computer program that organizes songs for different points of the game, including pregame, kickoffs, timeouts and official replay reviews.
Huber also coordinates with LSU players for pregame music suggestions the team wants to hear during its warmups.
Last season, the team requested lots of Future and Kevin Gates, Huber says, with former LSU superstar running back Leonard Fournette specifically requesting Future's "My Savages."
No songs are officially banned from Huber's playlist, but do not expect to hear Lynyrd Skynyrd's Southern rock anthem "Sweet Home Alabama" anytime soon in Death Valley.
"It's understood that it's banned," Huber says.
Because first-year head coach Ed Orgeron is a big Chris Stapleton fan, Huber always plays "Tennessee Whiskey" when the coach enters Tiger Stadium to conduct his pregame interview. Unsurprisingly, Huber says Orgeron is also partial to "Born on the Bayou" by Creedence Clearwater Revival.
Ultimately, Huber says his goal is to ensure each fan enjoys the experience, regardless of the outcome.
"Even if [LSU loses] the game, our goal is to have people go home and say, 'We lost the game, but we still had great time.'"
---
This article was originally published in the August 2017 issue of 225 Magazine.