---
Every LSU football fan knows it's not officially a game day until Garth Brooks belts out, "I spent last night in the arms of a girl in Louisiana." The purple and gold faithful scream the final word of the opening line in unison from their seats in Tiger Stadium.
High above the field in the press box, Kyle Huber, assistant director of marketing for LSU Athletics, serves as the conductor for "Callin' Baton Rouge" and the rest of the stadium soundtrack each Saturday during football season.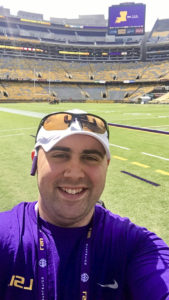 Huber, a Metairie native, worked in the athletic marketing department while obtaining two degrees from LSU. He started off sitting with the Golden Band from Tigerland during sporting events, cueing the band director when it was time for the marching band to play.