The sweltering Louisiana heat is beating down on Leonard Fournette before most college students have even started the day. It's 7 a.m. in the middle of June, and he's running 110-yard sprints, pushing his 6-foot-1, 230-pound frame to its limits in preparation for the LSU football team's grueling conditioning test.
Every player, even a Heisman Trophy contender like Fournette, has to complete 36 sprints to prove he's in shape for fall camp. Running backs must finish each sprint in 15 seconds, but he usually has a second to spare.
After having dashed, plowed and spun his way to the Southeastern Conference All-Freshman Team and LSU record books last season, 36 sprints seem like nothing.
Fournette isn't a freshman anymore, meaning he has the freedom to schedule his daily summer workouts whenever he pleases. The New Orleans native likes getting the work done early so he can go about the rest of his day.
So he can see her.
When the work gets difficult, Fournette's mind doesn't wander to visions of scoring touchdowns in Tiger Stadium, hoisting the Heisman Trophy or signing the huge NFL contract experts are convinced he'll inevitably receive.
He thinks about his 6-month-old daughter, Lyric.
"When I'm running 110s or working out, she pops into my mind," Fournette says. "When I want to give up or stop, I think about her, and that just keeps me pushing forward."
Lyric sits at the center of a life Fournette has built around the BUGA Nation mentality. The acronym, which he coined with the help of his family, stands for "Being United Generates Attitude." But it has a simpler meaning to him: not being fake.
The phrase became synonymous with his persona after blowing up on social media before he even graduated high school. Today, it's a major part of his identity as both a football player and a person.
For Fournette, it's a lifestyle. He strives to practice the BUGA way every day, and he does so by staying mindful of his faith, his family and the place he came from.
* * * * * * *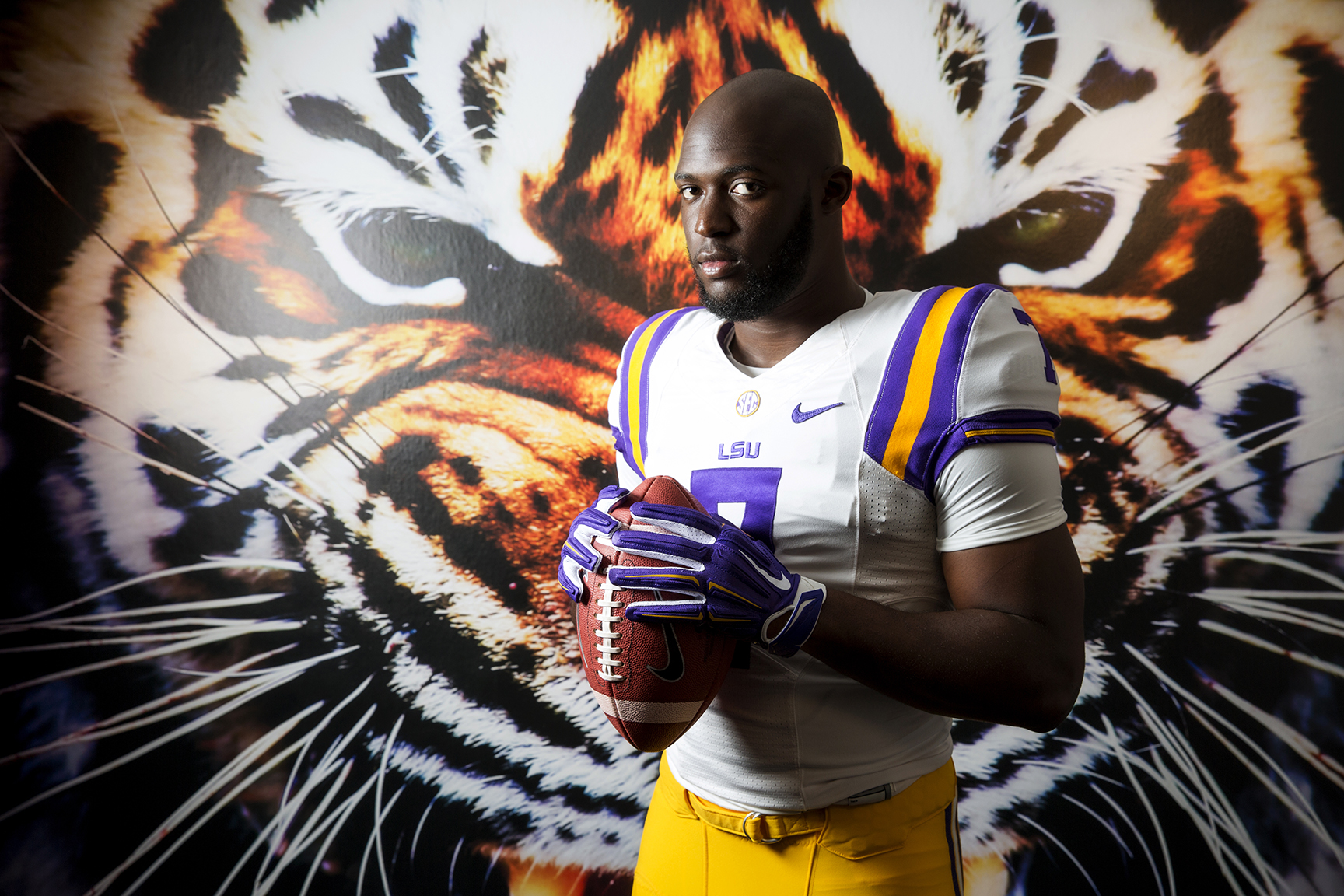 There was once a time when Leonard Fournette didn't want to play football. He was about 5 years old, and his dislike for running laps caused him to quit the sport.
"I told my dad it wasn't for me," he says.
Two years later, Fournette's father, Leonard Jr., saw him keeping up with his older cousins during a pickup football game in a church lot near his grandmother's house.
His father asked him if he was ready to play football again, prompting him to return to the game he would one day dominate. Fournette isn't sure why he had the sudden change in attitude, but since that moment, football has been a part of him.
"Football was a great sport for me," he says. "It became damn near the love of my life."
He wasn't always the biggest kid on the field, but he was taller—and more importantly, faster—than most of his peers. By the time he was in eighth grade, Fournette had already made the junior varsity team at St. Augustine High School in New Orleans.
When he moved up to varsity as a freshman, the first of his four years as the Purple Knights' starting running back, he reeled off six straight games of at least 200 rushing yards and finished the season with 1,735 yards and 22 touchdowns.
People started to notice. People like LSU running backs coach and recruiting coordinator Frank Wilson, who made Fournette the first high-school freshman to receive a scholarship offer from LSU.
The hype had begun.
"My coach told me, 'Leonard, you have a talent that nobody has. Keep God first and stay off the streets and out of trouble, and you'll be all right,'" Fournette says.
He followed his coach's advice and reaped the benefits, going from freshman phenom to bona fide superstar during the next three years. The accolades—and recruiting mail—came pouring in.
He became the only athlete to earn the Louisiana Gatorade Player of the Year Award twice, receiving the honor in 2013 and 2014. USA Today named him the National Offensive Player of the Year in 2013. Recruiting service 247sports.com listed him as the No. 1 overall recruit in its class of 2014 composite rankings.
More than 100 universities offered Fournette a scholarship, but he kept the pressure and expectations at bay as long as he could.
"I was still focusing on winning a championship with my high school and trying not to let [the hype] get to me," he says. "I had my friends saying, 'Everybody is coming to see you, man. How does that make you feel?' I told them I don't worry about it because you can't get carried away with that.
"My mom and I prayed just to keep me humble and safe and not let any of that get to me."
Fournette didn't win a state championship at St. Augustine, but he won the hearts of Tigers fans everywhere when he committed to LSU at the 2014 Under Armour All-America game, surrounded by family members wearing BUGA Nation T-shirts.
For him, it all ties back into BUGA. The expectations placed upon him have ballooned since he arrived on campus last summer, and he still clings to his trademark mentality when dealing with them.
Staying humble can be difficult for Fournette. He says the publicity sometimes distracts him. He's only 20 years old, after all.
Despite the distractions that come his way, Fournette's roommates for the past year, sophomore quarterback Brandon Harris and sophomore receiver D.J. Chark, gush about his unwavering humility in the gleam of the spotlight.
"He's one of the most humble people you'll ever meet as far as all the accolades he got throughout high school. People always knew who he was," Harris says. "Obviously, he's a potential Heisman candidate, a guy who rushed for a lot of yards last year and one of the biggest guys on the team, but you never hear him putting 'I' before the team."
* * * * * * *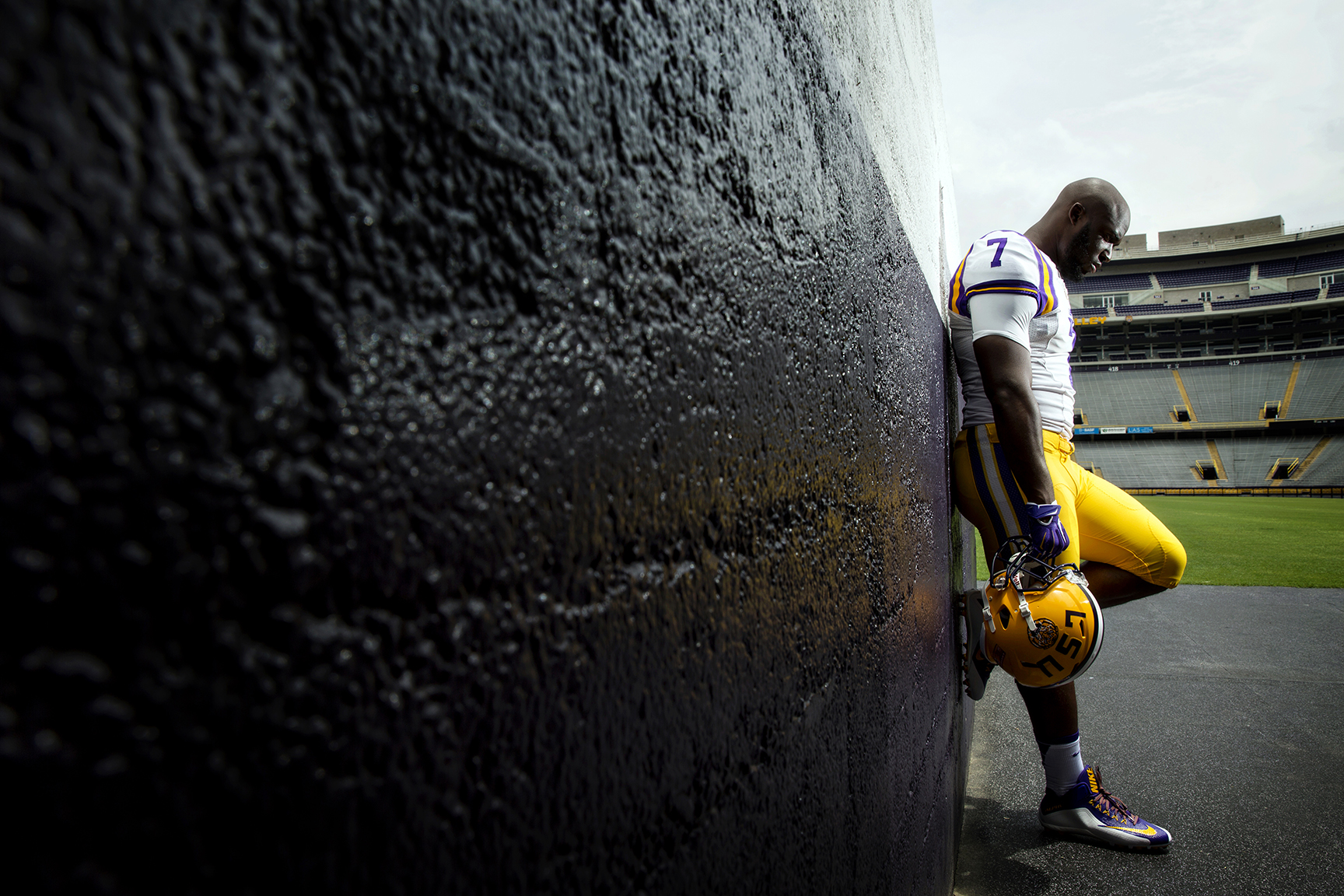 When he's not making a joke of NFL-ready defenders with his wide array of jaw-dropping moves, Fournette is probably telling one.
"I'm always joking, and some people say I joke too much," he says.
He can't help himself. The main tenet of BUGA Nation is to be yourself, and he's a natural jokester. The sophomore doesn't want to be remembered as being stuck up or conceited, so he lets his personality show.
Harris says Fournette jokes 24/7 but knows the time and place for humor.
"He's just a good person to be around," Harris says. "I don't care if you have a crappy day; if you go over and talk to him, he'll make you laugh regardless."
But the quips stop once Fournette sets foot on the field. The running back's tone becomes serious, and it's easy to separate Leonard the football player from Leonard the person, Chark says. Harris played alongside Fournette in short spurts last season, giving him first-hand insight into Fournette's in-game demeanor.
"When you're on the field with him, you can't get him to say two words. You can't get him to crack a smile or anything," Harris says. "You see him make a move and run a dude over, and he'll come off to the sideline like nothing happened."
Fournette is also stern in his leadership, which he embraced more and more throughout spring training and into the summer. Even if he didn't wholeheartedly aspire to mentor his teammates, he doesn't really have a choice.
Of the 10 running backs and fullbacks populating LSU's current backfield, none is a junior or senior. As a 20-year-old true sophomore, Fournette is the oldest of the bunch.
It's his duty to guide a trio of freshmen that includes highly touted Baton Rouge natives Derrius Guice and Nick Brossette. Luckily for Fournette, he already has a long-standing relationship with LSU's third rookie running back—his younger brother, Lanard.
Fournette sees every teammate as his brother. He focuses on creating a strong team atmosphere, encourages everyone to mentor each other and stresses the importance of brotherly love on and off the field.
"These are my brothers," he says. "If they hurt, I hurt."
He says most leaders don't like asking for help. But in typical BUGA fashion, he didn't shy away from approaching fellow sophomore running back Darrel Williams for pointers on pass blocking and blitz pickups.
If a teammate is being "hardheaded," Fournette says, he won't hesitate to get in his face. He'll do whatever it takes to keep his brothers on the right path, the one he aims to travel.
* * * * * * *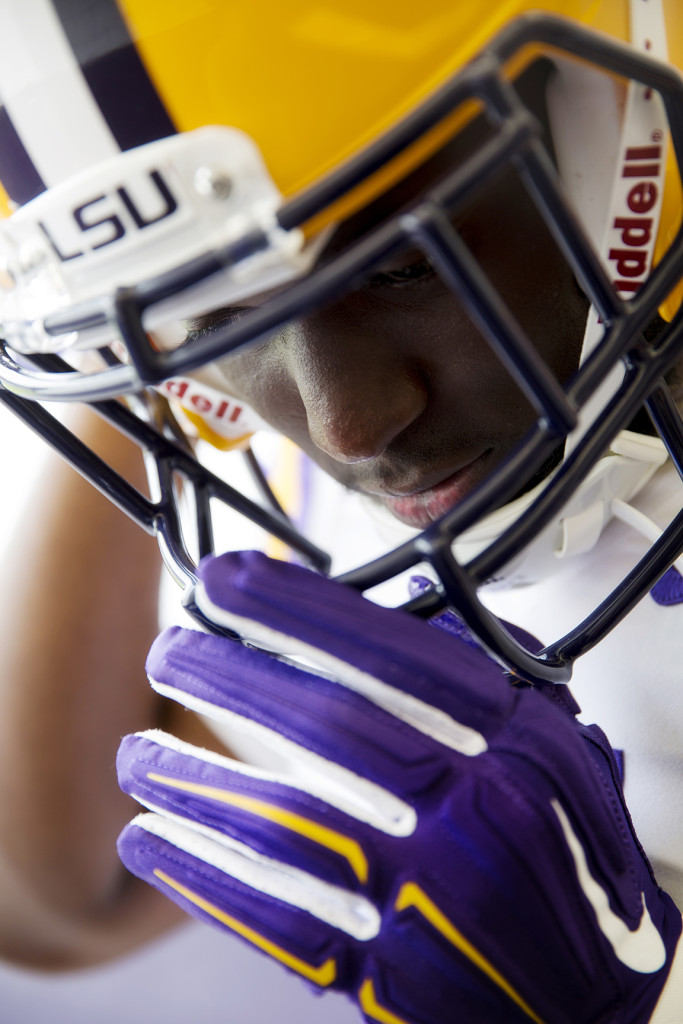 The water was rising to a dangerous level. The hotel was no longer a safe place to ride out the storm.
Leonard Fournette and his family made it to higher ground—a bridge upon which they slept for four days and five nights. That was in the aftermath of Hurricane Katrina, the disaster that destroyed much of the city Fournette holds dear within his heart.
He describes the experience as "wet." That's just the jokester in him.
The wisecracks come a little bit easier 10 years after the fact, but in the midst of tragedy, the Fournettes did whatever they could to survive.
"We had to go looting stores to get food and medicine for my grandmother, who was on the bridge with us," Fournette says. "She and my grandfather, we had to make sure they were healthy. My father and them, they had to do what they had to do to get us out of New Orleans."
His family made it out of the wreckage and relocated to Baton Rouge and then Portland, Texas, before returning to the 7th Ward, where Fournette was destined to rise above the ruin and rubble to football stardom.
But the path to prominence had its share of bumps. In his younger days, Fournette got into trouble for fighting at school. He says he was kicked out of four schools as a result.
But the fights he got into were nothing compared with the fights he witnessed. He recalls people getting shot and killed at parties and the lessons he learned from seeing young lives abruptly ended.
"Be aware of your surroundings out there," Fournette says. "[Seeing violence] makes you stronger. It makes you use your mind more. You think 'That could have been me.'"
In time, he stopped going out altogether.
"I've got too much to live for," he says.
New Orleans is one of those things, despite his turbulent experiences there. He finds inspiration and motivation in memories of the people and places that populate his hometown.
Fournette understands why New Orleans can have a bad reputation. He has seen people get eaten up by the culture that exists in the city's poorer neighborhoods.
"A lot of young black men don't make it out of New Orleans. They either get shot or are in jail," Fournette says. "But God happened to have his hands on me. He gave me a talent, and I'm just using what he gave me. I'm not taking that for granted."
After his rapid progression from a kid in the 7th Ward to a Heisman candidate, Fournette is a natural role model for children who face similar circumstances.
"Every kid in New Orleans wants to be the next Leonard Fournette," Harris says. "The child wearing that No. 7 jersey on his little league team sees Leonard doing his thing. He's never in trouble, and Leonard's name will never come up with anything negative. It's always positive."
* * * * * * *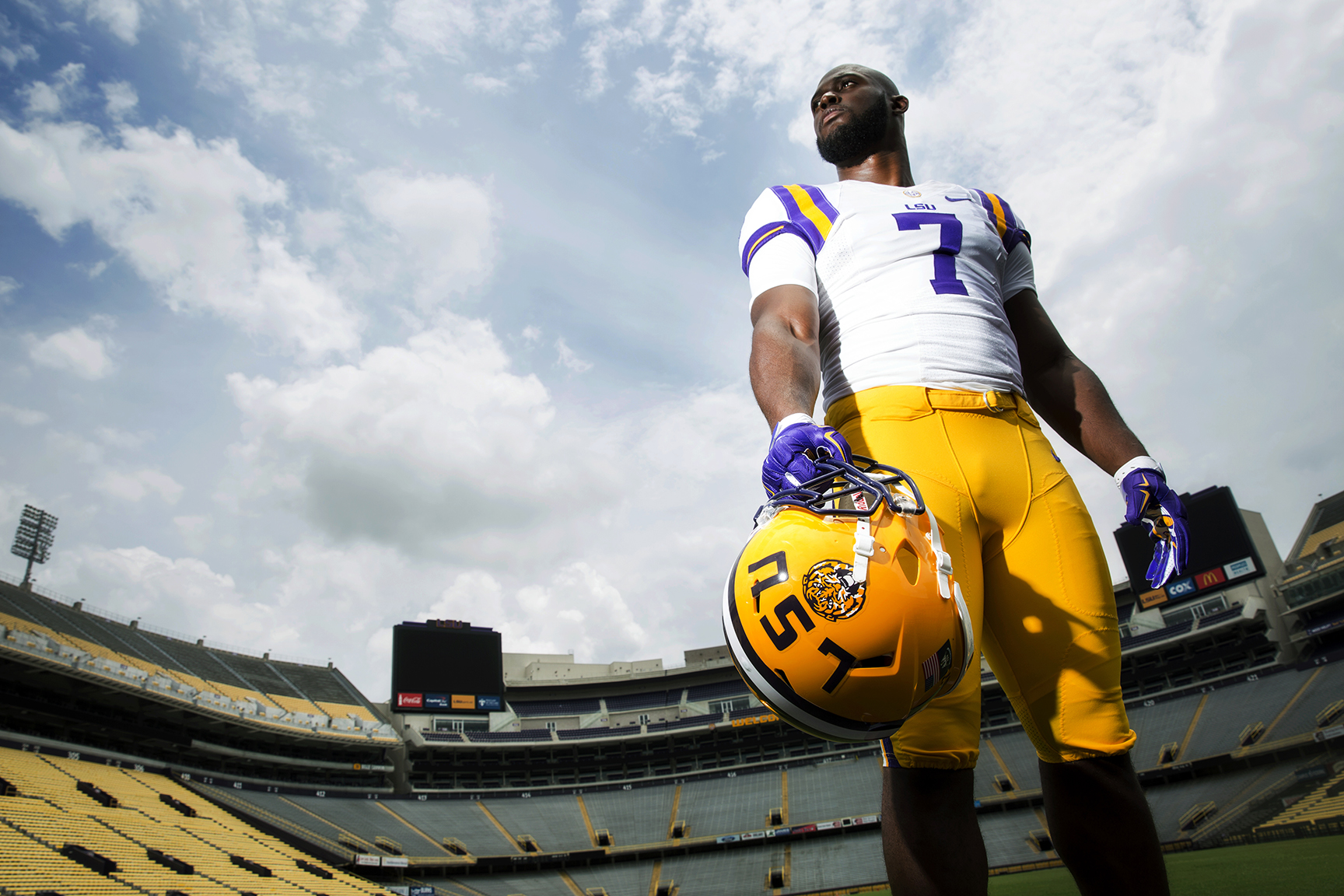 Once Fournette reached the 25-yard line, nobody was going to catch him.
He easily outran Notre Dame's kickoff team the rest of the way, tying the 2014 Music City Bowl at 14-14 with a 100-yard kickoff return touchdown just four minutes into the second quarter.
The Tigers ultimately lost that game, but Fournette's spectacular scamper showed the world just how impressive his combination of size and speed can be.
As Fournette celebrated with his teammates, ESPN analyst Rod Gilmore expressed what everyone who watched the play was surely thinking.
"That is just unfair," Gilmore exclaimed. "You can't be 230-plus pounds and run like that."
Fournette seemed to defy the laws of nature, a bulky bulldozer besting smaller opponents in a footrace. Not surprisingly, he credits higher powers for his supernatural speed.
"That's not me," he says. "God blessed me with this ability. I worked at it, but I always had a second nature for being fast, even when I was young. It was something that came naturally with me."
He honed his speed by running track throughout high school. As a junior at the 2013 Class 4A regional track meet, he won the 100-meter dash with a time of 10.68 seconds. The mark was just 1.1 seconds shy of Usain Bolt's world record in the event.
Bolt trains to run past his competitors. Fournette trains to run over his.
Oddly enough, Fournette says adjusting to the speed of college football was the hardest transition of his freshman season. He still ran for 1,034 yards and 10 touchdowns while splitting carries with three other running backs.
"You're not used to playing against guys who are 260 pounds at linebacker and are fast like you," he says. "You're playing against grown men. In high school, it was just me. Everybody considered me a grown man."
Opposing defenders aren't the only things moving quicker than Fournette had hoped. College, life, his little girl's time as a little girl—these are the things going by too fast, the things he's powerless to stop.
* * * * * * *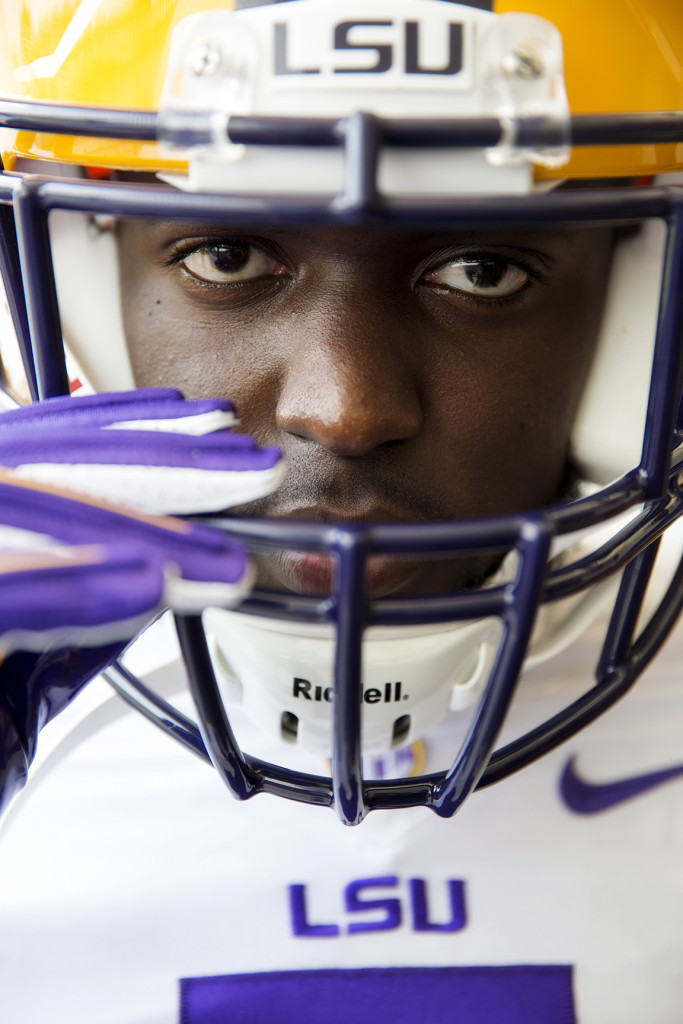 When finished with his workout, his classes, his meetings, all the responsibilities that come with being the face of a major college football program, Fournette can finally see his daughter.
Lyric looks just like her father, minus the beard and the bulk. When Fournette talks about her, his eyes and smile get bigger.
But football consumes his time and prevents him from being his daughter's primary caregiver, something he wishes he could be. Lyric usually stays with her mother, Jamie Jones, or with Fournette's mother, Lory.
Fournette talks to his daughter on FaceTime on days when he can't physically be with her. Lyric is too young to speak, but Harris says she still cracks a smile every time she sees her father.
"She's his life, simply put,"
Harris says. "If you follow him on any social media, she's everywhere. That's the only thing he's about. It isn't about anything else. It's faith, family and then football. Everything is about his daughter, and rightfully so."
Scroll back through Fournette's Twitter feed, through numerous pictures of his daughter, to see the first one on Jan. 4, 2015. To the rest of the world, it was the day Lyric was born. To Fournette, it was the best thing that ever happened in his life.
Being a father has quickly matured him, he says. He gets to see Lyric as much as he wants right now, but he knows his much-anticipated sophomore season will be bittersweet. Between games, practices and classes, Fournette says he may not get to see his daughter much until Thanksgiving or Christmas.
"That's the life for a football player," he says. "It's sacrifices, but I know it's going to pay off. She's too young to come to the games right now, so probably next year or the year after that, she'll be able to come to games. My little cheerleader."
Of all the skills in Fournette's arsenal, multitasking might be his best one. Harris and Chark, his roommates, laugh about his ability to simultaneously play NBA 2K and FaceTime with Lyric.
She's starting to talk and crawl and scream, and Fournette recognizes how fast she's growing up. He wants Lyric to know how much he loves her, which is why he spends so much time with her while he can.
Normal college students with young children work double-time to balance parenthood and schoolwork. In some cases, the birth of a child might even cause them to put school on hold.
Not Fournette. Being a football player gives him one more responsibility to juggle on top of everything else, but like every other challenge he has faced, he's up to the task.
"I never knew I could love someone so fast and in such a short period of time," he says of his daughter. "Just looking at her and knowing that's me makes me grind 100 percent more."
So Fournette keeps grinding. He grinds through his 7 a.m. workouts and grinds through his coursework in hopes to earn his degree in only three years. Keeping up with school is often challenging, and he acknowledges there are days when he doesn't want to go to class, but he understands how much having his degree may help Lyric in the future.
He's sure it'll all pay off one day.
But there's still some time between now and then. If he doesn't have his long-awaited breakout year in 2015, then there's always his junior season, assuming he forgoes the allure of the NFL to complete his degree.
Despite his youth, many already regard him as one of the nation's best players, piling on the pressure as high as ever.
NFL.com listed Fournette among the 15 "scariest players" in college football, and earlier this year, betting outlet Bovada gave him the second-highest odds (15-2) to win the 2015 Heisman Trophy.
Fournette says he'll handle the hype the same as always—by staying humble and true to himself. BUGA has gotten him this far, after all. 
---
This article appeared in the August 2015 issue of 225 magazine.