---
The past year hasn't exactly been smooth sailing for Christian LaCouture.
Calling it a roller coaster sounds cliché, but it's a fitting comparison to make considering all the peaks and valleys he's experienced since last summer.
Rewind to August 2016. The defensive lineman had just recently decided to forgo entering the NFL Draft­ and come back to LSU for his senior season.
He didn't make the decision alone, either. A handful of players decided to bypass an early paycheck to return for one final shot at winning a national championship.
Things were looking up. LaCouture graduated from LSU on Aug. 3, he had his starting spot solidified on the defensive line, and his LSU Tigers were ranked in the preseason top five.
Fast forward almost exactly a week later, and he found himself out for the entire season with a torn ACL, his family's home flooded with nearly four feet of water and the team he had recommitted to about to embark on one of the most disappointing seasons in recent LSU football history.
"I felt like between the injury and the flood, everything kind of hit me at once," LaCouture says. "But you've got to look at the positives compared to the negatives. The flood happened; my injury happened. But there's always going to be better times in life. I had to tell myself to keep pushing forward, because there will be better days."
It's that sort of positive approach to both football and life that has gotten him back to where he is today.
He's entering his fifth year at LSU, was awarded the honorary No. 18 jersey and is finally ready to fulfill his senior season goals of competing for championships. But he didn't get where he is today without a fight.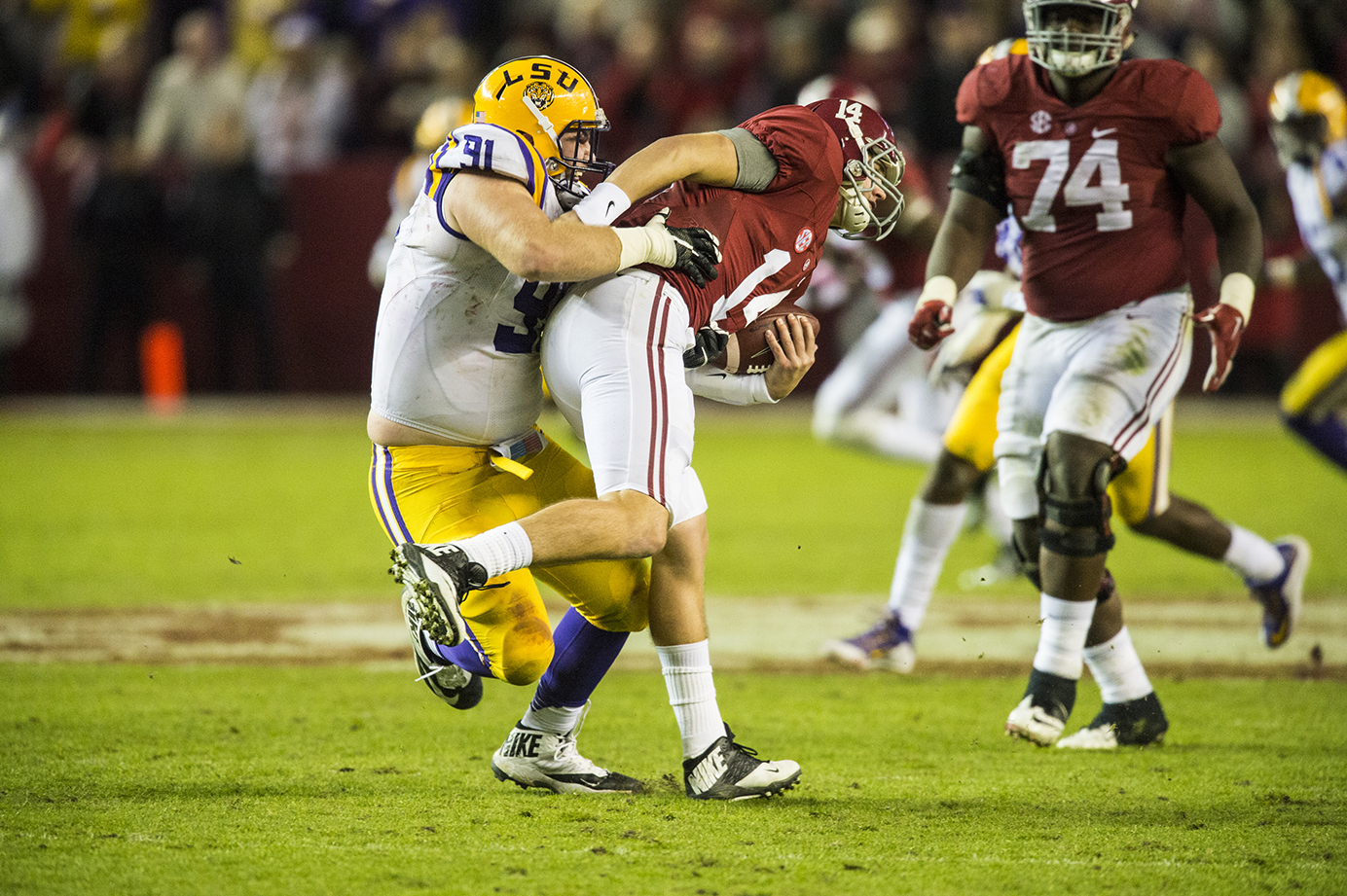 A WEEK FROM HELL
It was a fairly routine play that ended LaCouture's 2016 season (and nearly his college career).
The 6-foot-5, 300-pound defensive end got double-teamed on a running play to the opposite side of the field in practice. He planted his foot and turned to try and follow the play when he heard a pop.
He knew it wasn't good. Doctors confirmed a day later that he had torn his ACL and would be out for the rest of the year.
It was a tough pill to swallow, considering he could have entered the NFL Draft a few months prior and started earning a paycheck. Now, he not only couldn't contribute on the field, but his future was in a bit of limbo.
Regardless, LaCouture somehow managed to keep his sights set on his football career. Sure, the negative thoughts and low points surfaced at times. But he never let those sentiments overtake the bigger picture.
"I try not to look at things like that," he says. "It definitely creeps into my mind sometimes, but you don't want any regrets in life. I wanted to exhaust everything I could to make sure I didn't have any regrets. A lot of things have come along the way since then that have been very positive, so you can't sit back and look at things like that."
The school released news of LaCouture's injury on Tuesday, Aug. 9, 2016. Three days later, on Aug. 12, historic flooding hit Baton Rouge. LaCouture's family's home in the Centurion subdivision off O'Neal Lane was inundated.
An estimated $250,000 of damage impacted the home, ruining everything from furniture to family heirlooms.
With his torn ACL, LaCouture found himself in a similar spot with his biological family as he did with his football family: watching from the sidelines.
"It breaks my heart to watch my mom and dad working hard to clean out the house, carrying soggy mattresses, furniture, boards from the uprooted flooring, and I can't even help them lift anything because of this torn ACL," LaCouture wrote in a GoFundMe post back in August, which ultimately raised about $20,000 for his family. "I feel so helpless and very sad for my parents."
But instead of sulking in his situation, he had to come up with creative ways to stay involved.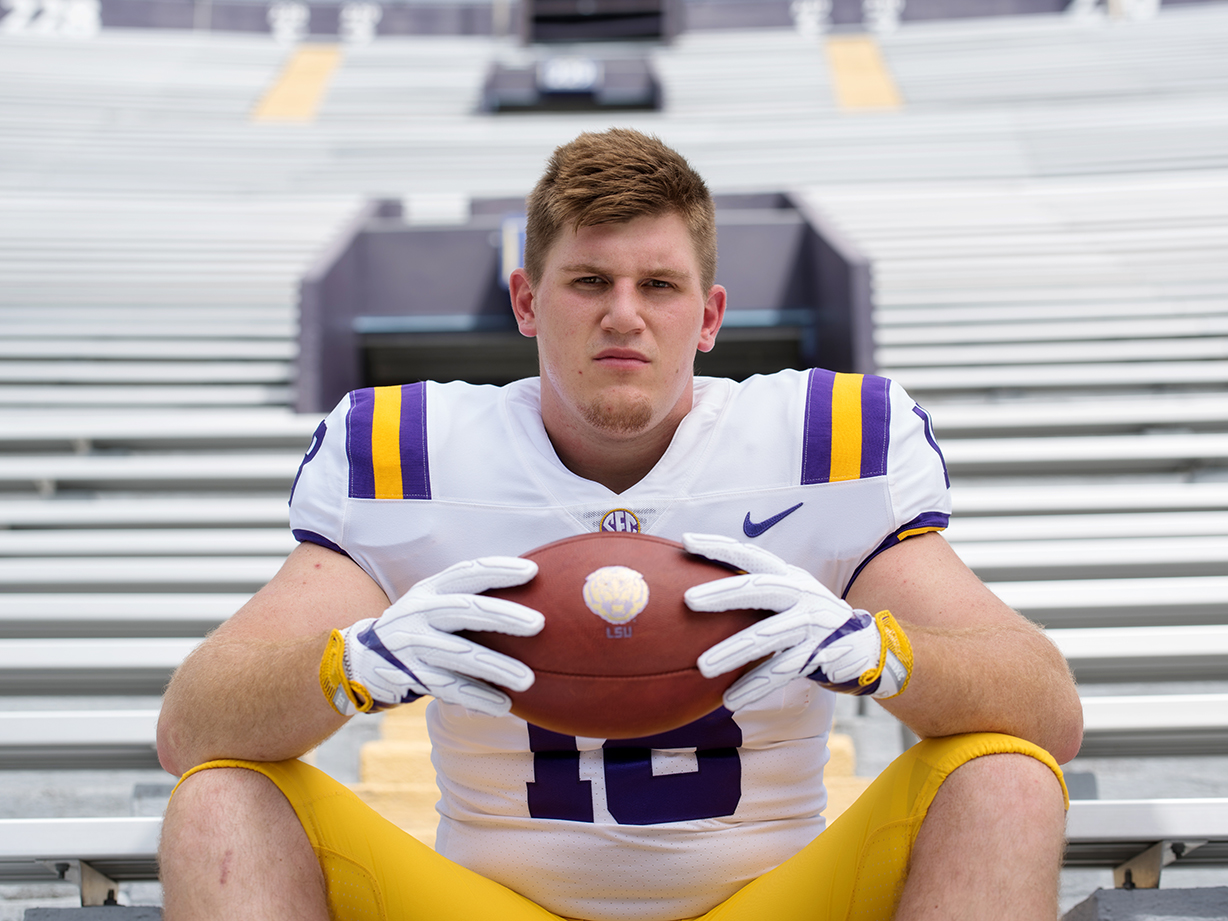 FROM HELMET TO HEADSET
After sustaining an injury, some football players tend to slowly drift away from the team. Sometimes they're too upset to stay actively involved when they can't actually play. Other times they'll simply be a cheerleader on the sidelines, encouraging teammates during the games.
That wasn't what LaCouture wanted with his team, and that wasn't what the coaching staff wanted for him either.
Later in the season, head coach Ed Orgeron and defensive line coach Pete Jenkins came to LaCouture with a rare opportunity. They wanted him to become a makeshift assistant defensive line coach for the remainder of the season, helping the rest of the guys pick up on the new defense being installed by first-year defensive coordinator Dave Aranda and keep up with the in-game adjustments being made every week.
It was a no-brainer for LaCouture.
"You can't really see some things when you've got the helmet on compared to being a coach and having the hat on," he says. "You see things a whole lot different than when you're on the field. I had to go out there and give my best at whatever the coaches asked me to do. I had to make sure I was helping those guys when we went into game week. I felt like it was a blessing in disguise."
That's the one phrase LaCouture continuously repeats when asked about his injury. It was a blessing in disguise.
Tearing his ACL allowed him to further appreciate the time he has left on the field. It allowed him to get his first glimpse into being a coach—something he says he would like to do once his playing days are over. It also allowed him to further cement his role as a team leader for the Tigers, building mutual respect among his peers.
"Being out there every day with those guys and just trying to be a coach—they're my friends, but also when I went out there, it's business," he says. "When they get off the field, you can tell them, 'Listen, this is what you did wrong.' Or 'Hey, great job here and here.' Once you get on the field and you're playing, you don't really think about stuff like that, you just go play ball. When you're being a coach, you get to help those guys get through that process."
It was a unique experience for LaCouture as he recovered from the ACL injury. His health continued to improve, but his football future was still full of questions.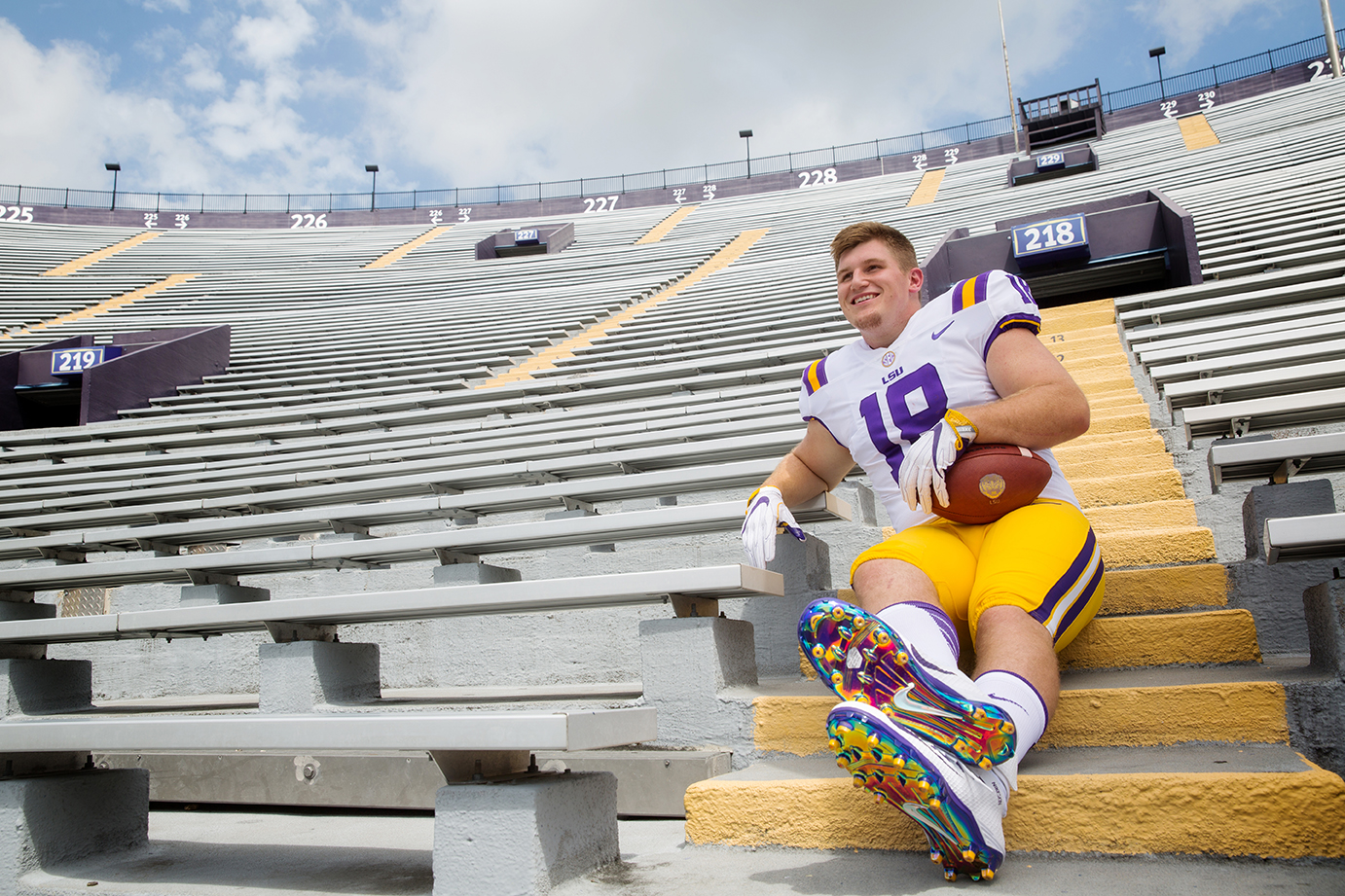 EMBRACING 18
LaCouture never thought he'd have to struggle with the same decision to either go pro or return to college two separate times in his life.
Deciding to come back for his first senior year was tough enough. When things didn't go as planned, it's understandable that he was heavily leaning toward closing the book on his college career and working his way into the NFL.
But the more he spoke with Orgeron—his former position coach- now turned head coach—the more opportunity he saw to stay at LSU, compete for all the college goals he had hoped to accomplish and rebuild whatever NFL Draft stock was lost due to the injury.
Ultimately he did decide to return and shortly after was rewarded with the prestigious No. 18 jersey, given each year to the one player who best exhibits "what it means to be a Tiger" both on and off the field.
The tradition started in 2003 with quarterback Matt Mauck, who led LSU to a national championship before passing the number on to running back Jacob Hester.
"Matt Mauck was one of my all-time favorite guys. That's an honor, because if it's got anything to do with Mauck, it's pretty legit," says defensive line coach Pete Jenkins, who was at LSU at the same time as Mauck. "I think [LaCouture] fits that role. He's an all-in guy. I have great respect for him; I really do. That's the way he does his business. I think LSU means a lot to him. I think [No. 18] is suiting for him."
LaCouture will be just the second defensive lineman to boast No. 18, following in the footsteps of Bennie Logan, one of his mentors, who also wore the number in 2012.
"That was the cherry on top," LaCouture says. "When I got that, I was so happy. It was definitely humbling. I knew there were other guys who could possibly get it as well. It's one number, but there are a lot of guys that are huge leaders. Even though I have this number, I still have to show that I'm a team leader."
LaCouture is more than deserving of the honor. Other than when he had to sit out for injuries, he's played in every game since arriving on campus, battling for playing time despite being slightly undersized by defensive line standards.
His dedication to the team coupled with the adversity he's had to overcome made him a prime candidate to don the number.
And LaCouture says he is more than ready for the responsibility.
"I know I have to go in there and be a team leader," he says. "A number doesn't display being a leader. You have to go in there day-in and day-out to make sure you're doing all the right things all the time, 24/7, to show these younger guys when they come up that this is how you do it. You can't go off-track. And if somebody does go off-track, you have to pull them back in.
"As Coach O says, 'One team, one heartbeat.'"
---
This article was originally published in the August 2017 issue of 225 Magazine.