Above: An interactive work by Amber Lelli, called "Days of Paradox." Courtesy BRG
---
Annual exhibit shows off the nation's hottest lowbrow artists … and then there is the costume party
Last year's Surreal Salon made Baton Rouge one of the destinations for art lovers to find the best in pop surrealist/lowbrow works from across the country. A large part of that attention came from the juried competition and exhibit, held in January, landing Juxtapoz Magazine co-founder Greg Escalante as the juror for the event. After his stay in Baton Rouge, Escalante wrote an editorial on the show in the April 2014 issue of Juxtapoz that propelled Surreal Salon's popularity nationally and abroad.
"Last year was really the year where people from around the world started to recognize that this show was doing something substantive," Baton Rouge Gallery Executive Director Jason Andreasen says.
So how does the gallery up the ante each year? "We try and find new ways to do it," he says.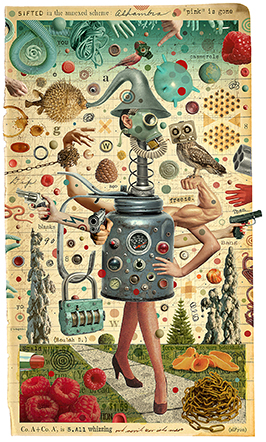 Forgive Mr. Andreasen's humility, but Surreal Salon 7—with its over-the-top costumed soiree—will be bigger, bolder, gaudier and whatever other definitions you might think of when you think "lowbrow."
One reason is the excessive amount of artwork submissions the gallery received during its open call period. Andreasen says more than 520 works were sent in from around the country.
"It's the most [submissions] we've ever had," he says, adding, "We had a ridiculous outpouring of interest from artists who fit in this movement."
Even after Escalante wrapped up his lengthy praise piece, he continued to be an ambassador for the Capital City show, which doesn't hurt the cause, either. Andreasen heard rumors that Escalante went back to California and discussed his Surreal Salon experience with the popular surreal artist Shag.
"Apparently Shag asked Escalante, 'Do you think [Baton Rouge Gallery] would let me judge it?'" Andreasen says. "Escalante was spreading the word that people should look into this show, unbeknownst to any of us."
Baton Rouge Gallery jumped at the opportunity, and for this month's event, Shag will be the special guest juror. "It's an honor to have people like that helping the show grow and reach more artists," Andreasen says.
Under Shag's guidance, 58 pieces from 58 artists representing 25 states were selected. They include absurdly detailed paintings and prints, but also more technology-driven works.
One such piece is "Days of Paradox," an interactive bronze bust on top of a small filing cabinet that is filled with slides. Once the slides are inserted into the bust, the images are projected through its eyes.
Another piece features five iPhones that provide a look at the modern love of social media and the constant uses of apps such as Twitter and Instagram.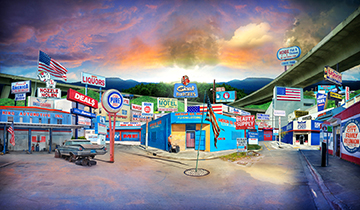 Then there is the soiree, hosted Jan. 24, where costumed attendees come out in their most eye-popping attire to browse the art.
"Every year, it's not just our effort," Andreasen says. "It's the costumes that everybody comes out in. Every year, they top themselves. We've had giant roaches, unicorns and mermaids. In one night, the show goes from 50-something works of art to a couple hundred."
Surreal Salon 7 will be open Jan. 4-29, with the soiree set for Jan. 24. batonrougegallery.org
---
MORE FOR THE ART LOVERS
What does "surreal" mean? Not even Andreasen wants to take a stab at that question. "[Surreal] is such a broad term that pinning a definition to it might be something for a scholar to do 25 years from now," he says. "The rulebook is still being written, and one day, I'm sure that book will be burned."
Baton Rouge Gallery got submissions from across the globe: Even though it's a national competition, Surreal Salon received submissions from Italy, Macedonia, France, Portugal, Mexico and Canada. "That may be the answer on how we up the ante next year," Andreasen says. "We expand it to an international show."
About this year's judge: Shag has published nine art books. He's hosted solo exhibits across the United States, Europe, Japan and Australia. Celebrities who own his work include Whoopi Goldberg and Patton Oswalt. "You're talking about one of the biggest names in pop surrealism," Andreasen says. "It's no small thing to have him be a part of this."
Details on the soiree: The soiree is a costumed event in honor of the exhibit that kicks off Saturday, Jan. 24, at 7 p.m. New Orleans dance duo Quintron and Miss Pussycat will provide music. Andreasen says the band couldn't "be a better fit." The local arts collective Elevator Projects will be involved in this year's party, creating an interactive fun house environment extending to the back lawn of the gallery. Advance tickets are $17 for those attending in costume, $22 if not in costume. Day-of tickets are $20 in costume, $25 if not.