Photos by Collin Richie
How the LSU Museum of Art preserves the thousands of artworks you don't see
Behind insulated walls inside the Shaw Center for the Arts—the specific location is too valuable to disclose—a massive inventory sits quietly. Visitors are required to sign in before entering. For the LSU Museum of Art, there's no precaution too great when it comes to this prized collection of works.
Only a tiny fraction of the LSU MOA's inventory is available to the public in the main galleries. The rest of it waits here, in this 5,000-square-foot room.
The conditions required to preserve the pieces—paintings, antique furniture, porcelain, sculptures, fabrics and more—are precise and crucial. Humidity delicately rests at 50 percent, while temperatures hover near 70 degrees. Light levels are kept low, with ultraviolet filters to prevent damage, discoloration or fading of pigments and paper fibers. It's a meticulous balance, and the team at the LSU MOA works hard to maintain it.
First opening its doors to the public in 1962, the museum and its inventory made the move from LSU's campus to the Shaw Center in 2005. Fran Huber, assistant director for collections management, was in charge of relocating the museum's most precious assets.
"I was really lucky. I got a chance that nobody ever gets," Huber says. "When we moved here, we got this floor and we decided to build our whole new storage here. My director said, 'How much money do you think you need?' And I said, 'How much money are you going to give me?' She said, 'Make a dream list.' And I said, 'OK.' And we got most of what we wanted. That doesn't happen in real life."
Making her dream list meant spending months with the museum's inventory, mapping out the best possible storage for the variety of materials. As she walks among shelves of sculptures, Huber recalls measuring every single piece—now numbering close to 5,500—and categorizing each to determine exactly the amount of space and equipment needed.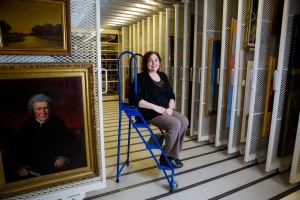 "My first concerns were paintings, because we didn't have room for storage of paintings on campus and things were leaning against each other and putting weight on frames.  … So the first thing I wanted was hanging racks that middle-aged women with bad backs could move," Huber says, laughing.
Stretching far back into the room, a long aisle splits two rows of hundreds of rolling panels. Huber easily pulls out one panel on its smooth tracks to reveal several framed portraits, safely hung and tucked away on the mock wall.
The hanging racks were only at the beginning of Huber's list. Next were tall, airtight cabinets to store smaller, delicate artifacts. Antique Chinese jade and New Orleans silver gleam behind glass, as well as an assortment of Newcomb Pottery, all kept dry with canisters of silicon gel.
The stores go on across the wide room, with framed works on paper protected in bins along one wall, shelves stacked with ceramics and an enormous wooden bookcase pre-dating the Civil War. Altogether, Huber says the museum has about double the storage capacity it currently needs, leaving plenty of room to grow.
Katie Pfohl, the museum's new curator, says she was "astonished" the first time she stepped into the storage room during her job interview, and that the caliber of the inventory and care taken with the collection helped convince her to come onboard. In her months since joining the staff, she's searched the shelves for inspiration as she puts together future exhibitions.
"It's a totally daunting prospect in a lot of ways," Pfohl says. "A big part of what I've been doing so far is really just basically going through the collection object by object and learning about all of the different pieces we have and their origins … So it's already been totally fun because I've come across these incredible things in the collection that I had no idea we had that have already inspired expeditions that we're working on for the next year or two."
LSU MOA requires an invested team beyond just the gallery walls to maintain and enliven Baton Rouge's richest art resource. It's Huber's dream list and Pfohl's explorations that make it possible.
"Part of our mission, part of any museum's mission, is to preserve the collection for public trust for generations to come," Huber says. "The language that's usually used is 'in perpetuity,' which is forever and ever. That's not entirely possible, but we try to approximate that." lsumoa.org
---
Mini museum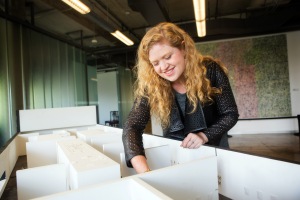 Another of the LSU Museum of Art's unique behind-the-scenes features now lives in curator Katie Pfohl's office. Once a class project by a group of LSU architecture students, a three-dimensional scale model of the museum's gallery floor is decorated with miniature cutouts of art pieces, testing the flow of an exhibition before the exhibits are arranged and traveling pieces even arrive.
For a Venice-themed exhibition of James McNeill Whistler etchings and Sandra Russell Clark photographs due to open in February, Pfohl has been working on how to bring guest pieces and existing collections together.
"I use that every day. It's like a doll house," Pfohl says. "I've worked at big museums like the Metropolitan Museum, and they never had a scaled rendering of the museum quite like that. … I basically get to design the whole show in miniature, and then when the objects come we use the model to place them in the gallery."