Contributing writer Amanda Capritto tests out the new 13th Gate Escape. Photos by Collin Richie
---
Four people, 60 minutes, one mission: Get out alive.
Locked in dirty jail cells by our game master, my teammates and I were doing our best to expect the unexpected. We had one hour to escape Block E in the state's maximum-security prison.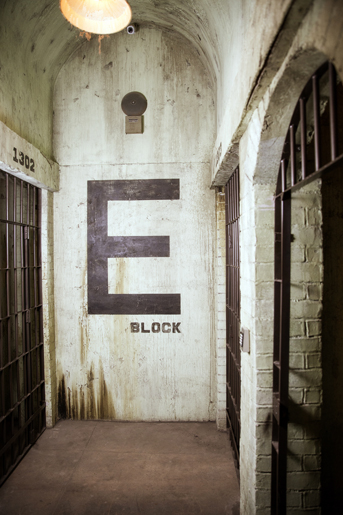 Our first task was to break free from our individual cells (larger groups would be paired in cells). Even with hints from the game master, it took us 25 minutes to retrieve the keys and unlock the doors.
Finally free of the cells and with about 30 minutes remaining to escape the prison, we were faced with a series of codes and riddles. Equipped with a notepad and an iPad to scan clues, we started ravaging the room for anything that might help.
It was overwhelming. We fretted over our time limit, not really sure what would happen if we didn't make it. Working with numbers and symbols wasn't the easiest task.
We rushed from room to room deciphering riddles and finally busted through the door to the last chamber. We had one last code to crack—and less than five minutes to do it.
Flipping through pages of a handwritten journal and a worn-out Bible (and carefully stepping over the corpse they belonged to), we put our stubbornness behind us and worked together to decode the last hint.
Alarms sounded … and the door opened. In last-minute (literally) Indiana Jones fashion, we managed to make it out alive.
Despite escaping, my team and I ended up with a negative score of 79 minutes because of how many clues we had to "scan." Turns out that for each clue we scanned with the iPad, three minutes were added to our final score.
Teamwork, agility and cognitive skills aren't usually the three things that come to mind when you hear the term "haunted house." But the escape games at The 13th Gate are so much more than a frightening series of visuals.
Unlike the popular haunted house attraction at The 13th Gate, you aren't met with actors in scary costumes during the game. But it's still creepy and adrenaline-inducing. 
The setup, props and sound effects were film-worthy—I was hesitant to touch what looked like much-used furniture in my jail cell, and I shrieked at the buzz of the electric chair.
I have three tips for those who dare an escape: One: Use your resources and communicate with your team members—you never know what might be useful or who might be able to see something you can't. Two: Don't be stubborn: You might be wrong while someone else in your group might be right. And three: Try not to get frustrated. It'll only make things harder.
---
Play the game
The 13th Gate currently offers two escape games, The Collector and Death Row. I played Death Row. In this attraction, you're awaiting your call to the electric chair at a state penitentiary. Because the wards are overcrowded, you've been placed in a block abandoned until now. They say it was closed because of a gas leak, but you've heard rumors that it was because an inmate once escaped. Now you have to follow in his footsteps to escape death. Midnight Productions is working to add four more escape attractions, two of which will open this December. The escape games are open year-round by appointment only. Teams must be four to eight people. The 13th Gate Escape is at 800 St. Philip St. 13thgateescape.com