---
These days, it seems like there's a new festival in Baton Rouge every weekend. That's why Art Melt, Forum 35's beloved local showcase of Louisiana artists, is bringing it back to its roots.
In years past, the Art Melt festivities have included live music, performances, an arts market and food trucks in addition to the art. But this year, organization leaders wanted to focus more on the juried exhibit and showcasing local artists.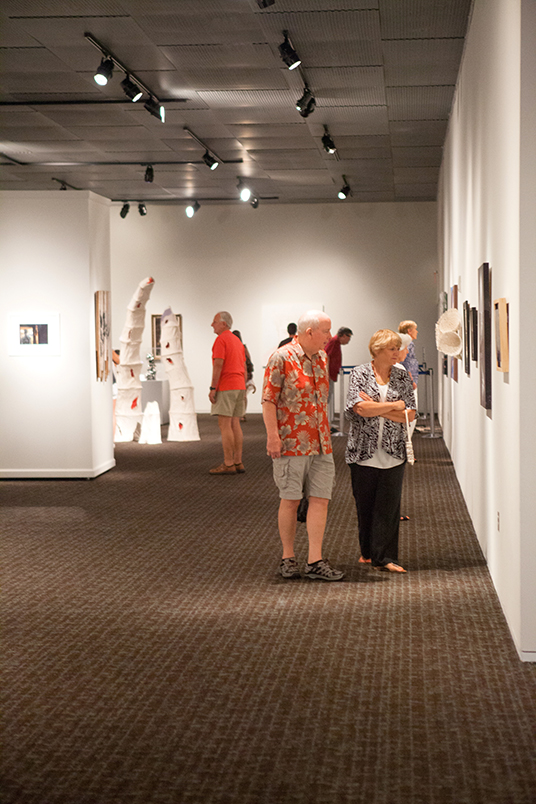 "We used to do a really big festival component, and that attracted a lot of people, which is great," 2017 Art Melt chair Kylee Lewis says. "But we felt that there were times when it really took away from the core purpose of it, which is the art—the six-week portion of it. So we're trying to make sure we elevate that and stick to our core focus."
The annual art exhibition will kick off its 14th year with a preview party at the Capitol Park Museum July 21. The exhibition's official public opening is July 22, and the works selected will be on display for six weeks. All of the art in the exhibit is for sale.
Art Melt is the largest juried art exhibit in the state. For this year's event, Art Melt received 132 entries totaling 348 individual pieces from artists throughout the state. While submissions are accepted in any medium, most are sculptures, paintings and photos, Lewis says.
Lewis says the Forum 35 team is excited about this renewed focus on helping everyone in the Baton Rouge community appreciate art for its own sake.
"I think with any organization, you … don't know how involved you're going to get, and then you see the drive and the passion of everyone else involved, and it makes you want to do a little bit more," she says. "Everyone has worked really hard to ensure that what we're doing is part of the community, and you want to make sure that you live up to that."
Art Melt has also expanded its outreach to other parts of the state, as submissions often heavily represent the Baton Rouge and New Orleans areas.
"It's always exciting when you see the entries grow, because we know that we're reaching a new group of people throughout the state, which is always our goal," Lewis says.
Once submissions closed in late May, they were scored by three judges, who determine the top three winners. The local judge is LSU Museum of Art curator Courtney Taylor. The regional judge is LSU alumnus Mark Tullos, president and CEO of the Mississippi Arts and Entertainment Experience currently under construction in Meridian, Mississippi. And rounding out the triad is national judge Jennifer Scanlan, exhibitions and curatorial director at the Oklahoma Contemporary Arts Center. She's been an independent curator and the associate curator at the Museum of Arts and Design in New York City.
Pieces displayed in the exhibit are determined by scoring and museum space. Baton Rouge's art lovers who visit the Art Melt exhibition will enjoy 50 to 60 of our area's best of the best—and an Art Melt that's definitely going back to basics.
---
SEE THE SHOW
Preview party: July 21, 7-10 p.m. at Capitol Park Museum. Tickets are $85 per person, $150 per couple or $60 for Forum35 members.
Public opening: July 22, 4-6 p.m. at Capitol Park Museum. Admission is free only for the opening day.
Find out more at artmelt.org.
---
This article was originally published in the July 2017 issue of 225 Magazine.