---
The important women in Andrew Pullman's life are like jewels.
The local potter says they play a vital role in his personal and artistic life. It makes sense then, that he would name all the jewelry he makes after them.
Throughout his design process, he imagines what each of these women might wear. Sometimes, they even have a hand in the jewelry's creation.
Teardrop-shaped earrings with gold tassels are named "Lydia" for his wife, who helped handcraft the earrings. The "Sara" earrings, discs partially coated in gold luster glaze, are named after his older sister, and so on.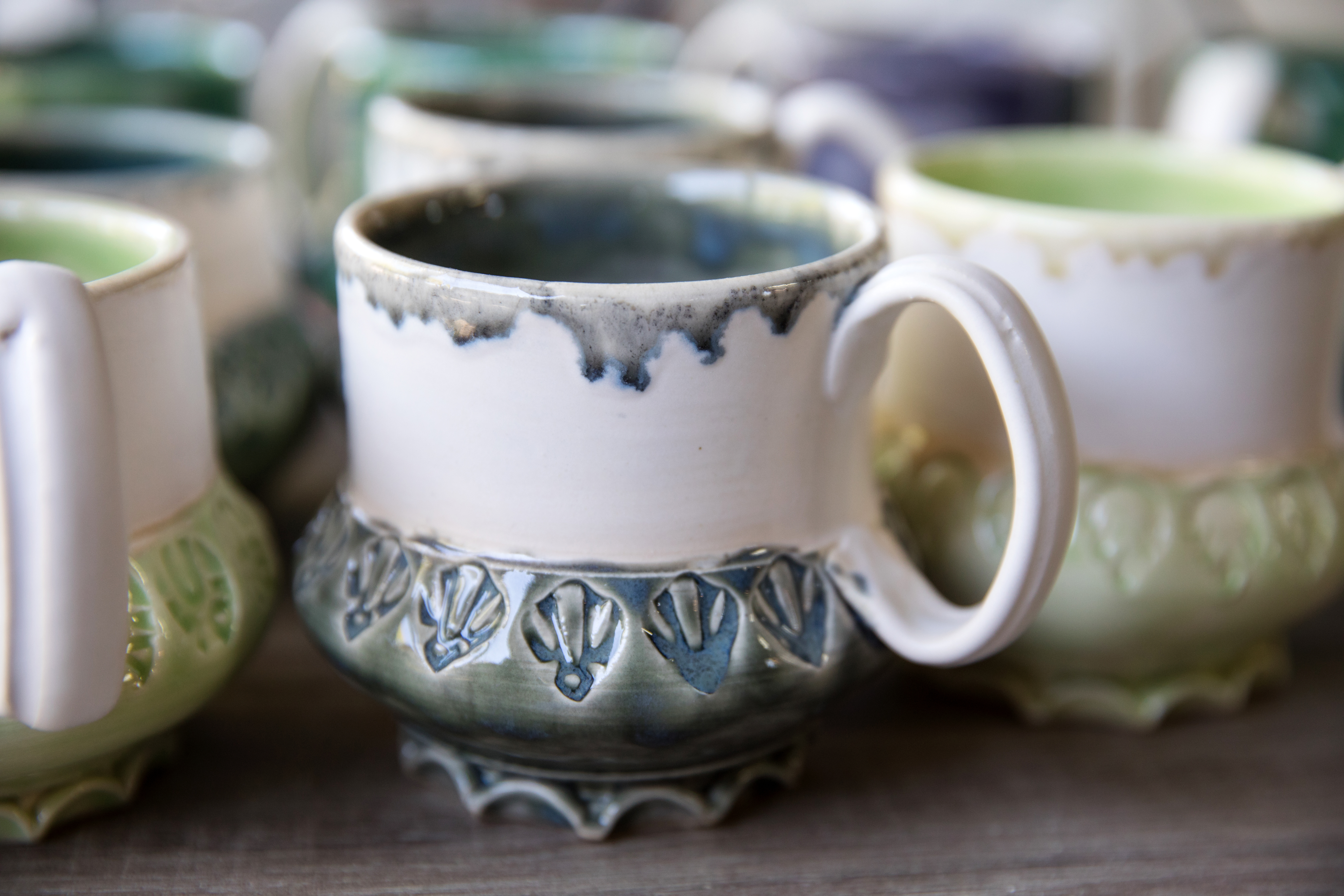 It's easy to see why his handmade items are becoming popular. His mugs, especially, are one of a kind. Patterned and in shades of gold, blue and green with gold accents, they turn a morning coffee ritual into a beautiful experience.
A lot of time, effort, love and attention to detail go into Pullman's work. The clay body he uses to create his pieces is a strong white stoneware from local business Alligator Clay Company. He even leaves unglazed, porous space on the back of the earrings customers can use for essential oils.
"I have found that using them has made a significant difference in my life," he says of the essential oils, "even if only for a brief moment I can smell an oil and become grounded again."
The 30-year-old can trace his love for ceramics all the way back to a class he took as a student at Broadmoor High School. "I wasn't very much a painter or drawer, but I found that ceramics was way more my speed," he recalls.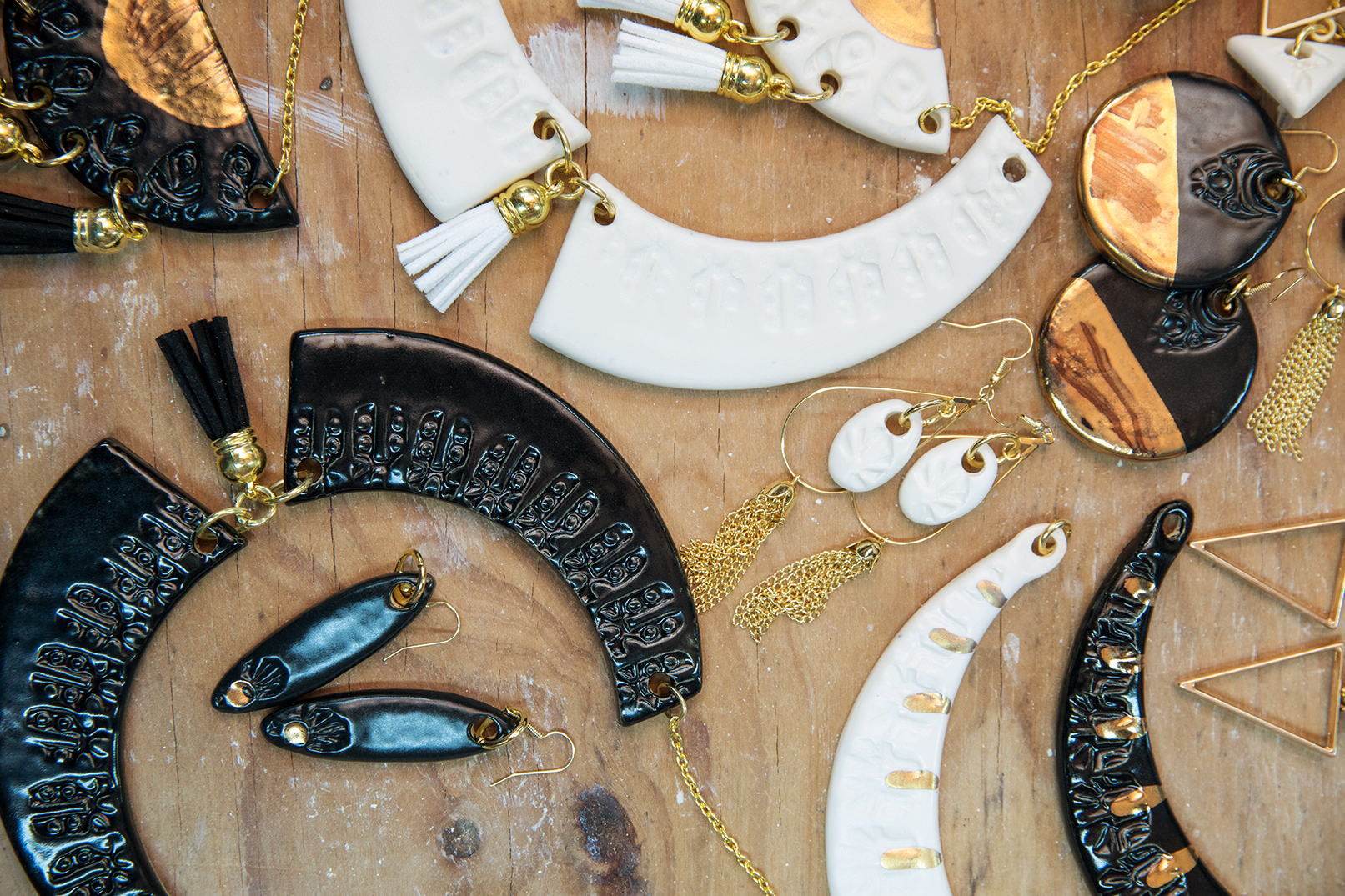 From there, he attended college at Southeastern Louisiana University and studied art education with a concentration in ceramics and pottery.
Taking a high school ceramics class is something Pullman thinks is pretty rare these days. He is trying to change that at Walker High School in Livingston Parish, where he teaches art and is starting a ceramics program next year.
"Ceramics is really kind of a lost art," he says. "And luckily I have [a school that is] like, 'Let's do it.'"
Looking back now, that class in high school changed him and led to who he would become. But there was a journey getting there. For years after graduation, he toyed with the idea of being a production potter, making wheel-thrown pottery for a living. He struggled at first.
"The heart is a fickle thing, and mine didn't always want to put in the work to become a production potter," he says. "I think it honestly took a couple attempts for me to go out into the world with my work. I think—and this can go for any artist—that it takes a couple tries to find your voice in whatever you are doing. This is how we grow and find what we love to create."
The real turning point for Pullman was the August 2016 flood, which inundated his home and studio. His pottery wheel flooded, and he took it as a sign he was done.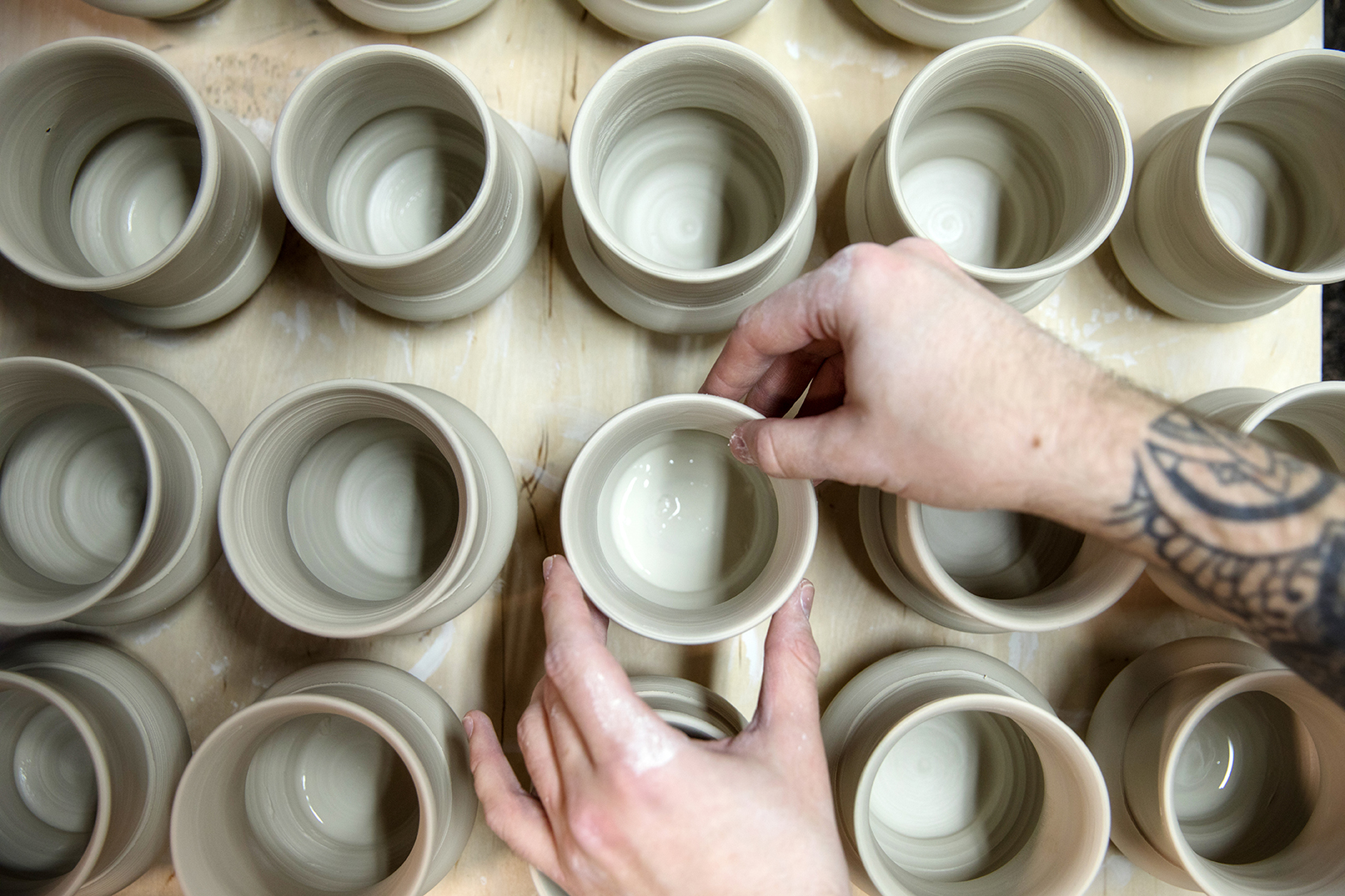 But his father encouraged him, knowing pottery was his son's great joy. Pullman thought his kiln would be inoperable after sitting underwater. At the request of his father, though, he plugged it in. It turned on.
From that moment, he knew it was time to create again. Once he found his style—art deco with patterns—and began truly valuing his work, he knew others would appreciate it as well.
Last November, he started attending craft shows, and his Etsy page quickly blew up.
Now Pullman is trying to inspire the next generation.
"I tell my students that I am an artist teacher, not an art teacher," he says. "I want them to see what being an artist is actually like."
Most recently, he's taken his work to the Baton Rouge Blues Festival and Hot Art Cool Nights, and he plans to showcase his jewelry at craft shows and local events throughout the year.
Though it was winding, it seems Pullman's road to getting here was just right for him.
"It's like all the doors found a way open," he says. andrewpullmanpottery.com
---
This article was originally published in the June 2018 issue of 225 Magazine.