Having a wine and cheese night can be a fun, tasty way to spend an evening exploring new wines and foods at home. But for those of us who aren't wine experts or cheese connoisseurs, putting together that spread and getting the right wines can seem like a daunting task with too many flavor possibilities.
So we spoke with bartender Sarah Watson at Bin 77 Bistro & Wine, where they are known for perfectly arranged cheese and charcuterie boards. For your home party, Watson recommends having everyone bring a bottle of the same variety within a designated price range.
Wine and cheese pairings are more experimentation than anything, she says. Watson suggests trying a variety of combinations to see how food changes wine's flavor profile. For example, eating an apple before drinking wine will ruin the taste because of how the acidity of the fruit reacts on your palate, while other foods will do better at accentuating the wine's flavor. 
"It's good to get a mix and try different things, and then take a sip of wine and see how it changes the flavor," she says.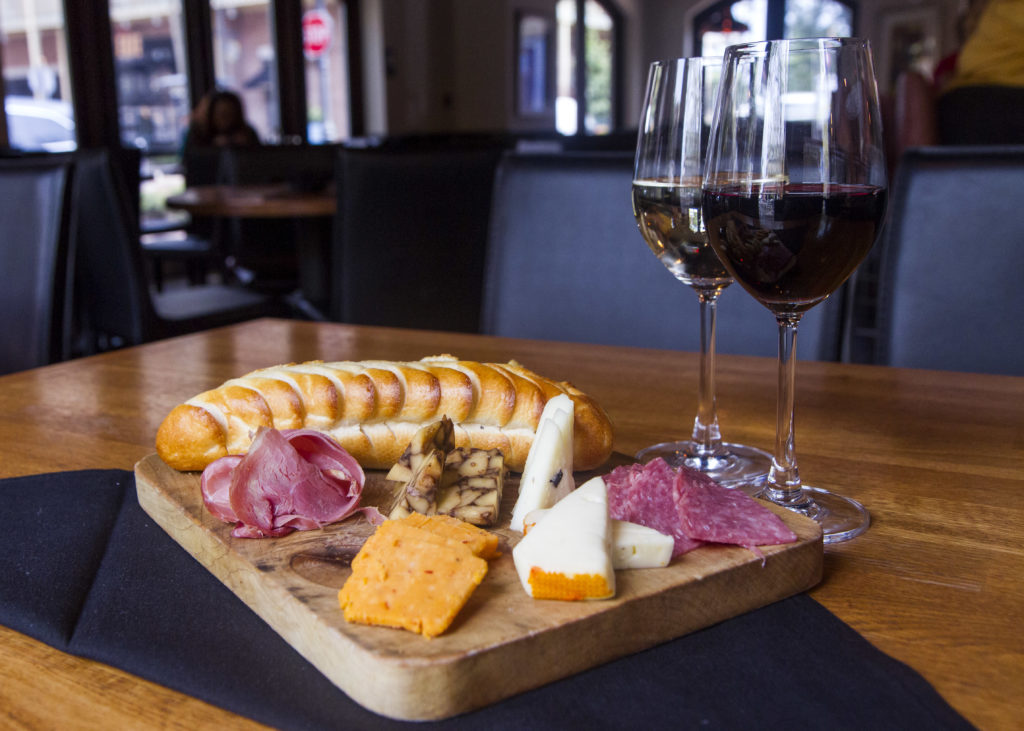 When in the wine aisle selecting a bottle, Watson says, first decide if you want red or white wine, then figure out what you're in the mood for—if you want something sweet, dry or more bitter. Then, you can shop by variety and narrow down even further by your price range.
During the hotter months, Watson recommends a lighter spread of foods, with softer cheeses such as truffle and brie. Pair a heartier cheese with a lighter wine and vice-versa, she says.
When making your cheese board, you need a balance of sweet and spicy cheeses and meats for diverse pairings. Have a variety of textures, as well—don't be afraid to mix hard and soft cheeses. And don't forget about the sweet and salty add-ons along with the cheese and charcuterie: fruits, bread or crackers, spreads such as honey, feta cream, jam or preserves, and olives, artichokes and sundried tomatoes.
On the Six Selections cheese and charcuterie board at Bin 77, a baguette, fresh honey, feta cream, sundried tomatoes, artichokes and an olive mix come on every board. Diners can then choose from a selection of cheeses, including St. Andre Brie, Humboldt Fog, Port Salut, Boschetto Truffle, Spicy Moroccan Cheddar, Manchego, Cambozola Bleu, Beemster's X.O. Gouda, stilton blue and Porter Cheddar. The charcuterie options are prosciutto di parma, genoa salami, spicy coppa ham and smoked salmon.
---
Where to shop wine and cheese in Baton Rouge
Calandro's Supermarket
12732 Perkins Road
4142 Government St.
Calvin's Bocage Market
7675 Jefferson Highway
Martin Wine Cellar
7248 Perkins Road
Matherne's Market
440 North Third Street
Rouses Market
3446 Drusilla Lane
14630 Village Market St.
Trader Joe's
3535 Perkins Road
Whole Foods
7529 Corporate Blvd.
Or if you're feeling a night out instead of playing host, check out local places to find drool-worthy meat and cheese spreads in 225's story on the charcuterie wave in Baton Rouge.