Starting today, UberEATS is available in Baton Rouge, with food delivery services from more than 50 restaurants. And it's uber easy to use.
Patrons can download the UberEATS app or go to UberEATS.com. Once logged in, you'll be able to order food from Baton Rouge restaurants such as Ava Street Cafe, District Donuts, The Kolache Kitchen, Roman's Cafe, and Zea's Rotisserie & Grill. Find the full list of restaurants here.
Need an excuse to treat yo' self? For its debut week only, UberEATS is offering free delivery on three orders with the promotional code TRYEATSBR.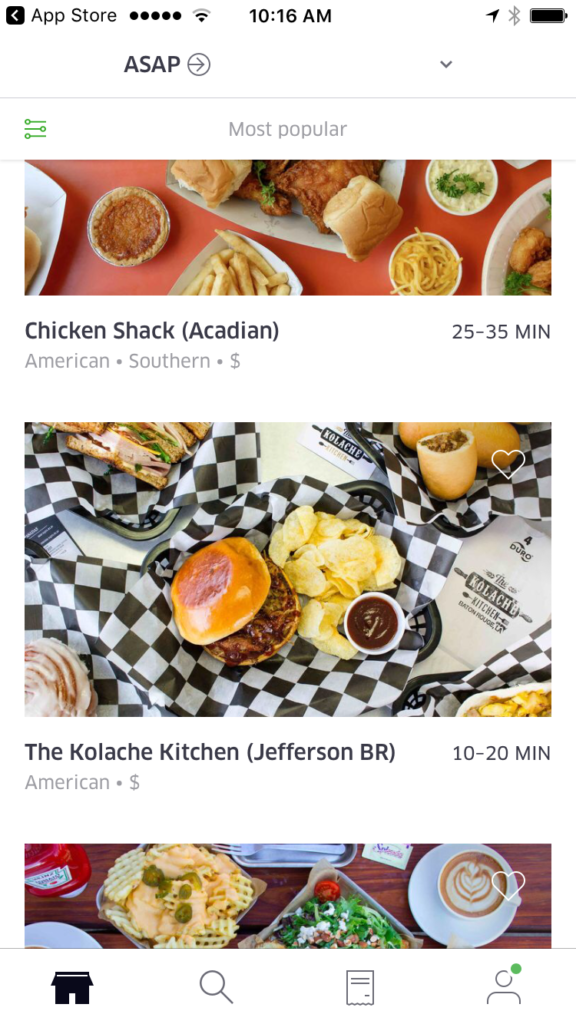 Here's how the app works: By clicking the app's search icon, you can look up your favorite restaurants or browse categories like burgers, Cajun food or desserts. If you're not sure what you're in the mood for, you can sort by recommended, most popular or delivery time. You can also filter your search by criteria such as price range and dietary restrictions. (Vegetarian, vegan and gluten-free diners, rejoice!)
Uber, the San Francisco tech company and car service mobile app of the same name, launched UberEATS in Toronto, Canada in December 2015. The app rolled into Los Angeles in March 2016 before arriving in other U.S. cities, including New Orleans, later that year.
UberEATS reached 100 cities and 27 countries in July. Its Baton Rouge debut is part of an initiative to reach more than 30 college towns by the end of this year.
Waitr, the Lake Charles-based food delivery service, whet Baton Rouge's appetite for convenient takeout when it launched here last year.
So, will UberEATS drive Waitr out of town? Not so fast. The two apps share a flat-rate delivery fee of $4.99 as well as key features, including the option to add drop-off directions or schedule orders in advance. With both apps, you can review your recent orders and track orders from the restaurant to your door.
What's the difference between the two apps? A few features. With Waitr, for example, you can split the bill between groups, cutting the cost of multiple delivery fees. With UberEATS, you can add restaurants to a list of favorites and see an estimated time for a hypothetical order before you ever place it.
Personally, we're just glad that both apps are bringing business to Baton Rouge restaurants—and bringing our favorite foods right to our doors.