Looking for a gathering spot that offered unique flavors, our group of six settled on the longtime favorite Bay Leaf. This stalwart on South Sherwood Forest Boulevard has been providing Baton Rouge with authentic Indian flavors for more than a decade.
Once seated, we ordered Papadum and Masala Papad crackers and Achaar to snack on while we conferred on the menu. The crackers, along with the accompanying addictive tamarind and cilantro sauces, were just the salty crispy tidbits needed to pique our tastebuds. Achaar pickled vegetables are usually a favorite, but these were overly salty and I avoided them after one bite.
We wasted no time diving into the indulgences on the menu, beginning with Assorted Appetizers and Kebab Platter starters.
The variety of tandoori roasted meats on the Kebab Platter had a few standouts: mainly the Shrimp Malai and Lamb Sheekh Kebab. The shrimp were plump, juicy and bright red as if to warn of their heat. Though listed as a kebab, the lamb was minced, almost like a loose sausage, with a bit of peppery heat and abundant exotic flavors.
On the assorted vegetable plate, Samosa of vegetables was crisp yet soft, mild and comforting. Aloo Tikki was a wonderful complement to the other appetizers, though these potato patties were a bit bland on their own. The Paneer Kulcha and Keema Nan breads were also bland and lacking in fillings, though once we were hit with the flavors of the entrees, their lack of intensity was appreciated.
For entrees, we ran the meat gamut with Chicken Shahi Korma, Shrimp Bhuna and Lamb Vindaloo. The tender lamb in a thick red sauce was definitely "prepared with chiles," but the heat was appropriate and the light gaminess of the meat was delightful. Compared to the lamb, the shrimp had mild heat but with a brawny sauce of dry roasted spices. The chicken was my personal favorite, indulgently creamy and rich with an appealing saffron color and flavor.
As good as the meats were, it was the vegetable entrees that stole the show. Baghare Baigan had whole chiles that could light you up. But once past my mistake of biting into one, the peanut/coconut-sauced baby eggplant offered a soft texture and tremendous flavors. Aloo Gobi Peas included potatoes and cauliflower in a spicy tomato sauce that had a surprising hint of sweetness. It was a hearty dish that paired perfectly with the basmati rice.
Beans Poriyal was deemed the best of all three vegetables. Fresh green beans were mixed with a pungent coconut flavor, and unlike the other dishes, this was a dry rather than saucy preparation that gave us a needed break from all the heavier gravies.
To supplement our entrees, we chose the Utthappum side dish from the South Indian section. I am admittedly ignorant of the differences in regional cuisines of India, but this pancake-like bread was a bit more delicate than other dishes. Topped with loads of red onions with hints of jalapeño and ginger, it was an interesting alternative to the other items we'd tried. It was served with a soupy sauce that was delicious with plenty of heat.
To quell the spice from all those entrees, sweets were in order. Pista Kulfi, or pistachio ice cream, was cooling, creamy and indulgent with plenty of pistachio flavor, texture and color. The deep fried cottage cheese Gulab Jamun dumplings were sticky honeyed sweetness. Exterior crunch gave way to a fluffy, slightly grainy interior. This light but potent dessert, swimming in a honey syrup, was more than enough to satisfy our sweet tooth.
As we exited, I mentioned my mouth was still tingling from the peppers. One friend answered: "That's Bay Leaf—the heat factor from dish to dish can be an exhilarating surprise."  Exhilarating, indeed. We all left full and happy with a bit of a high from all that heat.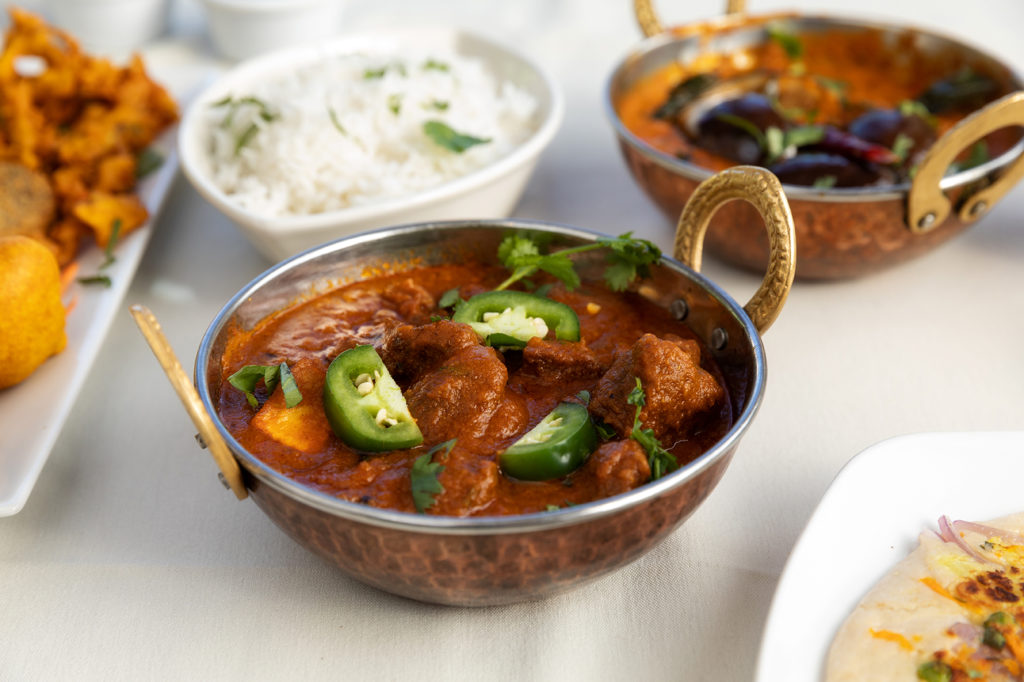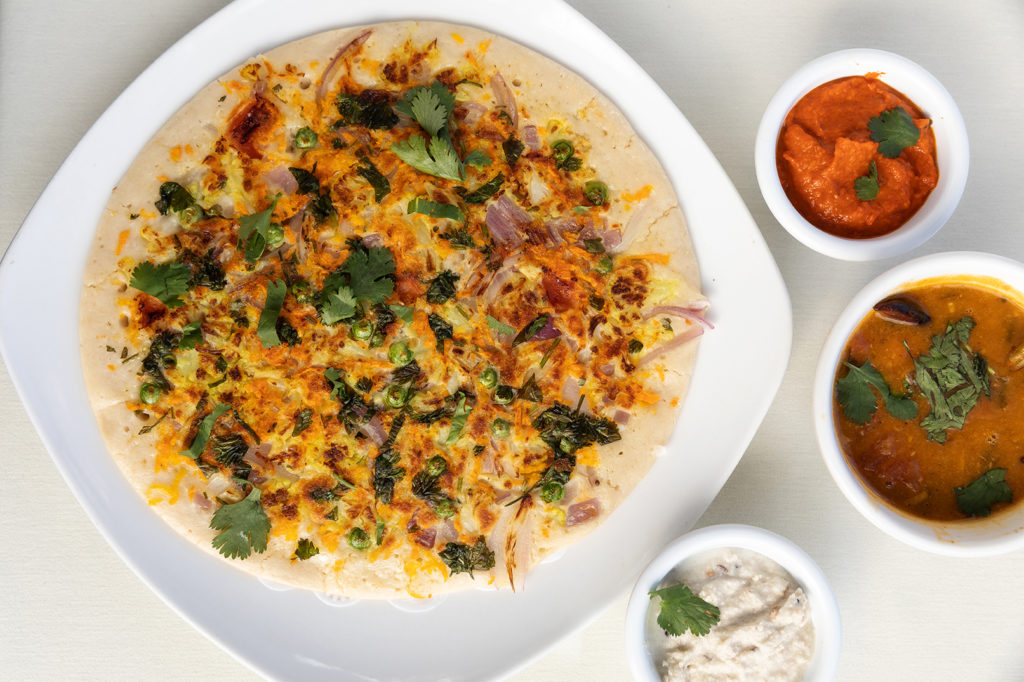 ---
THE BASICS: As part of our effort to highlight more longstanding favorites in Baton Rouge, we revisited this Indian cuisine stalwart, which opened in 2008. Its owners had previous experience at India Palace in Metairie and brought with them a range of culinary expertise highlighting all corners of India. After a fire earlier this year, the restaurant closed for two months of renovations. Fans were quick to return for its upscale unique, colorful and spicy flavors.
WHAT'S A MUST: Papadum and Masala Papad crackers to start (the accompanying tamarind and cilantro sauces are perfect for dipping). The Assorted Appetizers platter is a great way to sample some small bites. For entrees, the Chicken Shahi Korma offers rich flavors in a saffron hue, and the vegetarian Baghare Baigan features baby eggplant and whole chiles in a peanut/coconut-sauce. Dessert offers a cool-down with Pista Kulfi, or pistachio ice cream.
---
Eat at Bay Leaf
bayleafbr.com
291-4250
5160 S. Sherwood Forest Blvd.
Monday to Friday, lunch 11 a.m.-2:15 p.m.; dinner 5-9:45 p.m.
Saturday and Sunday, 11:30 a.m.-9:45 p.m.
---
Our food critic's name may be false, but the credentials are not. This gastronome has studied the history, cultivation, preparation, science and technology of food for more than 30 years.
This article was originally published in the January 2020 issue of 225 Magazine.