---
Ring in the new year right with your best suit or little black dress and a glass of Champagne at one of these events around the city. There's something for everyone happening in Baton Rouge on New Year's Eve, from late-night parties to three-course meals.
The events are listed below in chronological order based on start time, so you even can plan out a full day of party hopping if you want to.
---
Tin Roof Brewing Company
"Brewery Brunch," 9:30 a.m.-5 p.m.
1624 Wyoming St.
Cheer on the Tigers in the Citrus Bowl as the game plays during New Year's Eve brunch at Tin Roof. Popular items from Tiger Deauxnuts and Kolache Kitchen will be served, along with drink specials including $15 unlimited beer-mosas and bloody marys. Plus, the brewery will be serving $2 pints of the Game Day IPA and Bayou Bengal, according to the Facebook event.
Red Stick Revelry
"Red Stick Revelry & Baton Rouge Bicentennial," 11 a.m.-1 p.m. and 7 p.m.-midnight
222 North Blvd.
Who needs to watch the ball drop on TV when you can head to North Boulevard Town Square for downtown's version instead? The city's biggest New Year's Eve event begins with a family-friendly morning of arts and crafts, performances, birthday cake and a community singalong as the "Red Stick" rises to the top of the beacon in the square at noon. Head back in the evening for performances by Bread Pudd'n at 7 p.m. followed by Phat Hat at 9 p.m. At midnight, fireworks will light up the sky over the Mississippi River for the grand finale. Find out more at redstickrevelry.com.
Red Stick Spice Company
"Sip & Shop: New Year's Eve," noon-2 p.m.
660 Jefferson Highway
Spice up your life with Red Stick Spice Company's mid-day event of shopping, snacks, spiced cranberry bubbly and vinyl spinning. There will be savings on the shop's gift boxes and Louisiana products, according to the Facebook page.
City Pork Brasserie & Bar
"New Year's Eve at the Brasserie," 5-10 p.m.
7327 Jefferson Highway
Treat yourself to dinner at City Pork, which will be serving both its regular menu and a special prix fixe menu for $50 per person, including your choice of an appetizer, soup or salad, entrée and dessert. Check out the menu here.
Gouter Restaurant 
New Year's Eve Dinner, beginning at 5 p.m.
3897 Government St.
This special dinner features new menu items from the kitchen and bar. Seating begins at 5 p.m. and reservations are recommended. Complimentary Champagne will be served all night. Contact the restaurant for more information and cost.
Driftwood Cask & Barrel
"NYE at Driftwood with the Sofa Kings," 6 p.m.-2 a.m.
326 Third St.
If you haven't been to this rustic, new-ish downtown bar yet, New Year's Eve is the perfect excuse to finally check it out. Purchase a $50 ticket here and enjoy drinks, hors d'oeuvres, live music by The Sofa Kings and midnight Champagne at the event.
Crowne Plaza Executive Center
"Crowne Plaza New Year's Eve Party," 7 p.m.-1 a.m.
4728 Constitution Ave.
Carbon Copy Band, Chase Tyler Band and The Eddie Smith Band will all perform at the Crowne Plaza while guests enjoy Louisiana cuisine and an open bar. To hear about the center's packages, including table and room deals, call 925-2244. Check the Facebook event for more information. Must be 21 or older to attend.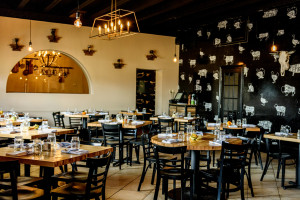 Table Kitchen and Bar
New Year's Eve dinner, beginning at 7 p.m.
4205 Perkins Road
Reservations are recommended for this four-course New Year's Eve dinner featuring crab and brie soup, duck salad, pulled pork and more. Tickets are $75 a person. Call 239-7799.
Cadillac Cafe
"DJ Trashy / DJ Knuckles New Year's Eve at the Cadillac," 7 p.m.-2 a.m.
5454 Bluebonnet Blvd.
Head to Cadillac if you want to dance and drink at the "best party of the year"—or at least, that's what Cadillac is calling it. Different drink packages are available and can be found here.
The Station Sports Bar and Grill
"NYE Masquerade Grill," 7 p.m.-2 a.m.
4608 Bennington Ave.
Bring your favorite mask to The Station for $10 Moet and Chandon Imperial, plus food from The Station's chefs and music from DJ Parish. Free Champagne chalices will be handed out while supplies last, according to the Facebook event. Entry is $15 and $5 will go to recovering Deputy Nick Tullier.
Tsunami Sushi Bar
"Tsunami for NYE," Dec. 31 8 p.m.-1 a.m.
100 Lafayette St.
Nothing says "special occasion" like lounging at a rooftop bar with panoramic views of downtown Baton Rouge. If booked before Saturday, a $175 ticket gets you access to Tsunami's buffet, open bar, live DJ, a photo booth, party favors and a front row seat to fireworks over the Mississippi River. Tickets available here.
Teddy's Juke Joint
"Teddy's New Year's Eve Party," 8 p.m.-1 a.m.
16999 Old Scenic Highway
Ring in the new year with live music and drinks at the Teddy's event, which is sure to be as colorful and quirky as the famous Zachary juke joint itself.
Blend Wine Bar
"Great Gatsby New Year's Eve Party," 8 p.m.-2 a.m.
304 Laurel St.
Channel the roaring '20s downtown at Blend's Great Gatsby-themed event, where a $60 individual ticket or a $100 couple's ticket buys you hors d'oeuvres, music, access to a photo booth and a midnight Champagne toast. Purchase tickets here.
Splash Nightclub
"New Year's Eve at Splash," 8 p.m.-2 a.m.
2183 Highland Road
Dance the night away at Splash, where there will be a balloon drop giveaway, complimentary Champagne at midnight and party favors at the door, according to its Facebook event page.
Bottle & Tap
"Celebrate NYE with Pop -n- The Callers," 8:30 p.m.-12:30 a.m.
11445 Coursey Blvd.
If you're looking for a more casual, laid-back night, head over to Coursey Boulevard bar Bottle & Tap's event for drinks and live music courtesy of local band Pop 'n' the Callers.  
The Shaw Center for the Arts' River Terrace
"Classic Hits 103.3 New Year's Eve Celebration," 8:30 p.m.-1:30 a.m.
100 Lafayette St.
Head to the Shaw Center for a buffet provided by Capital City Grill, music from Jeff & Company's Jeff & Mya and more. Tickets are $20 for general admission and $60 for VIP. Tickets can be purchased here.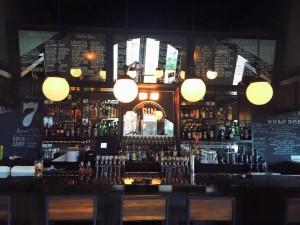 Bin 77 Bistro & SideBar
"New Year's Eve Celebration," 9 p.m.-midnight
10111 Perkins Rowe
Ring in 2017 at the popular Perkins Rowe bar, Bin 77's SideBar. The celebration will include drink specials, a DJ from 9 p.m.-1 a.m. and, of course, a midnight Champagne toast.
The Gregory
"New Year's Eve Gala," 9 p.m.-midnight
150 Third St.
The new Watermark Hotel's swanky downtown restaurant The Gregory will serve a four-course meal, live music and a glass of Perrier-Jouet Brut Champagne. Wine parings are also available. Tickets are $75 per person with an added $20 for the wine pairings. Call 408-1800 for reservations.
Varsity Theatre
"Moon Honey Presents F#%! You 2016 (NEW YEAR'S EVE PARTY)," 9 p.m.-midnight
3353 Highland Road
Varsity Theatre is celebrating the lives of those who left us in 2016, playing music from David Bowie, Prince and more. Live music will be played by members of Moon Honey, Captain Green, Minos The Saint, Wall of Ears (Chris Lott), Particle Devotion, Relatives, The Rakers and more. Olivia Toney Art + Mount Analogue Art Booth will be in attendance for live painting and an art show. Tickets are $10 online or $13 at the door. The venue will donate 10% of the proceeds to help a Baton Rouge flooding victim renovate a music studio, according to the Facebook event.
Kalurah Street Grill
"New Year's Eve Under the Overpass," 9 p.m.-1 a.m.
2857 Perkins Road
Kick off the new year at the highly anticipated Kalurah Street Grill's opening night. Be among the first diners to try out the modern American menu by Chef Kelley McCann inside the former Chelsea's Cafe location. The event will also include midnight dessert and Champagne, plus entertainment from David Borné. Tickets are $95 and can be purchased here.
The Roux House
"Hip Deep," 9 p.m.-1 a.m.
143 Third St.
Head to Third Street for The Roux House's event with drinks and a performance from local band Hip Deep.
1913
"New Year's Eve," 9 p.m.-2 a.m.
336 Third St.
Get dressed up and make your way to dance club 1913 downtown, which will be spinning music with DJ Dunn and DJ Striker. Ticket prices vary and are available here.
Bar Louie
"Bar Louie's New Year's Eve Party," 9 p.m.-2 a.m.
6401 Bluebonnet Blvd.
At Bar Louie, a $50 ticket gets guests drinks from the bar from 9 p.m. until midnight, Champagne to toast at midnight, a breakfast buffet from midnight-2 a.m. and entertainment. If guests would like to attend without the full drink package, a $15 cover will be charged to enjoy the breakfast buffet and Champagne.  
Spanish Moon
"Bootywerk NYE BASSH," 9 p.m.-2 a.m.
1109 Highland Road
If dancing is your thing, try out some Bootywerk at Spanish Moon. Come early because "ladies drink free until 10 p.m.," according to the Facebook event. Includes complimentary midnight Champagne.
Happy's Downtown
"Bread Pudd'n New Year's Eve Bash," 10 p.m.-1 a.m.
136 Third St.
Enjoy the downtown Irish pub's beer selection while ringing in the new year with a performance by soul-funk band Bread Pudd'n at this event.
Lava Cantina Downtown
"Rock your New Year's Eve," 10 p.m.-1 a.m.
151 Third St.
The new downtown location of rock-themed restaurant Lava Cantina will have DJ Lovebug spinning tracks into the new year. Plus, free midnight Champagne.
The Radio Bar
"New Year's Eve Celebration," 10 p.m.-2 a.m.
3079 Government St.
Head to The Radio Bar for free Champagne at midnight and the sounds of the Big Band and Swing eras all night. Find more info on its Facebook event page.
L'Auberge Casino & Hotel
"L'Auberge New Year's Eve Bash," 10:30 p.m.-2 a.m.
777 L'Auberge Ave.
Purchase a $30 New Year's ticket for an open bar and music from The Anteeks at L'Auberge's event. Doors open at 10:30 p.m. with the show starting at 11 p.m. Guests must be 21 or older. Tickets are available here.
---
Know of a party we missed? Tell us in the comments.