---
We love Indian food, and thankfully, Baton Rouge has plenty of authentic Indian restaurants that are perfect for a unique dining-out experience.
We often crave the rich curries and spicy marinades you can find at these restaurants, so we recently decided to try our hand at making some of our favorite Indian dishes at home.
The recipes Tracey came up with this month are delicious and surprisingly simple. They filled the house with a wonderful aroma and were a hit with family and friends. These dishes represent comfort food at its finest and will brighten up a weeknight dinner or liven up a Saturday night before kick-off.
---
Cilantro Chutney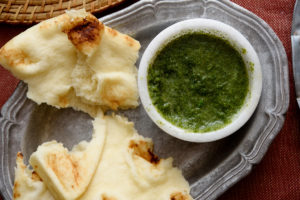 Don't expect this cilantro chutney to be thick and chunky. It's more akin in consistency to a pesto—but with flavors from India. It is wonderful as a topper to grilled meats like chicken or lamb. We like to also serve it as a dip for warm naan bread. This recipe doubles easily and will keep in the refrigerator for up to a week.
Yields: 1 cup
2 cups fresh cilantro leaves, washed and dried well
1 tablespoon chopped green onions, tops and bottoms
1 teaspoon freshly grated ginger
1 green chili, chopped and seeded
¼ teaspoon ground cumin
¼ to ½ teaspoon kosher salt
1 tablespoon fresh lemon juice
1⁄3 cup water
1. In a blender or food processor, combine the cilantro, green onions, ginger and green chili. Pulse to begin blending.
2. With the machine running, add the cumin, salt, lemon juice and water, and continue blending until everything is smooth.
3. Pour the chutney into a container, cover and chill in the refrigerator until you are ready to serve it. This will keep in the fridge for up to one week.
---
Spinach Dal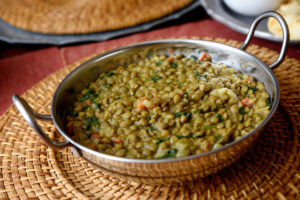 Dal is a term in Indian cooking that refers to many types of lentils or beans that have had their outer husks removed. This makes for a quicker cooking time and also helps to make the legumes creamier in texture once cooked. Legumes such as lentils, chickpeas and split peas are found in many vegetarian Indian dishes, offering a wonderful source of protein and making dal a staple in Indian cuisine. We made this Spinach Dal using green lentils, but it can also be made with red lentils or split peas. The spinach in the dish adds brightness and a great source of iron.
Servings: 6
1 pound bag dry lentils
6-7 cups water
1 teaspoon salt
2 teaspoons ground turmeric
4 tablespoons butter
1 teaspoon cumin seeds
1 cup chopped onions
2 cloves minced garlic
1 tablespoon minced fresh ginger
1 14-ounce can Rotel tomatoes
½ teaspoon garam masala*
1 bag fresh baby spinach (chopped)
1 tablespoon fresh lemon juice
Salt and pepper to taste
1. Rinse the lentils well and place them into a large pot. Cover them with the water and place them over medium-high heat.
2. Add the salt and turmeric. Bring everything up to a rolling boil.
3. Reduce the heat to a simmer. Cook the lentils for 30-40 minutes or until they are very soft and creamy. Remove the lentils from the heat and set them aside.
4. In a large skillet, heat the butter and add the cumin seeds. Sauté the seeds for 1 minute. Add the onions and continue to sauté until the onions begin to become translucent. This will take another 4-5 minutes.
5. Stir in the garlic and ginger. Cook for an additional minute.
6. Pour in the tomatoes and garam masala. Turn the heat to low and simmer everything together until the liquid has evaporated.
7. Fold in the fresh chopped spinach and lemon juice. Cook until the spinach is wilted and tender.
8. Fold the spinach mixture into the lentils. Adjust the seasonings with additional salt and pepper if needed. Serve over steamed basmati rice.
*Garam masala: Seasoning blend found in Indian cuisine. This blend typically consists of many different spices such as coriander, cumin, cardamom, cinnamon and black pepper. The spices are toasted then ground together. Look for garam masala in the spice aisle in most supermarkets or specialty stores.
---
Chicken Tikka Masala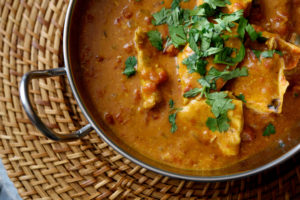 This dish is a favorite of ours. It's the quintessential Indian comfort food—bold without being overpowering. Heat comes from the chilies in the Rotel tomatoes, and a slight sweetness in the coconut milk helps to balance everything perfectly.
Servings: 6
2 pounds boneless skinless chicken breasts
4 cloves minced garlic
1 tablespoon garam masala
1 tablespoon cumin
2 tablespoons turmeric
2 tablespoons fresh grated ginger
1 tablespoon kosher salt
1 cup whole milk plain yogurt
2 tablespoons butter
2 tablespoons vegetable oil
2 tablespoons flour
1 cup chopped onions
4 tablespoons tomato paste
1 teaspoon ground cardamom
¼ teaspoon red pepper flakes
2 14-ounce cans Rotel tomatoes
2 14-ounce cans whole coconut milk
¼ cup fresh cilantro
1. Cut the chicken breasts into chunks and set them aside.
2. In a small bowl, combine the garlic, garam masala, cumin, turmeric, fresh ginger and salt.
3. Mix half of this spice mixture into the cup of plain yogurt and pour this over the chicken. Save the remaining spice mixture for later in the recipe.
4. Cover the chicken and chill for 2-3 hours or longer if desired.
5. In a large skillet, heat the butter and oil. Add the flour and cook for 2 minutes.
6. Add the chopped onions, tomato paste, ground cardamom, red pepper flakes and remaining spice mixture. Sauté 4-5 minutes or until the tomato paste has darkened and the onions are soft.
7. Add the Rotel tomatoes and simmer for another 6-8 minutes, stirring to keep the sauce from sticking on the bottom.
8. Heat the broiler and line a baking sheet with foil. Place the marinated chicken in a single layer on the baking sheet. Broil the chicken 10-12 minutes or until it is cooked through.
9. While the chicken broils, add the coconut milk to the tomato mixture and simmer the result, called tikka sauce, for an additional 15-20 minutes or until the sauce has thickened. Fold the broiled chicken into the tikka sauce and sprinkle in half of the chopped cilantro.
10. Serve the chicken tikka masala over steamed basmati rice and top with a sprinkle of the remaining fresh chopped cilantro.
---
Kheer Rice Pudding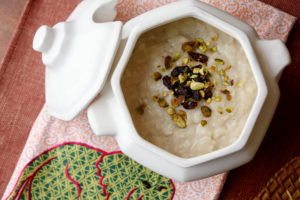 If you are a fan of rice puddings, then this dessert is for you. The coconut milk adds a nice nutty flavor and has just the right amount of sweetness. This recipe calls for cardamom; however, feel free to omit it if the flavor doesn't suit you. Top the pudding with fruits like fresh mango or toasted coconut to add your own personal spin to it.
Servings: 6
2 cups unsweetened coconut milk
2 cups whole milk
¼ teaspoon salt
½ cup sugar
½ cup uncooked basmati rice
¼ teaspoon cardamom
½ teaspoon cinnamon
2 teaspoons vanilla extract
¼ cup raisins (optional)
¼ cup unsalted toasted slivered almonds or pistachios
1. Combine the coconut milk and whole milk together in a large sauce pot.
2. Over medium-high heat, whisk in the salt and sugar. Bring everything to a boil.
3. Stir in the rice, cardamom and cinnamon. Reduce the heat to low.
4. Allow the mixture to simmer 30-40 minutes, stirring often to prevent everything from sticking and burning.
5. The pudding is ready when the rice is tender, the mixture has thickened and the milk is reduced by half.
6. Fold in the vanilla extract and raisins (if desired). Divide the pudding among 6 serving bowls. Top with the chopped nuts and serve.