OK, so it's not Pi Day and Thanksgiving is many weeks away. But sometimes you can't help but crave a warm apple pie straight out of the oven—and waiting until after dinner just isn't going to cut it. That's why it felt almost serendipitous when an Instagram scroll led me to a revolutionary concept: apple pie waffles at Willie's Restaurant & Bar.
Served as part of its brunch menu until 3 p.m. Saturdays and Sundays, this dish functions as the perfect excuse to sleep in, roll out of bed and immediately head to Coursey Boulevard to sweeten up your weekend—which was my plan precisely going in.
Walking into the restaurant, a giant mural of a sunset behind the counter caught my eye. The vibrant reds, greens and purples serve as a bright counterpart to the neutral wall color and the modern, industrial lighting and decor.
But I couldn't let that distract me from the main attraction. I made my way to a corner booth—big enough enough to comfortably sit six people—and placed my order.
Before the waiter set the waffles on the wooden table, I could smell the aromatic orchestra of apples, cinnamon and caramel headed my way.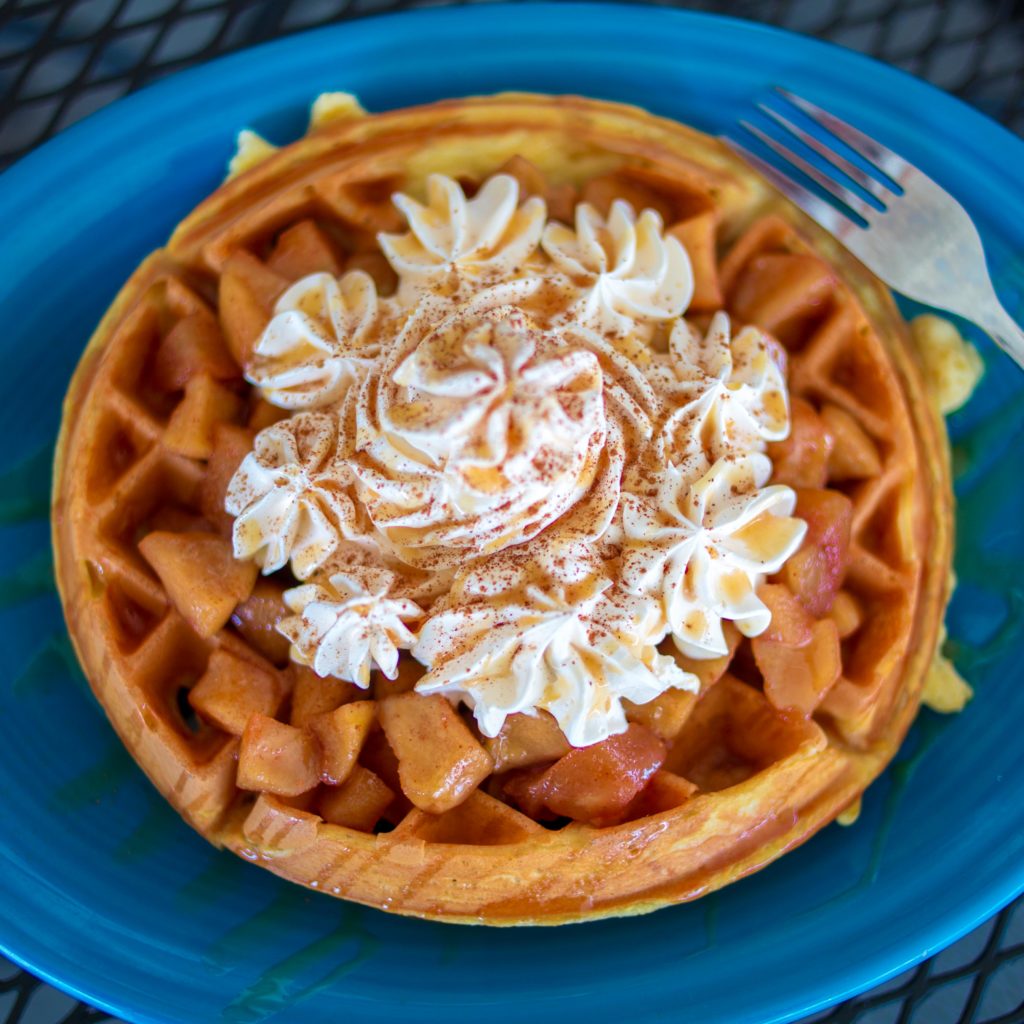 But it wasn't until I took the first bite of this whipped cream and powdered-sugar goodness that I truly appreciated all the factors at play. The waffles were fluffy—melt-in-your-mouth soft—but just the right amount of crispy on the outside.
The apples were in small cinnamon-covered chunks, and their seemingly unshakeable warmness complemented the cooler, lighter whipped cream. Even after my waffles eventually became a little soggy, the apples were still warm, leading me to devour them until every last one was gone.
While I usually prefer honey, the syrup paired with the meal took me by surprise. Imported from Canada, the sweetness and natural-tasting flavors made me question my long-held aversion to the topping as a whole.
As I indulged in my final bites, it seemed appropriate that "Happy" by Pharrell Williams played in the background. Walking out of the restaurant, my belly was full and I felt the slightest onset of a sugar coma. But I had no regrets, happily already planning my next Willie's brunch endeavor.
Willie's Restaurant & Bar is at 11260 Coursey Blvd.