---
A tasty spin on fusion cuisine has entered the downtown fray. The owners, Saskia Spanhoff and Enrique Pinurea, a husband and wife from south Louisiana and Venezuela, respectively, returned from California last year to offer Baton Rouge a dining alternative featuring global flavors.
Cocha opened late last December on North Sixth Street, and the interior is festively decorated with pieces from the couple's travels, along with art made from Mardi Gras beads. The most prominent work is behind the host stand: a piano festooned with beads.
There is an eclectic cocktail list at the bar, featuring drinks with interesting ingredients such as shrubs, green tea and dewberries. The food menu is divided into Small Bites, Shared Plates and Larger Offerings.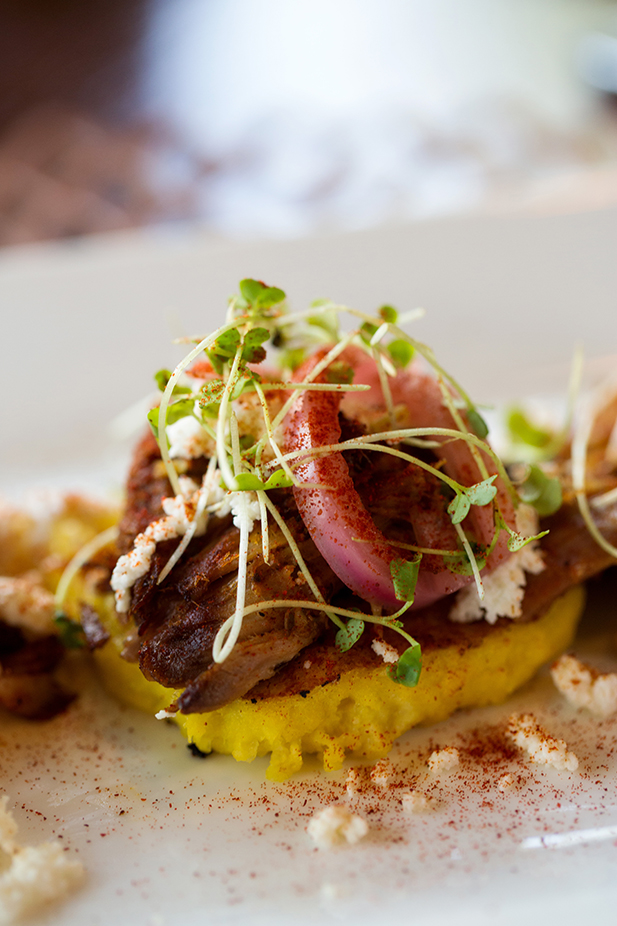 The Small Bites are aptly named; the dishes are small enough for one diner or a couple of diminutive eaters to enjoy.
The Collard Green "Dolmas" were stuffed with eggplant caponata and included a spicy harissa (a North African roasted pepper paste) on the side. The collards added an earthy freshness while the tender caponata highlighted just-picked eggplant with briny and acidic notes. Each dolma was demure enough to eat whole.
The Steamed Buns had a pleasant yeastiness and soft bite to the dough while the cabbage stuffing was more of a quick pickling rather than the stated kimchi. I found it too vinegary and fresh compared to the long-fermented traditional kimchi.
A table favorite was the vegetarian-friendly and gluten-free Yuca Chips and Guasacaca featuring fried yuca root with avocado salsa. The yuca was thinly sliced and lightly salted—just a touch firmer than a potato chip with a delicate, starchy flavor. The avocado salsa was puréed ultra-smooth with tangy notes. I'd have preferred a few chunks of avocado to add texture, though.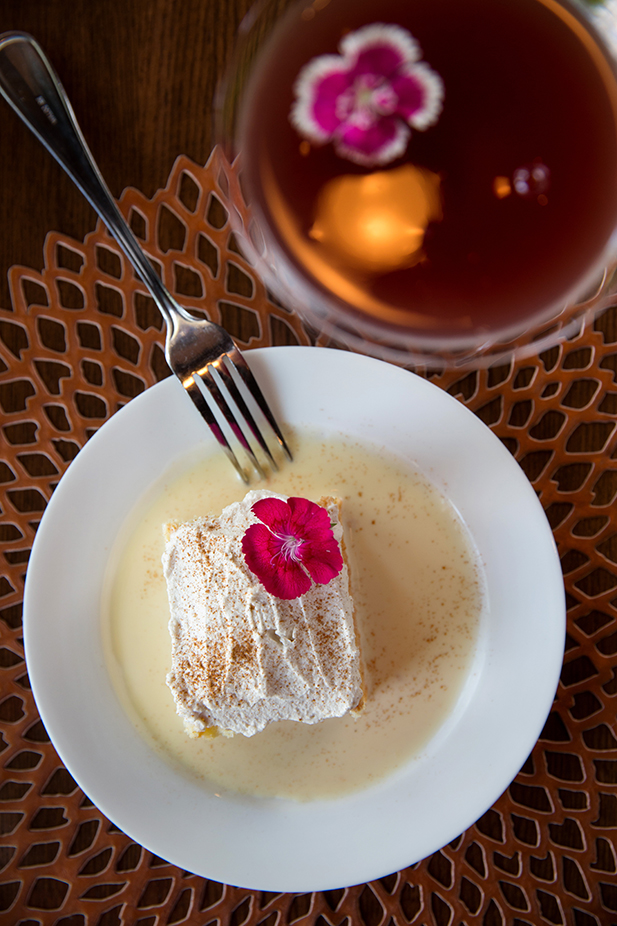 Our shared plate of Cachapas looked to be enough to split among four. Ordered with the recommended topping of roasted pork, these Venezuelan corn cakes also included crema, queso blanco and pickled red onion. Fresh corn kernels added heft, spilling out of the sweet cornmeal cake. The pork was juicy with roasted flavor and just a touch of spice allowing the Iverstine Family Farms-sourced pork to shine.
Entrees run the gamut of proteins. Technically a shared plate, the two beautifully frenched Lavender Lamb Chops were the perfect size for a small appetite. They were cooked medium as ordered and served with a phenomenal honey herb sauce with a hint of anchovy to enhance the flavors. This gluten-free option is served with grilled squash.
The Rabbit Pappardelle was braised in red wine with a pea- shoot pesto, goat cheese, pine nuts, fennel and carrots. This also was (surprisingly) gluten-free, thanks to the use of rice flour. The pasta was lightly sauced, and it maintained its toothsome bite. The rabbit was juicy and fresh as was the pea-shoot pesto that enlivened the dish while cutting some richness from the red wine and goat cheese.
The Seared Trout tasted like it had been swimming that morning. A polenta cake with a crisp exterior was a mild accompaniment to the fish. Not as mild was the super-tart and salty dollops of preserved lemon sauce that had me puckering. Served on the side, this sauce was not to be trifled with and was a great alternative to the usual slice of lemon.
Our server recommended both the Tres Leches and the Lemon Cake for dessert. I enjoy finishing a meal with lemon, and the Lemon Rosemary Cake didn't disappoint. It had a delightful sugary crunch and subtle lemon and rosemary flavors, with neither dominating the palate. The restaurant's Tres Leches was made personally by co-owner Spanhoff. Ridiculously rich with the barest hints of cinnamon, this creamy concoction had tons of milk yet was not soggy. It was a perfect representation of this Latino special—well sweetened with no cloying qualities.
We had an opportunity to talk with Spanhoff, and she explained that everything is made from scratch, with a laser focus on buying local and building deep relationships with the farmers and purveyors. This attention to detail translates into extraordinary flavors and passion showcased on every plate. With unique fare and flavors, Cocha stands as a beacon for what dining out in Baton Rouge can be.
---
The basics: Husband and wife Saskia Spanhoff and Enrique Pinurea moved back to Spanhoff's hometown to open Cocha in late 2016. Situated near the Red Stick Farmers Market, the couple are able to cull from its bounty of seasonal produce for globally inspired dishes.
What's a must: The Cachapas shared plate, with roasted pork from Iverstine Family Farms and Venezuelan corn cakes; Lavender Lamb Chops, with a honey herb sauce and grilled squash; the housemade Tres Leches, with its creamy texture and hints of cinnamon.
---
EAT AT COCHA
cochabr.com
445 N. Sixth St.
Hours:
11 a.m.-9 p.m. Sunday, Monday, Wednesday and Thursday;
11 a.m.-10 p.m. Friday-Saturday; closed Tuesdays
---
Our food critic's name may be false, but the credentials are not. This gastronome has studied the history, cultivation, preparation, science and technology of food for more than 30 years.
---
This article was originally published in the September 2017 issue of 225 Magazine.