Mardi Gras season is too short not to dig into as many king cakes as we can. So, we're going for personal-sized king cakes to save room for as many varieties around town as possible. These not-so-king-sized desserts pack in the flavor, but are portioned and priced just right. Here are some spots around town where you can find them.
---
Gourmet Girls
Katia Mangham of Gourmet Girls bakes cinnamon brioche "babycakes" (smaller than a doughnut) with a whipping cream and powdered sugar glaze. She finishes these mini king cakes with airbrushed coloring and edible glitter for an Insta-worthy dessert.
French Truck Coffee
Pastry chef Kaila Kay creates personal-sized plain king cakes for French Truck Coffee. The flavors of cinnamon and sugar are the perfect pairing for a hot cup of coffee or a sugar-rimmed shakerato. Our kind of pick-me-up.
Thee Heavenly Donut
Thee Heavenly Donut offers fried-to-perfection king cakes in 10 traditional flavors and just as many gourmet fillings, like pecan praline, turtle pecan, maple bacon and chocolate-covered strawberry. Boudin king cakes are available for custom orders. Again, Mardi Gras season is too short.
District Donuts
With a cream-cheese icing glaze and condensed milk filling, the king cake doughnut from District Donuts is neither short on flavor nor short in size. But trust us, you'll eat it in one sitting, anyway.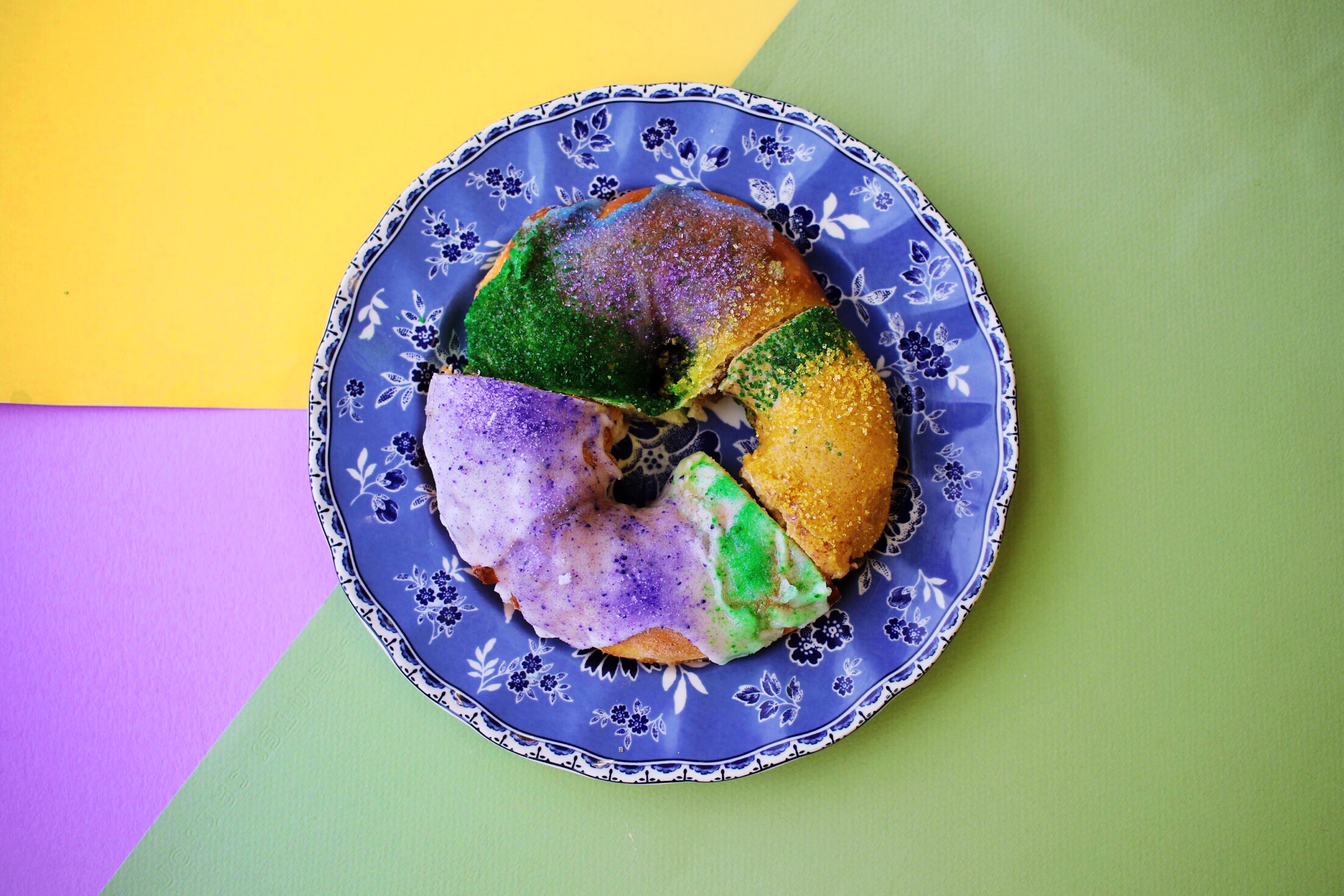 Tiger Deaux-nuts
For those of us who'd be hard-pressed to choose between a king cake and a doughnut (like that should ever be a choice) Tiger Deaux-nuts dishes out warm king cake doughnuts with cinnamon icing and sprinkles. Don't miss Zulu doughnuts on the menu this week and again the weekend before Mardi Gras.
Magpie Cafe
Magpie rotates between cinnamon-pecan, cream cheese, blueberry, hazelnut and vegan king cakes. Similar in size to a bagel, these mini king cakes have enough substance to be breakfast—but honestly, we'd eat one any time of day.
La Divina Gelateria
La Divina keeps cream cheese, traditional and Nutella king cakes in its case, with specials like blueberry cream cheese and apple cream cheese cropping up each week. It's already a generous portion for a personal king cake, but we still recommend it with a side of La Divina gelato for good measure.