---
Granola is a great breakfast staple. But with a twist, it can be a game changer to fresh salad. This granola is very much like the sweet version made up of rolled oats and nuts, but with spices like cumin and paprika and a little Worcestershire. It's not only a nice crunch, but it also helps to add a little protein and grains to a veggie heavy dish. On its own, the granola makes for a great snack, as well.
Servings: 6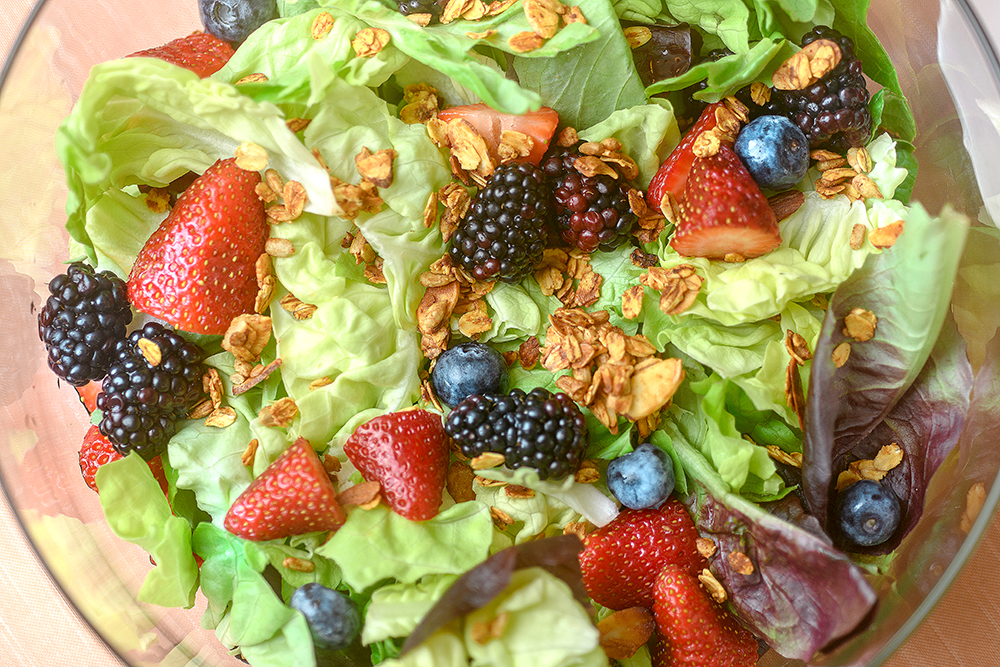 ---
For the Savory Granola 
1 egg white
¼ teaspoon salt
1 tablespoon butter
1 teaspoon Worcestershire sauce
¼ teaspoon Creole seasoning
¼ teaspoon smoked paprika
¼ teaspoon chili powder
¼ teaspoon cumin
1 cup rolled oats
½ cup slivered almonds
½ cup sunflower seeds
¼ cup flax seeds
Heat the oven to 325 degrees. Line a baking sheet with parchment paper.
In a small mixing bowl, whisk together the egg white and salt together until frothy.
In a microwave-safe dish, melt the butter. Add in the Worcestershire and remaining seasonings.
Place the oats, nuts and seeds into a mixing bowl and toss them with the butter mixture.
Fold the beaten egg whites into the oat and butter mixture and then spread them out in a single layer onto the lined baking sheet.
Bake for 10 minutes and then stir. Bake for another 7 to 10 minutes or until the granola is golden.
Remove from the oven and cool completely. The granola will crisp up as it cools. Store the granola in an airtight container for up to 1 week.

For the Spring Green and Mixed Berry Salad 
Fresh berries are loaded with so many beneficial vitamins and antioxidants, and I like to use them in both sweet and savory recipes as often as possible. In the fall, I make a mixed green salad using apples, toasted pecans and dried cranberries.  To change the salad up for the spring, I like to use fresh berries and homemade savory granola for an added crunch. 
Servings: 6
1 bag of prewashed spring greens
1 cup sliced strawberries
1 cup fresh blackberries
1 cup fresh blueberries
1 teaspoon chopped shallots
¼ cup balsamic vinegar
1 tablespoon honey
¼ teaspoon salt
¼ teaspoon black pepper
½ cup grapeseed or light-tasting vegetable oil
½ cup crumbled blue cheese (if desired)
1 cup savory granola (Recipe follows)
Place the spring greens and berries into a large salad bowl and set it aside.
In a smaller mixing bowl, whisk together the shallots, vinegar, honey, salt, pepper and oil until well combined.
Toss the salad with your desired amount of the dressing,saving the rest for a later use.
Top the salad with the cheese and savory granola and serve.
---
This article was originally published in the April 2023 issue of 225 magazine.