Breakfast casseroles are always a crowd pleaser and a great do-ahead breakfast item. This version is really more of a frittata with a layer of crispy tater tots on top. We like filling our frittata with breakfast sausage, sharp cheddar cheese and tomatoes, plus green chilies to give it a little kick. But it can really be filled with any kind of meat, cheese and vegetables your family likes. The base can be prepared ahead of time and then topped with store-bought frozen tater tots right before you bake it.
Servings: 6
1 tablespoon melted butter
1 pound bulk breakfast sausage
¼ cups chopped onions
1 small can Ro-Tel tomatoes
8 large eggs
½ cup half and half or whole milk
½ teaspoon salt
½ teaspoon pepper
¼ cup chopped green onion tops
2 cups grated sharp cheddar cheese
16 ounces frozen tater tots
Brush a 10- to 12-inch round quiche pan or a 9-by-13-inch casserole dish with the melted butter. Heat the oven to 350 degrees.
In a large, nonstick skillet, brown the sausage and chopped onion together until the sausage is cooked completely and the onions are soft. Drain the tomatoes and add them to the sausage. Stir, turn off the heat and set the skillet aside.
In a large mixing bowl, whisk the eggs and milk together and season with salt and pepper.
Add the sausage mixture, chopped green onions and cheese into the beaten eggs and pour everything into the buttered casserole dish. Layer the top with the tater tots and cover with foil.
Place into the 350-degree oven and bake for 20 minutes. Remove the foil and continue baking for another 15 to 20 minutes. Remove from the oven when the eggs are just set in the middle, the cheese is melted, and the tater tots are golden.
Allow the casserole to sit for 5 minutes before serving.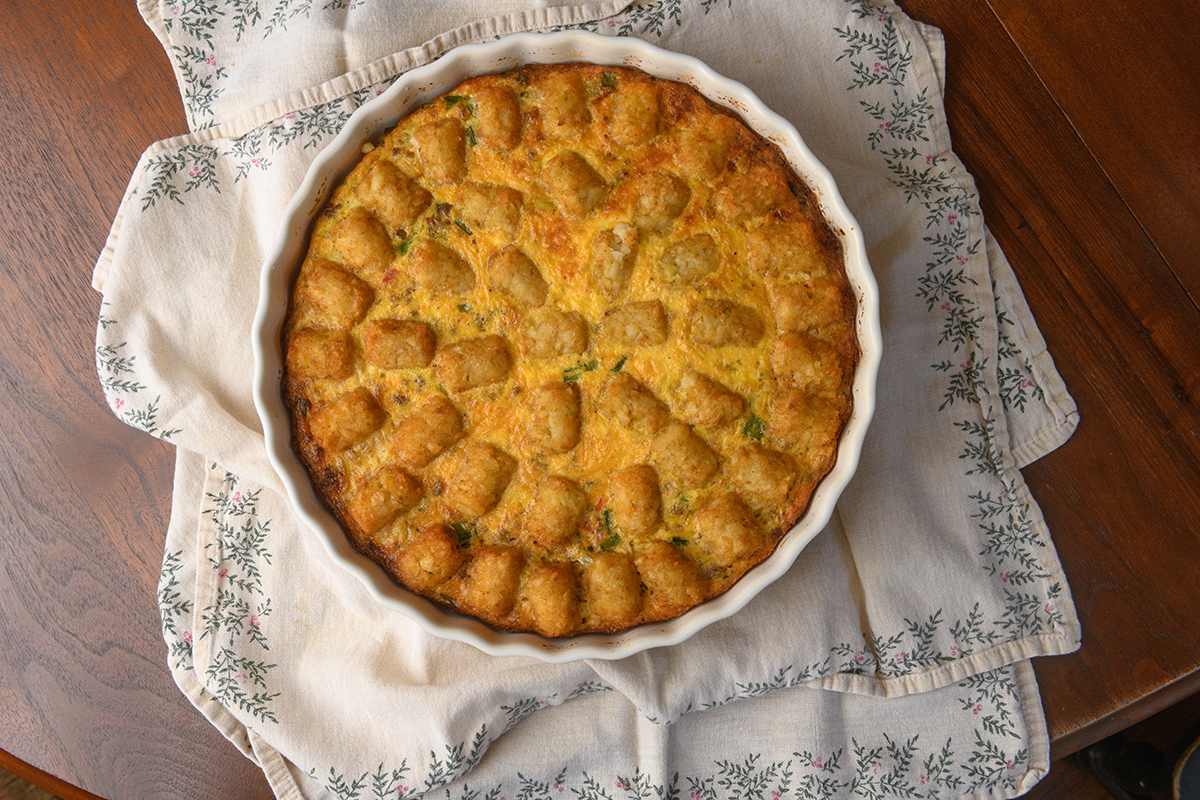 ---
This article was originally published in the December 2021 issue of 225 magazine.